The Problem With Sooley
What a local business' mannequins are really saying

via Canva
The problem with Sooley? Well, it's not just Sooley that has a problem. Not to say we shouldn't hold Megan Sooley and her store, Sooley Designs, accountable for their actions, but the problem is bigger than one store.
For those who don't know, a local business in St. John's, Newfoundland and Labrador, called Sooley Designs, has gotten a lot of flack for displaying extraordinarily thin mannequins in their storefront. This isn't the first time this particular event has occurred, either. In 2019, photos of the tall and exceptionally slender mannequins placed in the window at the Water Street store spread around social media, causing arguments left, right, and centre. People say these mannequins are perpetuating unattainable ideals for women's bodies. After getting wind of all the controversy, Sooley agreed to take the mannequins down in 2019, only to reinstate them in the summer of 2020, garnering as much, if not more, attention the second time around. (This attention was only emphasized, of course, by the fact that Sooley Designs is located within the trendy new pedestrian mall, created by the City of St. John's to allow for social distancing amidst the COVID-19 pandemic.)
The installation of these mannequins for a second time has caused an enormous uproar, and understandably so. Megan Sooley was fully aware of the harm these mannequins could cause, and have caused in the past. Multiple people who struggle with self-loathing, body dysmorphia, and eating disorders have been strong advocates for the removal of the mannequins. Some even discussed having relapses triggered by the store's display and all the discussion surrounding it. Many people were hurt immensely by Sooley's decision. Why would she decide to put them back up after dealing with all the backlash of the first incident?
The problem here isn't just the mannequins. The problem is what the mannequins represent and the fact that these ideals are being perpetuated by society as a whole, which can't be solved by one store, but it can definitely be helped. This issue is certainly bigger than just Sooley, but Sooley can be a store that aids in eliminating the problem. The fact that these mannequins exist in the first place is a big issue in itself, but the onus is on Megan Sooley and her associates for buying them and displaying them more than once, knowing full well (at least the second time around) what harm they could cause.
Supporting a small local business feels good, but it's impossible to do so when that business doesn't support locals who aren't small. We all want to support small companies and shops where possible, but a local company that claims on their Facebook page to be "for all body types" while placing these mannequins in their window? They're telling us something completely different. They're telling us that they only support body types that are below a size 10, and there are many other people rushing to support them!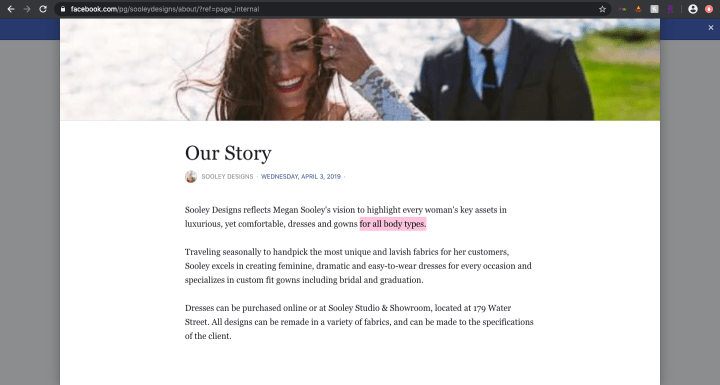 The people banding together to support Sooley's decision to put the mannequins in her window most definitely come from a place of privilege. Not only can they afford to support an independent local fashion company, while others can't afford to clothe themselves at all, but they also have the privilege of fitting into the clothing that Sooley makes.
All these people, Sooley and her supporters, are telling people who take up more space that they are not good enough to have clothes created for them when that is certainly not the case. (We could go on about the validity of all body types, but that's another topic for another time.)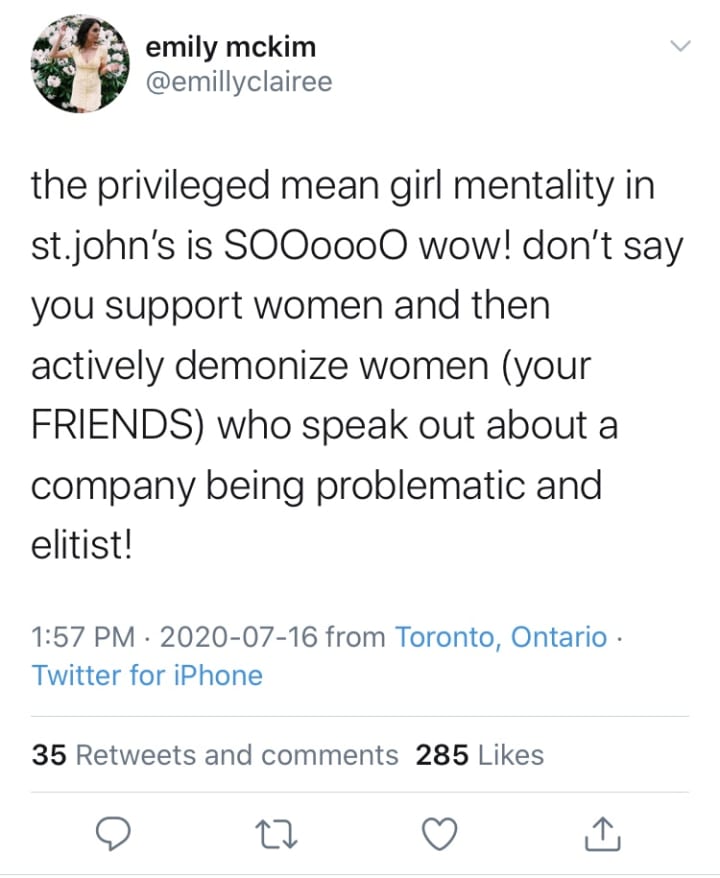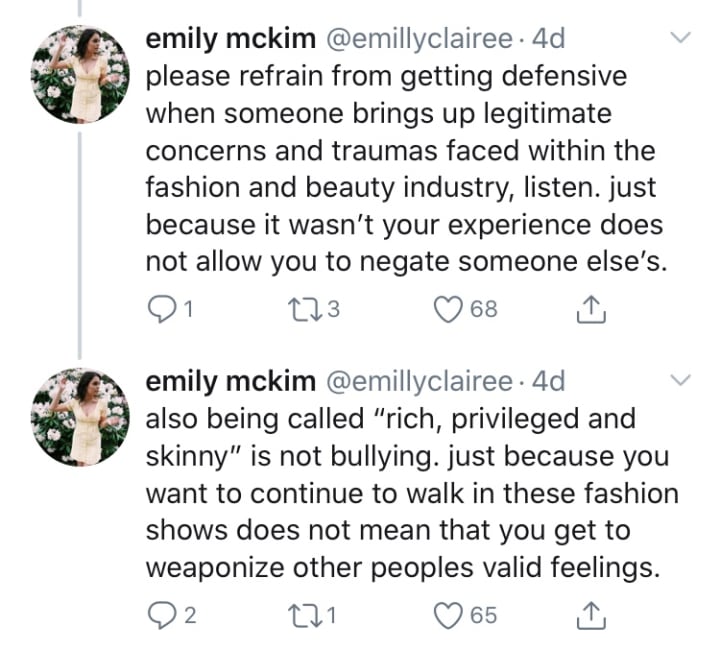 Plus size clothing is difficult to find as it is, especially in a small province (population-wise) where the only store solely dedicated to plus size clothing is closing down. (Yes, we're talking about you, AdditionElle.) This store also happens to be the only clothing store that carries anything larger than a 3XL. How can plus size people be expected to shop for clothes if there's nowhere to buy it? Let alone allowing us to take into account whether or not the store is local, ethically sourced, affordable, accessible, and inclusive of all races.
These companies need to do better. Sooley needs to do better. Those who support her business need to do better. This province (and society as a whole) can't become a more inclusive place until change is made, and that change can't happen until those with influence decide to own up to their mistakes and set an example.
Those mannequins need to be removed; the company and its' supporters need to stop with their exclusive ideals; plus size people need to be heard, represented, and supported.
If Megan Sooley won't be the one to do it, then someone else should own that storefront.