The Lost Swimsuit Girls
The amazing beach looks that somehow missed the best of lists.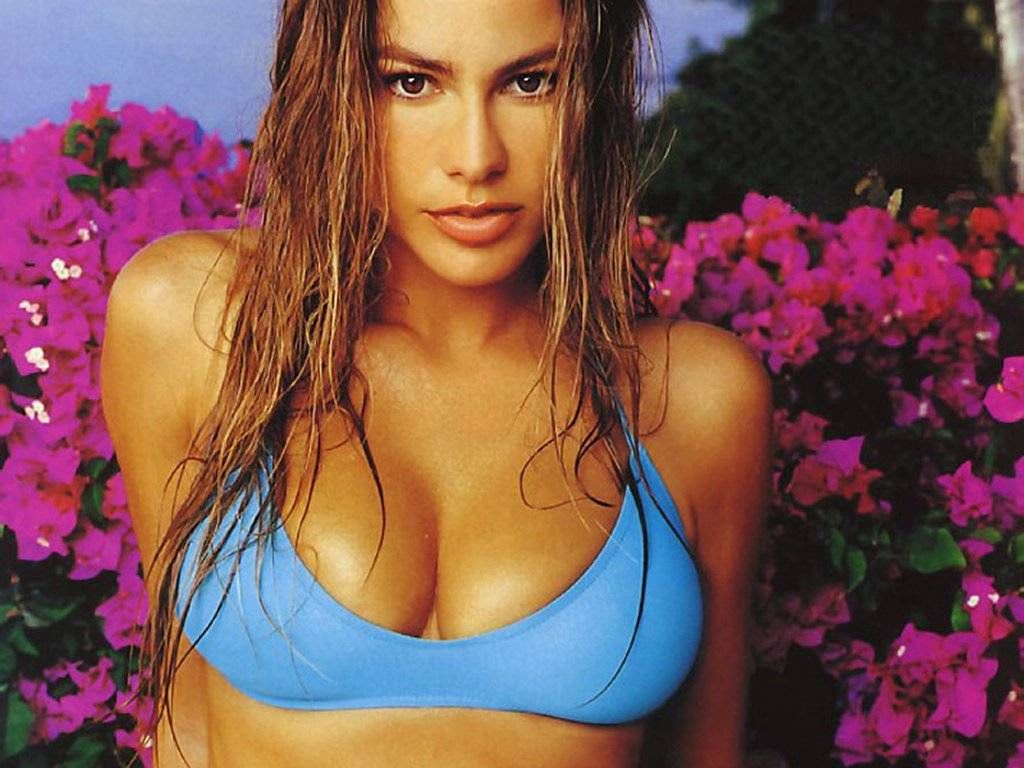 Sofia Vergara in Stuff Magazine, July 2005
After an analysis of swimsuit lists and then a list of babes missing from those lists, it seemed I wasn't quite done. I kept thinking "Oh, I should have included her." and "How could I not include her?" So apparently this is just what I do now.
Lindsay Lohan on every magazine in 2004
Mean Girls came out in '04 and its star exploded in popularity. The 17 year old appeared on the covers of Rolling Stone, People, Jane, GQ, Interview, and Entertainment Weekly--not to mention being a staple of gossip mags like Star, In Touch, and OK. But her best pictorial was in the June Vanity Fair (she lost the cover to Brad Pitt). She would of course appear on more magazines over the following years, including some infamous appearances, but this was her in peak form.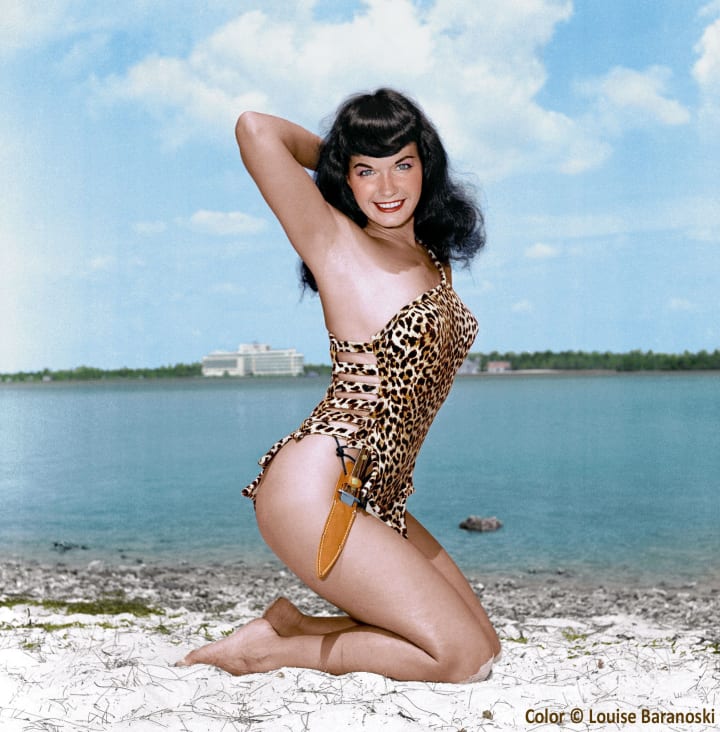 Bettie Page, the Queen of Pinups
The 1950's model, here wearing a hand sewn leopard print bathing suit of her own design, is such an icon that her name still moves swimsuits today.
Jessica Nigri is a cosplay goddess
The geek cult figure shows that sometimes less is more here with her micro bikini elf cosplay. Nigri is known for photos that are very revealing without technically being nudity, leading to a joke among her fans that she actually has no nipples.
Vanessa Williams, Miss America 1984
Most pageant winners go through a lifetime of practice to achieve a coveted sash. Williams was so naturally beautiful and talented that she became the first African-American Miss America without even really trying. Of course, the fact that she hadn't spent her life laser focused on preparing for pageants meant that she had some skeletons in her closet.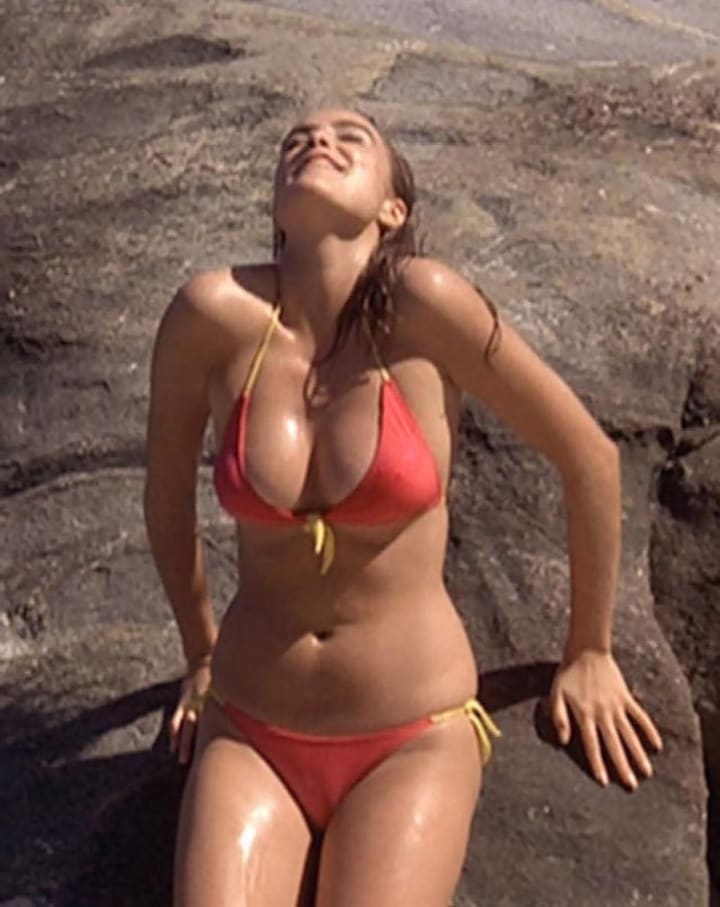 Michelle Johnson in Blame it on Rio
Johnson fills out a bikini nicely when she can be bothered to wear one. The bulk of the film is 18 year old Jennifer Lyons (Johnson) flinging her self at her friend's pale, paunchy father Matthew Hollis (Michael Caine). And if that isn't bad enough, in real life Johnson was only 17. Bonus: in this movie you can see a young Demi Moore before she was, er, enhanced.
The Art of Zoe Mozert
You don't see a lot of swimsuits in fine art-- the masters tended to go straight to nudes. The only place you're likely to see paintings of bikinis is in the mid-twentieth century medium of the pinup. At the time they weren't held in high esteem--they were often commissioned for ads. Modern audiences are likely to only be familiar with Gil Elvgren, who was admittedly a master. But there were a lot of other pinup artists. Above is a piece by Mozert, one of the few female pinup artists.
Katherine Heigl in My Father The Hero
"'My Father' a Sordid Remake of a Sex Comedy"
--Peter Rainer, LA Times
"Top 10 worst" (of 1994)
--William Arnold, Seattle Post-Intelligencer
"It's amusing, watching a movie like this, to observe the clangingly false notes."
--Roger Ebert, Chicago Sun-Times
"Off-putting comedy junk full of creepy material."
--Scott Weinberg, eFilmCritic.com
"But really, is it not strange to make a family film about an accused child molester? We probably should not be laughing at a man who is repulsing his friends because they think he is sleeping with a child."
--Some dude on imdb.com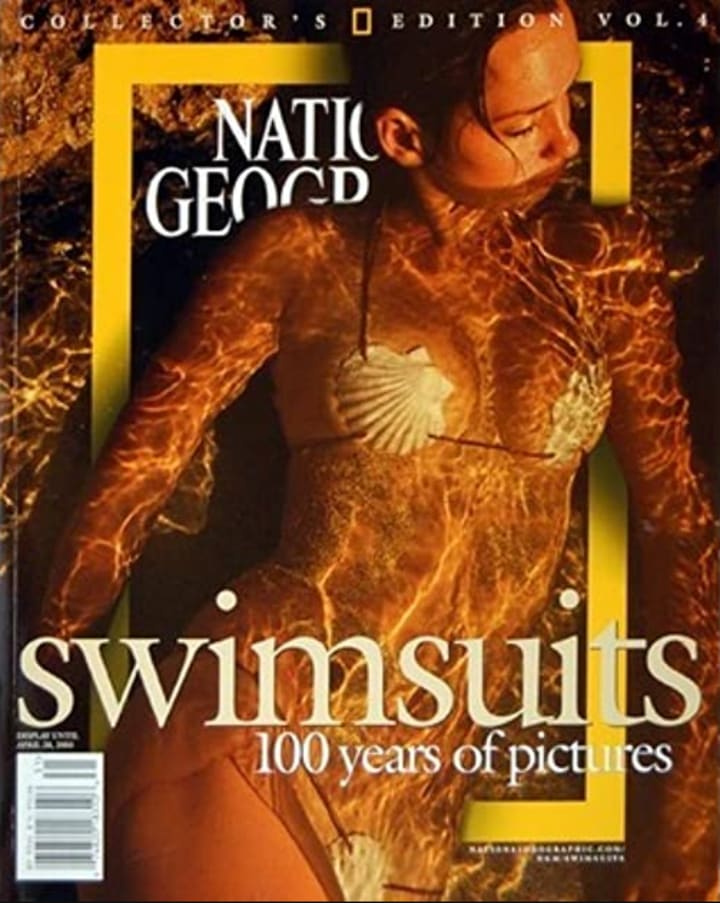 The National Geographic Swimsuit Edition
Sometimes as a writer you stop and think... "How did it come to this? I'm already doing a fairly low brow piece about swimsuits and now I'm just razzing some old movie no one even remembers? What happened to writing thoughtful pieces?" But then you remember that once Nat Geo did a swimsuit edition. National Geographic, a cultural touchstone founded in 1888, known for its premier photojournalism on science, geography, history, and world culture -- once decided to rip off Sports Illustrated and do a swimsuit edition. It makes your realize that you're not doing so bad after all.