The Fashion World
Karl Lagerfield
Who was Karl Lagerfield? He was another "giant" in The Fashion World and his name is known worldwide. Karl Lagerfield had his own 'label' and was a major creative force behind Tommy Hilfiger, Chanel and Fendi, as well as being able to speak four languages --- German, English, French and Spanish. He had a renaissance-like intelligence.
Karl Lagerfield was born in 1933 in Hamburg. His father was Otto Lagerfield (a businessman) and his mother was Elisabeth. Otto owned a company that produced and imported evaporated milk and Karl Bahlmann (his grandfather on his mother's side) was a local politician for the Catholic Centre Party. Karl Lagerfield's family belonged to the Old Catholic Church. His mother and father married in 1930. Karl had an older sister, Martha Christiane "Christel" and an older half-sister (from his father's first marriage) Theodora Dorothea. As Otto had business interests in Germany, Karl's family were mainly shielded from the deprivations of World War Two. In his childhood, Karl showed great interest in visual arts and he was always making sketches "no matter what we were doing in class," according to his former schoolmates. He enjoyed learning at the Kunsthalle Hamburg museum, which Karl visited often, but his greatest inspiration came from French artists. He continued on at school because Karl wanted to learn the French language, as he wanted to move to France. Karl finished secondary school at the Lycee Montaigne in Paris, where he majored in drawing and history.
After living in Paris for 2 years (1955), Karl entered a coat design competition and won. At the same time, he met Yves Saint-Laurent who won the dress category. Karl was then hired by Pierre Balmain and he became Balmain's assistant and apprentice for 3 years. In 1958, Karl now became the artistic director for Jean Patou and in 1964, he went to Rome to study art history and also to work for Tiziano. Karl was soon designing freelance for brands such as Charles Jourdan, Chloe and Valentino. In 1967, Fendi hired Karl Lagerfield to 'modernize' their fur line, which he did by introducing the use of mole, rabbit and squirrel. Karl remained with Fendi until his death.
Karl Lagerfield now hit the top of his career (so far) by working with Chanel in the 1980's. The brand was "near-dead" since its owner, Coco Chanel, died a decade earlier. Lagerfield brought Chanel "back-to-life" by revamping its ready-to-wear fashion line. "Lagerfield integrated the interlocked "CC" monograph of Coco Chanel into a style pattern for the house of Chanel." Talking about his time when he was asked to take over Chanel, Lagerfield told The New York Times: "Everybody said, 'Don't touch it, it's dead, it will never come back.' But by then I thought it was a challenge." He went on to redefine the House's codes while paying homage to Coco Chanel herself.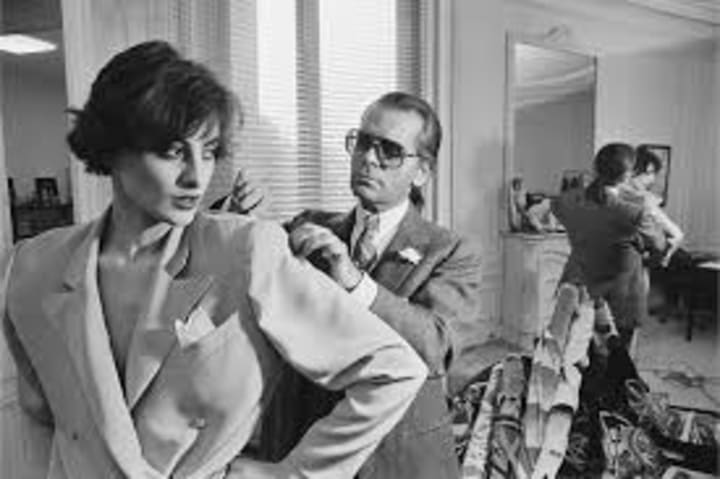 In 1984, Lagerfield founded his own line "Karl Lagerfield" telling Vogue: "I've not been dreaming all my life to have my own name over a shop. Now, we'll put it there because it's the right moment to do it; and I made this name, why not use it?" He sold the brand to the Tommy Hilfiger group in 2005 but remained its chief creative and was directly involved in the design process.
Lagerfield's other talents included being a photographer and film maker, and regularly used these to bring Chanel's heritage to life, plus, he shot and 'creatively' directed all of Chanel's advertising. In 2011, Lagerfield designed a line of glassware for the Swedish company Orrefors and signed on to create a new clothing collection for Macy's. In 2015, he opened his first Karl Lagerfield shop in Doha, Qatar.
Renzo Rosso said of Lagerfield: "I am honoured to have met this fashion icon of our time. Karl represents creativity, tradition and challenge, and the fact that he thought of Diesel for this collaboration is a great gift and acknowledgement of our reputation as the pret-a-porter of casual wear."
In September, 2010, the Couture Council of The Museum at the Fashion Institute of Technology presented Karl Lagerfield with an award created him, "The Couture Council Fashion Visionary Award," which was presented to him at a benefit luncheon at Avery Fisher Hall, in New York City.
Karl Lagerfield created a teddy bear in his likeness (2006) produced by Steiff in an edition of 2,500 that sold for $1,500. The teddy bear is a white alpaca bear which is dressed in Lagerfield's design clothes, black woollen jacket and a black silk tie with a Swarovski crystal decoration. A KL-monogrammed leather belt and sunglasses which are a miniature model for Lagerfield's collection, marked Karl Lagerfield. Its height is 40cm and it comes with a certificate. Lagerfield 'bagged' on for himself, saying: "Maybe I had one (as a child) --- I don't remember. I never played with anything like toys."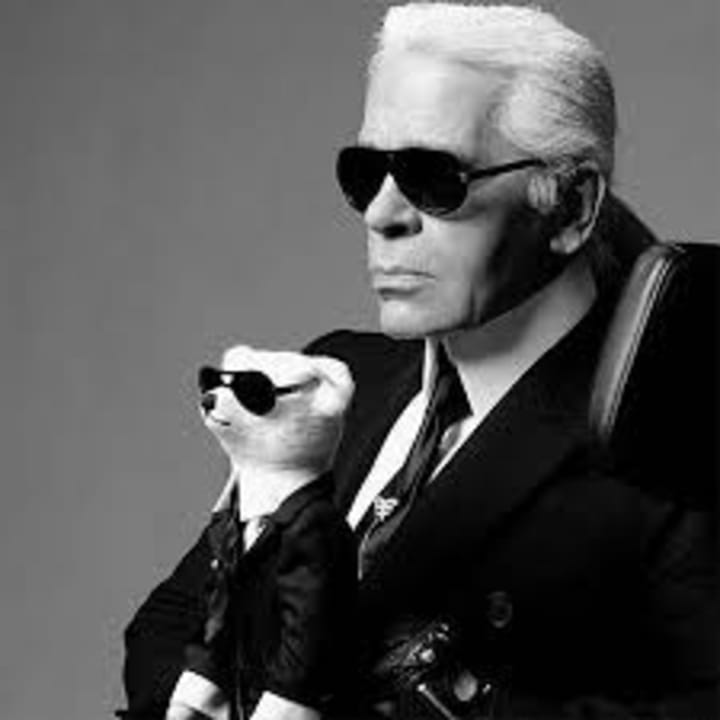 Karl Lagerfield was recognized for his signature white hair, black sunglasses, fingerless gloves and high, starched detachable collars. He had an 18-year 'relationship' with Jacques de Bascher, who was a French aristocrat, model and socialite, although Lagerfield said that the relationship never became sexual. A spread with pictures inside Lagerfield's apartments in Paris and Monaco was published in Vogue. Lagerfield revealed that he had a vast collection of Suzanne Belperron's pins and brooches and used the colour of one of her blue chalcedony rings as the starting point for the Chanel Spring / summer 2012 collection.
Lagerfield owned and loved his red point Birman cat which he called "Choupette."
Lagerfield also had an amazing library as he was a passionate book collector. He is quoted as saying: "Today, I only collect books, there is no room left for something else. If you go to my house, I'll have you walk around the books. I ended up with a library of 300,000. It's a lot for an individual."
Unfortunately, Karl Lagerfield died in 2019, from complications of pancreatic cancer. He didn't want a funeral but he was memorialized the same year at the Grand Palais with "Karl Lagerfield Ever," which was a celebration of the designer's life. The tribute was 90 minutes long and was attended by 2,500 guests.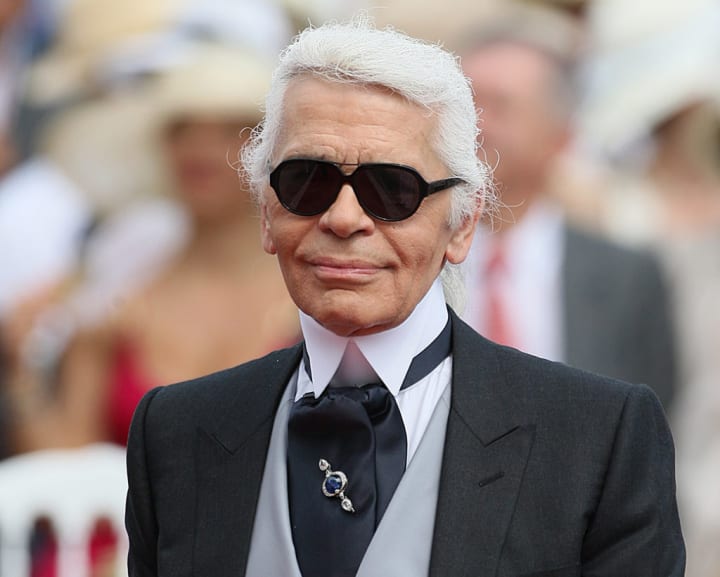 One of Karl Lagerfield's most famous quotes is: "If you ask me what I'd most like to have invented in fashion, I'd say the white shirt. For me, the white shirt is the basis of everything. Everything else comes after."
(My research comes from Wikipedia, Biography.com and Businessfashion|BoF 500)