The Fashion World
Yves Saint-Laurent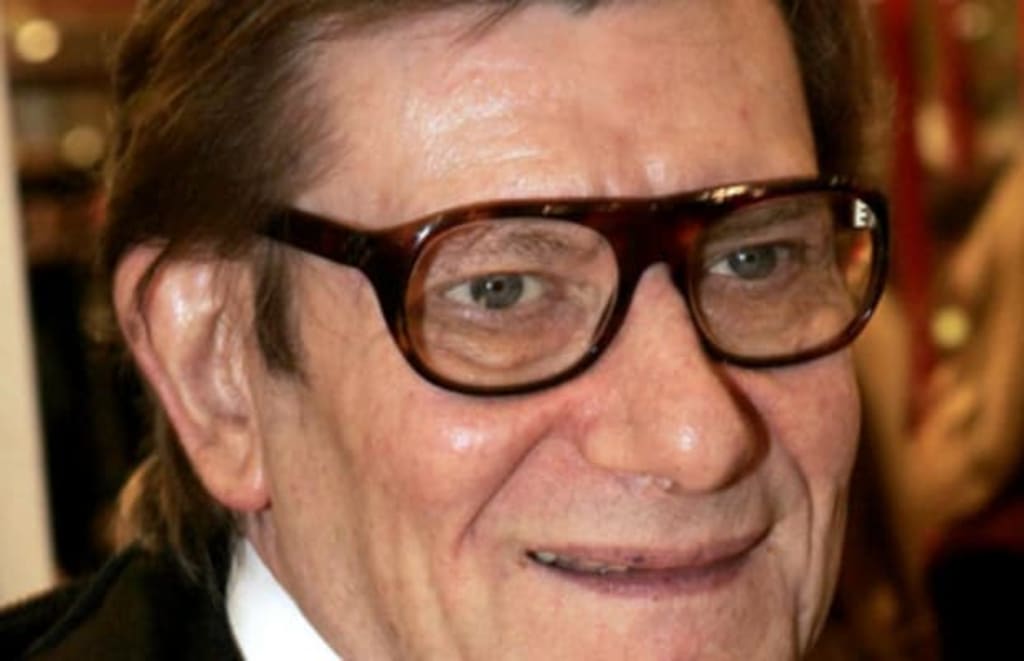 Another well-known name in The Fashion World, Yves Saint-Laurent has impacted the fashion industry in the 1960's but also even to the present day. He is seen as being one of the foremost fashion designers of the 20th Century. Was this designer born into wealth? What was his life? How did Yves Saint-Laurent become so popular?
Yves Saint-Laurent was born in Oran, French Algeria on 1st August, 1936. His French parents were Charles and Lucienne Andree Mathieu-Saint-Laurent. Yves grew up with his two sisters in a villa by the Mediterranean, and from an early age his talent for fashion shone through, as he would create intricate paper dolls. By his early teens, Yves was designing dresses for his mother and sisters.
Yves family was relatively well-off and his father was a lawyer and insurance broker who owned a chain of cinemas. This meant that Yves had opportunities that others did not have, but his childhood was still a difficult childhood. Yves Saint-Laurent was often bullied at school as he appeared to be effeminate and this made Yves a nervous child. It is no wonder that he found solace in the world of fashion.
At seventeen years of age, Yves moved to Paris and enrolled at the Chambre Syndicale di al Haute Couture, where his designs were quickly noticed. The editor of the French Vogue, Michel De Brunoff, introduced Yves Saint-Laurent to Christian Dior (who was by then a 'giant' in the fashion industry). Yves recalled: "Dior fascinated me. I couldn't speak in front of him. He taught me the basis of my art. Whatever was to happen next, I never forgot the years I spent at his side." Yves style continued to mature under Dior's tutelage.
Starting at the bottom, within Christian Dior's company, Yves spent his first years on 'mundane' tasks, such as decorating the studio and designing accessories. Eventually, Yves was allowed to submit his sketches for the couture collection and with every passing season, more of his sketches were accepted. Dior, himself, wanted Yves Saint-Laurent to succeed him as a designer, and Dior's timing was 'perfect' as in August, 1957, Christian Dior died of a heart attack. In 1957 and at twenty-one years of age, Yves Saint-Laurent became the head designer for the House of Dior. This showed his true talent for fashion designing!
Yves Spring collection of 1958 saved the House from financial ruin. The straight line of his creations which were a 'softer' version of Dior's "New Look", catapulted Yves Saint-Laurent into international stardom with the "Trapeze dress." In 1959, Farah Diba (a student in Paris) asked Yves to design her wedding dress for her marriage to the Shah of Iran (a "King" of Iran). This was an honour for Yves Saint-Laurent and put him on the 'map' of prestigious clients.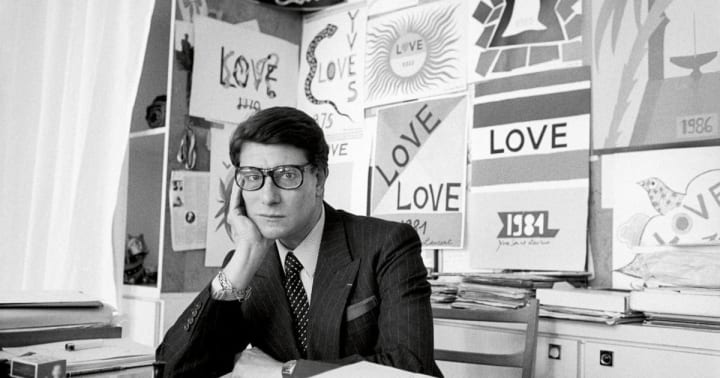 Unfortunately for Yves, he was conscripted to serve the French Army in 1960, during the Algerian War of Independence. After just 20 days in the army, Yves became ill and was admitted to a military hospital, where he heard that he had been 'fired' from Dior. This only made Yves illness worse, and he was moved to Val-de-Grace military hospital, where he received large doses of sedatives and psychoactive drugs, and Yves was also subjected to electroshock therapy. Yves Saint-Laurent traced the origin of his mental problems and his drug addictions to this time of his life in the military hospital.
Yves now successfully sued his former mentor for 'breach of contract' and collected £48,000. With this money, his new-found freedom and in partnership with Pierre Berge (his lover), the designer now opened his own fashion "House." From here, Saint-Laurent's designs sat 'top' of the fashion world. Models and actresses loved his designs. He designed blazers and smoking jackets --- for women! Also, he introduced the "Pea coat" to the runway (this coat is characterized by short length, broad lapels, double-breasted fronts, with large wooden, metal or plastic buttons, and vertical or slash pockets. These coats were originally worn by sailors).
Yves Saint-Laurent brought in some new changes to the fashion industry in the 1960's and 1970's. In 1967, Saint-Laurent opened his "Pret-a-Porter" House YSL Rive Gauche, where he started to shift his focus from Haute Couture to Ready-To-Wear, The French designer wanted to provide a wider range of fashionable styles to be available to choose from in the market, as these clothes were affordable and cheaper.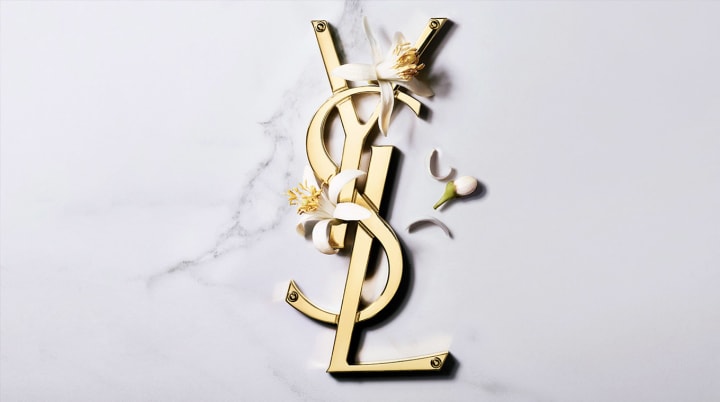 The "House" also designed costumes for film. For example, Catherine Deneuve used many of Saint-Laurent's designs in the films Heartbeat, Mississippi Mermaid and Love to Eternity.
The "Pret-a-Porter" line earned much more money than the Haute Couture line. At this time, however, Saint-Laurent became "very ill", both mentally and physically. He was a frequent user of cocaine and, with all the pressure that he was under (Saint-Laurent designed 2 haute couture and 2 pret-a-porter collections every year), Saint-Laurent turned to alcohol and drugs. His behaviour became erratic and, eventually, turned the business over to his partner Berge.
After getting the help he needed, Saint-Laurent retired in 2002 and became a reclusive. He had split with his lover, Berge, but the two remained partners in the business. It was in this same year that Saint-Laurent did his final show. Yves Saint-Laurent died on 1st June, 2008, of brain cancer at his residence in Paris, He had a Catholic funeral at Eglise Saint-Roch in Paris. Those who attended the funeral included Bernadette Chirac, Catherine Deneuve, and President Nicolas Sarkozy, who has appointed Saint-Laurent as Grand Officer of the Legion d'honnerur (a great honour in France).
His long-standing partner and lover, Pierre Berge said of Saint-Laurent that he was: "a man of exceptional intelligence, practising the trade of an imbecile." Could Yves Saint-Laurent have been an even greater artist?
This has been an interesting designer to research. He came from a wealthy family but still had his problems, some even going back to school days, but he emerged through it all and is now remembered as a brilliant artist in The Fashion World.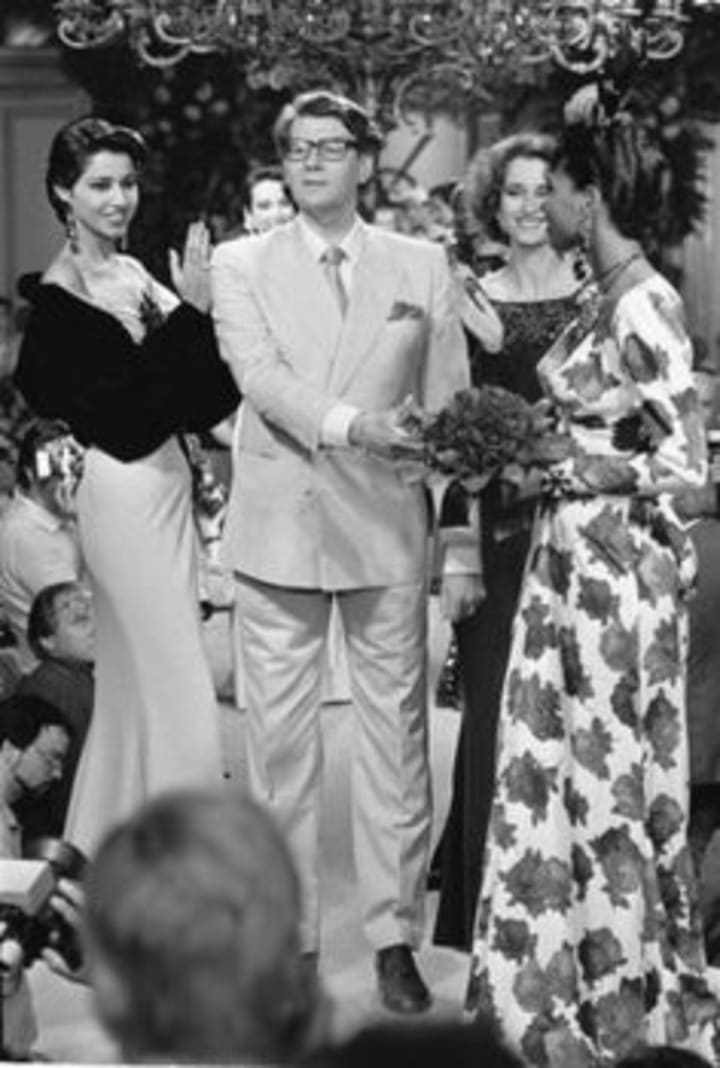 (My research comes from: Wikipedia, Biography and Education|BoF)