Sharing my passion to help another creative
Fashion is my spark of light and the best part of my passion is sharing it with others.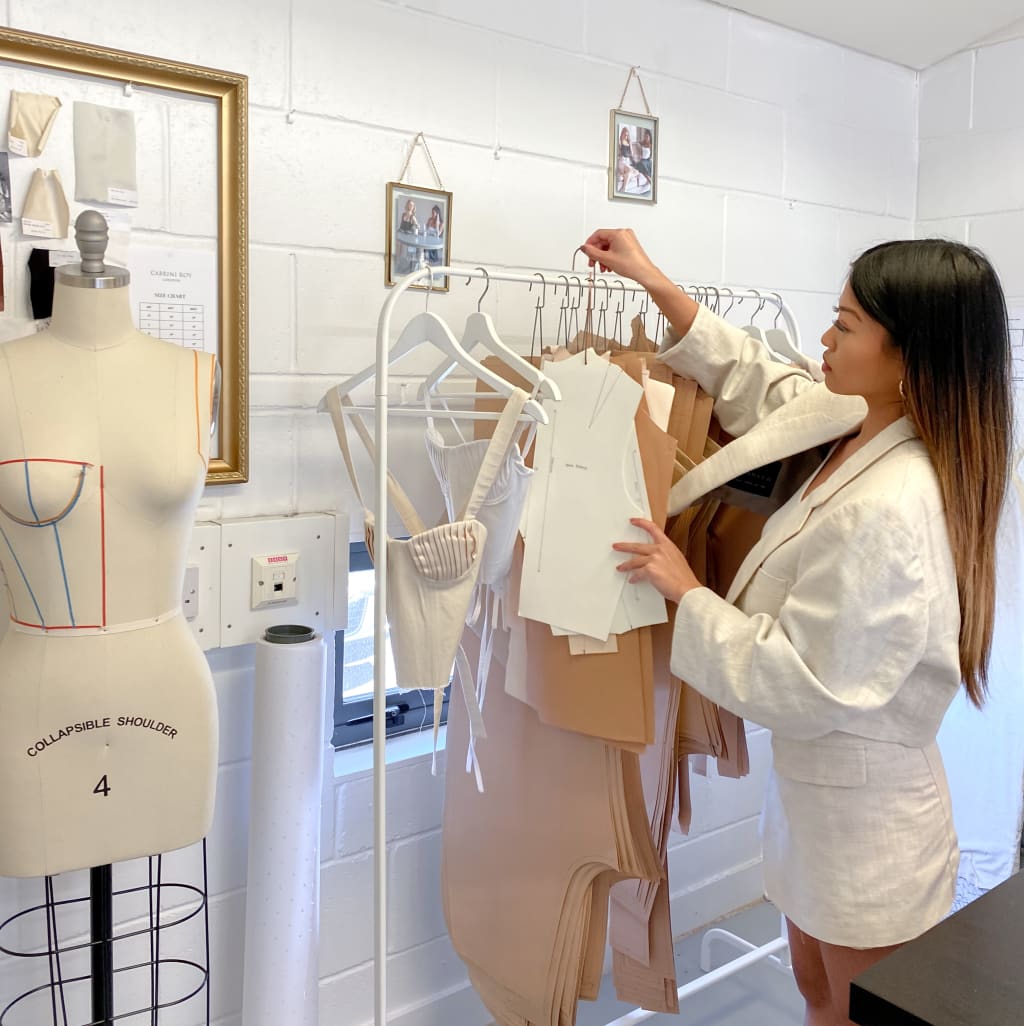 At my fashion design studio where I create my orders & teach for my course.
Fashion design is threaded into my existence, it became my source of happiness even from a young age, it's a passion that continues to evolve with me.
My love for art stimulated my love for fashion design because even as a child, I understood that fashion was a way of translating myself and my thoughts into wearable art. Fashion is our fastest way of self-expression, it allows us to thread together who we are through visual means. Styling my dolls, seeing my mum dress up in outfits that made her feel powerful, inspired me to pick up a pen and start designing. I even entered fashion design competitions as a child in hopes my designs would be sold in stores and to this day this is still one of my biggest dreams. Growing up, I knew I didn't have an ordinary dream like the other kids but I slowly realised there was nothing wrong with wanting a future surrounded by colourful sketches and beautiful clothes.
Pursuing fashion design came with fears of not being good enough but in order to follow my passion, I knew I had to gather the courage to push those fears aside. I worked tirelessly to get into London College of Fashion, where I studied Womenswear. After university, I opened up my own label, which to this day I solely run myself, where I get to design garments that reflect my identity and my heritage. I went from ripping apart my mum's curtains to make my first skirt to making my own prom dress because I wanted something bespoke to me, to now being able to create clothes in my own brand. Supporting a small business like mine in a time where creatives are struggling means that you are directly part of making someone's dream a reality.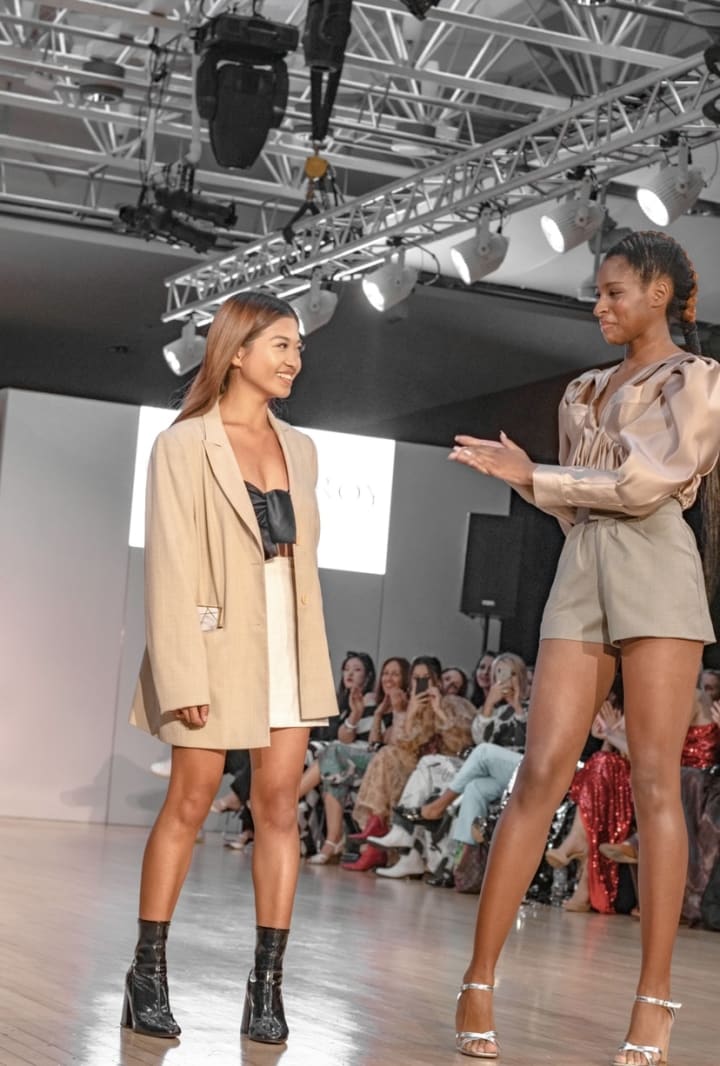 When you purchase from my brand I want it to feel like a personal gift, I hand make every order to make sure each garment is made with so much love and delicacy. I built my brand from nothing and I want to inspire others to do the same. My love for fashion design increases everyday, keeping me motivated and inspired. I'm passionate about fashion but I also want to use my skills to help others in ways that I could only wish my younger self knew.
Fantasising in my overactive brain during the first wave of lockdown, I found myself asking how can I help others during this pandemic? I'm not a nurse like my parents who work tirelessly in the front line. I did what I could do to help, such as creating masks; but when quarantine began tightening it's hold, I wanted to provide freedom creatively for myself and for others. I decided to create my 'Basic Pattern Cutting' course where I shared all my best fashion design secrets. Within the course, I teach everything I learnt at one of the top fashion schools in the world, in my internships & in my fashion brand. I did this as a plea to others to please follow their passions. I put those secrets that no one in the industry seemed to want to share, skills that people were eager to keep covered, into my course. Furthermore, I wanted to make it perfect for individuals who want to pursue a career in fashion design so I made sure that the course would benefit those from absolute beginners all the way up to those experienced. I know the skills I'm teaching on my course can help change lives because I'm giving them a solution to their creative problems and imparting the small knowledge I've learnt along the way to them.
The thought of helping others achieve their dreams whilst also reaching my own goals was a spark of light for me in the dark days of quarantine. Eventually after I got my first students on my online course, feedback started flooding in. From those sharing pictures of the garments they've created from my course that they never thought they could make or from those sharing that it sparked their love for making clothes again because of how easy and simple I made the process in my course. This was my motivation, this is my passion. I aim to create content that educates and inspires others.
Knowledge is power and by sharing and teaching others the skills you have learnt in order to gain success, you are creating a world where emerging creatives can feel inspired to chase those dreams.
The most rewarding messages I've received are those who say I've influenced and motivated them to follow their dreams, that doing my course felt like one step closer to the goals they never thought they could achieve. This was my exact goal with my course, I wanted to make a community where people felt welcome and inspired.
Throughout the years, I have gained extensive experience with pattern cutting and executing designs but before that, not even knowing where to start was the most difficult part. I believe that bringing your design ideas to life shouldn't be difficult with the right methods. At the start of my journey in fashion, I wished that I had other fashion designers to look up to who would be willing to share their skills to help aspiring creatives. Unfortunately, I didn't find that in the fashion industry, so I want to give people the starting point I never had.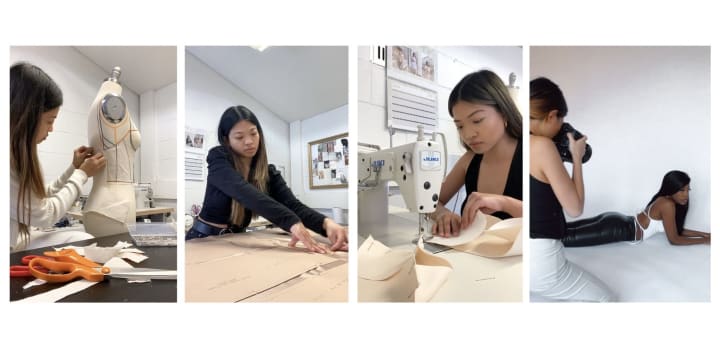 Starting a brand isn't easy, especially when it is solely run by you alone, you need passion to keep you driving forward in the days where things seem impossible. Being an independent brand owner myself I know the roles behind a brand. When you start a label you may not have the financial means to fill those roles, so you have to be able to fulfill those roles yourself. My course runs from pattern cutting to sewing, usually you would need to pay for a pattern cutter, a sampler and a seamstress but my course will allow you to be all of that yourself. The positive feedback from my pattern cutting course sparked my need to create other online courses. I want to expand and create a course that will teach others how to independently run their own brand. I want to cut those initial costs for others who want to start their brand and provide them solutions, to help them avoid the costly mistakes I made when I first started. If one course can make others fall in love with their passion again or inspire them to chase their dreams, what more can another course do which teaches them exactly how to run a fashion brand?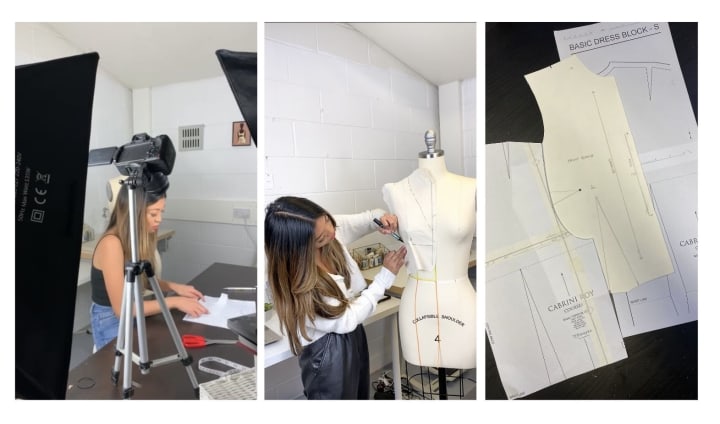 I believe people should hear what I have to say because I'm willing to give them the right guidance to show that we are all more than capable of achieving everything we set our minds to. If I can make my dream of being a fashion designer come to life, so can others and I want to be here to help them.
Passing down your knowledge is of great importance because I know it will ripple down to other generations, one day my students on my course will pass down their knowledge to teach another creative and nothing will be more rewarding than that.
After all, what are our skills and knowledge for if we only keep it to ourselves, we have to be a willing beacon of light to those willing to learn and be inspired by us. I aim to use my platform to share my knowledge, not only on my course, but also on my social media such as Instagram. I created a 'fashion class series' in which I teach my audience what pattern cutting is and an introduction to sewing. I would love to be able to expand on this fashion class series and be able to provide more free educational content to those who want to learn.
Fashion design is a passion that gives me comfort and true fulfilment. It's an irreplaceable feeling when you see a design come to life that you thought would always just stay as an idea in your head. The little girl who dreamt of making her mark in the fashion industry is my muse, she inspires me to create a world where her dreams of executing her designs are attainable.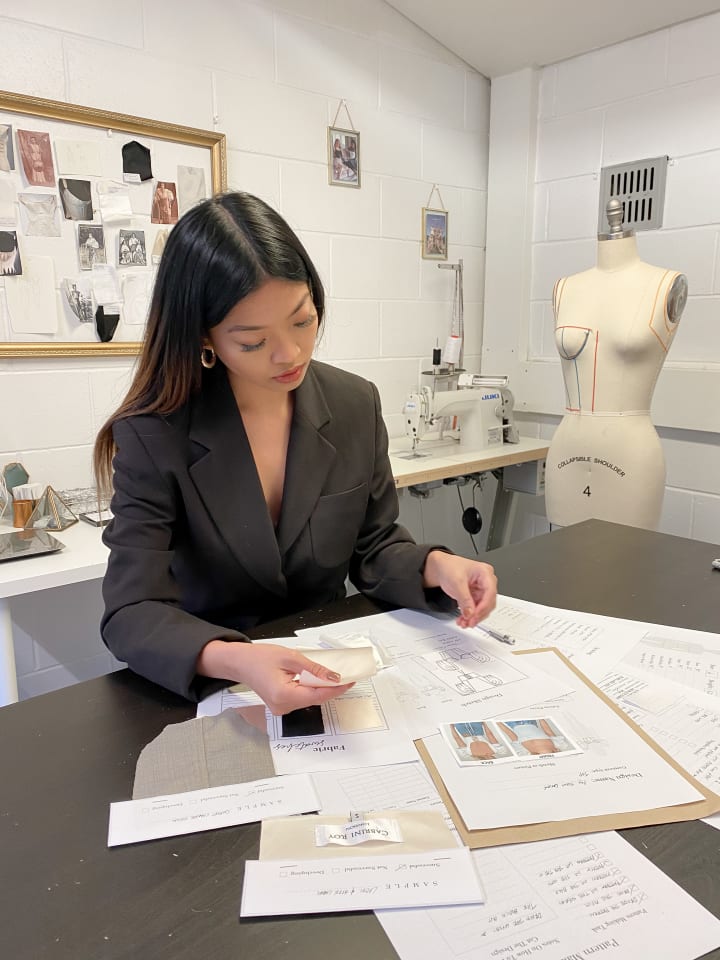 I'm so fortunate that the passion I discovered as a child for fashion design is now the driving force behind my career and this is why I want to teach others to never give up and to invest in themselves. Passion energises us, empowers us to keep our eyes focused on our goals. In a perfect world, I want to inspire others that their dreams of designing and making clothes should be accessible. I have goals I want to complete, but alongside that I also dream of a flourishing future for all emerging designers. It's all about passing down your knowledge to help others, passing down your skills to inspire others and passing down your experience to advance others.
designers
British Fashion Designer. Brand Owner. Course Leader.
Womenswear Graduate at London College of Fashion.
Find me on IG at @cabrini_roy