Reality Bites for the Empire Records of Singles
How '90s wardrobe ruled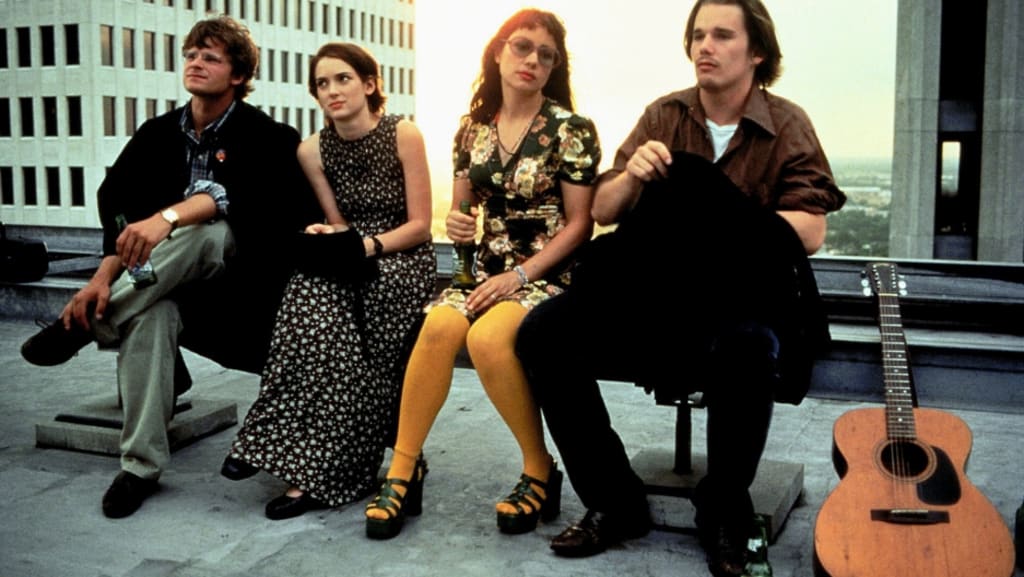 "Reality Bites"
The '90s were the epitome of nostalgia for me. I was in college, and I was starting my adult life while still having tons of fun. My friends and I would hang out, and we'd go to shows and concerts constantly. The music was incredible with the birth of grunge as well as some amazing hard rock bands. We were introduced to bands like Nirvana, Soundgarden, Alice In Chains, Pearl Jam, Mudhoney, Screaming Trees, Stone Temple Pilots, Rage Against the Machine, and Mother Love Bone. Music festivals were everywhere, from Lollapalooza to the Warped Festival and the H.O.R.D.E. tour to OzzFest. Being out and about was what we were all about.
Fashion was also springing new trends. Popular footwear was Doc Martens and chunky heel shoes. Motorcycle jackets were everywhere and on everyone. They were popular, and you could find one for just $99 in most shops. No outfit was complete without a flannel shirt, even if it was just tied around your waist. Plaid, in general, was the thing, either plaid shirts or pants. Jeans were faded, ripped, and casually fit, although you could still see people with tight jeans, too.
Ladies were dressed semi-casually in button-up floral maxi dresses or baby doll dresses. And tights of every color adorned the legs, even if they were under some cut-off denim shorts.
The men wore jeans and concert T-shirts. Flannel was also a major part of their wardrobe. Hypercolor shirts were huge. They would change color depending on body temperature. Think of them as a mood shirt. They were also available in shorts! If men wore button-up shirts, they might also have a skinny tie or bolo tie on, too.
Three movies come to mind when I think of the '90s. "Singles", from writer/director Cameron Crowe, "Empire Records", and "Reality Bites", directed by Ben Stiller, perfectly illustrated '90s fashion. The men in the movie wore the typical grunge outfit of ripped jeans and concert tees. Some also wore mock turtlenecks and multi-colored cardigan sweaters. The women like Janeane Garofalo ("Reality Bites") and Bridget Fonda ("Singles") wore most of the above-mentioned women's fashion of chunky heels and floral dresses with colorful tights. Ladies in these movies were trendy yet casual. Liv Tyler and Renee Zellweger helped to make the cropped top popular again. Hairstyles were starting to move away from the Aqua Net fueled "big hair" of the eighties.
Clothing of this time was practical, functional, and fashionable. These Doc Martens and chunky heels were comfortable. Flannel shirts also doubled as a light jacket. Depending on layering, these clothes could be used year-round.
While many of these articles could be found in a retail store, a lot of Generation Xers were hitting up the thrift stores. As I said, we were in college and many of us did not have a lot of disposable income, so we had to be frugal and utilitarian. Doc Martens could and were worn every day. The need for multiple pairs of shoes was not entirely necessary. I had a pair of combat boots, a pair of tennis shoes, and a pair of Mary Jane's with chunky heels. I'm sure I had more, but those are the three pairs that come to mind and that I know I wore more than any others.
An entire wardrobe could be purchased at a thrift store or Goodwill store for about twenty to thirty dollars. I remember even finding a store that sold clothing by the pound! Talk about a good bargain. That would allow us the extra money that we needed for cover charges into the music venues on Friday and Saturday nights.