Raising Awareness Through Fashion ESTEEMbyDESIGN
ESTEEMbyDESIGN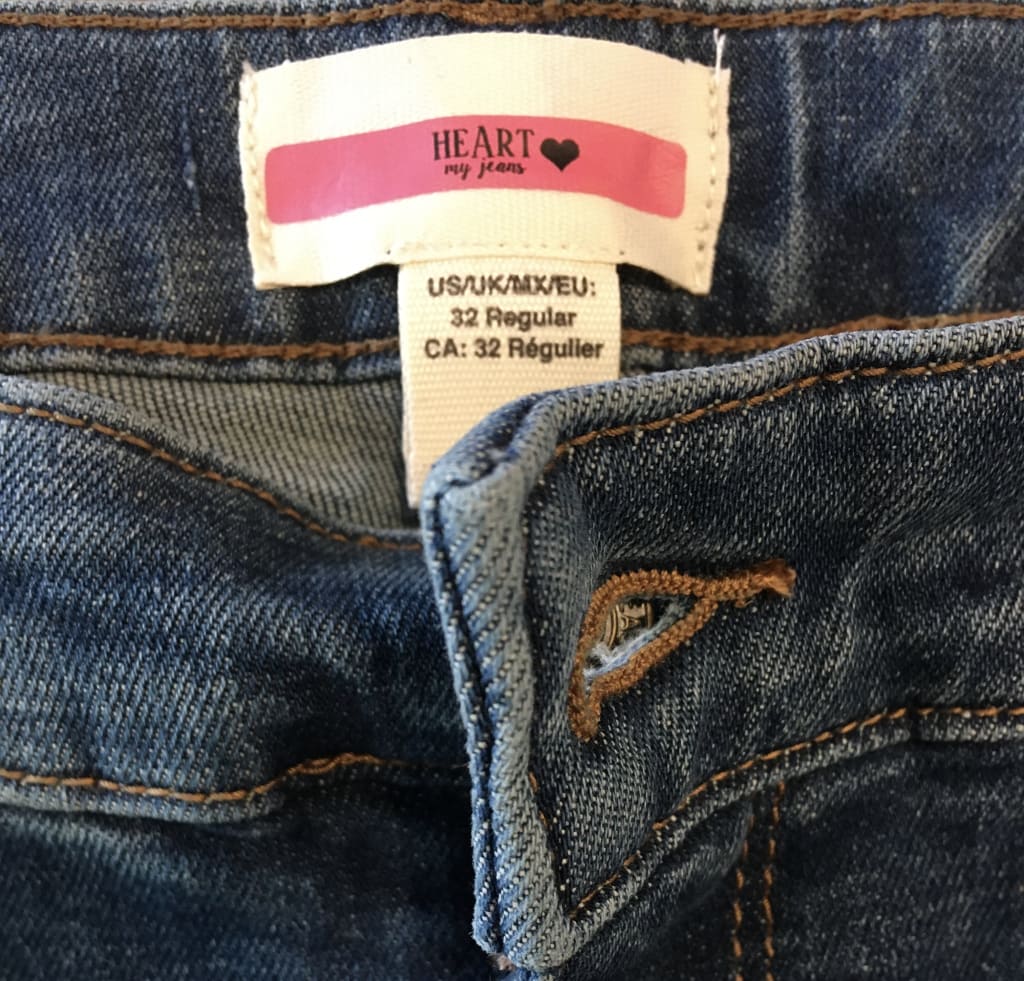 HeArt my jeans...
Raising awareness on anorexia, obesity, and special physical needs through sales at ESTEEMbyDESIGN a store on Etsy.com.
es·teem/əˈstēm/noun:
Respect and admiration, typically for a person.
de·​sign/di-ˈzīn/verb:
To create, fashion, execute or construct according to plan.
Blending Art, Science, Engineering, and Love ESTEEMbyDESIGN seeks to raise awareness of the unique threads we all need to live in through the use of designers and the fashion industry!
The store is selling WEAR IT WITH JEANS, LTD designer threads and HeArt my jeans in all sizes from xxs to 5xl for men and women. If you don't see your size or height just send the owner an email and ask, she'll say yes!
Sale proceeds go to build one-of-a-kind special need items for those suffering anorexia, obesity, or unique special bodily differences to help change a life and build esteem through clothing.
Through industry knowledge and education it was apparent to our family that not all sizes and shapes are accommodated or shopped together in the commercial world, sending extra tall, extra small, unique shaped bone structures and weights through an isolating shopping experience.
Working with GAP, LTD., THE LIMITED, LTD., being taught by my Grandmother who worked for fashion houses like Escada and Chanel, and personally designing on set for Feature Films, Network Television, and Streaming Media no matter who we are I learned there is always something about us that is special and not contemplated by machines. We are all the same in that endeavor.
Anorexia causes a lower weight that needs better beauty and comfort accommodations, it is caused by the desire to lose too much weight.
Obesity having a higher height and weight needs better beauty and comfort accommodations, it is genetic inheritance for said predisposed height and weight.
Special bodily differences needing better beauty and comfort accommodations can come from a volume of genetic and procedural experiences like genetic differences we are born with such as short arms or disparate leg length, surgical procedures we have to have performed such as breast removal or amputations of extremities, and robotic external implants for bladder and digestive tract replacement, automatically timed insulin injections, kidney dialysis hook-ups, and cranial placed cochlear eardrum implants just to name a few...
ESTEEMbyDESIGN seeks to raise funds to build garments for those seeking extra special care with anorexia, obesity, and unique physical needs that the stores we love just don't have...yet.
Whether a prom dress, rain-coat, leather jacket, wedding gown or tuxedo we'll be there to build it for you.
Using muslin forms we can create and cut unique one-of-a-kind patterns for our recipients, patterns that bring their specific bodies needs into the threads they live in.
Please donate by either giving here on VOCAL or by going to ESTEEMbyDESIGN store on Etsy.com to pick up some HeArt my jeans or WEAR IT WITh JEANS, LTD. designs.
It's an amazing thing what clothes can do for a person struggling to feel a part of the place they live in. Clothes that fit and feel right can clear up a person's time to invest in themselves whether at work or play. The smile I have seen come across a person's face when a garment fits them the right way cannot be fully expressed in words alone, it must be expressed by the work possible at ESTEEMbyDESIGN. But...don't take my word for it. Look at a few of these wonderful quotes from world role model's on esteem for you to read.
Threaded together for you with love:
Dress shabbily and they remember the dress; dress impeccably and they remember [you]. Coco Channel
________
It is confidence in our minds, bodies, and spirits that allow us to keep looking for new adventures. Oprah Winfrey
________
Don't change yourself to make someone happy, unless that someone is you. Mr. Gentlemen's Guide
________
There is nothing wrong with your body, but there is a lot wrong with the messages that try to convince you otherwise. Rae Smith
________
When you are fully clothed in self-love you are always in fashion. Sharon Rainey.
________
Doubt is a killer. You just have to know who you are and what you stand for. Jennifer Lopez
________
Beauty begins the moment you decide to be yourself. Coco Channel
________
Your self worth is determined by you. You don't have to depend on someone telling you who you are. Beyonce
________
To me beauty is about being comfortable in your own skin. It's knowing and accepting who you are. Ellen Degenerous
________
There is no wrong way to have a body. Glenn Marla
________
You were born an original piece of art. Suzy Kassam
________
With realization of one's own potential and self-confidence in one's ability, one can build a better world. Dalai Lama
________
Love the threads your in!
Thank you from the bottom of my heart.
Owner: Angelique Pesce
ESTEEMbyDESIGN