PARMIGIANI FLEURIER – WHERE EXCEPTIONAL IS THE NORM
The Swiss marque has recently unveiled the Tonda PF collection, a sublime range of fine watches that are rich in detail, wonderfully understated and highly practical.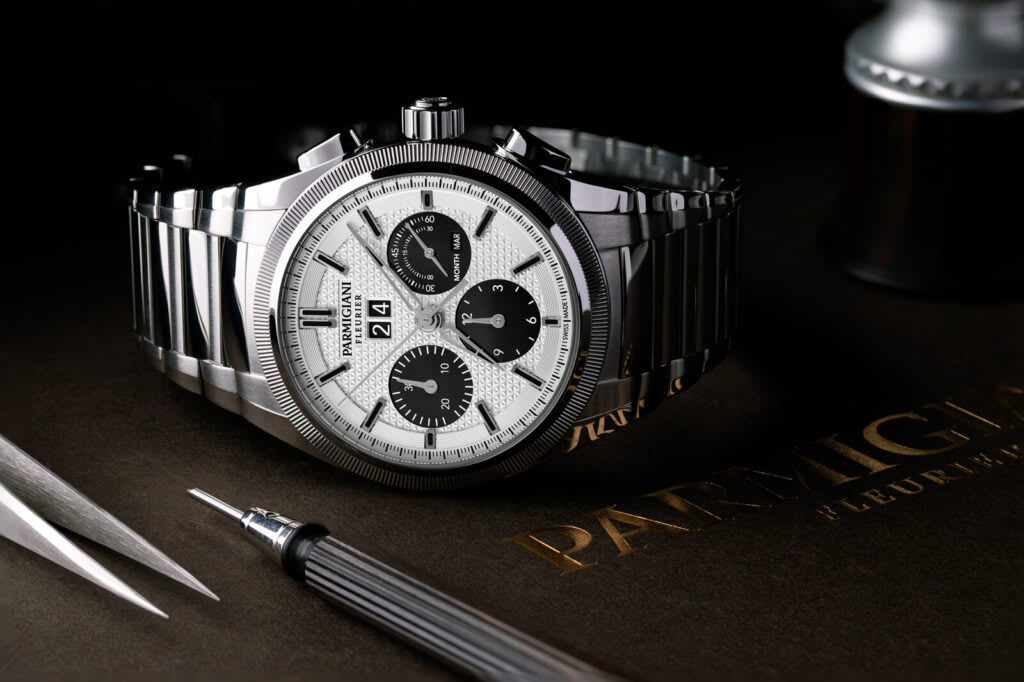 Introduction – Michel Parmigiani
Le Chapeau de Napoléon, a former lookout point, sits atop a mountain, positioned approximately 1000 metres above sea level. From this vantage point, the observer is indulged with remarkable views of France as well as Fleurier and vast swathes of the Val-de-Travers region. This latter area is very familiar to Michel Parmigiani, a master watchmaker and restorer.
In 1950, Michel was born in Couvet, a municipality within the district of Val-de-Travers. With an overriding passion for horology, he studied at the Val-de-Travers School of Watchmaking and then the Technicum in La Chaux-de-Fonds before focussing his efforts on restoring automata, clocks and watches.
When discussing horology, it may sound obvious to say that timing is everything. However, when Michel opened his inaugural workshop in 1976, his timing couldn't have been worse. The whole of the Swiss watch industry was in the midst of the so-called 'quartz crisis'. The notion of high horology and watches equipped with Swiss lever escapements was turned on its head. Quartz watches were very much en vogue. They were comparatively simple, incredibly precise and were very affordable. At this time, the doomsayers prophesied the end of mechanical watchmaking.
Undeterred Michel continued to focus on traditional watchmaking and restoration. Eventually, he met the Landolt family who owned 'one of the largest collections of pocket watches and automatons in Switzerland, the Maurice-Yves Sandoz Collection'. Michel was tasked with restoring various horological artefacts from this collection.
In 1996, with the support of the Sandoz Family Foundation, Michel established his own eponymous watch brand, Parmigiani Fleurier. As the firm's name implies, the company was located in Fleurier, approximately 5 kilometres from Couvet, the master watchmaker's birthplace.
Since its inception, Parmigiani Fleurier has always been rooted in the Val-de-Travers region. Some may argue that the unique terroir imbues the brand's models with their own distinctive character. Certainly, without question, they are wonderful expressions of fine watchmaking.
Later, again with the support of the Sandoz Family Foundation, Parmigiani Fleurier acquired existing companies as well as establishing new firms from scratch. It currently owns five companies making dials (Quadrant et Habillage), cases (Les Artisans Boîtiers), movements (Vaucher Manufacture Fleurier), assortiments (Atokalpa) and other parts using bar turning machines e.g. pinions, pivots and screws (Elwin).
Today, Parmigiani Fleurier makes all watch components save for sapphire crystals/rubies, hands and the sumptuous Hermès straps affixed to many of its watches.
A new audience
Each Parmigiani Fleurier creation is an exemplar of Haute Horlogerie. Based on his expertise in the field of restoration, Michel Parmigiani has always been insistent that the chosen materials and finishes confer longevity. Indeed, the finissage typical of a Parmigiani Fleurier timepiece is not merely an aesthetic enhancement, but a means of imbuing components with a notable degree of durability.
I have interviewed Michel Parmigiani on a number of occasions and he has often said that he designs watches that can be restored in 150 years time by someone with the necessary skills. His point of view is refreshing in an era when many products are intended to fail once the warranty period has elapsed. Quite simply, a Parmigiani Fleurier is designed to outlive its owner.
Over the years, I have worn several watches from the venerable Maison. I've always been impressed with the company's no-compromise stance in terms of quality. Moreover, I appreciate the wonderfully understated styling of the firm's products. Rather than vulgar expressions of wealth, Parmigiani Fleurier makes elegant timepieces for discerning individuals.
Parmigiani Fleurier recognise that in order to expand, it needed to engage with new, younger audiences. In 2020, the Manufacture unveiled the Tondagraph GT and Tonda GT. At the time of launch, both models were offered in a choice of gold and, most importantly, steel.
Steel sports watches featuring integrated bracelets have become a must-have for many thirty-somethings. Contemporary styling combined with mechanical virtue and peerless finishing makes these models highly popular with younger informed clients.
Now, the Maison has built upon this experience and released the Tonda PF collection, a range of timepieces blessed with understated, youthful looks.
Guido Terreni – CEO
In January 2021, Parmigiani Fleurier announced the appointment of Guido Terreni as its new CEO. Mr Terreni formerly worked at Bulgari Horlogerie, eventually assuming the role of President and Managing Director. He's an industry veteran with over 20 years of experience.
Recently, I had the opportunity to ask Mr Terreni a few questions about Parmigiani Fleurier and, more specifically, the Tonda PF collection.
How would you define the Parmigiani Fleurier brand?
Parmigiani Fleurier is a young brand, just 25 years old. However, it is a highly competent company due to Michel Parmigiani and his knowledge of restoration. There is an interesting tension at Parmigiani Fleurier. On one hand, the brand is young and fresh while on the other hand, as I just mentioned, it is highly competent.
To summarise, Parmigiani Fleurier is a young, luxury brand. It's understated with incredible cultural knowledge. Now, we are moving towards making more contemporary products, designed for younger tastes.
What makes this Manufacture special?
We are vertically integrated with much in-house expertise. If we focus on the new Tonda PF collection, the models showcase our know-how and the talents of our people.
Parmigiani watches incorporate a high level of refinement, fulfilling the requirements of today's horophiles. This comes from Michel's incredible knowledge. He knows not only what can be done today, but also how things were done in the past. Furthermore, his knowledge is not restricted to watchmaking skills, it also extends to culture and heritage. Lastly, he is also able to call upon a network of artisans with the necessary skills required.
With the Tonda PF, we were trying to create a contemporary watch that encompasses the refinements I've mentioned. This is what differentiates our company from others. Those buyers who are sensitive to details will notice the choice of colours, the size of a guilloché pattern, etc. In fact, if we take the guilloché pattern on the Tonda PF, we expended much time on the size of the motif, deliberating whether to make it smaller or larger. It's a bit like cooking pasta, ensuring its not overcooked or undercooked, but making sure it's just right.
Can you provide more information about the new Tonda PF collection? Was it conceived by an in-house designer?
The model was designed internally. Our intention was never to create a 'flashy' watch. The idea was to create a timepiece that wasn't conspicuous but contemporary. We did not wish to produce a watch that was fashionable, instead favouring timeless design. For example, the dial colours chosen for the Tonda PF models are not 'trendy' but intended to look good, not only now, but in years to come.
We wanted to make a watch that would appeal to discerning buyers, able to appreciate the model's numerous details. A client could easily spend an hour or two just looking at the dial of a Tonda PF Micro Rotor.
The chronograph features an integrated 5Hz movement, one of the best on the market and endowed with superb finishing. The bracelet was designed to be very flexible in order to fit the wrist comfortably.
If you look at the Tonda PF Micro Rotor in steel, the bezel is made of platinum. Why platinum? Because it is whiter and softer, and it gently contrasts with the steel case.
When choosing the guilloché for the dial, we wanted the pattern to be almost invisible. It shouldn't distract the eye when reading the time, but it should be there. Some people don't see the guilloché at first, only discovering it later. It's a bit like a fine suit where you discover some subtle details about the fabric, it adds to the overall experience.
While the dial looks simple, it is actually very complex, requiring much craftsmanship. The knurling on the bezel is done in house using a specialist machine that removes metal, leaving grooves behind.
Such details are expensive but they allow us to create a watch that is far superior than just 'ordinary'. The style of the new models is a little bit less sporty, a bit more dressy but very versatile. Indeed, it was important that the watch could be worn for any occasion.
Closing remarks
Mr Terreni described the Maison's strategy to me in detail and the company's intended audience. Save for my age, I feel I share much in common with the brand's target audience. Indeed, I am saddened when a watch is selected purely because of its price and/or its prominent logo. Such behaviour seems crass.
Personally speaking, I admire craftsmanship, subtle details, refinement and tasteful luxury. It's when cradling a watch in one's hand, that the minute details become apparent. When Mr Terreni discussed the protracted considerations that ensued as his team decided on the design and scale of a guilloché pattern, I found myself nodding and smiling unconsciously. Quite simply, Parmigiani's CEO talks my kind of language.
During our conversation, Mr Terreni often used sartorial metaphors to convey the many qualities of the Tonda PF collection. This is a perfect analogy, fine tailoring is about the touch of the cloth, the cut and conferring a lasting allure undiminished by changing fashions, just like creating a paragon of fine watchmaking.