Modular Design Application in Lingerie Patterns
Breaking down assumptions in the fashion industry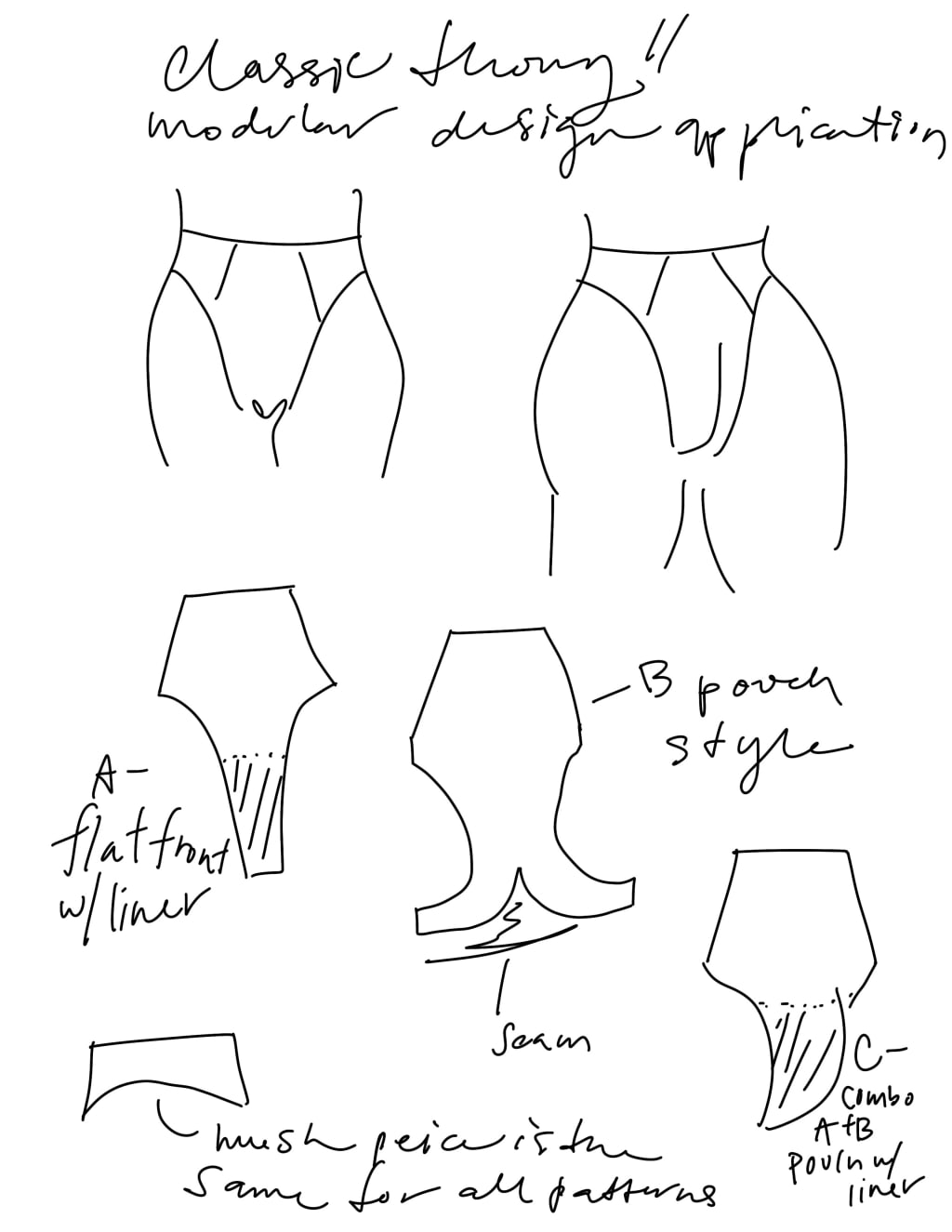 My name is Sydney, and it is a privilege to be able to talk in depth about my project and aspiring small business that applies the use of scissors. Since I was a teen, I struggled with body dysmorphia and a lack of body positivity. Through my Instagram account, I have documented and shared hundreds of nude self portraits and have found my artistic practice deeply intermeshed with the intersections of body culture and sexual expression and the internet. I find transparency around my feelings promotes more love for myself, and over time, have inspired many others to feel the same.
In the fall of 2019, I sewed my first pair of panties, and never looked back. This single project sparked what has become a nearly three year journey combining my love for design with body love and positivity. Since that first pair, I have made hundreds of pieces, including panties, bras, tank tops, and bodysuits galore. The process of beginning to design and think through how I would run a fashion business has led me to conceptualize a more size and gender inclusive product. I have applied my knowledge of modular design to make gender expansive patterns that can fit any body, because anybody can wear lingerie, and to reimagine how we think of and express clothing sizes.
Fashion has come to serve so many purposes in our lives. It is self expression. It is utilitarian. It is a way we protect ourselves from the physical external world, but also has the power to shape our internal world. Lingerie that is made for your body has the greatest impact on both of these things in my experience. I want everyone to be able to feel the way I feel about myself, and have started to achieve that goal through this work.
The fashion world is still a highly cisgendered place, especially when it comes to underwear. It can feel dysphoric to have to shop in a section labeled something that is not a term you identify with, yet desire the self expression which the clothes in that section provide. Similar feelings can arise when you find clothing you like, but the patterns are tailored to someone with a different body than you (an example of this is dresses patterned to assume the wearer will have breasts.)
Most clothing patterns are designed with certain bodily proportions in mind, which claim to represent and be accessible to the "average" body of that size. But there are so many factors telling us there is no such thing as an "average" body. So why do our clothes continue to make these assumptions for us?
My goal in this endeavor is to have all patterns I create be accessible to any body, especially when it comes to size, genitalia, (dis)ability, and gender expression.
It is important to me that societal gender norms are not projected onto my work and that my patterns are not labeled in a typical gendered/genitalia focused way. Instead my pattern names state their application, which promotes self-advocacy for individuals to choose which option they think best fits their needs, rather than being externally assigned. I think the clothing and lingerie industry have a long way to go when it comes to breaking out of the binary with clothes. Clothing should make you feel affirmed and liberated, not confined. This is why I do this work.
It is also important for me to find a way of sizing clothing that is both clear, and not demeaning. Cultural stigma around size carries can feel cumbersome when having to shop/find clothes that fit you. Finding a size guide that is empowering is a part of my mission in this project.
I will go into my application of modular design in underwear making now:
I view modular design in pattern making as if I am working with a bunch of interchangeable pieces. My patterns build off the last and are constantly evolving and being combined in different ways. This is how fashion evolves and I experience it on a micro scale.
Take one of my styles, the basic high waisted thong, inspired by high waisted cutout side panties. The mesh sides are the same for all patterns, but the front piece has a few options. I can construct a classic flat panty with a liner, a pouch with no liner, or a combination of pouch and liner. Labeling these patterns in terms of function/characteristic instead of prescribed use of the function can eliminate the dissonance and discomfort individuals face when the ascribed function of their clothing does not align with how they feel.
It is my dream to make this work my full-time passion, and I believe there is a lot of potential in the application of modular design in the fashion industry to promote inclusivity and ease of production/pattern making. Modular design is the gateway from one size fits all, to more custom garments, which everyone deserves to have. My goal is to make fashion more accessible for all, and I believe modular design is not only how we make garments, but how we make garment production all around more accessible.
In addition to making underwear, I am also an upholstery apprentice, do clothing alterations, and make custom garments for myself, including coats, pants, and of course, undies! I have a pair of scissors or rotary cutter in my hand practically every day and have been a lover of scissors since before I could remember. I grew up as a third generation quilter and have been sewing my entire life. As a child I dreamed of being a fashion designer, and I am finally turning those dreams into reality.
I would love to use the resources from this grant to continue my education in design, fashion, and clothing construction. I would also like to deepen my knowledge in fields that intersect with and influence clothing design and construction, such as environmental studies, and gender, race, and disability studies. So many things inspire my craft, and these resources would allow me to further develop my artistic vision and what I want to give back to the world with my art.
If I were to win, it would be an honor to be able to use the assets to continue my work in modular lingerie design and provide access of my work to all. It would allow me to expand my size range and patterns, as well as provide more material options for those who have sensitivities.
I am hoping to break down toxic body culture and gender binaries one pair of underwear at a time. Thank you for your time and consideration.

Sydney Palmer
Jack of all trades, passionate about my craft and whatever new skills I can incorporate into my practice.
Upholstery assistant
Underwear seamstress
Lover of analog and alternative photo processes
See all posts by Sydney Palmer →