Launch
My new start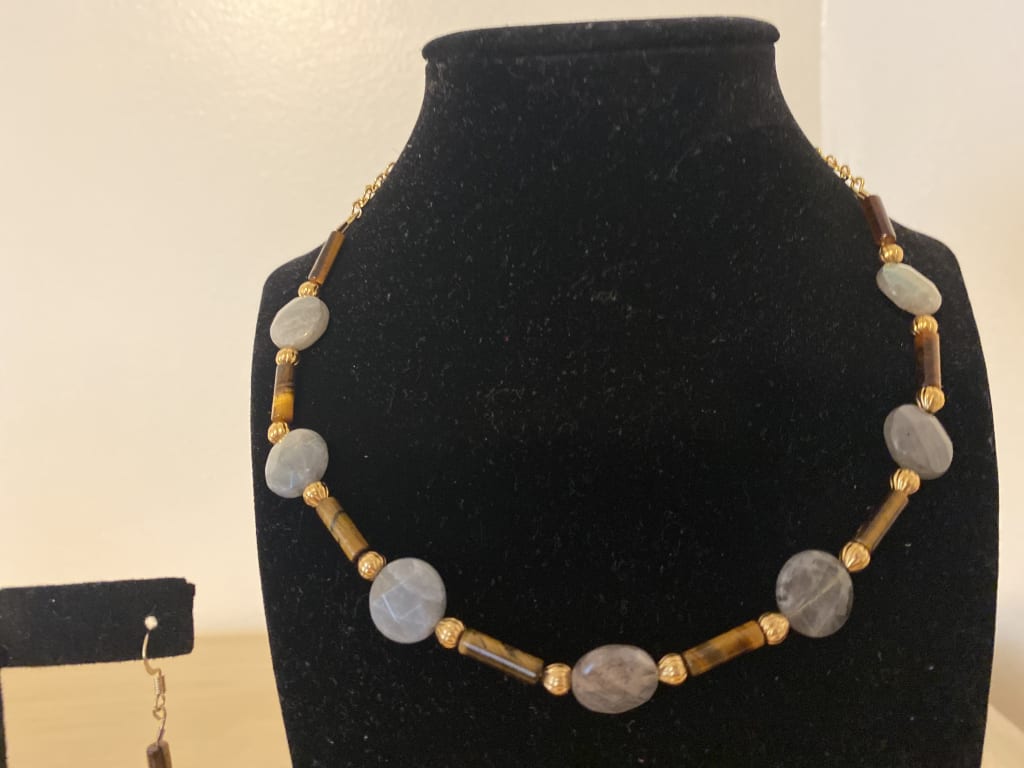 Imovezme is an accessory brand that I am attempting to launch. Since receiving my Accredited Jewelry Professional certificate from GIA life has not afforded me the opportunity to further my education with them. Most of my bench skills are self taught, but it is something I enjoy as a mode of expression.
This line is ethnically inspired reflecting both my ancestry and spirit. It represents giving all you have to achieve a purpose. The designs are my contribution to this generation. Representing strength and clarity of mind I source the gemstones and couple them with metals based upon their medicinal purposes. Each piece is designed to be a conduit of health and well-being.
Labradorite and tiger eye coupled with decorative brass beads. The energies of the stones work well together. Labradorite creates a force field preventing others from draining your energy and tiger eye can help create harmony with people who have different views. Wearing this piece can remind you of positive affirmations and it looks good too.
Muted tones of blue with the vibrant brown separated by jewelers brass makes this piece an attention getter. You'll get the compliments and the abilities of the stones gives you a knowledge about what you have on.
Writing this out helped me come up with a name for the piece. I'll call it "Awareness ." It represents what's going on in the world today. People are more aware of themselves and the environment they live in. People are taking action that will affect our lives and how we live for centuries to come. Understanding your personal energy is just as important. Using stone energy is another way to control your personal energies and ensure that your actions are sober minded.
I believe stones help change your personal vibrations. Sometimes we are tense or nervous so we are giving off heavy dark energy. Stone energy can change your personal vibrations to enable you to give off a more positive energy. Working in conjunction with the stones helps build the results just by being more aware.
In becoming more aware of myself I am becoming more aware of the world I live in. We are living in a time where conflicts are likely because people are emotionally invested in the social issues that the country is currently in the process of restructuring. When people are walking around with that much tension there are bound to be conflicts. Being aware incorporates a world view. We are not just in mental silos. It has to do with embracing the truth of where I am and formulating a strategy to get where I want to be.
Jewelry is a part of the manifestation. Taking natural elements to change your energy is the same as taking medicine. People view jewelry differently, but mostly as a status symbol. Obviously the more expensive the better the quality of the components. Working on a tight budget I have had to seek after stones that are a good quality for the price. As I grow the business I will add upscale pieces which means the components will include real gold and higher quality stones.
The creative process is a journey that includes what kind of energy I am feeling that day. This day was begun with creativity and design. Considering how the stones work together and sourcing stones that look good together all to be assembled by my hand. Some days are better than others and I'm still learning new techniques. There is a freedom in the process, but there are also some strong realities.
Sharing my work with the world is personal but I welcome constructive criticism. Help me to build my brand.