KURTIS IN A PROFESSIONAL ENVIRONMENT
New age designers are now experimenting with different styles, resulting in new fashion trends. Office wear for women has always been a blend of formal and subtle Indian outfits. Indian women prefer wearing Kurtis to work.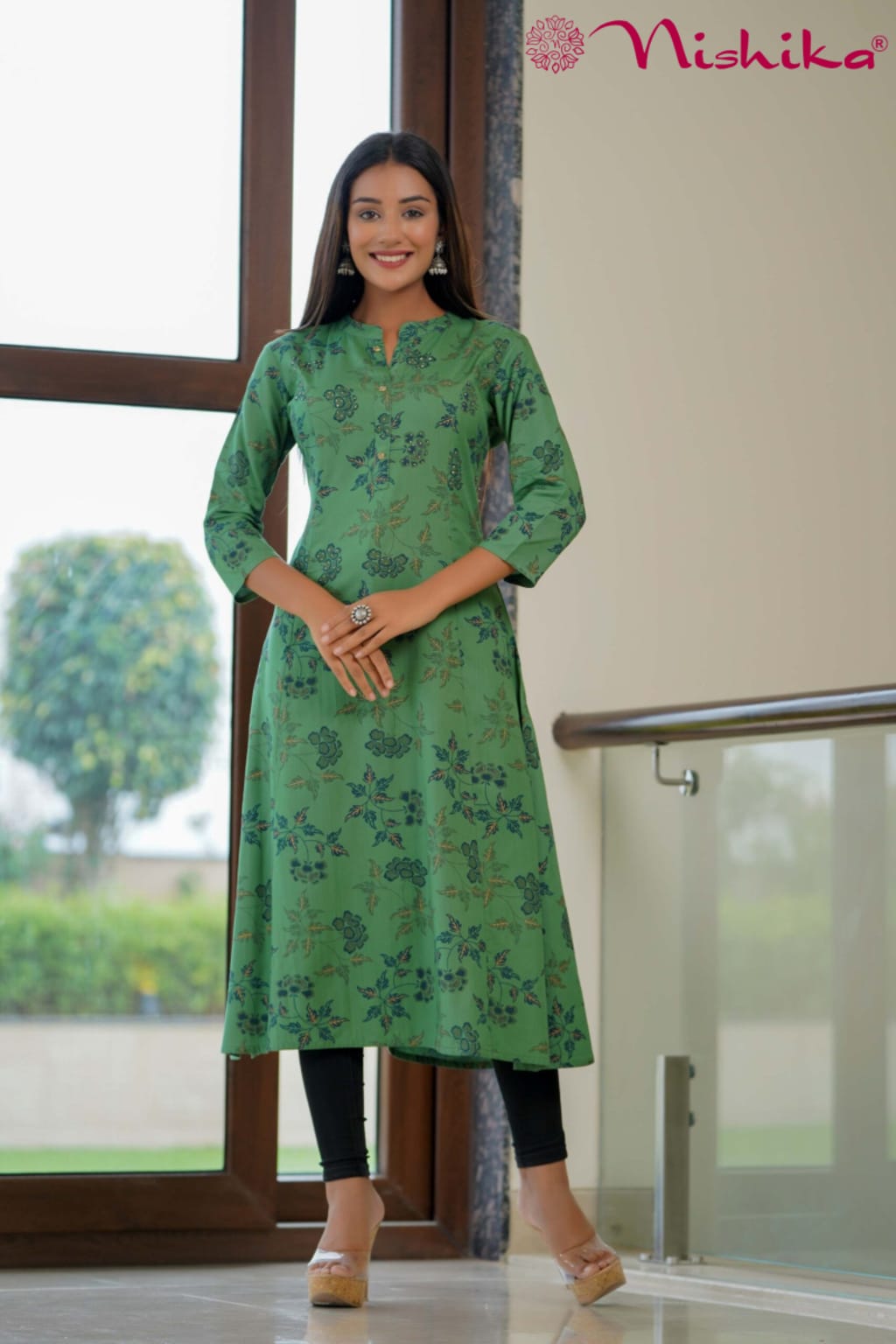 Indian working women are too preoccupied to put on something that requires extensive labor in the morning. They wish to maintain things basic but sophisticated. When you need to look effortlessly attractive but don't want to wear your western clothing all the time, a Kurti might be a fantastic option. Kurtis has majorly transformed in terms of style, fabric, and cut over the last few years. As a result, they're accessible in every pattern and color imaginable to preserve your workplace fashion on track. When you pick on the best Kurtis for your profession, you'll soon be the proud owner of a closet full of vivid colors and brands.
Willing to go to the office wearing Kurtis?
Kurtis is attractive to Indian youths and office workers since they let you experiment with different shades, designs, and textiles. Artists have been working hard over the last several years to create Indian clothing, a phenomenon worldwide. They're constantly coming up with innovative ways to raise your style bar while assuring all-day convenience. If you want to bring your Indo-Western style to the office, here are a few pointers.
1. Only wear a modest, simplistic outfit.
The workplace is not the site to flaunt your intricately stitched gowns. Try to stay away from whatever with that much shine or sparkle. Wearing minimal cuts is the best slogan for nailing the business appearance. Various Kurti patterns exude a refined and exquisite sense of style. Pick Kurtis with a simple midline design, a mandarin collar pattern, or collars if possible. Such patterns look fantastic and lend a lot of profundity to your clothing without requiring any investment of time and effort.
2. Consider professional colors such as white, black, and grey
Finding the correct colors for your professional outfit is a critical aspect of achieving that chic design. When it comes to Kurti colors, you simply can't make a mistake because they symbolize a role of your individuality. Every professional woman should stick to fundamental, simplistic colors like white, grey, black, and dark blue. We are not saying that you can't experiment with other colors. Certainly, anyone can, but with a few helpful hints. If you've fallen in love with a bright color, attempt to balance it out with earthy tones like brown or grey.
3. Wear trousers or leggings with Kurtis
Jeans are top-rated for comfort and convenience along with impressive fit and style. However, denim can't be worn in the office with your Kurtis. Leggings are undoubtedly the greatest companion for your office Kurtis, but to be versatile, pencil trousers, straight pants, or palazzos are some alternatives. They instantly elevate your professional dress above the competition without sacrificing comfort.
4. Dress Kurtis with an A-line, a straight design, or a short length
Power dressing isn't for the faint of heart. It necessitates careful color and style selection to ensure that you do not violate the business dress standards in any way. Kurtis nowadays comes in a multitude of styles to flatter all body types. So, while it is not difficult to locate many styles, the actual challenge is determining which style is appropriate for the job. Choose A-line and straight cut styles if you have a slim to medium build. The pleated style is used by women with small waists to attract attention away from the problem area. Short women can rely on short Kurtis fitted pants since they give the false impression of extra height.
5. Kurtis with a strapless or backless back must be disregarded.
We fully comprehend that you have a closet full of fashionable and seductive Kurtis, but believe us, they are not ideal for the office. You will get opportunities to show them off at anniversaries, birthday parties, and get-togethers with friends. Avoid wearing sleeveless or backless Kurtis to the office because they aren't suitable for the workplace. If you must attend parties after office hours and have opted to go backless or flaunt a bold style, wear your Kurti with a jacket or shrug during office hours.
Accessorizing with Kurtis for professional attire
Wearing a lovely Kurti to work doesn't mean you've completed the attire. It's also crucial to accentuate the outfit with beautiful and sophisticated accessories. We'll show you how to brighten up your Kurtis in a gentle way. These pointers are straightforward, but they guarantee versatile results.
1. Wear a plain dupatta (With no Heavy Design)
Any Indian outfit would be incomplete without a dupatta. One can even wear Kurtis with your elegant office Kurtis without reluctance, although with a little more care. Because Kurtis does not usually come with a dupatta, you will have to purchase them separately. Choose cotton or light silk dupattas in neutral tones. Heavily embroidered or patterned dupattas must not be worn to work. To keep your dupattas from slipping from your shoulders, tuck them into your Kurtis with a clasp or safety pin.
2. Choose simple pearl studs or a singular neck chain for your jewelry
The fact that you're wearing business attire doesn't mean you can't show off those exquisitely carved earrings, bracelets, or neck chains. You can wear them with your office Kurtis on any occasion. Simply pay attention to the sparkle you wish to incorporate into your business attire. When it comes to the office, too many bright colors or sparkles are not acceptable. It's recommended to limit your jewelry choices to modest ear studs or earrings. A simple neck chain with a little pendant can be used to draw attention to the area around the neck. Silver and tarnished jewelry are excellent choices for enhancing your office appearance.
3. Combine with Sandals or Classy Heels
Heels are here to help you gain a few inches on the ground. When it comes to Kurtis, smart and sleek heels are ideal. Heels not only add beauty to your entire look, but they help you stand taller and project a confident posture and can also aid with physical stability. When wearing Kurtis to the office, you can wear small heels or kitten heels. Heels Sandals go well with office Kurtis, just like heels. To wear to work, you can choose from a variety of stylish sandals. When worn with Kurtis, open-toed sandals have a more elegant appearance.
4. Wear a simple bangle set, bracelet, or wristwatch
The majority of Indian women do not like their hands to be empty. They enjoy wearing hand ornaments at all times, whether at work or at home. To complete your Indo-western appearance for the office, use a classic watch or a couple of bangles. To fit the business-wearing style, we recommend choosing a small watch with a large display. Mono colors are preferable when it comes to bangles. With workplace Kurtis, golden or silver bangles are stunning. Bangles with busy patterns or bright colors should be avoided. Bracelets that are simple and attractive can also offer appeal to your entire business appearance.
We, at NishikaIndia.com, offer an elite variety of Kurtas Dupatta set and Kurtis and Pant sets that are pocket-friendly, elegant, and excellent fabric material. Click here to see some amazing Kurtas to add to your wardrobe collection.