Kickin' It Old School: 3 Must-Have Men's Leather Jackets
Bring a Retro Feel to Your Modern Style
One example of a dark brown leather jacket.
James Dean. Steve McQueen. John Travolta. Harrison Ford. From trendy to distressed, biker to bomber, these actors, and many others have sported timeless leather outerwear. The masculinity and durability of a rugged leather jacket may be even more appealing in 2020 than in 1953 (the year Marlon Brando donned a Schott One Perfecto black leather jacket for the silver screen).
You don't have to be a movie star to sport these edgy looks. Leather jackets are the up-and-coming fashion fix of the 2020s. Not relegated to cold weather, leather is a statement item year-round. What types and styles of leather jackets are available? How can you make it work with your wardrobe? Which style and color will match your favorite jeans? That's why we're here to help.
Thanks to online retailers such as Film Jackets, you too can sport film-inspired looks. We'll examine three classic leather styles that you should adopt for the coming decade.
Moffit Brown Distressed Leather Motorcycle Jacket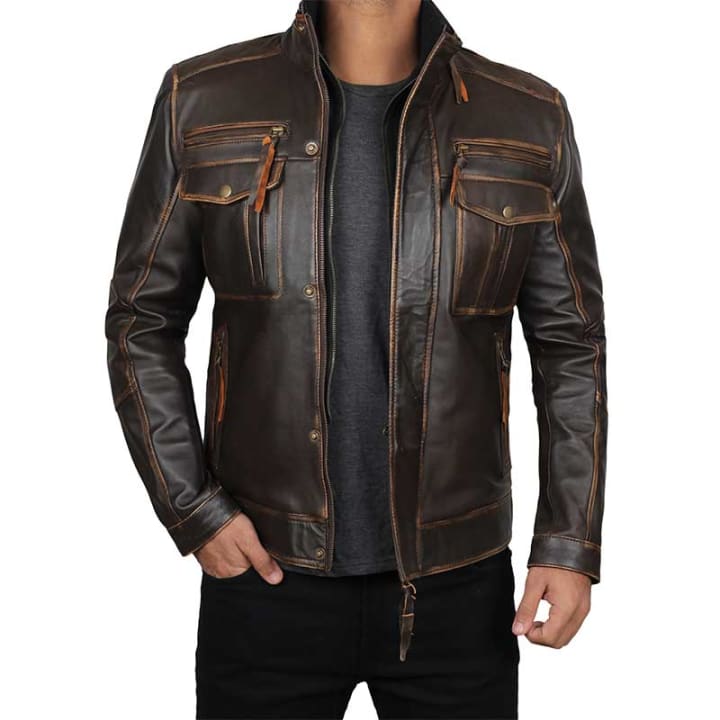 Motorcycle jackets were developed with tightly closing zippers to prevent the entry of air, keeping the rider warm. They also offered some protection from pebbles and debris kicked up by passing cars. These jackets are no longer just for bikers, however.
The distressed brown leather of the Moffit jacket—dark brown throughout with lighter brown corners and edges—is one of the most versatile leather jackets on the market today. Pair it with jeans and a t-shirt, or slacks and a button-down with a tie; the choice is yours. The quilted shoulders, and multiple zippered pockets make this jacket a vintage-inspired standout.
Johnson Chocolate Brown Distressed Lambskin Racer Jacket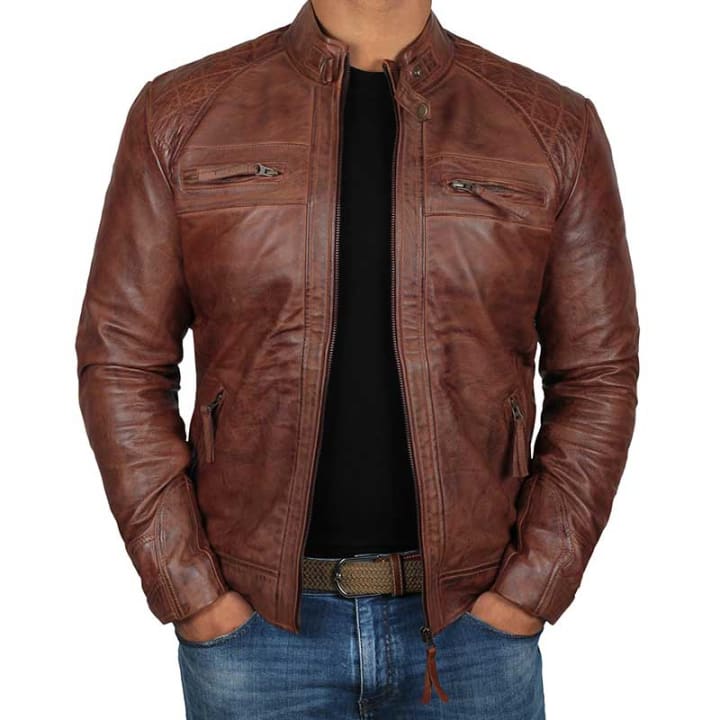 The racer jacket is similar in design to the biker jacket. The Johnson lambskin jacket is an understated work of art. It combines simple lines with a minimalist number of pockets—four in total—and a checkerboard quilted shoulder panel. The brown shade makes this jacket more versatile than others. It'll look great with jeans, as mentioned above, or a blue button-down shirt, and brown pants.
The Johnson jacket in brown calls to mind a number of movie favorites, including Indiana Jones and Star Wars. In black, it is reminiscent of James Dean, Grease, or The Wild One.
Edinburgh Hooded Brown Leather Bomber Jacket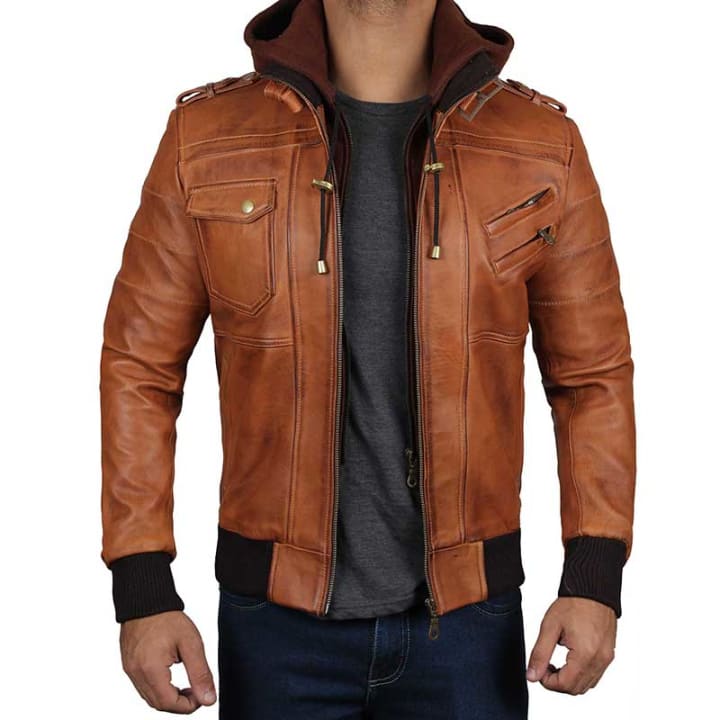 The bomber jacket was one of the first leather jackets to enter popular culture in 1925. Also called A1 or flight jackets, the garment was worn by aviators, and other military personnel. Utilitarian in design, the jackets kept pilots warm in high altitudes.
The world wars ended, but the bomber jacket stuck around. Bomber jackets such as the Edinburgh are a good choice for cooler weather. This jacket has a viscose lining, rib-knit sleeve cuffs, and a drawstring-closure hood to keep you comfortable and stylish.
What's So Great About Leather?
Not only do leather jackets offer style, warmth, and protection from the elements, but with proper care, leather can last a lifetime. Simply store your leather wear in a location protected from dust and damp, waterproof it, and condition it occasionally. Keep it looking like new by applying a leather polish—not shoe polish; use a dedicated leather polish. Leather can be cleaned of most spills and stains using a damp cloth. More stubborn stains can be tackled with a gentle leather cleanser.
But what about media hype concerning leather and animal cruelty? How does it affect the environment? Should you choose synthetic leathers instead?
Actually, leather is a renewable resource that utilizes hides produced by the meat industry. Appropriation of such scrap material (which would otherwise end up in the local landfill), as well as its long lifespan when compared to synthetic materials, makes leather a generally eco-friendly wardrobe option.