Jewelry Gone M.A.D
KIA KOLOUR- Behind the scenes of the brand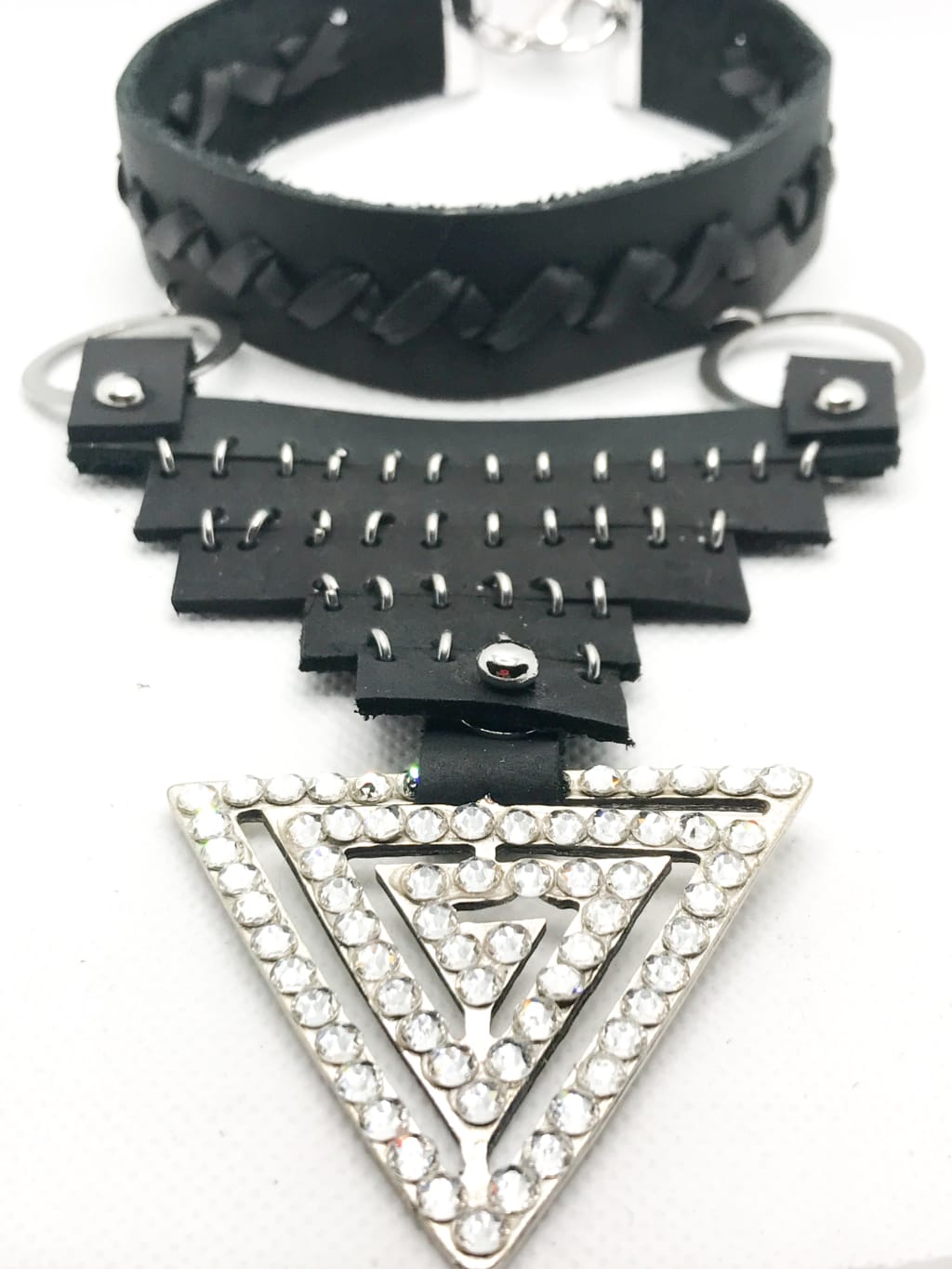 The Eudora Necklace
KIA KOLOUR is a handmade jewelry brand who's mission is to unlock the enigma of a confident woman. Our goal is to design powerful statement edgy/elegant pieces that compels women to come out of their comfort zones and be who they truly are. Some women hide behind a facade and pretend to be someone that they really are not, because she wants to be accepted within the crowd. She wants to wear the high end designer brands that her friends are wearing to fit in. Well, KIA KOLOUR wants to be the voice for the voiceless. We want our jewelry to allow women to feel secure, confident, and strong. We are THE women's empowerment jewelry brand.
KIA KOLOUR jewelry was designed to help women peel back that layer of self doubt and lack of confidence. The leather represents living on the edge, risk taker, mystery; while the swarovski crystals represent femininity, sexiness, and elegance. The combination of the two mimics the qualities of a woman. The pink and black concept for KIA KOLOUR brand was to mix the soft and hard together. To merge the two extremes together into one; combining the elegant side and the edgy side of a woman in each of our handmade pieces.
Our jewelry society is meant to uplift women and encourage them to try something different and take the risk on YOU. We have discovered that women have different sides to them and our jewelry was created to help them unlock it, Intentionally with purpose.
We aim to build a community of strong and confident women who empower each other through bold statement jewelry pieces with the underlying message of the statement they want to express.
We encourage women to stop hiding behind things that don't compliment who you are or match their personality and be bold and secure enough to wear jewelry that speaks to the powerful strong woman you are.
We encourage women to have that, I don't care kind of attitude and the poise to be unapologetically who they truly are.
Our purpose is to encourage women to wear jewelry that speaks to the person inside of themselves that they keep hidden from the world, that person who is reserved but willing to take the risk, and to the person who believes that Jewelry can be the force that propels them to take a deeper look inside themselves.
This is how we unlock the enigma of a confident woman through our jewelry.
We are more than just jewelry. We are a lifestyle, a brand, and a movement. It's not enough to be average and stay within the dress code, but it's more liberating to be a rebel and wear jewelry that allows you to break the code and create a combination of your own. MODISH. ALLURING. DARING - Jewelry gone M.A.D is pushing the envelope, breaking boundaries, and blurring the lines. Creating bold, unique, and edgy pieces that are empowering. Encouraging women to embrace their confidence and to be unafraid to stand out and be bold.
We are spotlighting our Eudora Necklace, handmade with real leather, stainless steel accents, and swavorski crystals. This necklace began with just a concept and a pair of scissors. " I had never made jewelry before but I was determined to bring this necklace to life and three hours later Eudora was made". The necklace that is the centerpiece of KIA KOLOUR.
When I'm creating I feel free. I love when my mind starts to wonder and ideas begin to flow. To be able to craft something that I imagined is a gift and true super power. It's my very own identity and what makes me unique. It is how I truly express myself and the product that I create is the outcome of the message that I relay to the world about who I AM. When creating, it helps me take a deep look inside myself and connect with how I am feeling in that moment, whether I'm feeling fierce, bold, edgy, sexy, or confident,.....Whatever I am feeling there's beauty in all of these feelings and my jewelry is created from what I'm feeling inside.
The passion behind my jewelry is empowerment. I want women to feel like they can be themselves, take a risk, try something different and still feel like they can be themselves. You can feel really trapped when you are voiceless and unable to express how you truly feel or who you are. When you find that voice and you don't care what others think or say, you walk in your truth. I find passion in creating jewelry that is that voice for the voiceless, empowering women to be sexy, proud, confident, and daring. Don't be afraid to take the risk and try something new, it could be that change that rocks your whole world.
Jewelry gone MAD by KIA KOLOUR is where elegant and edgy handmade jewelry mesh in order to create stunning, edgy, and bold pieces that represent both sides of a confident woman.
Our Eudora Necklace is that piece of jewelry that exudes confidence from Jewelry gone MAD.
Only at KIA KOLOUR