Handwoven Donegal Tweed's Trials and Traditions
This vibrant remnant of an Irish cottage industry survives in our digital age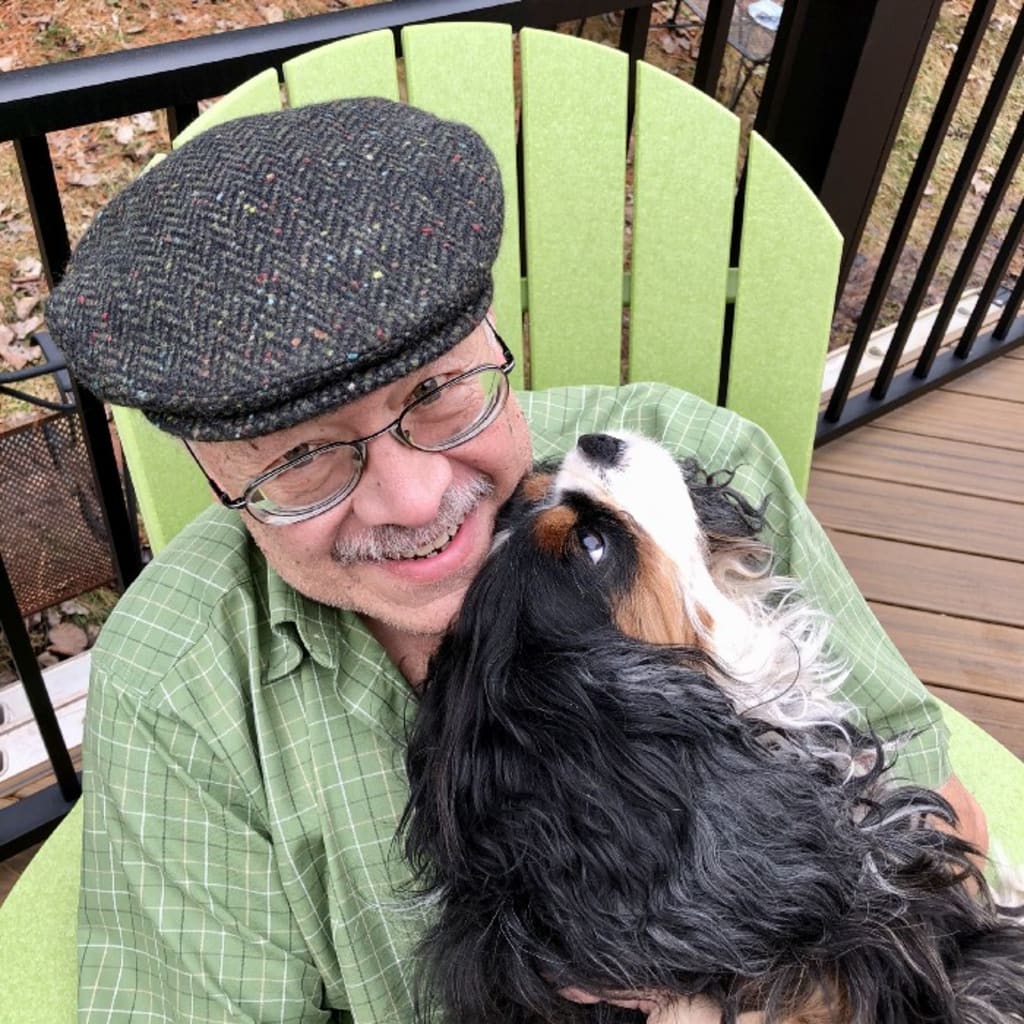 Photo by author.
Coming up with gift ideas for men, according to groupthink, stretches our imagination. Ties, golf balls, and button-down shirts pile up over the years. Gift buying is a bit easier if the fellow, like my special man, happens to be bald. Hats. Hats to not only keep warm, but to protect the top of his head. Being bald is like being a cat without whiskers — a bald man never knows exactly how close his noggin is to the undercarriage of the car he's working on. Or where the pipe under the sink is as he installs a new garbage disposal. Ouch!
While researching Irish textiles, I stumbled upon a distracting factoid: actor Sarah Jessica Parker sings the praises of an Irish weaver named Eddie Doherty. Wondering what possible nexus exists between a Cincinnati girl like Sarah Jessica and a County Donegal hand weaver named Eddie Doherty, I dug in. Turns out, Sarah Jessica's husband has roots in the area. The Brodericks have been vacationing there for decades. And, like every vacationer, Sarah Jessica shops.
This led to my discovery of Donegal tweed and an answer to my quest for a great gift.
Hand weaver Eddie Doherty declares in his promotional pamphlet, "I am now one of a dying breed" and points to his weavings as reflecting "the beauty of our landscape." He is right on both counts.
The forgotten county
The wool fabric Donegal tweed evokes its birthplace with pinpoint accuracy. County Donegal perches snugly against the sea on Ireland's northwest corner. Glacial fjords, deep indentations, and some of the highest sea cliffs in Europe create a rugged coastline on the North Atlantic Ocean. Mountains fill the interior.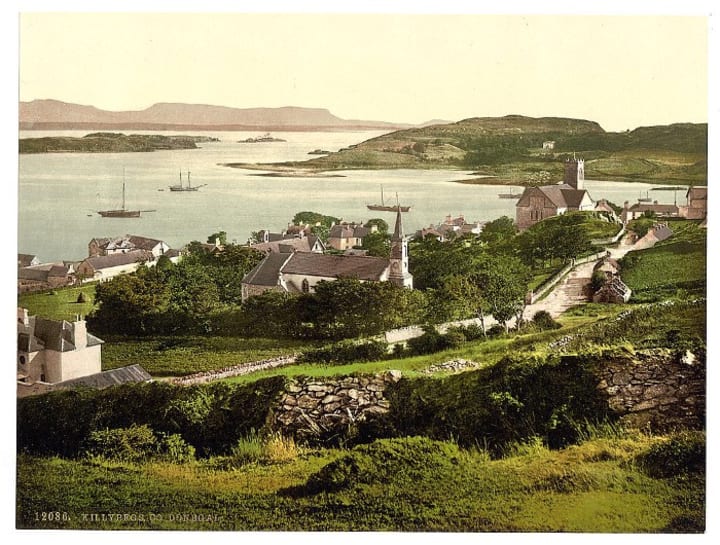 Just as the terroir of a region mingles into a Cabernet's unique nose and notes, County Donegal's colors, climate, and history weave through every inch of the wool fabric.
Start with the hallmark of Donegal tweed, scattered nubbins of color sprinkled across a staid background. The bright tones create a heathered effect against the herringbone, striped, plain, or checked patterns. This defining characteristic is so tied with the area, the term "donegal tweed" (with a little "d") has become the accepted name for the style.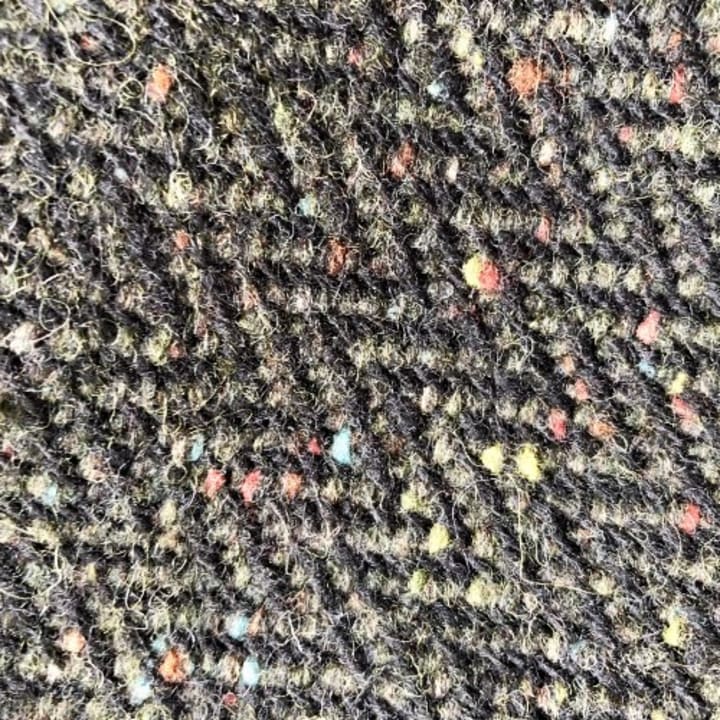 Colors from nature
Originally the colors came from indigenous plants and materials. Gorse for brilliant yellow, moss for earthy greens. Blackberries and lichen. Even sea shells. Archeologists rhapsodize over piles of dog whelk shells found at Dooey on Donegal's coast. As at other Irish sites, the tips of the dog whelks, a carnivorous sea snail, have been intentionally crushed. Dog whelks have a gland in their head which contains a wondrous liquid. When released, it turns color, from the original clear to green then finally the rich red-purple, violet revered by the ancients. The Irish have painstakingly harvested this dye since the Stone Age. Employed to dye textiles, the snail's output also appears in medieval illuminated manuscripts. Doherty wisely showcases his handwoven capes and caps with photographs of models posing outdoors. His cloth looks right at home, reflecting the palette of the countryside.
County Donegal is a land of cool summers and downright cold winters with double the annual rainfall of, let's say, Dayton, Ohio. Rough, tough, and outdoorsy, tweed dovetails perfectly with life in Donegal. Few fabrics compete with tweed for durability, warmth, and comfort in the out-of-doors.
Tweed arose in the British Isles with Donegal and Harris tweeds being the best known.
Harris tweed is made in Scotland's Outer Hebrides Islands. The Harris Tweed Act, passed by the British Parliament, governs, certifies, and protects the manufacturing of the cloth.
County Donegal is part of the Republic of Ireland and free of British Parliamentary regulation. As a result, there is more experimentation and variety in patterns and colors for the Donegal tweed. It is said by fans to have a longer tradition and a softer texture as well.
Eighteenth Century unexpected results
For hundreds of years, the whole shebang of creating Donegal tweed was done at home. Farmers raised sheep, sheared them, and — with a great deal of manual labor — turned the fleeces into tweed. Sheep do well in Donegal.
The flax plant, used to make linen, does not. In the 1700s a government effort to promote the Irish linen industry did not go to plan. The people of Donegal accepted six thousand flax spinning wheels and sixty looms for weaving from the Royal Linen Manufacturers of Ulster intended to boost linen production. Rather than spin flax, the Donegal folks jerry-rigged them to spin and weave wool, birthing a cottage tweed industry.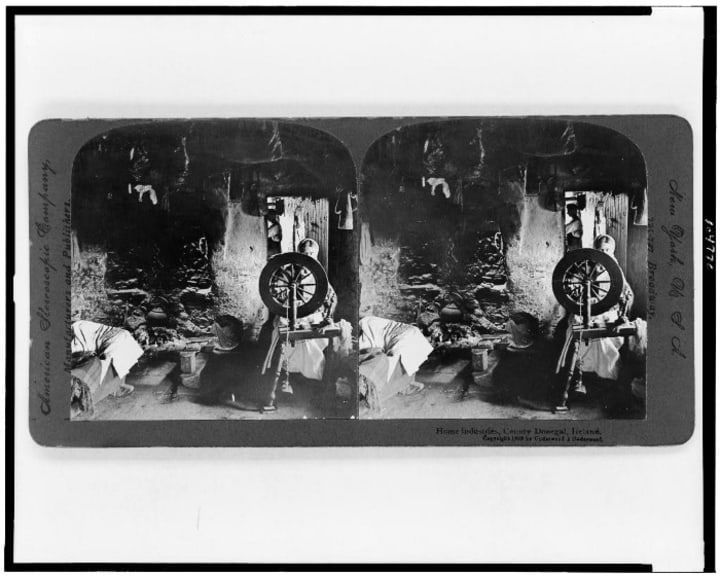 Nineteenth Century philanthropy
In 1883, Alice Rowland Hart, an Englishwoman who had studied medicine in Paris and London, came with her surgeon husband to Donegal. They were on assignment to write an official report on health conditions. Appalled by the poverty, they set up the Donegal Famine Fund. But Alice didn't stop there. She believed one answer to Donegal's economic straits lay in its history of exquisite craftsmanship. Alice instigated a number of efforts to promote handweaving and embroidery in Donegal. Donegal tweed was especially popular with the British market.
Weavers created Donegal tweed by hand well into the twentieth century. As happens from time to time, success begets its own seeds of destruction. The fabric, after centuries of clothing the common folk, became the darling of designers.
Twentieth Century celebrity
Sybil Connolly, born in Wales to an Irish father, debuted as a designer in 1952. Within two years, her ball gown was featured in Vogue magazine. Connolly promoted Irish linen, tweeds, and lace. Irish tweed appeared as Chanel-inspired boxy jackets with pencil skirts. She famously pleated handkerchief-weight Irish linen into intricate skinny pleats, taking nine yards of linen to make one yard of pleated material.
With an Irish American as President, his wife Jacqueline Kennedy included the Irish designer in her panoply of favorites. Her official White House portrait, an ethereal and even moody portrayal painted by Aaron Shikler after the President's assassination, shows her in a Connolly ruffled Irish linen dress.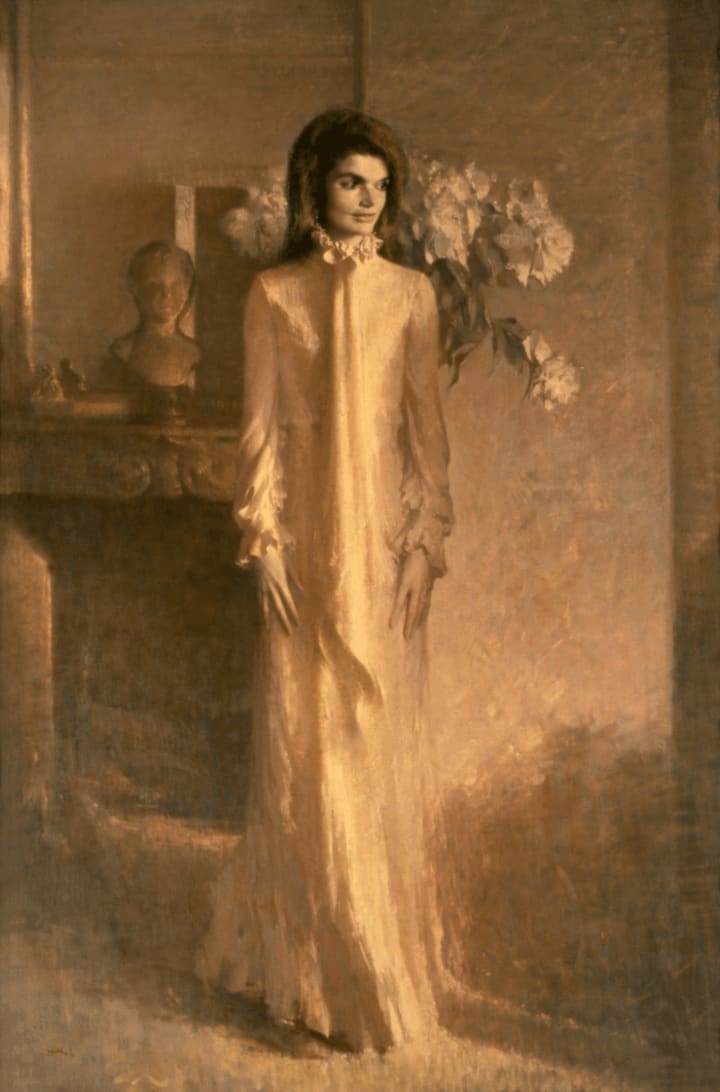 Designers love Donegal tweed's earthy, genuine, and romantic feel. However, midcentury designers wanted wider fabric. The old hand looms were twenty-eight inches wide. Designers wanted the versatility of fifty-six inches and got it, with automation. Hand weavers like Eddie Doherty no longer dominated production.
Donegal tweed has warmed, clothed, protected, and entranced for hundreds of years — from long-forgotten impoverished farmers to celebrities and style mavens. The romance and beauty of the textile captivates.
Modern times
Today Donegal tweed is still woven and sold in County Donegal by a dwindling number of handweavers like Eddie Doherty and also by machine weavers. You can buy finished clothing, home décor, and yardage online and in person.
Eddie's hat has become a favorite of my bald fellow. He has even been found wearing it inside the house, claiming to have forgotten it was on his head. I think he just likes it. A lot.
About the Creator
Diane Helentjaris uncovers the overlooked. Her latest book Diaspora is a poetry chapbook of the aftermath of immigration. www.dianehelentjaris.com
Reader insights
Be the first to share your insights about this piece.
Add your insights