Fiber Animals
or, the dream of a hand made sweater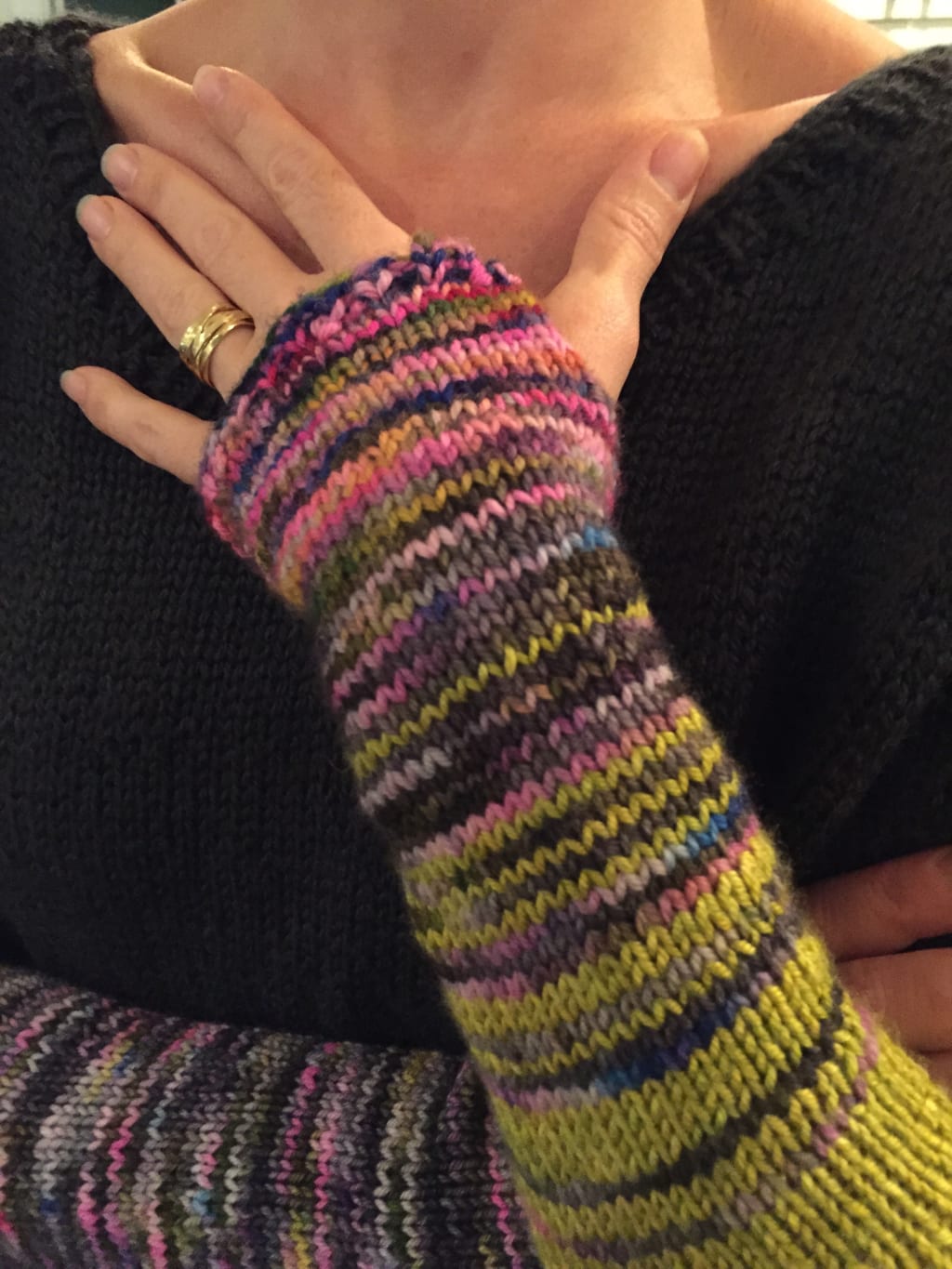 Calling to mind the feeling of a pair of sharp scissors: the just-perceptible grind of the blades sliding across one another, the low rumble in that soft space between thumb and pointer finger. The rhythm: snip snip snip; the hot tear of a blade gliding across a yard of fabric, rending it in two. Miraculous.
When I was a sun-bleached and somewhat angry girl, my mom taught me to sew by hand and sew by machine (a big beige metal Singer that she said is the Mercedes of sewing machines), how to needlepoint, how to hook a rug, to make macrame (cut rope has a particular texture that takes me to California, like a portal. Scratchy twine and the sound of wooden beads slipping and knocking together.) Her long tanned fingers knotting the rope, sliding the beads into place.
What I love most is knitting.
I recall her impatiently pulling at my first knitting project, a blue-gray swatch full of holes and dropped stitches, saying, "Can't you see it? Can't you see that it's incorrect?" I could not, and I was proud. I had no idea what I was looking for. I didn't feel like I was doing it wrong. I thought my mom was hung-up. I recognized that she was the one with the problem.
Over time I made shrunken blankets and cardigans for teddy bears (one had popcorns along the shoulders and a horizontal strip of areas of knit and purl.) I made myself terrible ugly sweaters that were far too wide with awful un-chic long arms. I tried to turn a rainbow variegated yarn into a skirt for rollerskating, but all I managed was to make a rectangle that I shoved into my closet and never forgot about. Once, in my mom's childhood home in Australia, while visiting my grandmother, I unearthed a small pink sweater with a green rearing horse on the front that she had made as a child. I couldn't believe it. I referred to it for many years as her unicorn sweater, but she would correct me angrily; it was a horse, and that was its ear, not a horn.
In my teens and twenties, I was shy about my knitting. It didn't fit properly into my carefully controlled world of college radio stations and iced coffees at the diner. (Ruby rings on first fingers; dangling Indian silver earrings with the tinkling beads that swept my neck and tangled in long hair.) My friends and I were always embellishing our white t-shirts. Cutting our jeans up to make skirts. Knitting was less cool than our DIY t-shirts with yellow plaid hearts spilling out from the neckline, snipped just so, to reveal collarbones and silver necklaces.
My mom and I would visit yarn shops and commiserate in the car about what we would do differently if we owned them. Always lamenting that no yarn shop ever stays in business long; not even the best ones with the most beautiful, least scratchy fibers. Do not be fooled by the stylish or chatty proprietor, containers of copper stitch markers and carved buttons, the stupidly expensive polished wood needles. Enjoy the shop while it lasts, because it will not last long.
Over time I learned to make beautiful garments that fit perfectly. I have memorized a top down sweater pattern and I remake it in different proportions with extravagant and emotional combinations of yarn. I combine the colors to make things I've never seen before. I obsessively follow wool producers and mountain-dwelling natural dyers on Instagram. I prowl Rhinebeck Sheep and Wool, stuffing hanks of deeply saturated wool and alpaca into my canvas tote. I gather up fibers in a frenzy of delight, amassing shelves-full, organized roughly by color, yarn balls spilling to the ground, rolling across the hardwood, leaving trails of yarn behind. A woven basket holds my needles. Ceramic mugs overflow with beads and stitch markers.
I dream of raising my own sheep, spinning their wool. Dying the yarn with berries and avocado seeds. Making a summer sweater with the dusty pink yarn.
In Australia my aunties took me to the Royal Show at the Perth Fairgrounds, a massive agricultural fair where I saw the sheep shearing. Sinewy men in coveralls threw down the sheep and shaved off their matted coats into one enormous piece; holding all four hooves in one strong hand, flinging the animal from side to side in a series of dusty thuds. It only took seconds and then the sheep stood up, shook itself, and wandered away shorn and strangely un-phased. The fleece held together by lanolin and dirt.
This summer I am making a mid-thigh length knit cardigan that has wide kimono arms and can be wrapped tightly around the waist with a knit belt. I am using 8 different colorways of hand-dyed variegated wool from Japan interspersed with fluorescent yellow. The yarns pool in beautiful and unexpected combinations of blue and green and aqua and purple, shot through with acid yellow. There are color combinations that I'm quite sure have never been seen by human eyes before.
There is no part of this process that doesn't settle my spirit: fingers repeating the same motion 10,00 times, the snip of sharp scissors trimming off the ends of the fibers with delightful precision. Wooden knitting needles rubbing together, generating a gentle, quiet sound. The hunt for the fiber, the shearing of the sheep. The berries cooked down for their bright color. The warmth of the sweater, the delight of explaining that I made it. That I made it from the fleece of an animal that may be grazing on a distant shore. That I can teach you how to make your own. That it's easy enough. That it feels so good.