Fashion Review • Met Gala 2019
The Met Gala is a star-studded event/fundraiser for the Costume Institute at the Metropolitan Museum of Art in New York City.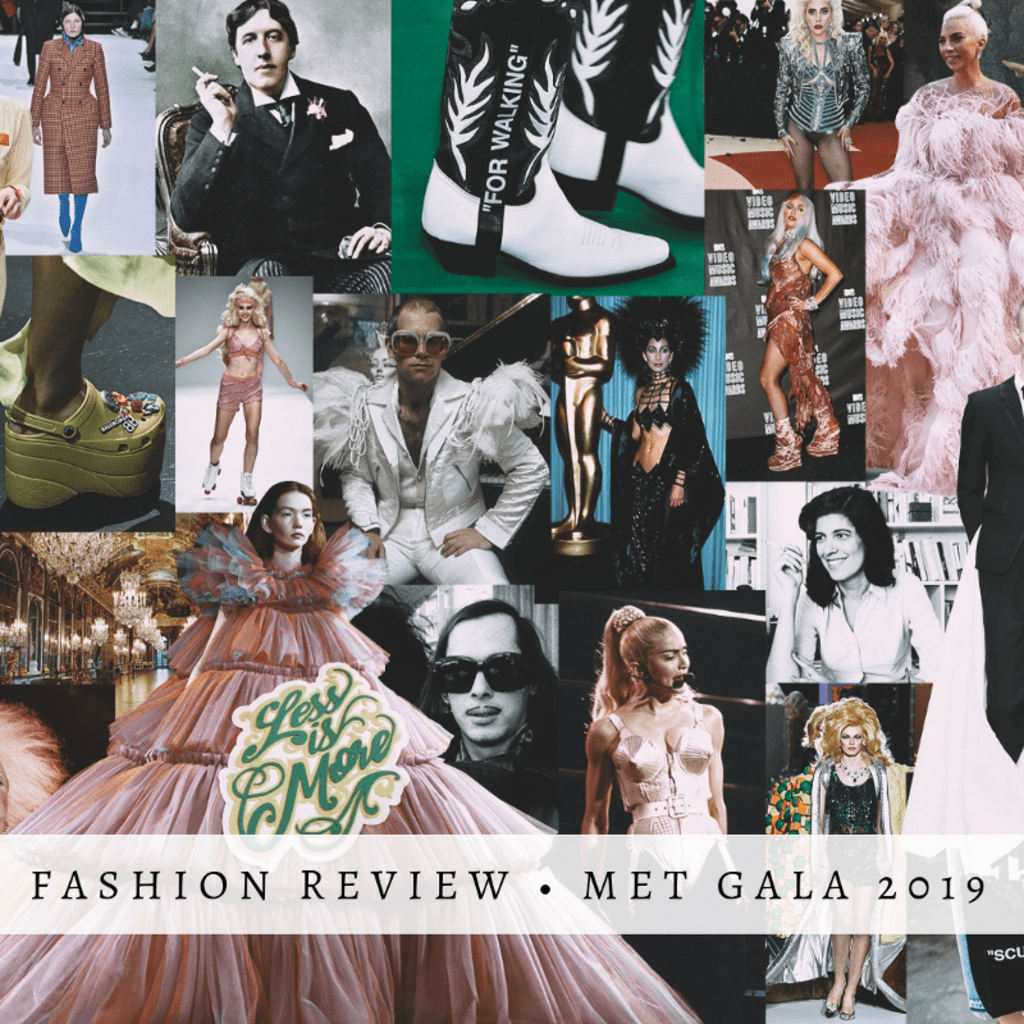 For those who may not know, The Met Gala is a star-studded event/fundraiser for the Costume Institute at the Metropolitan Museum of Art in New York City. The Met Gala, to me, is the biggest night in fashion. Trust me, you do NOT want to be placed on this worst-dressed list. (ask the Olsen twins) This year it was co-chaired by Lady Gaga, Harry Styles, Serena Williams, and Gucci's creative director Alessandro Michele.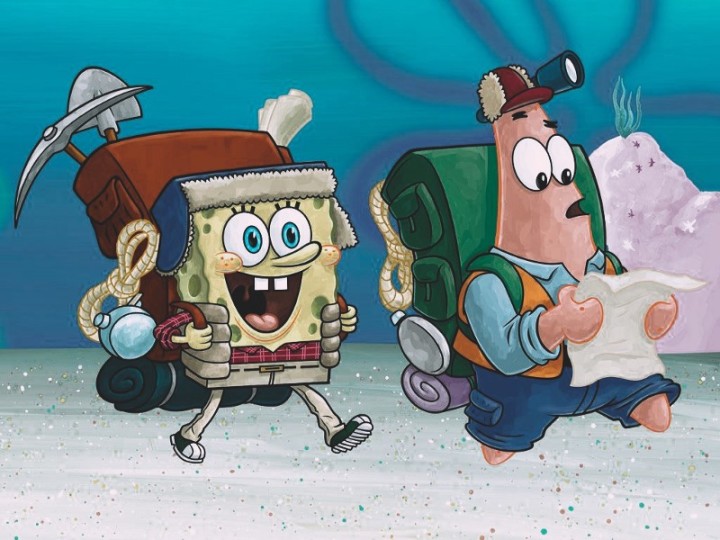 Before we go any further, take a moment to make fun of yourself if you assumed that this year's theme "camp" was similar to "camping" where you are sitting around a fire or pitching a tent and wearing plaid or flannels with boots. (el oh el) Um, that's not exactly what this type of camp is referring to but do not worry, you were not alone! Join my parents, some of my friends, and everybody else on social media who were so confused.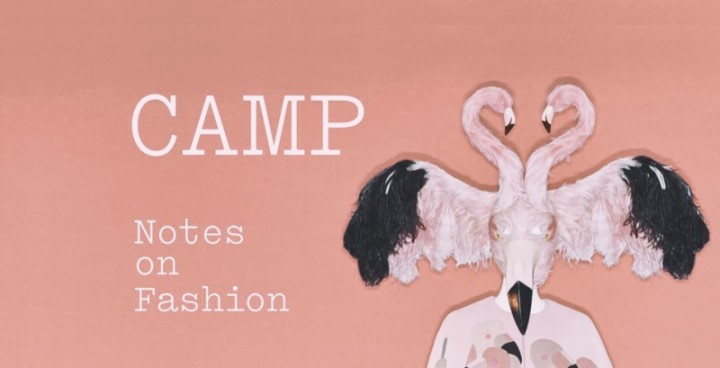 My favorite part of the Met Gala, the theme! To me personally, part of what makes the Met Gala soooo entertaining is seeing how celebrities interpret the Met Gala theme. This year the theme was, in my opinion, one of the most flexible and unlimited themes to date, which made it all the more interesting. The aesthetic "camp" was formally labeled in 1964 when writer Susan Sontag published her essay, "Notes on Camp," in the Partisan Review. Susan is credited with coining the term which describes the intersection of high-brow art with popular culture. Her essay was the driving source of inspiration behind this year's theme, BUT, let us not forget!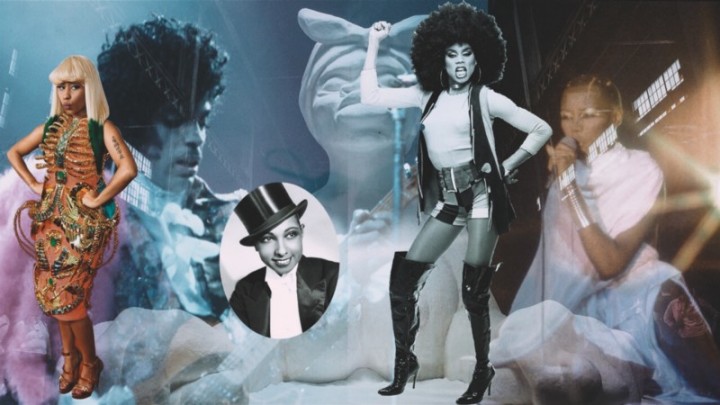 Since the beginning of drag, camp has always lived in the queer underground. Drag culture is, in fact, one of the blueprints for the "camp" aesthetic that we know and recognize today. Not only drag culture, but black artists as well. Black artists used it as a mode for entertainment and a means for powerful political messaging. It is important to highlight that black and queer people are critical pioneers of the camp aesthetic. Without these communities, camp as a lens through which we can view, and experience fashion would simply not exist. Lena Waithe made sure to remind us, because many would love to erase Black and queer aesthetics which have contributed to this society. YASSS, I love a revolutionary Queen!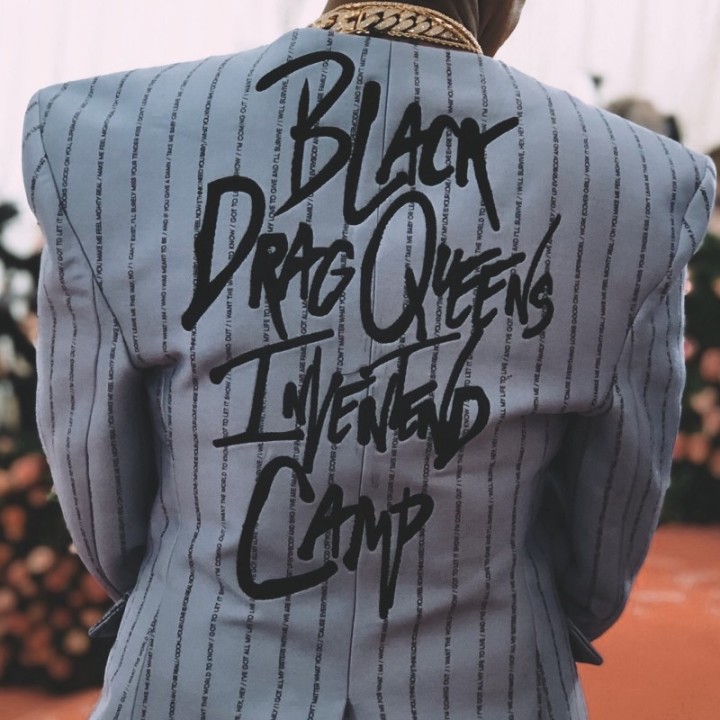 Disclaimer
This blog post is intended to share my personal fashion reviews of the Met Gala 2019. This blog post is not intended to persuade nor insult. Please be reminded that "camp" is pretty subjective. What one person may interpret as camp might not translate that way to someone else. Personally, for me, camp is a parody of gender and culture in its extravagance of visual and attitude. The conflicting mix of attraction and displeasure.
Top Favorable Looks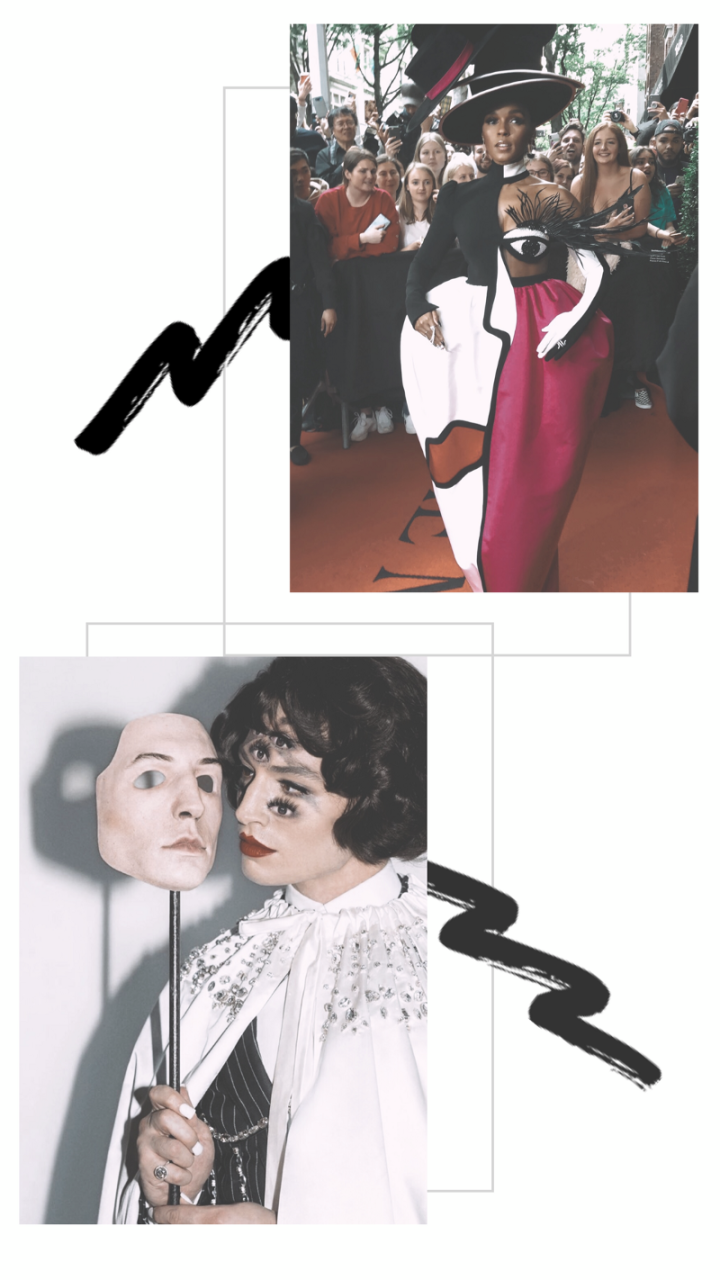 I mean, this isn't even up for discussion. Janelle & Ezra definitely paid close attention to detail. ALL eyes were on these two last night; literally! lolol. (Did you know that the eye on her dress was blinking?) I cannot, I love a fashion genius! Special shout out to fashion designer, Christian Siriano. I am living for Ezra, their foot is literally on the neck of hyper and toxic masculinity. #fuckgendernorms These two definitely hit on the performative aspects of camp.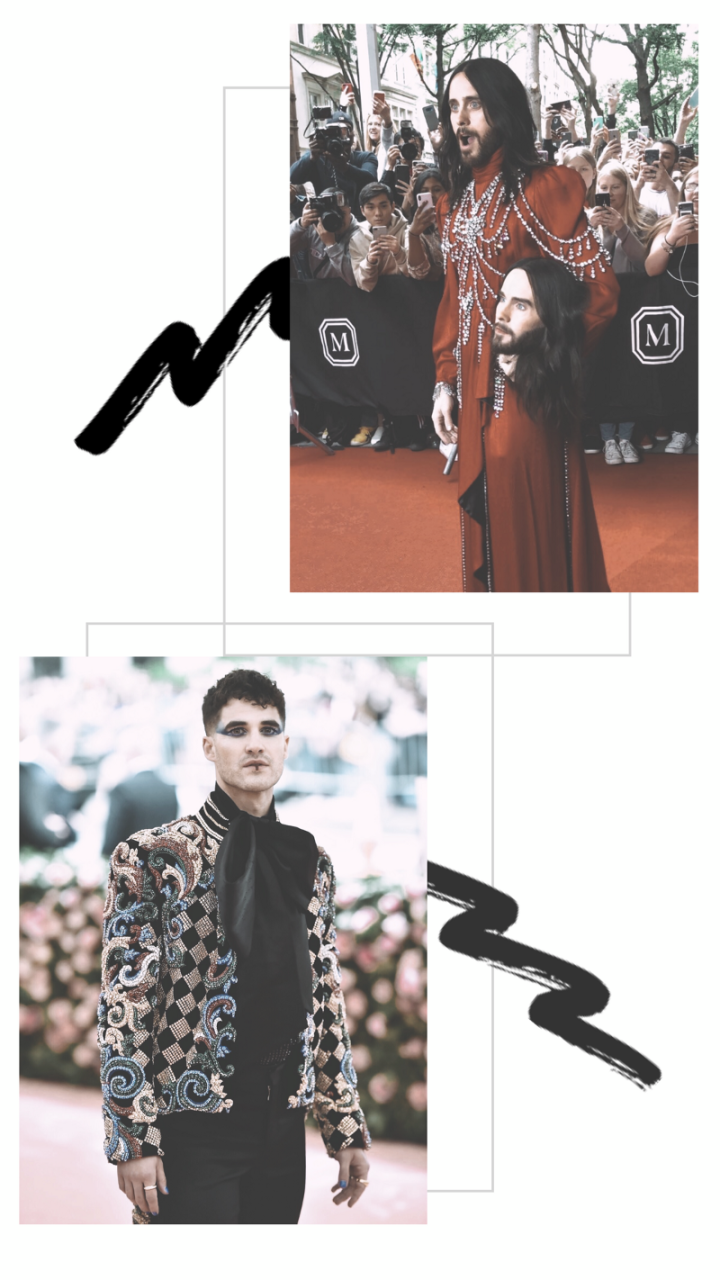 Jared Leto definitely took self-love to the next level! He toted along with him a replica of his own head which was complimented by his rich red Gucci ensemble with a crystal harness. Details! My longtime Glee crush, Darren Criss rocking a Balmain multicolored checkered blazer. But let's pay close attention to this beat! This cobalt blue bottom winged out eyeliner accentuating his beautiful brown eyes, and this single burgundy line on his lower lip. Details!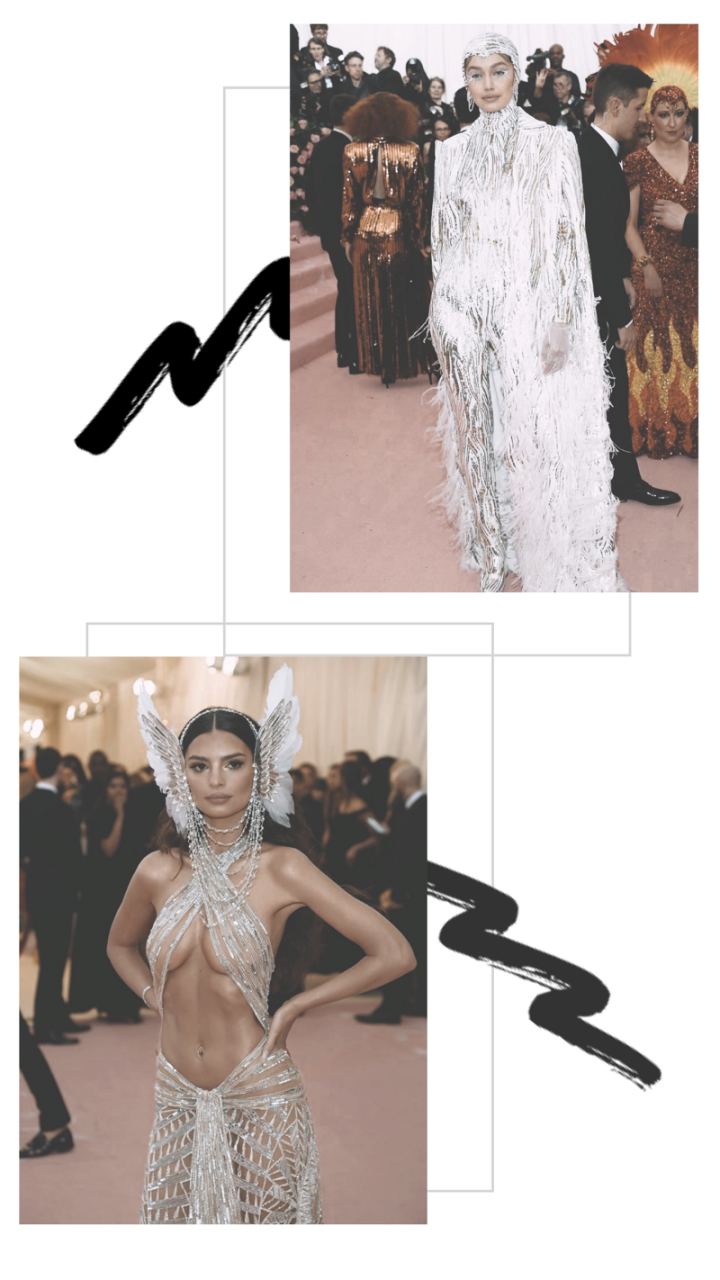 I mean, I would not expect anything less from these two supermodels. Both hands down, a work of art. Gigi looks mesmerizing in this custom Michael Kors Collection coupled with diamond encrusted gloves, and her makeup. Details! The stunning Emily Ratajkowski (that last name is a tongue) channeling the ultimate camp icon, Cher, in this bold interpretation of a Bob Mackie dress, complete with a winged headpiece.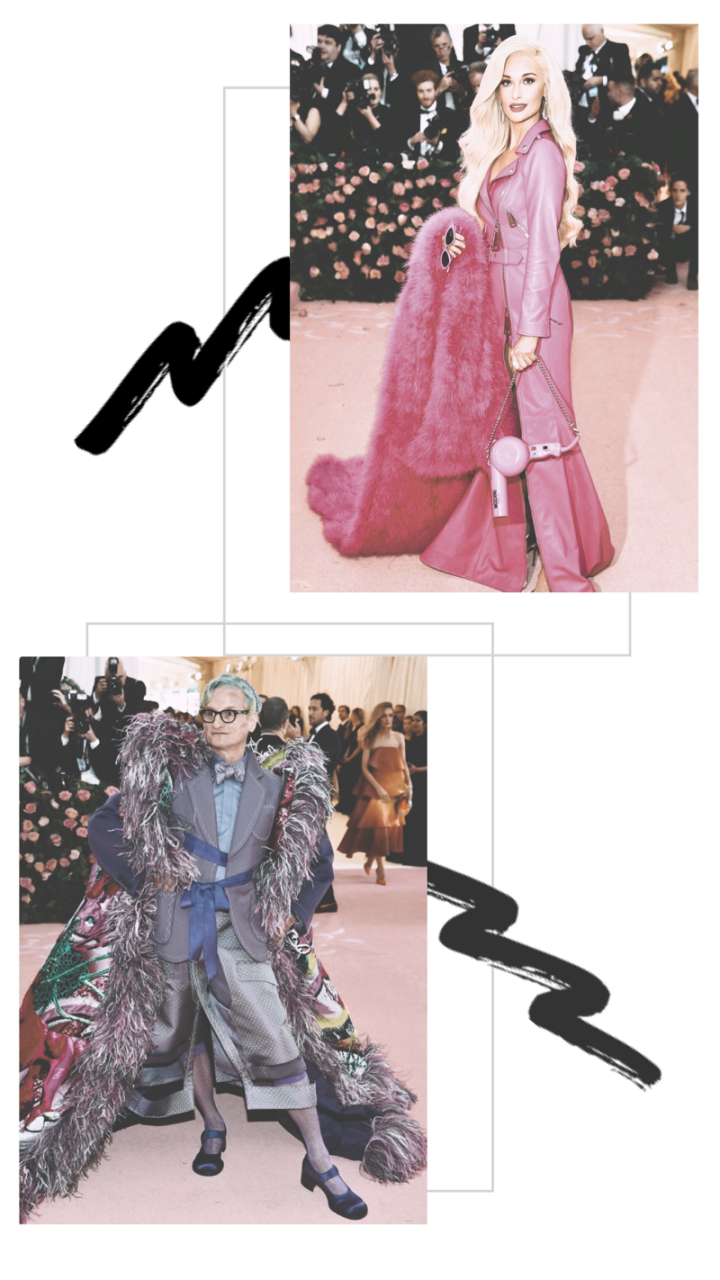 Details! That's all I have to say. Kacey Musgraves arrived in a pink Barbie convertible, in a full head-to-toe Moschino Barbie look, complete with a pink hair dryer for a purse. Details! Then Vogue editor, Hamish Bowles, you can tell that he has been waiting for this day his entire life. He made full use of this year's theme in a colorful Maison Margiela cape that was edged with multi-colored feathers. Even his freaking hair matched the cape. Details! Nothing says drama like a sweeping cape, and I love a cape…and drama.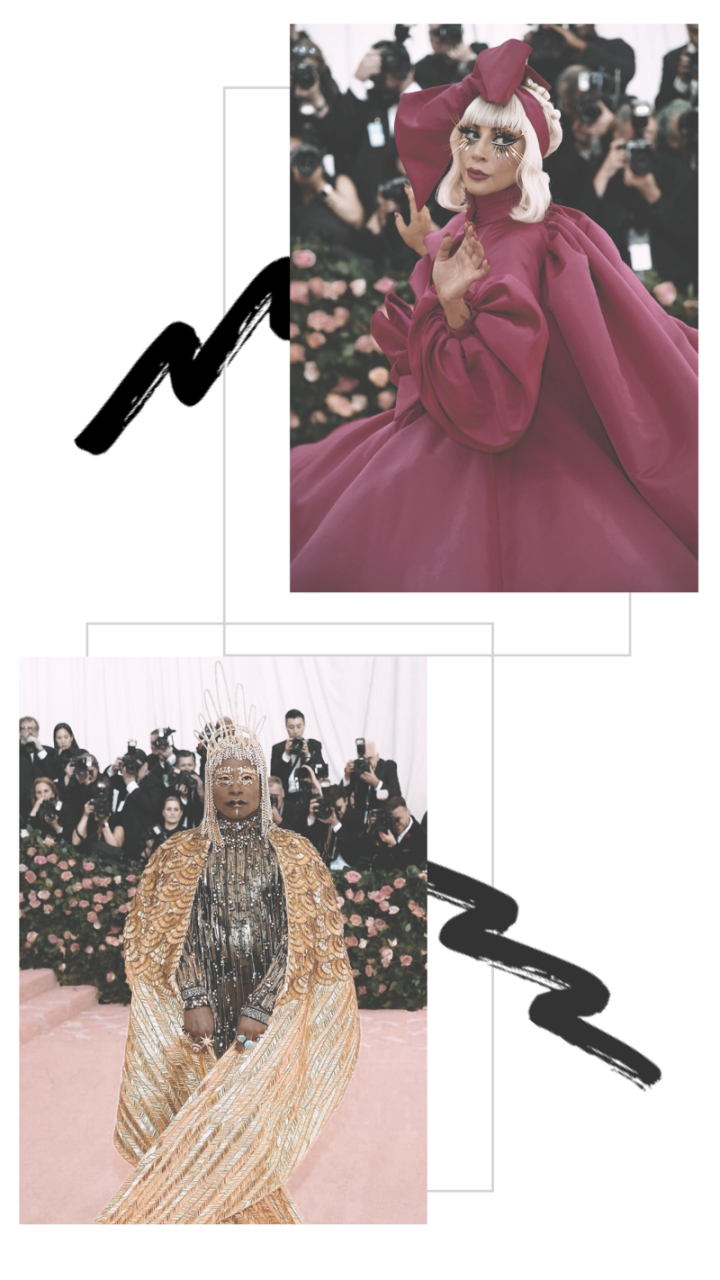 I can definitely say that these two, amongst many, live, eat, and breathe the camp aesthetic. Hell, what Lady Gaga wears to bed is probably camp; I mean wearing (4) Brandon Maxwell looks all at once. I want to assume that she was telling a story of the evolution of camp aesthetic with each look. If not, well it was quite a way to kick off the pink carpet. Billy Porter, he's my type of extra! Truly, this man brought it, served it on a platter, lit it on fire, took a picture of it, and hung it in a frame. These two definitely gave us a master class on camp aesthetic. Take notes.
Top Favorable Paired Looks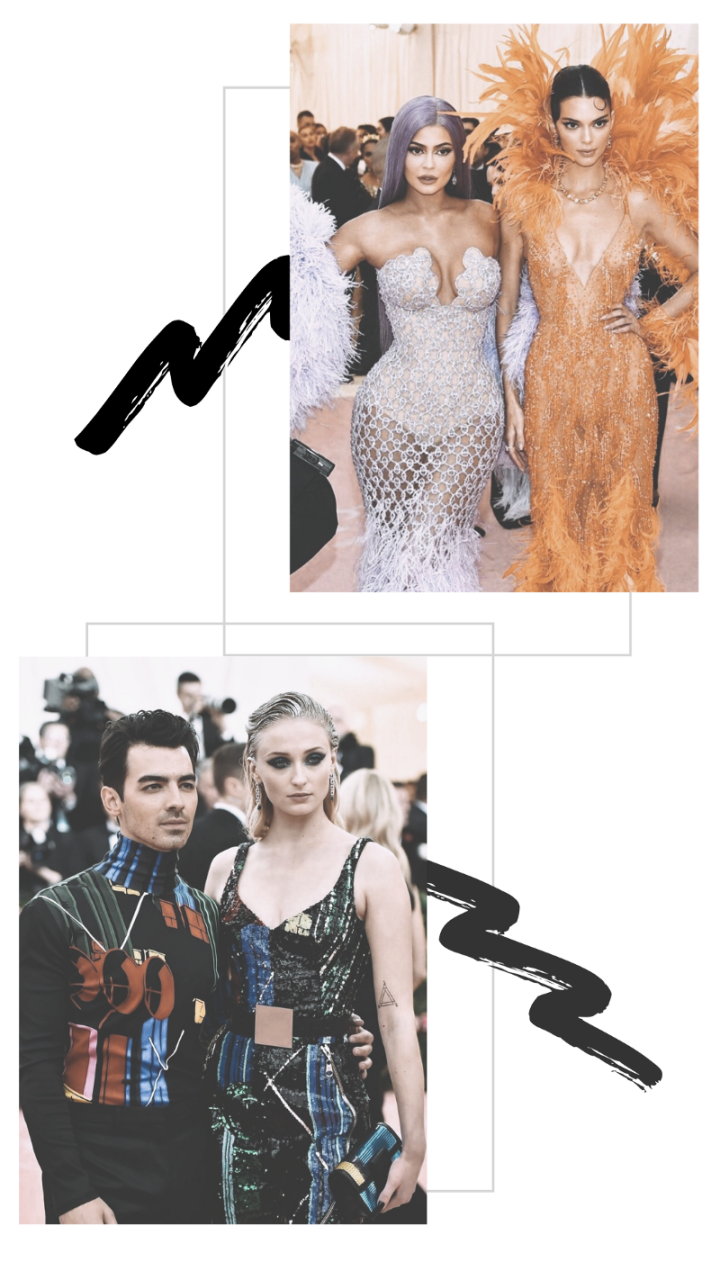 I love paired looks, especially couples! Kylie and Kendall surely did not shy from the theme. They gave us the Wicked Stepsisters from Cinderella, but made it fashion. I can't forget about Joe Jonas and Sophie Turner, these two gave their own individual camp inspired looks by Louis Vuitton while complimenting each other on the pink carpet.
Not So Favorable Looks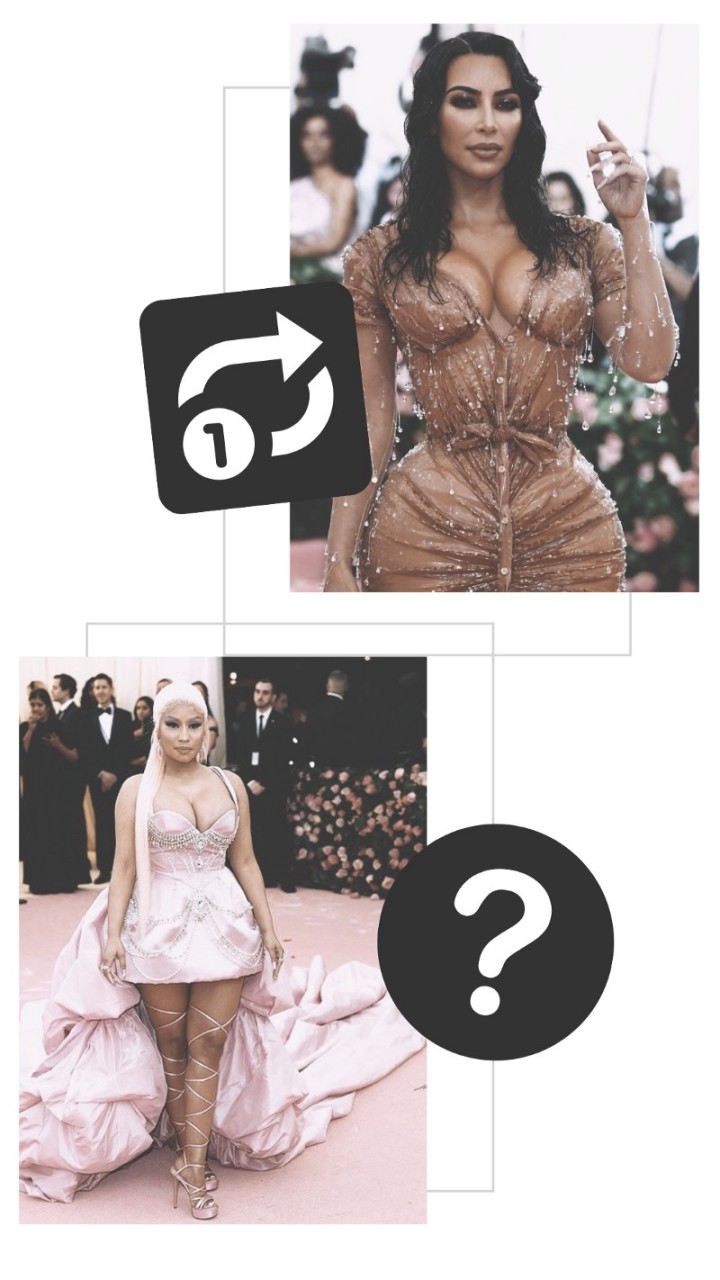 Before I go in on Kim, let me first say, I do not dislike her outfit. I think that this concept is genius and she looks fucking amazing! From the flawless makeup, the wet hair, her body, and this jaw-dropping dress. Details! Her designer for the night was Manfred Thierry Mugler who created this beautiful fashion masterpiece. My only issue is Kim, we are bored! We know that you can rock a body-con, give us something different girl. Red carpet after red carpet, the same look. Yes, you can give us sex siren, MILF, and all that but it's becoming your narrative. Challenge yourself and your team for next year sis. I still love you though.
I'm highly disappointed. I cannot even blame Nicki, because in this event the fashion designers choose the artist that they want to style, which is approved by Anna Wintour. You do not get to choose your designer or dress. Her designer was Prabal Gurung. No disrespect to Prabal, but no sir. Nicki gave us camp the first 5 years of her career, back to back! The media gave her shit for her camp aesthetic, the same aesthetic which made fans fall in love with her. Now all of a sudden the camp aesthetic is being praised and admired. I believe he should have used this moment to highlight Nicki as the camp queen that she is! I don't even care to know the concept behind this dress, Nicki was robbed and you could have seen it on her face. This look is too safe, but she remained a professional as always and made the best out of this situation. No love lost.
Honorable Mentions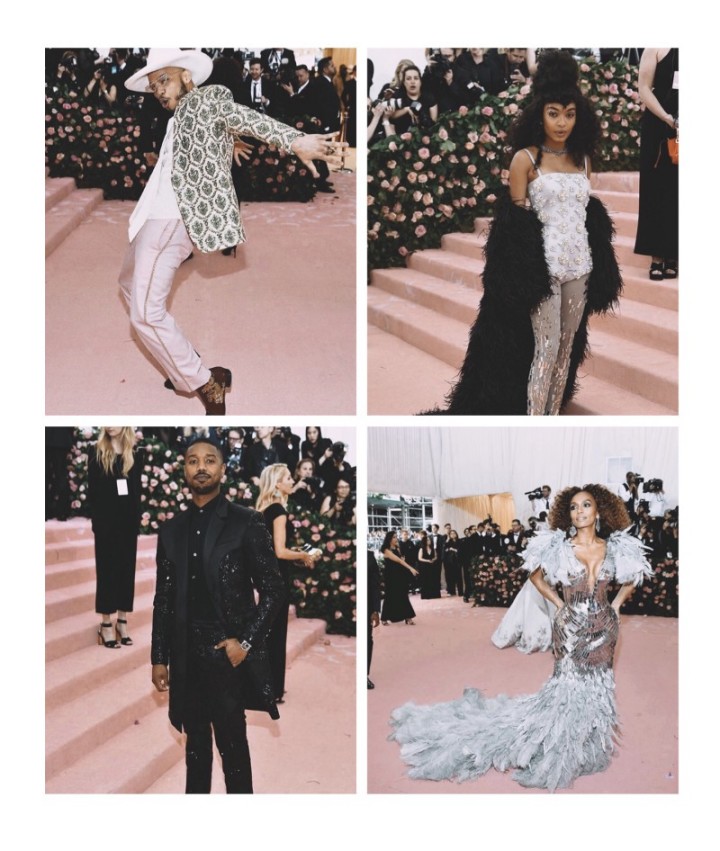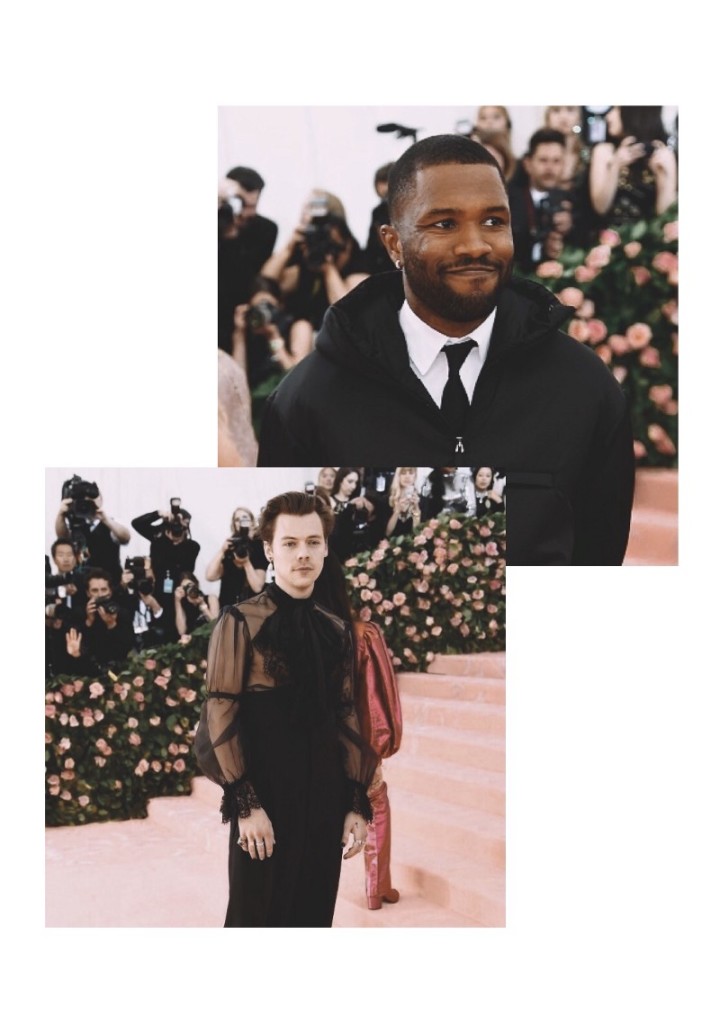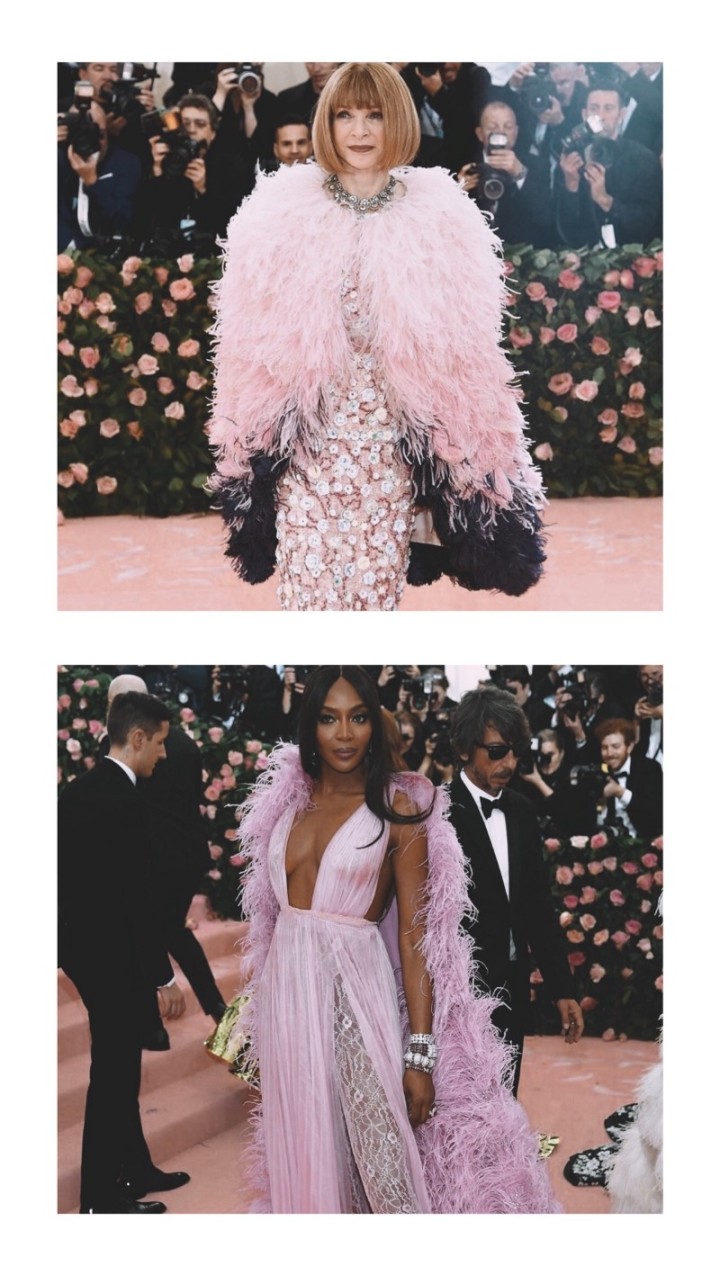 I had to end with two of my favorite incomparable legends in the fashion and modeling industry. This year's Met Gala was definitely one for the books! Thank you for reading! If you enjoyed this blog post check out the others. Also, feel free to let me know if there are any topics that you would love for me to write about.
celebrity looks