Dr. Deborah Birx's Scarves Have an Instagram Account
The doctor who gives coronavirus briefings wears a collection of scarves.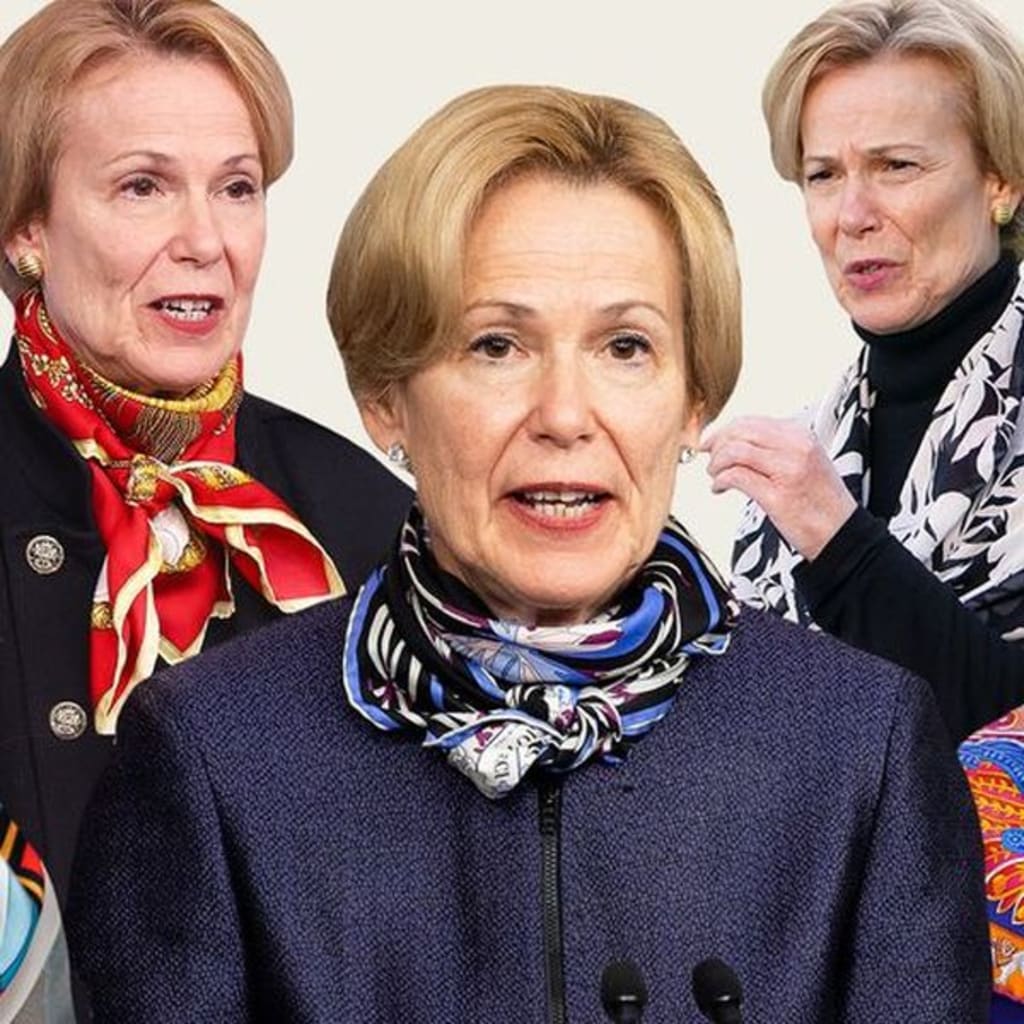 Deborah Leah Birx is known more than for just serving as the Coronavirus Response Coordinator for the Trump Administration's White House Coronavirus Task Force since February 2020. When people talk about her, they can't help from talking about the different scarves she wears while getting her reports.
Dr. Birx wears the beautiful scarves that are wrapped around her neck or shoulder and tied in unique ways. Even though people tune in for important coronavirus news updates, viewers get to see which type of scarf Dr. Birx wears. So far, she has not worn a scarf more than once.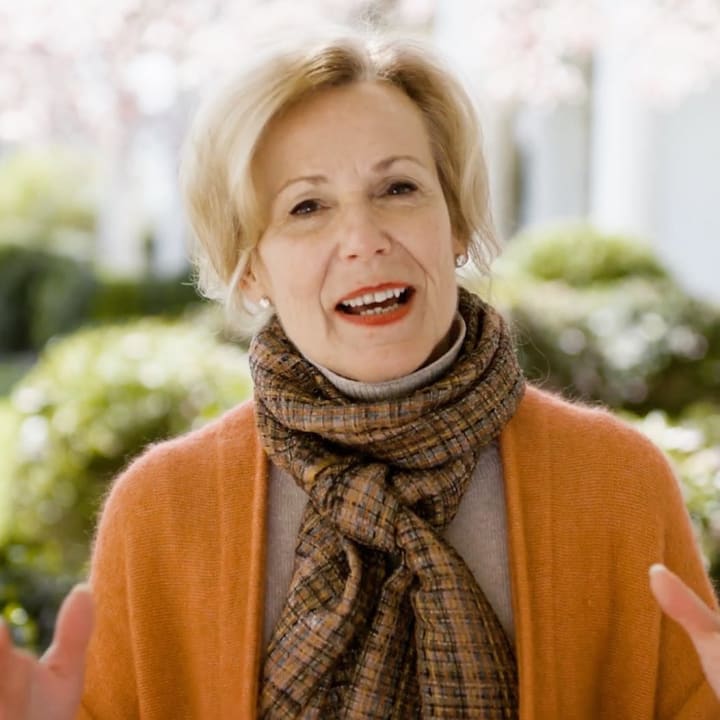 About Dr. Birx's Scarves
Dr. Birx is not only very intelligent, but she is also very fashionable. Fans have taken notice of the physician's scarves in beautiful colors and patterns. One superfan loves Dr. Birx's scarves so much that she has set up an Instagram account documenting them. The account is not officially affiliated with or approved by Birx herself.
Victoria Strout is the administrator of the Instagram account. She took it upon herself to document them by posting a photo of the scarves when she sees the physician wearing one.
Strout is a Texan music marketing executive interested in design. She launched the account just a month ago in March. Since then, it has more than 15,000 followers. However, the account is expected to have more followers as time goes on.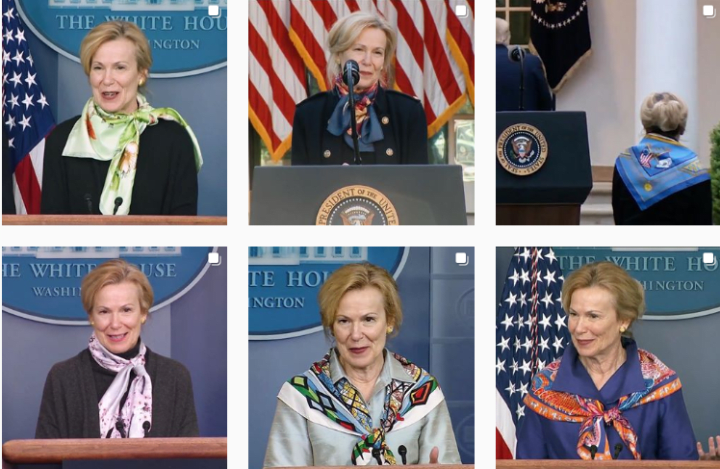 Dr. Birx doesn't just grab any scarf to wear each day. She carefully chooses a specific color and pattern to go along with her outfit. Also, notice that they are tied in different ways. Some people wonder if she is sending special messages with the scarves and the way they are tied.
Fans wonder how many scarves the physician has. They want to know if she folds them and keeps them in drawers or if she hangs them up. Then fans want to know how she makes her selection to wear a particular one on certain days. In the last photo on the top row below, Dr. Birx is wearing a 1996 scarf designed by Hermes called Passiflores on her birthday on April 4.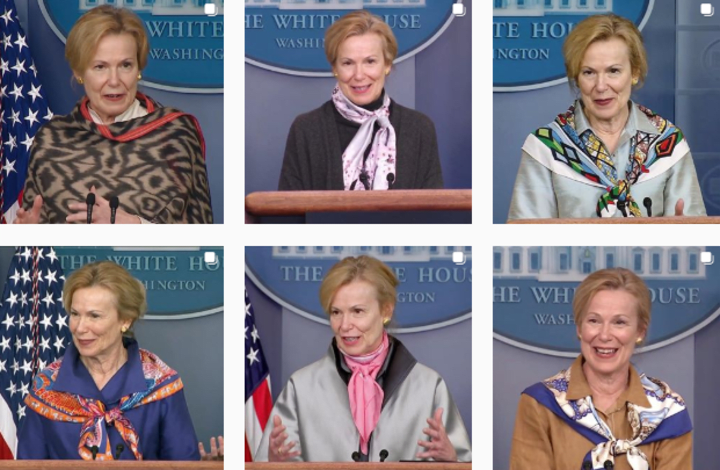 When Dr. Birx is reporting during the coronavirus briefings, she is seen wearing her scarves in various ways. They are always tied in unique ways or draped over either her right or left shoulder.
The scarves are tied in single knots, multiple knots in the front or on the sides, worn under her collar, or worn over her collar. When she was seen in photographs before the coronavirus briefings, Dr. Birx was not in the habit of wearing scarves as she does now on a daily basis.
About Dr. Deborah Birx
Dr. Birx just turned 64 on April 4, 2020. She has been in her current position as the White House Coronavirus Response Coordinator since February 27, 2020. The position was established for her by President Donald Trump, but she reports to Vice President Mike Pence who appointed her. Before then, she worked as the United States Global AIDS Coordinator in 2014 during former President Barack Obama's administration.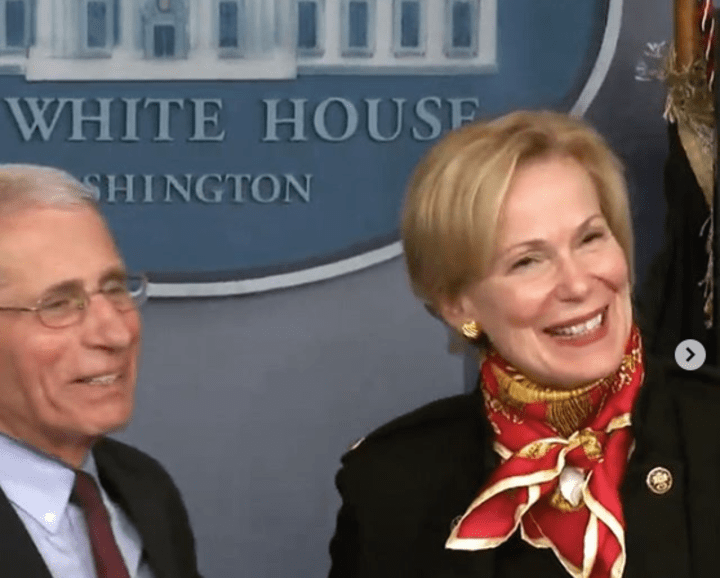 In 1976, Birx received a BS in chemistry from Houghton College. In 1980, Birx earned her medical degree from the Hershey Medical Center at Pennsylvania State University. From 1980 to 1989, Dr. Birx worked as a physician at the Walter Reed Army Medical Center. From 1980 to 1994, Birx served as an active duty reserve officer in the United States Army from 1980 to 1994. Then she advanced to a colonel.
Dr. Birx and Dr. Anthony Fauci have worked together before being on the task force for the coronavirus. From 1983 to 1986, Dr. Birx worked in Dr. Fauci's lab while completing two clinical immunology fellowships in allergies and diagnostics.