Do's and Don't of the Hawaiian Shirt Etiquette
Essential Guidelines for Hawaiian Shirt Enthusiastic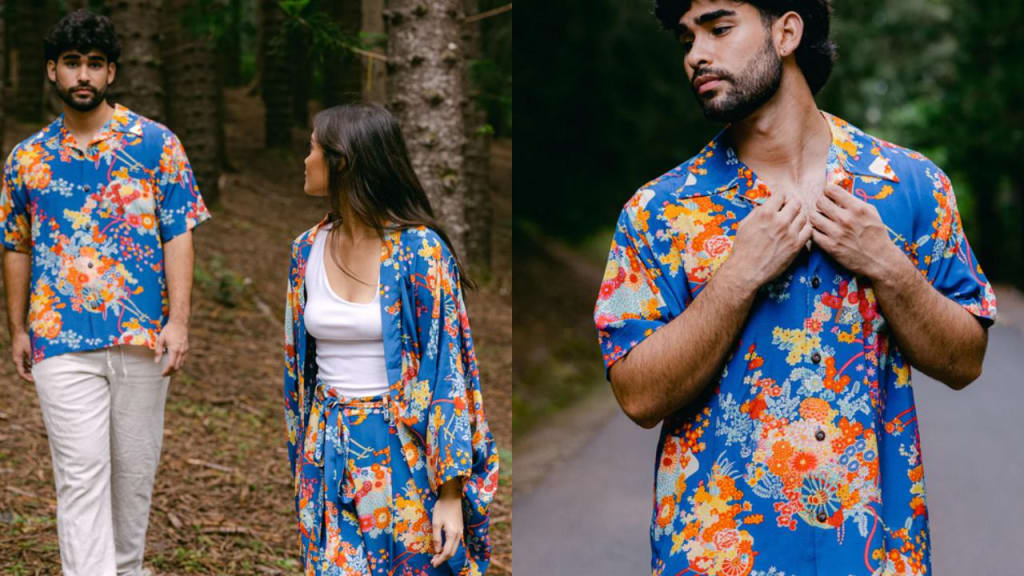 Image Credit: AvantiHawaii
Hawaiian shirt etiquette with a dash of quirky style nails the concept of enjoying a laid-back, tropical mood. These classic clothing, often known as Aloha shirts, are renowned for airy material, vivid designs, and effortless elegance. Owing to Aloha's rich cultural importance and deep history, Hawaiian shirt etiquette is more than just a fashion statement. They represent the carefree lifestyle on the island and a starting point for welcoming the Aloha spirit.
Whether preparing for a backyard barbeque party, arranging a vacation to Hawaii, or just planning to add a dash of Aloha to your clothing collection, Hawaiian shirt etiquette has its own do's and don'ts. In this content, we will let you know the proper way to wear a Hawaiian shirt fashionably. Take note of all the valuable Hawaiian fashion tips you will find as you read. From determining your ideal fit to picking up the appropriate occasions to put on your Hawaiian garment, our advice will help you to navigate the vibrant world of Hawaiian shirt etiquette.
Essential Hawaiian Shirt Etiquette
Hawaiian styling has evolved a lot beyond the classic designs and prints. The trendiest Hawaiian fashion trends for men and women offer a range of options to give yourself an impressive and stylish appearance. Here are some of the do's and don'ts for Hawaiian shirt etiquette -
Dos
Hawaiian shirts give out a relaxed, tropical vibe. So it is ideal for informal environments like picnics, beach getaways, barbeque evenings, outings with friends, etc.
These shirts are inappropriate for formal occasions like formal gatherings or business events. Putting on your Hawaiian shirt on proper occasions will increase your fashion statement and elegance.
Complement With Appropriate Bottoms
A Hawaiian shirt looks best and stands out when paired with neutral-hued bottoms. Try out chinos, shorts, and jeans in solid colors like white, khaki, beige, or navy, and find your perfect fit. This trick allows the vivid print of the shirt to shine and be the main attraction. And it results in you wearing a fashionable and well-balanced outfit.
Choose A Shirt That Fits Well
Neither a shirt that is too tight nor baggy should be used. Always choose a Hawaiian shirt that suits you, is comfortable, and accentuates your body type. Your movements should not be restricted to a tight shirt. The shirt should be cozy and permit your mobility easily. There are different kinds of men's Hawaiian shirts. Find one that is your ideal fit, offers you a laid-back yet polished appearance, and drapes well.
Don'ts
Strike A Balance And Avoid Loud Designs
Hawaiian shirts are renowned for their captivating and bold patterns. However, excessively loud or mismatching prints that ruin your look should not be used. Before shopping in Hawaii and buying any shirt, you should always check it with your skin shade. Also, check if it goes well with your personality type. The Hawaiian shirt etiquette is here to enhance your appearance, not to lessen it.
Stay Away From Too Many Accessories.
Hawaiian shirts have naturally eye-catching designs. Adding excessive accessories to your Hawaiian outfit can decrease the value of your Hawaiian garment. Keep it to the minimum. An elegant watch, bracelet, or shades may be used to enhance your look. But avoid any unnecessary jewelry that will take away attention from the shirt.
Avoid Wrinkled Or Creased Shirts
Always wear Hawaiian shirts that are clean and presentable to get a stylish appearance. Hawaiian shirt etiquette never recommends wearing stained, wrinkled or worn-out shirts. Take care of your shirts properly. Iron your shirts carefully to keep up a nice and elegant appearance. A clean and well-preserved Hawaiian shirt can always make you look more charming.
Bottom Line
Choosing to live your life in the elegance and spirit of Hawaiian fashion represents more than simply a styling choice. When you wear an Aloha shirt, you may bring about an easygoing and welcoming atmosphere of the islands and spread happiness and optimism around you. By adhering to the dos and don'ts of Hawaiian shirt etiquette, you can confidently style your Hawaiian dress with elegance and charm.
Allow the breezy shirts, vivid prints, and laid-back style to take you to the tranquil and splendid Hawaiian islands. Lastly, it is all about giving out a relaxed aura, admiring the magnificence of nature, and cultivating an atmosphere of happiness and affection around you. It is not just about style. Thus, feel free to flaunt your high-quality Hawaiian shirt and let Aloha inspire you to welcome life's experiences boldly.
Reader insights
Be the first to share your insights about this piece.
Add your insights