Different Time Better Fit
Why I'm hooked on creating corsets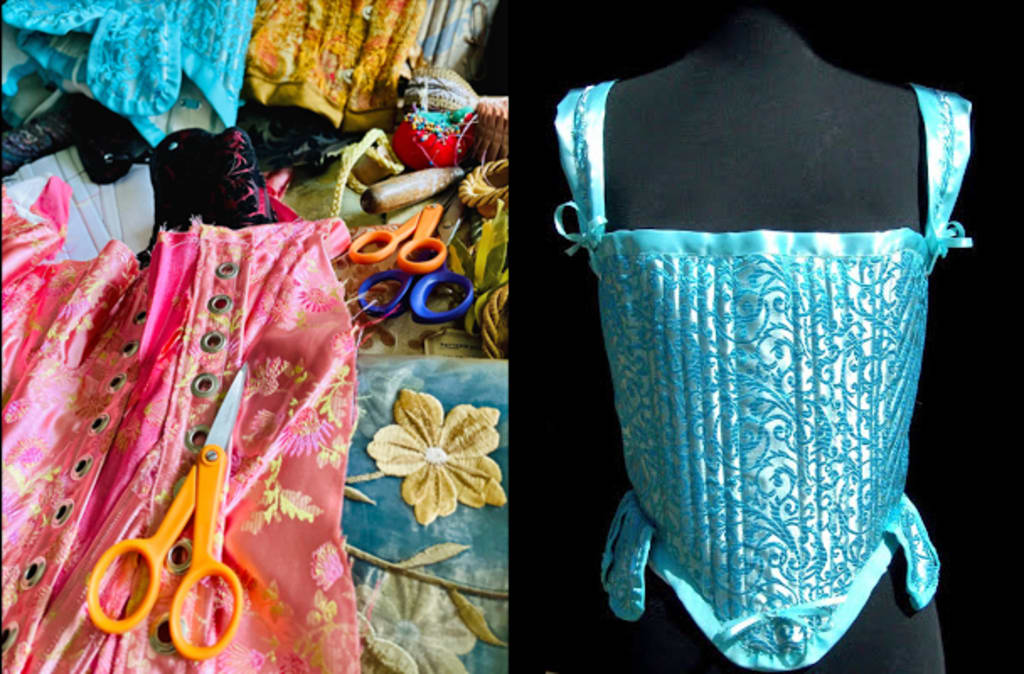 Tools, Fabrics & Corsets
Have you ever felt that you belong in a different time? I feel that way every day of my life. I don't fit in. I'm an introvert; a natural born socially distanced, shy and barely a member of today's society, weirdo.
I enjoy my alone time. Some of my alone time I spend creating corsets. I started creating corsets because I'm illustrating a series of books about the Jack the Ripper crimes which took place during the Victoria era. I was never interested in the Victorian Era, but after my first day of research about the victims of the horrific East End, London crimes, I was fascinated. Their way of life, particularly their clothing, is of a high interest to me because partly I need a model dressed as a Victorian era woman to draw my illustrations more realistically and also to quell my curiosity as to what it must have felt like to wear a corset for a day. Yes. I wear the corsets that I create. When I wear a historically accurate corset it helps me connect to a bygone time.
The Victorian era corset I created is based on a pattern accurate to that era. It's mostly made from material my dad removed from my parents first dining room set chairs that he was reupholstering. I love to re-purpose materials of any kind and my dad was happy to give them to me. The material is a gorgeously worn, early 1970's harvest gold, rust and blue paisley patterned material. I thought the material would be perfect for a circa Victorian era well used corset. I was right. It took me about a month working only on the weekends to complete. My hands and fingers were sore from cutting thick, textured materials and poking myself with heavy sewing needles. I learned the hard way that investing in good sewing tools like scissors, awls and needles is a must. Good quality tools are worth everything. When I completed my first corset sewing project, I was relieved. I thought to myself, I'm glad that's over with. It was less than a week later that I found myself searching for new patterns for different era corsets and stays. I was hooked.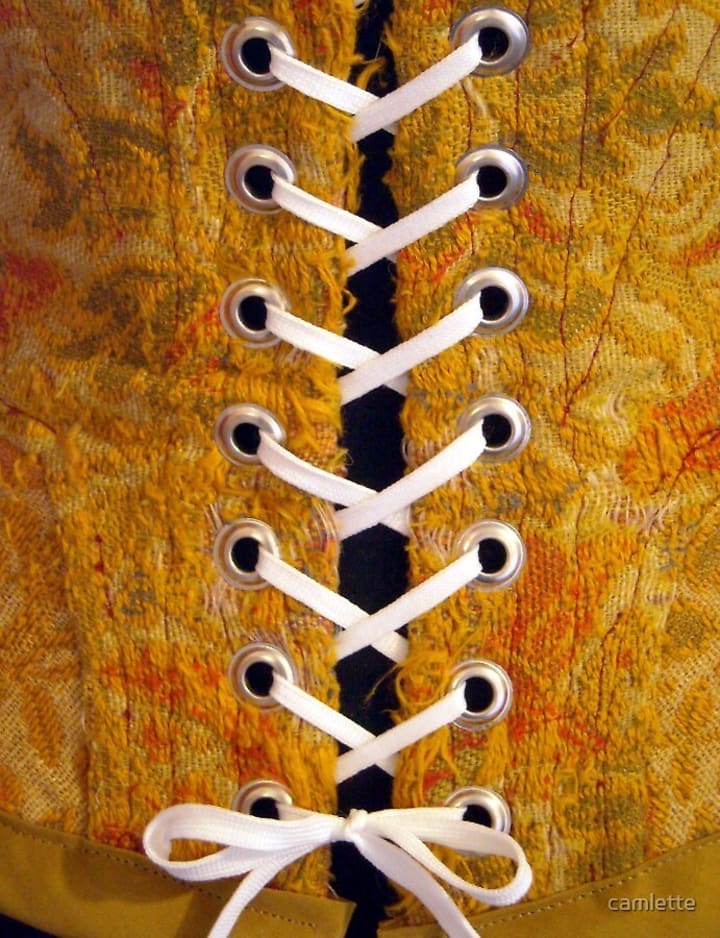 My favorite part of creating historical corsets is looking for materials and tools to use. It's a treasure hunt! I like vintage materials and beautiful tools. It helps me imagine living in a different time. There are many places where I shop for materials. My favorite haunts are garage sales, little mom and pop clothing, tool and fabric stores and on my travels to London, particularly Whitechapel, London's Petticoat and Brick Lane Markets. I was fortunate to have a grandmother that worked as a seamstress. She gave me her professional scissors and sewing machine before she passed on. I also have a friend who works for a furniture store give me out of date sample materials that the store wanted thrown away. Most of the materials she gave me are just large enough to create a corset and were dated by the manufacturers. Some of the materials are dated from the late 1960's, embroidered fabrics that are no longer being produced. Gorgeous! A perfect find!
After creating the Victorian era corset, I began to create Renaissance corsets, also known as stays. These are a bit different to make than the Victorian era corset I made. Renaissance stays require a busk, a strip of wood or metal that fits in a slit that's in the center front, as well as boning. Creating historical corsets and stays requires an enormous amount of patience. Shaping and threading as many as 60 boning pieces per corset or stays throughout several layers of sewn materials is challenging mentally and physically. Instead of simply purchasing all my materials from the usual retailers, I prefer to use more raw materials. I use zip ties for the boning, because they are stiffer than fabric store boning, and red oak and poplar wood for the busks. The zip ties have to be cut and sanded and the wood has to be sawed, shaped, sanded and holes drilled at the bottom so that the busk can be tied into place. Again, good tools are a must.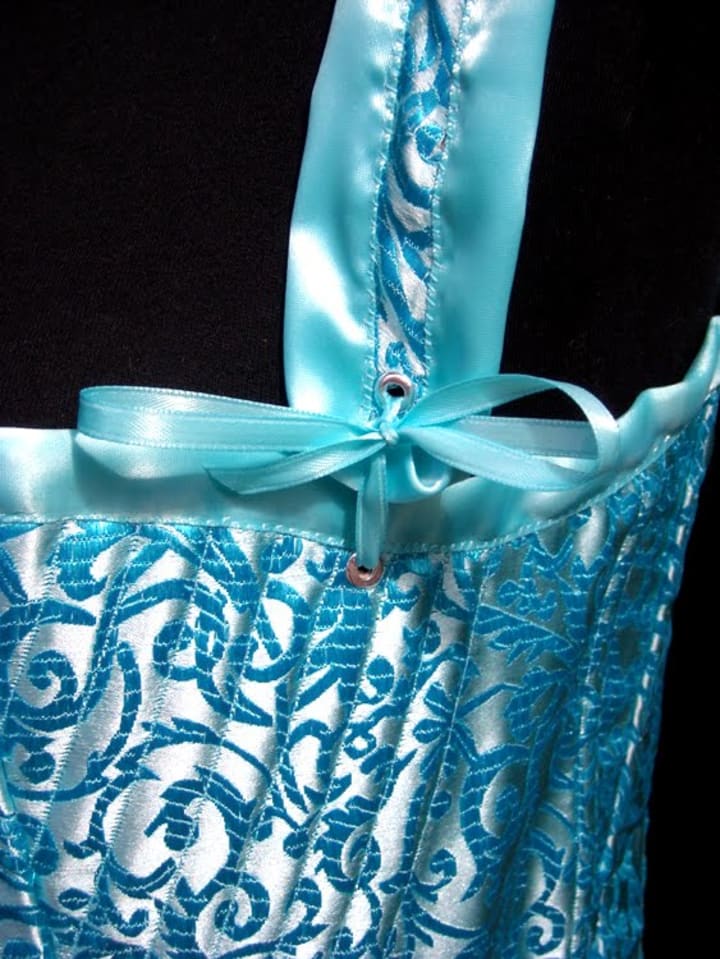 My favorite stays to create are of the 17th and 18th centuries. When I daydream about what era I would like to visit or live in, these would be the eras I'd choose. For these stays I prefer to use vintage fabrics. Cutting vintage fabrics that are no longer being produced needs a lot of care. I use the best quality scissors that keep their accuracy and sharpness for these fabrics. The completed creations are always a joy. The intricacy and intimacy of being tied into a form fitted, handmade stay is exquisite. I highly recommend it!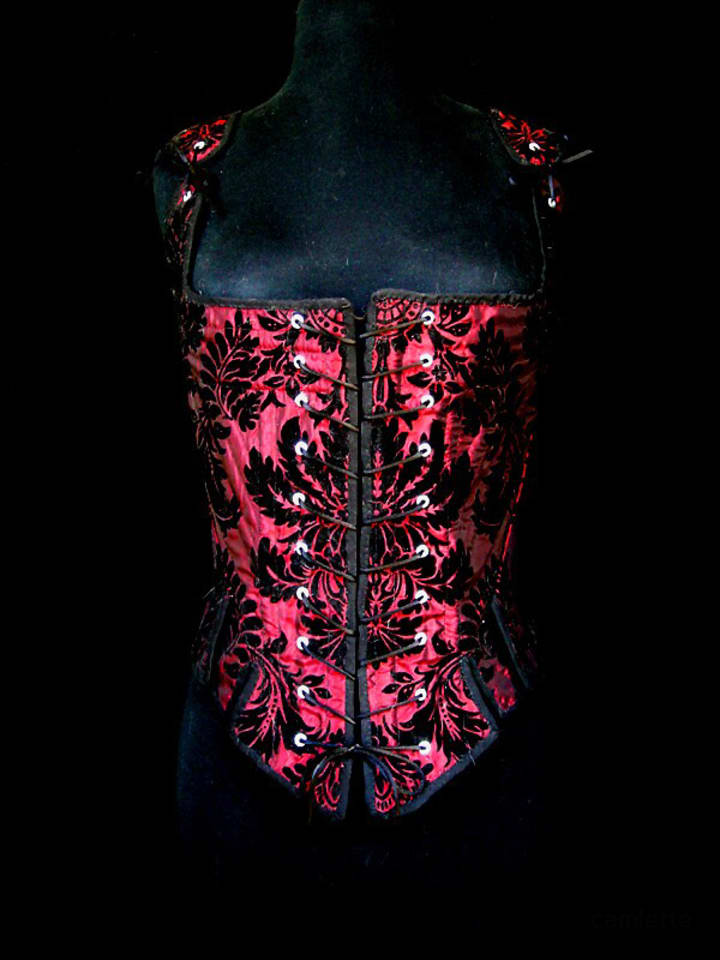 My latest work in progress is the creation of a High Renaissance dress with matching stays. I found a lovely greenish yellow, patterned, taffeta and velvet material for the bodice and main dress and other materials, new and vintage, for the other pieces like the underdress and stays. It's such a thrill to bring pieces of raw materials and fabrics together and see week after week of detailed work come together.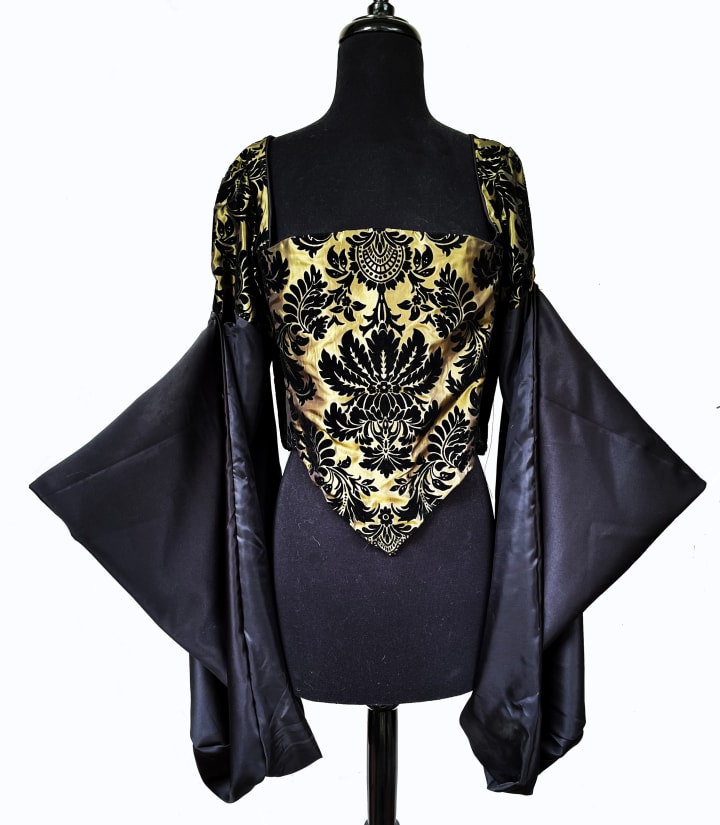 I've always loved the Renaissance painting, Eleanor of Toledo by the master painter, Agnolo di Cosimo AKA Bronzino. Eleanor of Toledo is wearing one of the most beautiful dresses ever created. I wonder what it must have felt like to create and wear a dress like that. It's a work of art. When I finally complete my High Renaissance dress and stays, I will wear it and dream about how it must have been like to live in another time. Maybe it's not so bad not to fit in after all. ∞
designers
Cameron Hampton is a painter, photographer, illustrator, cinematographer, animator and writer.​
She now works in Georgia, London and NYC.
Receive stories by Cameron Hampton in

your feed