DELMA BLUE SHARK III BLACK EDITION
Delma, the family firm based in Lengnau, Switzerland is renowned for making divers' watches that are extraordinarily robust and remarkably good value for money.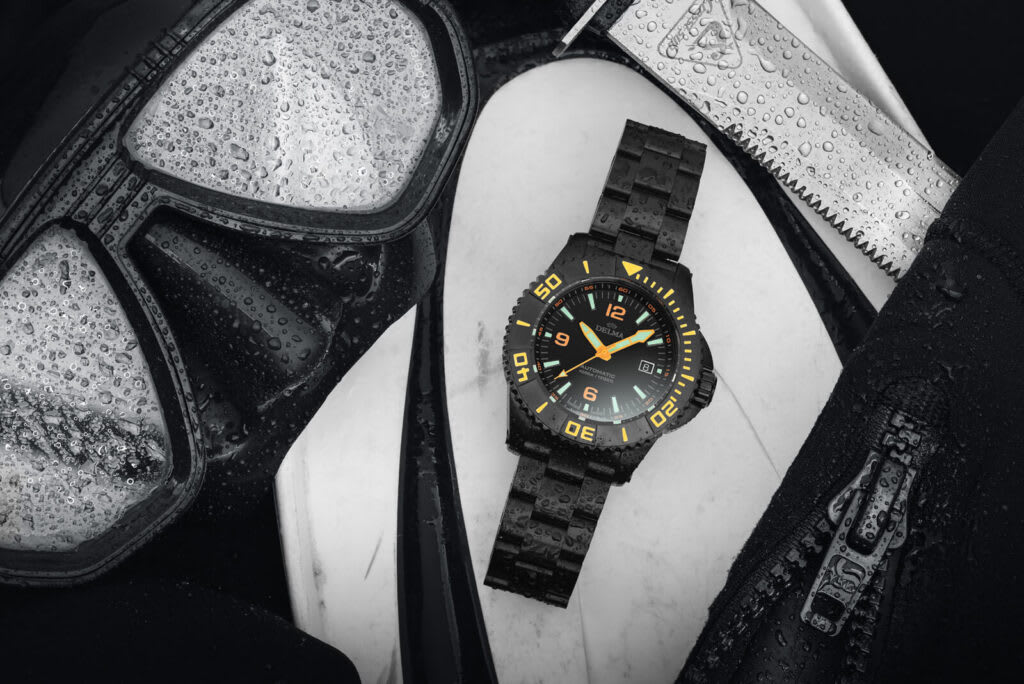 Believe it or not, the dive watch used to be a niche category. Built for divers, it appealed mostly to the underwater crowd and those going on rugged adventures. Now it's one of the most popular sports watches on the market, evolving from a tool into a fashion statement. Even luxury brands have gotten in on the game. For example, Audemars Piguet and Richard Mille offer their own versions for about $25K and $90K, respectively. But would most owners risk testing the limits of those watches while exploring the depths in scuba gear? Probably not.
Fashionable dive watches in general don't come cheap. A new Rolex Submariner will set you back about $10K. And, you can't waltz out of a store with one on your wrist the same day, as there's always a waiting list. You want a dive watch that looks cool, has solid underwater cred, and won't decimate your bank account? Look no further than the Delma Blue Shark III Black Edition.
It's possible you may not have heard of Delma before – even though the small, family-owned company has been in existence for almost a hundred years. With few exceptions, brands owned by groups such as Richemont, LVMH and Swatch drown out the little guys with their big advertising budgets. So, I will use my small megaphone to bring your attention to Delma.
Delma made its first professional dive watches in 1975, so the company isn't a newcomer to tackling the sea. The Blue Shark story began in 2011, with the logically named Blue Shark I, a diver built for land and sea with a water resistance of 3000m. The Blue Shark II soon followed in 2018 and the Blue Shark III in 2019. The Blue Shark III proved to be such a hit that Delma decided to do an encore performance with the Blue Shark III Black, a limited edition of 300 in three dial treatments.
Essentially, the Delma Blue Shark III Black Edition is the Blue Shark III dressed up in a stealthy black cloak of stainless steel coated with DLC. But that's okay because the Blue Shark III is a formidable workhorse with an eye-catching design.
Like the Blue Shark III, the Black Edition has impressive specs. The helium valve on the side of the case at 9 o'clock indicates the watch is built to withstand extreme depths, up to 4,000 feet. While very few will take advantage of this feature, it reveals the Black Edition is no poser. Many companies make dive watches that have the appearance of one but don't have the goods to back it up. Delma proves its claims with a certificate from the Swiss PST Laboratory for Product Safety Testing in Zwillikon, Canton of Zurich.
When diving, visibility is essential. Keeping track of time, muscular, luminous hands and indexes pop out from the dial offered in a punchy black, blue or orange. With all three versions, orange remains the theme colour on the indexes, flange and framing the hands. It also punctuates the unidirectional bezel, another requirement for a dive watch. The colour orange was chosen because it's one of the easiest to see underwater.
Making sure the trains run on time, Delma powers the Blue Shark III Black Edition with the solid SW200, a self-winding movement with a power reserve of 38 hours which offers a date at 3 o'clock. There's also the special rotor emblazoned with Delma's logo. However, you can't see it because the case has a solid back.
If you have any doubts about the Blue Shark III Black Edition's ability to perform, Delma put it to the test with Klaus Thymann, a cave diver and photographer. He explored several deep water caves, including the Yucatan Peninsula in Tulum and Laguna de Kaan Luum located in Mexico. The watch performed as advertised.
The Delma Blue Shark III Black Edition comes in a beefy 47mm case that stands high off the wrist at 18.5 mm thick. All three versions come with a black rubber strap with a DLC coated buckle, matching the rest of the watch. The exchange of straps is easy with the included tools.
Wrapped up in a very nice wooden box featuring Blue Shark details, the Blue Shark III Black Edition fits the bill for a dive watch that not only proves its mettle but also looks good doing it. Better still, it all comes at a very attractive price.