Cutting the fabric of the future
Zero Waste pattern cutting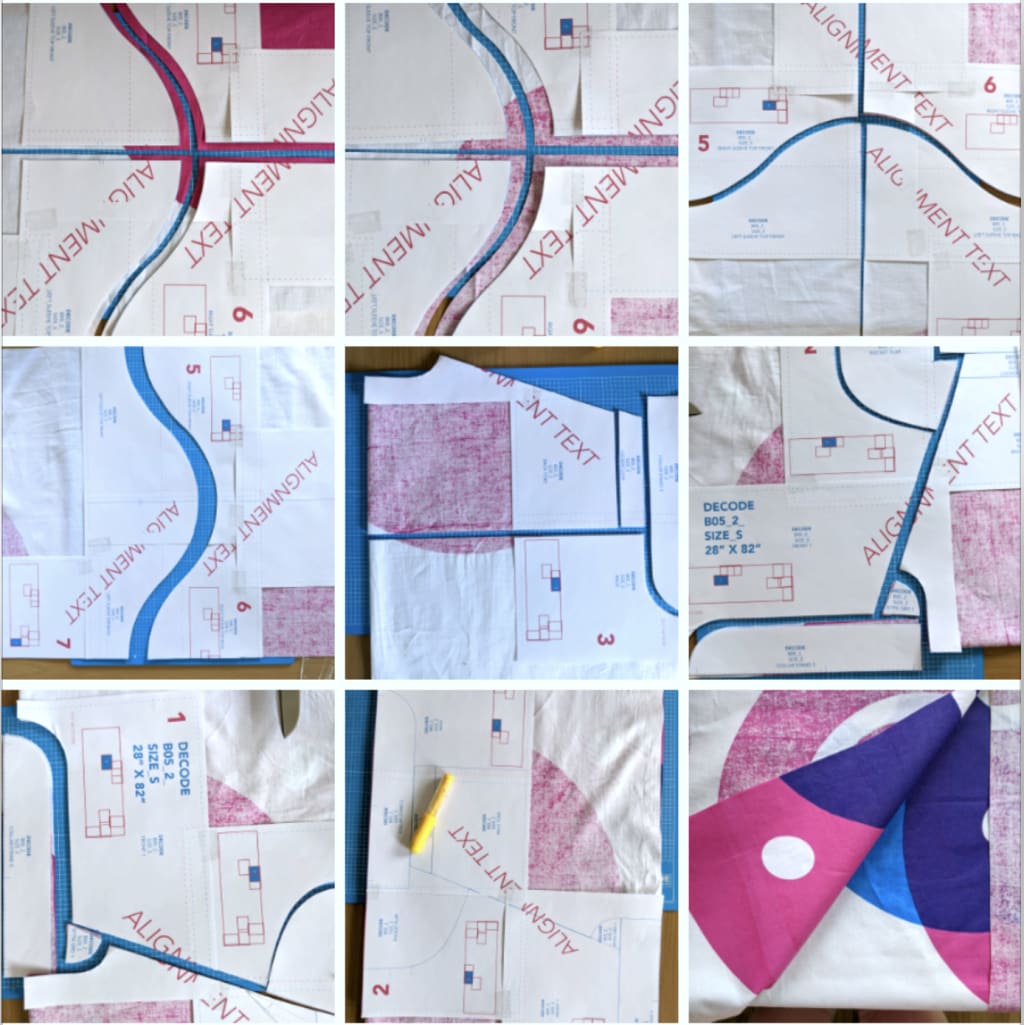 My name is Danielle Elsener and I am a Zero Waste Systems Designer. I design and make garments that use 100% of fabric in their creation through intuitive pattern making. I love to create; to delve into the nitty gritty of construction and embrace the tacit knowledge that comes with years of manipulating material.
I first began sewing when I was 11 years old. I would attend quilting retreats with my aunt, where I would be the youngest participant by a few decades, running around and always being the first to complete my quilt. Time and time again, as I continued creating, I was always too impatient to wait for my mom to take me to the store to get fabric and supplies. So, I ended up crafting with whatever was around me: old bedsheets, curtains, reusable tote bags, anything! Without a traditional dress form, I would endlessly pin material around myself, getting into all sorts of strange twists that ended up requiring a fair bit of maneuvering to get out of.
This thriftiness and tendency to use what was around me when I was younger shaped the very foundation of who I now am as a designer today. Using what we already have, not letting anything go to waste,, making the most out of each material… These ideas translate directly into incredibly relevant topics in today's fashion industry - ideas of sustainability, local manufacturing, conscious fashion, and the DIY movement. When choosing to prioritize these notions of sustainability, transparency, and consciousness of one's actions, one's values are reflected in the way they choose to go about their work. Though I've worked in the industry for years now, I always come back to my core love of making and creating with my hands.
When designing a zero waste garment, I begin with a simple notion. A feeling, really, of what it is I want to make. There are of course a few beginning considerations, including garment type, fabric choice, end use, etc. More often than not, a new design is inspired by what I see around me. I love going for walks around my city, wherever that may be at the time, and looking at my environment. I find lines and shapes in everything - lighting on landscapes, building construction, sidewalk cracks, and puddles. Using this inspiration, I put my marker to paper and begin drawing wild shapes. I look for symmetries, repetitions, and negative space that can compliment each other, and begin thinking about how a body could move within them. I then transform these into mini paper models where I can see how the volume and proportion will start to look.
Over the years I've developed a roster of body measurements in my head that I use as the base point for developing patterns. With this in mind, I begin playing with these shapes and measurements in Adobe Illustrator. Though not a pattern making software, it works in my brain! These days I also play around in Clo 3D to see on-body representations quicker. In frenetic excitement, I jump to physical fabric faster than I perhaps should. It's this excitement that drives creativity though, and I embrace it, mistakes and all.
My favorite part of the making process is cutting out a zero waste pattern. It's so incredibly satisfying to see how the lines compliment each other perfectly and it represents years of honing that design skill. Sewing up a toile is a close second, where I get to see how the pieces work together in harmony - a perfect symbiosis of shapes coming together.
From a first sample it of course is taken through many iterations to reach a final product, but my favorite part will always be that first step of cutting out a zero waste pattern. The feeling of those scissors gliding through the fabric, shaping with intent. That perfect nest of all the pieces you need to create a garment with no waste, coming together to create a vision of the future of design.
Danielle Elsener
Danielle Elsener has dedicated her life's work to proving zero-waste as a valid and robust design model. What began as a love for puzzle solving through zero-waste pattern-making, became a way to fix the fashion industry's biggest problem.
See all posts by Danielle Elsener →