Crafting Happiness
The Sheer Joy of Wearable Art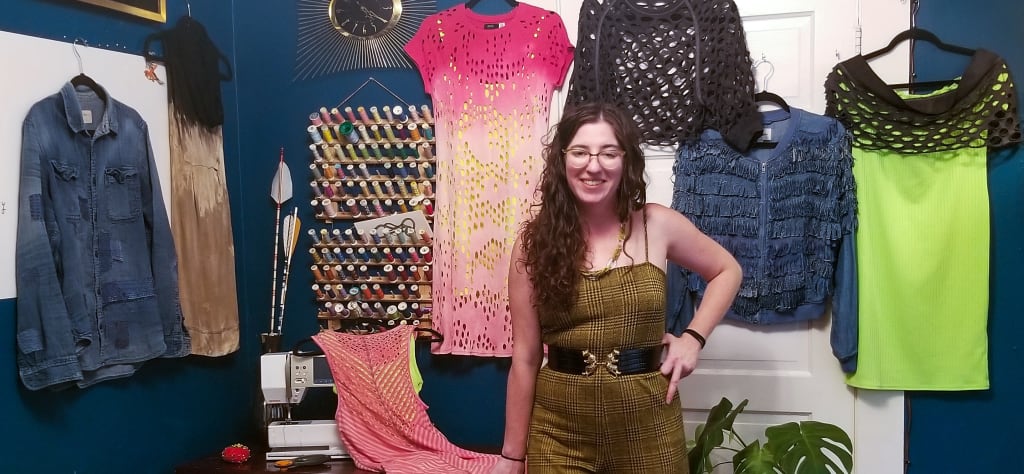 Crafting happiness is something that brings me joy and peace, both internally and especially when shared with others. My passion for creating wearable art, lives at once in the moment and sporadically throughout the history of personal experiences and family traditions. Creating wearable art for me, is creating the experience and joy of being seen, of being appreciated, while also sparking a connection wherever you go. It opens doors to new friendships, collaborations, connections, and allies at any given turn.
My journey begins with a deep dive into the dollar bins of my favorite local thrift store. I search for something neon, something bright, something black or white. Something plain with a great cut or something with a pattern or variation in the fabric knit or weave.
When I find something inspiring the ideas and potential instantly flood my vision and I begin to see how these textures and colors can synchronize to breathe new life into something. My anticipation builds as the layers of design and process begin to unfold.
I can see the final product within the first snip of the scissors. As each cut, stitch, resist, bleach or dye culminates into a realized vision, step by step closer to completion.
My process is like a delicate dance that adds and subtracts in pursuit of balance. Cutting away at fabrics with my trusted Softgrip scissors, I create new patterns that play on existing lines or leap way outside the box and stretch the imagination. Cowl necks become eyelets, tops become crops, mini dresses are now mesh and jersey sweatshirts are transformed into exaggerated fishnets. Each calculated clip of the shears drifts along leaving the scattered remnants of fabric like petals in the wind.
Bleach-painted ombre fade into reds that wash into peach, apricot, and tangerine like a snow cone melting in the summer sun. After a long soak in the dye tub, navy diagonal stripes blend into soft bright pinks. A white shirt dress becomes electric yellow and tight rows of running stitches are bound tight and saturated in mulberry dye to reveal a shibori resist. I can hardly wait for the dye to set so I can seize my thread snips and unveil the pattern below.
Discarded and stretched sections from one garment become the makings of the next. Lightweight patches of denim mask the wear of a favorite work shirt and infuse new life into a classic wardrobe staple seasoned with time. With my embroidery scissors, I cut lengths of denim topstitch thread and embroidery floss weaving dashed lines of running stitches, binding the layers of fabric patches in tight little rows. I excitedly anticipate the freshly applied patches deteriorating and bleaching with age exposing the darker fabric beneath the bunched ripples and in between the runs of stitches like fresh skin exposed behind a healing scar. I am committed to its immortality.
Each layered patch builds up beauty and dimension and celebrates the garments' patina as if to say, "I am loved enough, to save…."
While I meander through the patching and repairing process, I can relax peacefully and embrace the imperfections for long stretches of time especially on a rainy afternoon. With the needle in hand, I reflect on the ancient Japanese practice of boro that my process derives from, which is also peppered with elements of the decorative stitching traditions of sashiko.
Crafting and wearable art is a gift that continues to give with every compliment and connection made, whether restoring a favorite shirt for a loved one or the opportunity to inspire and connect with others.
The present moment finds me boarding a plane after an extended layover and a full day of travel. It is not yet the last leg of the journey. Exhausted and hazy, I imagine a small voice or maybe it was a tap? I look down and see a young girl about half my height beaming with a shy smile that almost feels like she has a secret to share. With a warm affirmation, she decides to let me know that she loves my outfit; a yellow plaid houndstooth jumper, and my handmade, overdyed black, net crop sweatshirt with a gold lion Obi belt.
Immediately I realize that I love her outfit as well; a red plaid skirt and matching top with a ball chain necklace and a wallet chain at her hip!
That moment struck like lightning and without a second thought, I offer her my sweatshirt. She excitedly accepts and eagerly pulls it over her head without a moment's hesitation. The sheer joy it brought me to see her smiling and gripping the garment to her chest, looking back at me as we finally board the plane, is what inspires me to create, to craft, and to confidently be myself.
designers
Amanda Fay holds a BFA in Fibers from SCAD, uses abstract painting and textiles to explore current and historical socio-political themes. Drawing inspiration from traditional garments and processes to lend meaning to her abstract works.