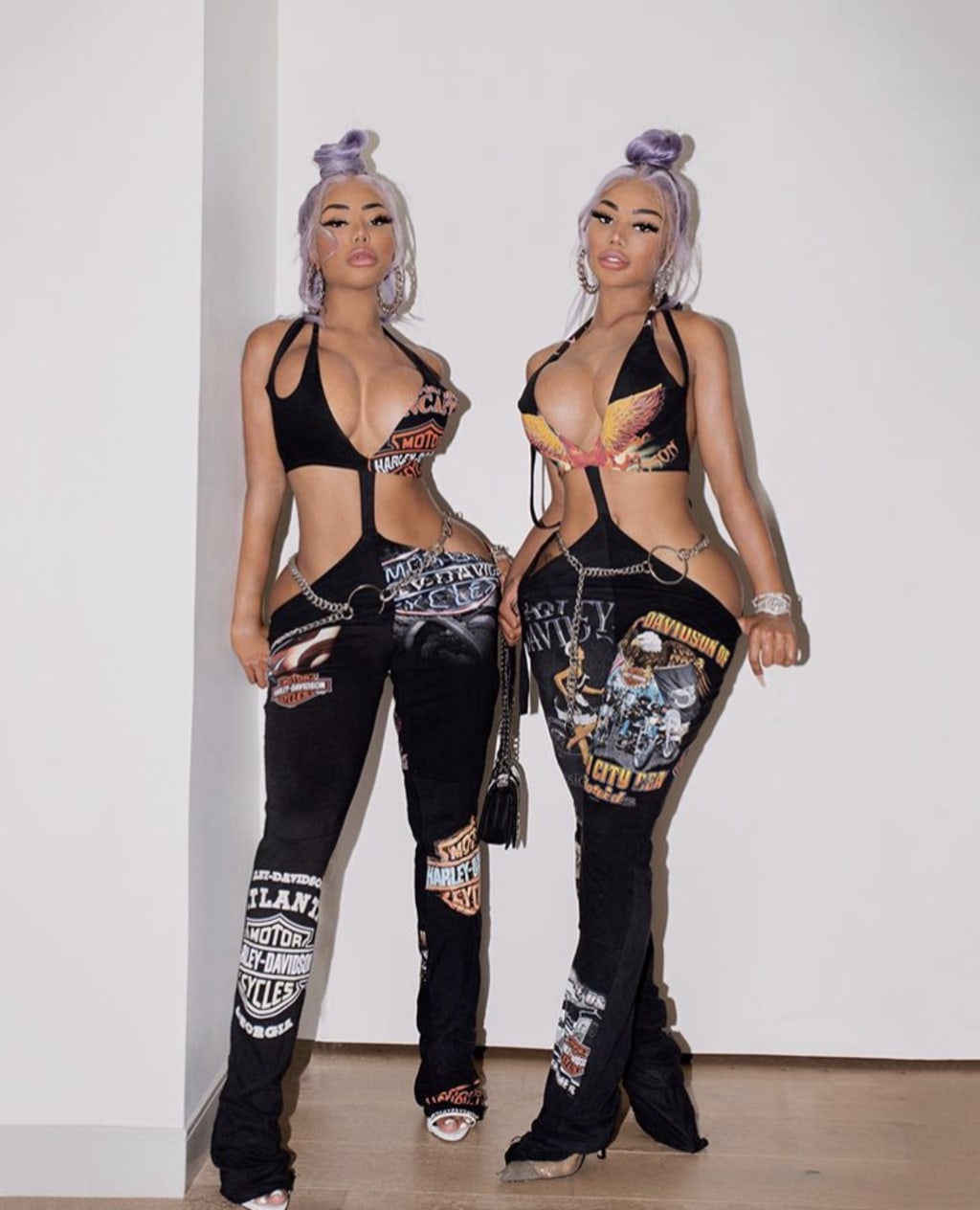 @ClermontTwins on Instagram
The Clermont Twins.
Honestly, honey, I don't even know where to begin. First, it's not a clout chase because I'm pretty deep in the social media voids by choice and for my health, but I did go to school with one of them. Like many of my classmates, watching these beautiful, tall women monetize and redesign their beauty has been a treat, a tearjerker, and the undeniable blueprint.
Note, I don't know Shannon or Shannade personally, nothing beyond admiration and ye olde chit-chat, but I do remember them to be amicable. Unfortunately, as is the case with many honest plastic surgery consumers, they've received an alarmingly brutal amount of negative "feedback" on their appearance since their Bad Girls Club debut. Their beauty doesn't need to be defended, but some galvanizing themes make their influencer style so unique and undoubtedly avant-garde. They're the definition of custom-made, like a video game, like The Sims, the Clermont Twins are well on their way to making a stamp in history that's adequately suited for year-3000 simulation. Sometimes, I wonder if they're divine visitors in plain sight, supernatural.
"I don't work jobs. B****, I am a job." From my understanding, the Clermont Twins have always modeled creatively, other classmates of mine from Atlanta said they were pretty well known there before they dominated New York. They had done work in hair shows, various competitions of the like. The girls are Haitian, Jamaican, Chinese, and Indian (I think). Often, when people list ethnic composition, they're trying to compensate for lack of appeal, really, for the girls, it's a "Who wants to be a millionaire?" question you'll probably have as you reach the unplanned second hour of staring at their glossy shared Instagram.
The look: To someone who might have a low-interest in vanity (good for you), the initial assumption of why the Twins are famous might just be physique, that's a part of the brand but far from the package, think Betty Boop (who is modeled after a Black woman), think Jessica Rabbit, the sexuality of their imagery, even when extremely forward, is not vulgar, it's nectarous, it's pristine. Shannon, a FIT alum, and Shannade, a Parsons alum, studied fashion, so the research elements of their imagery creations are vivid and are mainly their own, that's incredible. Many influencers can "dress," so they think or say, but few influencers can actually style themselves. From the lash and nail length, the hair-installs, to the immediate modeling of newly-released, soon-to-be popular designs, wearing Beyonce-popularized Marine Serre years ago, for example, is extraordinarily intentional yet effortless, well-curated, and believable.
The girls have always been beautiful, and they're sparkling now. They do look very different than before in a complimentary way. They're serving Rumble Roses gamer-girl realness. Their gazes have been Bratz-ified as well, juicy, and, of course, the backsides are artisan baked. There's no hair out of place, and the innocent bad-girl displays are eerily consistent, a thrill that supersedes physical arousal. Totally.
The business: Fashion Nova, Pretty Little Thing, many of the Instagram staple brands have partnered with them, but they've made significant promo and profit by doing appearances at the club and doctors, runway walks for Chromat, The Blonds, and celeb-beloved LaQuan Smith, front-seat runway appearances for everyone else. Their Yeezy campaign might be in their top-5 flexes to date, but one would have to ask them, being that they've also appeared in multiple music videos, including Nicki Minaj's Good Form.
Although we learned of Shannade's mistake, it's in the past, and they powered through it like bosses. And no one could say that these girls don't work hard and, honestly, given how some of America's most-esteemed entrepreneurs have behaved, don't you dare try to claim these girls are not professional. Our trials add interest, another reason to look. Prior to COVID, Shannon and Shannade traveled quite frequently on what seemed to be a tour schedule, domestically and internationally, making sure to expand their reach. Besides the money-making lifestyle, the girls have businesses, a sunglass line, and a high-fashion brand, Mont Boudoir. They have also done design collabs throughout the years, driving a stiletto of legitimacy through the never-fully-dry concrete that is the fashion world. While so many influencers and celebrities would like to fashion themselves as exotic mystics, the Clermont Twins authentically and artistically do so the best.
Reader insights
Be the first to share your insights about this piece.
Add your insights