Christian Louboutin – king of the killer stiletto
His glamorous, red-soled shoes have achieved totemic status in pop culture.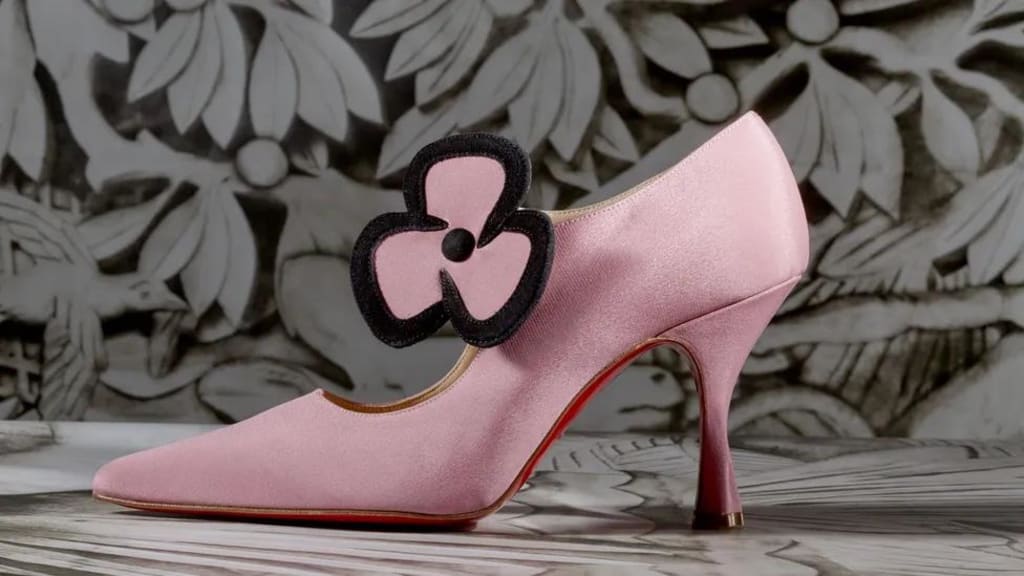 Une jolie bande dessinée en hommage aux peintures florales
A new exhibition about shoe and fashion accessories designer Christian Louboutin showcases his key creations – including more than 400 shoe designs – and opens a window on to his unusual upbringing and a broad spectrum of inspirations crucial to an understanding of his work.
When Paris-born Louboutin opened his first, bijou boutique on Rue Jean-Jacques Rousseau in 1991, one of his first customers was Princess Caroline of Monaco. Since then, fans of his designs have included Jennifer Lopez, Tina Turner, Beyoncé, Sarah Jessica Parker, actor Blake Lively and, since producing his first men's footwear in 2010, Leonardo DiCaprio. In 2006, the designer launched his first collection of handbags, and in 2014 his first beauty range. Today, there are 150 Christian Louboutin shops worldwide.
Riffing off Louboutin's flashy, extrovert aesthetic, the Paris show is punningly entitled L'Exhibition[nist]. Yet, as it demonstrates, there's more to his trademark red-soled, stiletto-heeled shoes and studded sneakers than glamour and gloss. Divided into 10 sections, the exhibition sheds light on his broad knowledge of fashion history and the decorative arts, ignited by childhood visits to the Art Deco Palais de la Porte Dorée on the Avenue Daumesnil in Paris's 12th arrondissement, where the exhibition is being held.
Louboutin lived nearby, frequently exploring it in the early 1970s. Then as now, it boasted an aquarium, and Louboutin spent hours mesmerised by its darting, iridescent, luminous fish. His 1987, surreal-looking Maquereau shoe made of metallic leather sprang from this experience. In the '70s, the building housed the Musée des Arts Africains et Océaniens; today it's occupied by the Cité Nationale de L'Histoire de L'Immigration.
It was intriguing, full of masks and jewellery," Louboutin tells BBC Designed. "Most of Paris's major museums are in the west of the city. This one is a hidden gem in the east. My working-class parents were from Brittany. I had a great childhood but liked escaping routine. I was often absent from school, and expelled." His parents weren't strict, and gave him a long leash.
He began drawing shoes aged 10. As the show's first section reveals, his shoe obsession stemmed from seeing a sign in the museum forbidding visitors from wearing high heels on its parquet floor. The sign showed an archetypal 1950s stiletto with a cross through it. "Rather than being attracted to forbidden things, I was drawn to the sign on aesthetic grounds," he recalls. "It dawned on me that most objects start life as a drawing." This memory inspired his bestselling, scarlet-soled Pigalle shoe, its towering spike heel giving it fetishistic overtones. The idea for his signature red sole came to him on seeing a lacklustre prototype of this shoe. Thinking on his feet, he grabbed his assistant's nail varnish and painted the underside luscious lacquer-red to liven it up.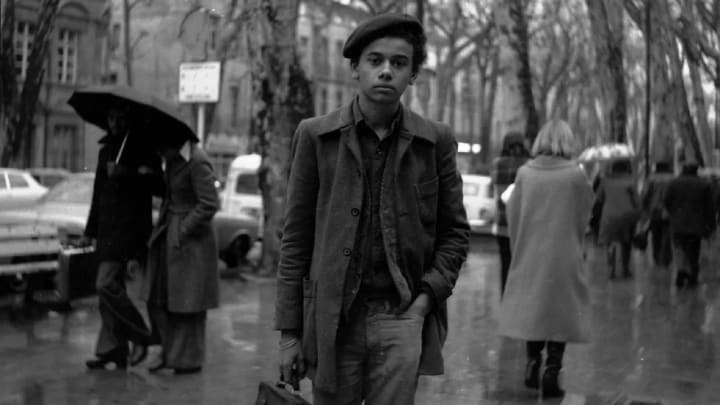 His personal connection to the Palais de la Porte Dorée lends the show added interest and authenticity. The building was co-designed by Albert Laprade, Léon Jaussely and Léon Bazin for the 1931 International Colonial Exhibition. Sculptor Alfred Janniot carved its ornate, exotic bas-relief façade picturing ships, oceans, antelopes and snakes. Eugène Printz and Jacques-Émile Ruhlmann oversaw its interiors whose murals were painted by Pierre-Henri Ducos de la Haille, among other artists.
"About six years ago, I took my CEO Bruno Chambelland there. It had been empty for 10 years, it was dusty, in need of restoration. I contacted [executive director] Hélène Orain. As I remembered the museum from back then and the staff didn't, they joked I was its best ambassador and asked if I'd consider restoring parts of it. I helped restore the façade and furniture. Gradually, we conceived the idea for this exhibition, which also features several of my collaborations with other designers."
Stepping up
As an errant child, Louboutin also frequented the area's cinemas. "I was fascinated by the Egyptian and Bollywood movies they screened." Coincidentally, six years ago, one of his sisters revealed that he was in fact the love child of his mother and an Egyptian man with whom she'd had an affair. "It's funny, as I fantasised as a child that I'd been adopted, as I was darker skinned than my three blonde sisters. So it was a nice surprise."
Louboutin's shoe designs have addressed racial discrimination. In 2006, he created his flesh-coloured shoe collection, Nudes, designed to elongate the leg, inspired by a favourite painting of his, the 16th-Century Portrait of Jean de Beauvau. In this painting, attributed to François Quesnel, the subject is shown wearing a doublet and hose, his legs the same colour as his shoes. But when a black colleague of Louboutin pointed out the inaccuracy of calling his pale-toned shoes 'flesh-coloured' he took note, and expanded the collection to include darker tones. These are displayed in another section, along with specially commissioned leather-clad sculptures of the shoes by British design duo Whitaker Malem.
Looking back, French punk was ultra-glam, not at all dark – we wore huge safety-pin bracelets – Christian Louboutin
His early cinema outings may well have sparked his love of strong, saturated colour. He fondly recalls seeing Jacques Demy's brilliantly colourful 1967 movie Les Demoiselles de Rochefort (The Young Girls of Rochefort) starring Catherine Deneuve and her sister Françoise Dorléac. And he has long admired pop artists Andy Warhol and Allen Jones, artists Pierre et Gilles (known for the heightened colour of their imagery referencing religious iconography and kitsch), and James Bidgood, who directed the colour-drenched, cult 1970 film, The Pink Narcissus. How influential has his rebellious childhood been on his label? "It has been in that my company is independent," he says. "It has been built on the same principles of trust and freedom. The inspirations from my youth are perennial."
In the late 1970s, Louboutin immersed himself in Paris's punk and gay subcultures. He starred in the cult, underground 1979 movie Race d'Ep (The Homosexual Century), which argued that gay liberation had its roots in the mid-19th Century. He also hung out at legendary Paris nightclub Le Palace, the city's answer to Studio 54 – a radically inclusive nightspot that welcomed all ages, colours and creeds. Its habitués ranged from philosopher Roland Barthes, then in his 60s, to Jean-Paul Gaultier. Louboutin's friends included style icons Paquita Paquin and Algerian model Farida Khelfa. "We thought our gang were the most," says Louboutin. "Looking back, French punk was ultra-glam, not at all dark – we wore huge safety-pin bracelets, we never went for piercings."
Around this time, Louboutin interned in the dressing rooms of music hall the Folies Bergère, then learned his craft at shoe label Charles Jourdan, and alongside shoe designer Roger Vivier. He briefly worked as a landscape architect. "I didn't last long: I missed my shoes," he says.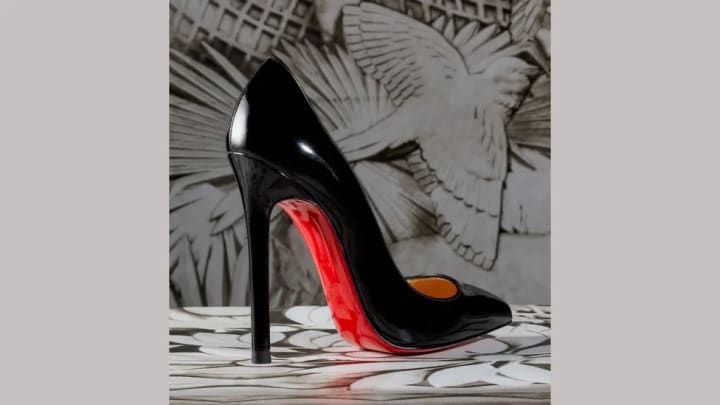 The exhibition's third section features his earliest sketches, moodboards and portfolios that he showed prospective employers as well as some new stained-glass panels with motifs referencing his influences, from Warhol to the feathered headdresses of the Folies Bergère – a collaboration with Paris's Maison du Vitrail, famous for its stained-glass workshops.
He also freelanced for Saint Laurent, Chanel and shoe designer Maud Frizon; some of his designs for them are included in the third section. He admits, however, that he wasn't cut out for working for others: "I found it hard to be a nine-to-five artisan".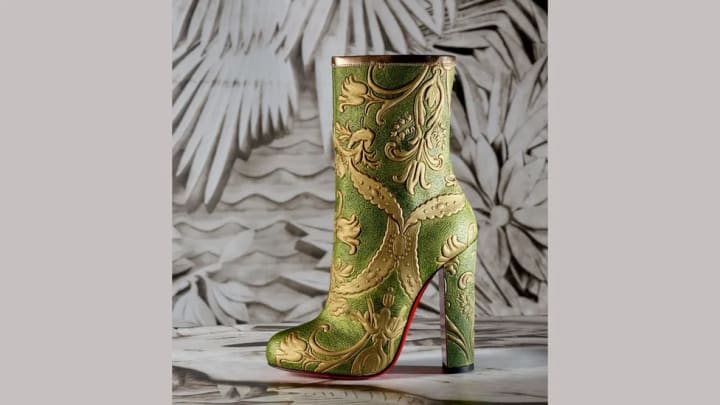 The same section also displays key designs created soon after he opened his first boutique, including his cute and cartoony, rather than sexy, Pensée shoe of 1992, a homage to Warhol's 1960s Flowers paintings. This part also includes his 1996 platform-soled Bottinos ankle boots made of Cordoba leather, which highlight the painstaking lengths Louboutin goes to when creating his designs. "A 17th-Century screen I bought at auction gave me the idea for these," he says. "Cordoba leather, an ancient leather-working technique, combines leather and wood-engraving. You start with a drawing used to make woodcuts. These are then laid over the leather which is hammered until it's embossed. This is followed by a waxing process that makes the leather glossy.
"I travelled all over Europe to find an artisan to make them until I found one on Avenue Daumesnil, only a few steps away from where I grew up. The boots are adorned with a pattern of hydrangea petals. To create these, I found someone in Chilly-Mazarin, a suburb of Paris, who specialises in resins. The carved heels were inspired by French 20th-Century jewellery designer and metalworker Line Vautrin. I ended up asking her daughter, Marie-Laure Bonnaud-Vautrin, who designed jewellery with her mother, to help create the heels, a complex process that combined mica, glass, aluminium and epoxy resin."
Many of Louboutin's early designs have this highly wrought, baroque aesthetic. Another example is his elaborate Marie-Antoinette shoe of 2008, co-created with French embroiderer Jean-Francois Lesage. "I had in mind Sofia Coppola's 2006 movie, Marie-Antoinette, with its strong, vibrant colours. This involved various techniques and materials, including a type of embroidery called cannetille which uses fine metallic thread, a torn mousseline fabric and embroidery incorporating pearls."
I appreciate that some perceive them [as fetishistic] – but people project their own ideas on to a designer's work – Christian Louboutin
Another design here is his coquettish, high-heeled Corset d'Amour boot of 2019, fashioned from black lace, satin and leather, inspired by the corseted, wasp-waisted figures of women in the 1890s. This section also includes a Louboutin-designed shoe worn in Yves Saint Laurent's final couture show in 2002.
Yet another section sheds light on the labour-intensive craft of shoemaking. It exhibits tools and materials, and shows films explaining the many techniques involved. The penultimate section focuses on the almost mythical status of 'Louboutins' – as the designer's shoes are known – in popular culture. In 2009, J Lo wrote her song Louboutins in praise of them, and younger celebrities, including model Bella Hadid and actor and rap star Zendaya, clamour for them, giving them a cross-generational appeal.
The show concludes with Louboutin revisiting his 2007 collaboration with film-maker David Lynch, which examined the potential sexual fetishism of shoes via photographs of unwearable shoe-like forms, some with exaggeratedly high heels. These seem to nod to the Palace de la Porte Dorée's sign vetoing high heels.
But Louboutin doesn't like to be pinned down on whether his shoes are overtly fetishistic. "I appreciate that some perceive them that way," he admits. "But people project their own ideas on to a designer's work, and sometimes this isn't what the designer intended. The studs on my shoes aren't about fetishism, they reference punk style." That said, he seems to place more emphasis these days on sexiness. "My earliest designs were more dressed-up, embellished. Now I tend to go for simpler, more bare designs, ones that emphasise the shape of the leg. I've gone from dressy to undressed."
Reader insights
Be the first to share your insights about this piece.
Add your insights