Celebrate the Holiday Season with Ugly Christmas Sweater Day
This day only comes once a year - so here's the history of this festive holiday and information where you can find your own ugly Christmas gear!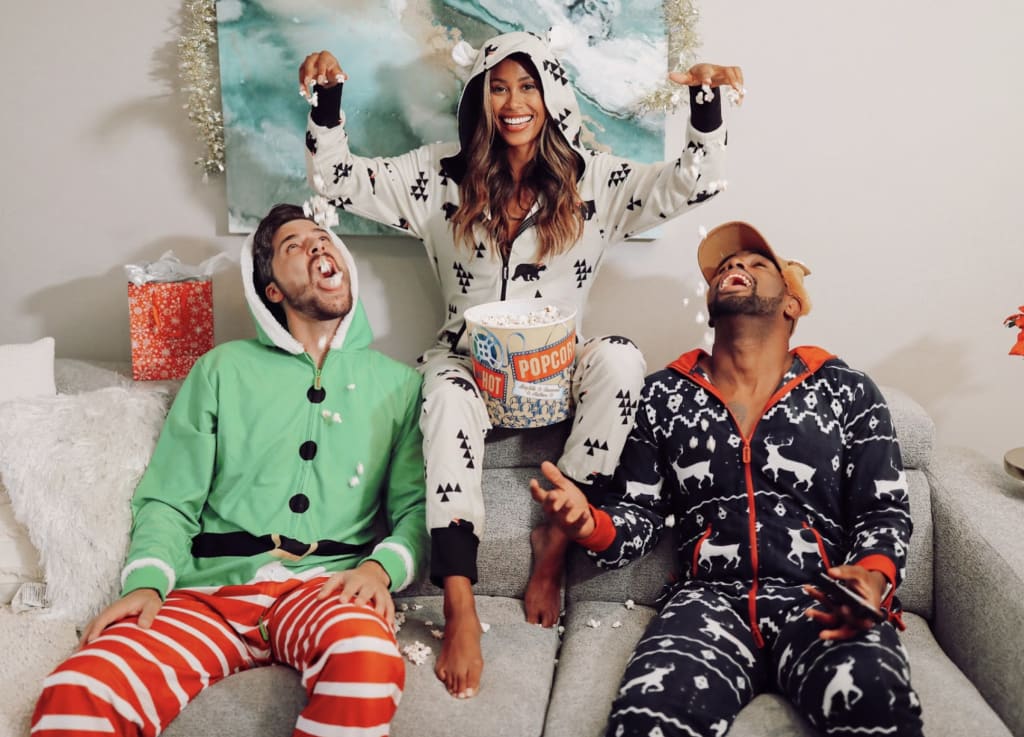 Looking for an excuse to wear your beloved ugly Christmas sweater that you were psyched to show off at your favorite Christmas party? Brighten up your quarantine with Ugly Christmas Sweater Day on Dec. 18. There's still plenty of time during this holiday season to strut your stuff on Zoom and socially distant shindigs.
In 2011, connoisseur's of the ugly Christmas sweater trend created National Ugly Christmas Sweater Day to celebrate and light up the busy (and often stressful!) holiday season and show off any crazy, or festive, ugly sweaters. What was once a day celebrated by a few has now grown in popularity and is celebrated worldwide!
On the third Friday of December each year, people show off their ugliest sweaters in the name of the holiday season. The day began in Vancouver, Canada at a Christmas party where each attendee was instructed to wear an ugly Christmas sweater, originally popularized by Bill Cosby who showcased his eclectic sweater collection on The Cosby Show. Soon, the U.S caught on and adapted the tradition. From red and green tinsel to knit reindeer, Santa's, onesies, pop culture trends, and more, there's an ugly Christmas sweater for everyone.
One of the most popular and crowd favorite ugly Christmas sweater brands to shop is Shark Tank and Robert Herjavec's Tipsy Elves. The creation of a former corporate lawyer, and a former dentist, Tipsy Elves know how to create holiday attire that is festive, fun, a little raunchy, and will always leave people coming back for more. With recent collaborations with Samuel Adams, Freeform, and REEF, what originally started off as an ugly Christmas sweater brand is now skyrocketing in size, collaborations, and holidays!
Robert Herjavec spoke to CNBC Made It about why he invested in Tipsy Elves and shared, "I didn't bet on the product, I bet on the guys. They left these secure, cushy jobs to sell inappropriate, ugly Christmas sweaters online. Anyone nuts enough to do that must really believe in the idea." On Shark Tank, everyone but Herjeavec said no to the deal even though the founders were selling around $600,000 of ugly Christmas sweaters online already.
"Give me a great entrepreneur and he can take a so-so product, and make a great business out of it," Herjavec told CNBC Made It. "A bad entrepreneur can take a great product and run it into the ground."
Today, Tipsy Elves has made over $100 million in lifetime retails sales, making it Herjavec's most financially successful investment on the show.
From Tipsy Elves, you can find ugly Christmas sweaters, jumpsuits, slippers, shirts, even dog sweaters and so much more! We've looked through their site and pulled some of our favorite sweaters and accessories for you to see for yourself.
Men's Gaudy Garland Ugly Christmas Sweater
"Haul out the holly, because it's time to tinsel the crap out of your holiday wardrobe. This garland bedecked men's Christmas sweater is punctuated with baubles that shine and catch the candlelight in a nostalgic way that's almost enough to make your eyes tear up. Actually, this wonderfully tacky design will probably make a lot of people cry."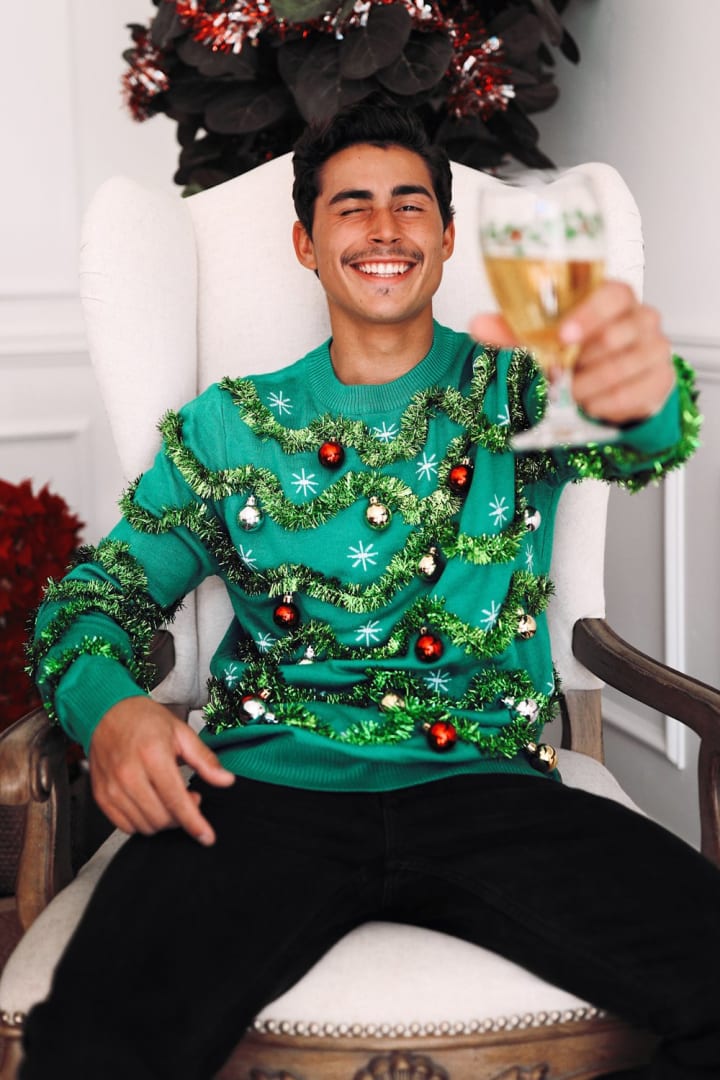 Women's Gingerbread Man Jumpsuit
"Ladies - love a sweet treat but can't bake? We hear ya. That's why we've turned our Christmas costumes into your favorite festive desserts. Bonus points - your pants still fit and you get to keep your teeth! This Women's Gingerbread Man (or woman, it's all good) jumpsuit will make the perfect addition to any Christmas scene. It's not often you can rock up to the office in what is basically pajama wear, so embrace it. The jumpsuit features a hood to fight off any blizzards, and a candy motif for that authentic gingerbread look. Hot and fresh out the oven."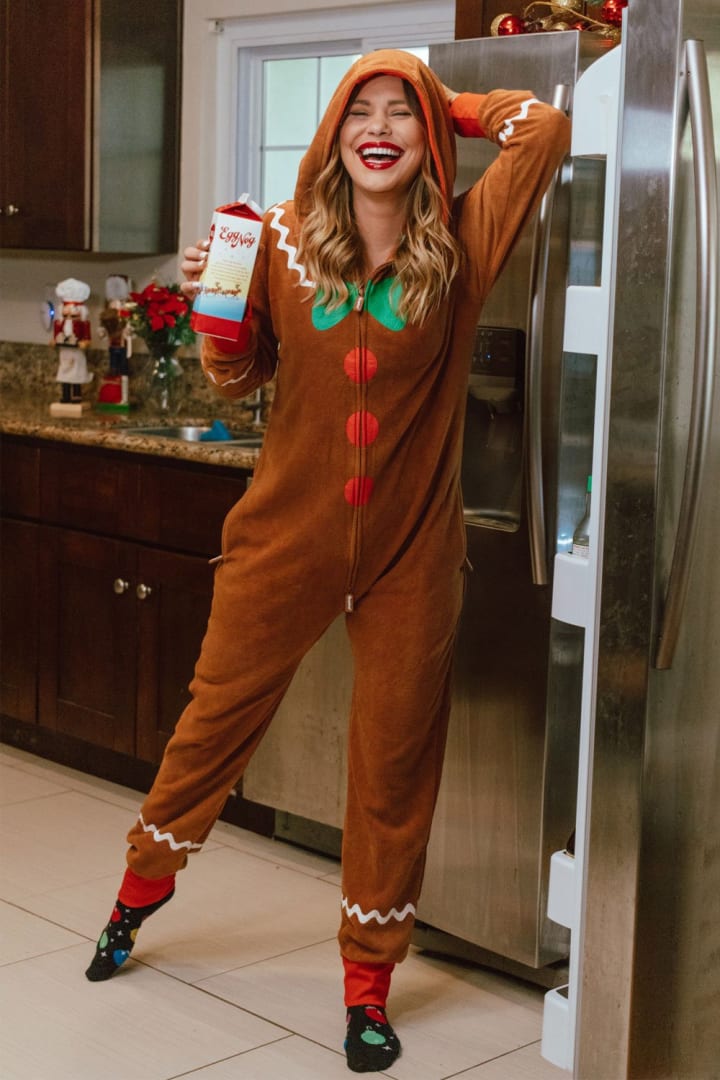 "He sees you when you're sleeping, he knows when you're awake. No, not the gift giver - your dog. Your dog sees everything, including those weekday beers you promised you would be drinking less of. It's time to make them more supportive, and our Sam Adams Dog Sweater gets them in on the fun! With a dark blue knit and a snowflake print reminiscent of the perfect snowfall, your furry friend will know it's soon time for a chilly w-a-l-k. With his natural and man-made winter coat, nothing stands between them and their leash! Who's Sam Adams, anyway? Hope he brought treats."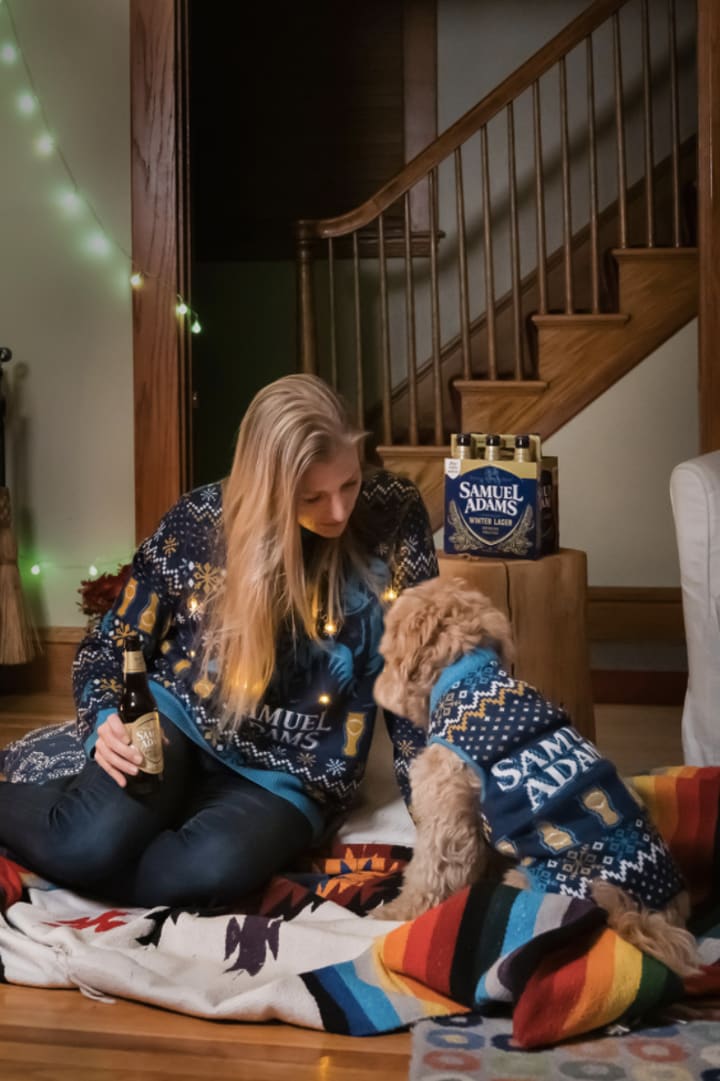 "All we're saying is, nobody's seen Santa and a Unicorn in the same room together. Nobody's actually ever seen either of them, if we're being honest. We've teamed up with REEF to take the world's most favorite elusive creatures and bring them straight to your slippers. In a duo more rare than diamonds, you might want to hang on to these loafers."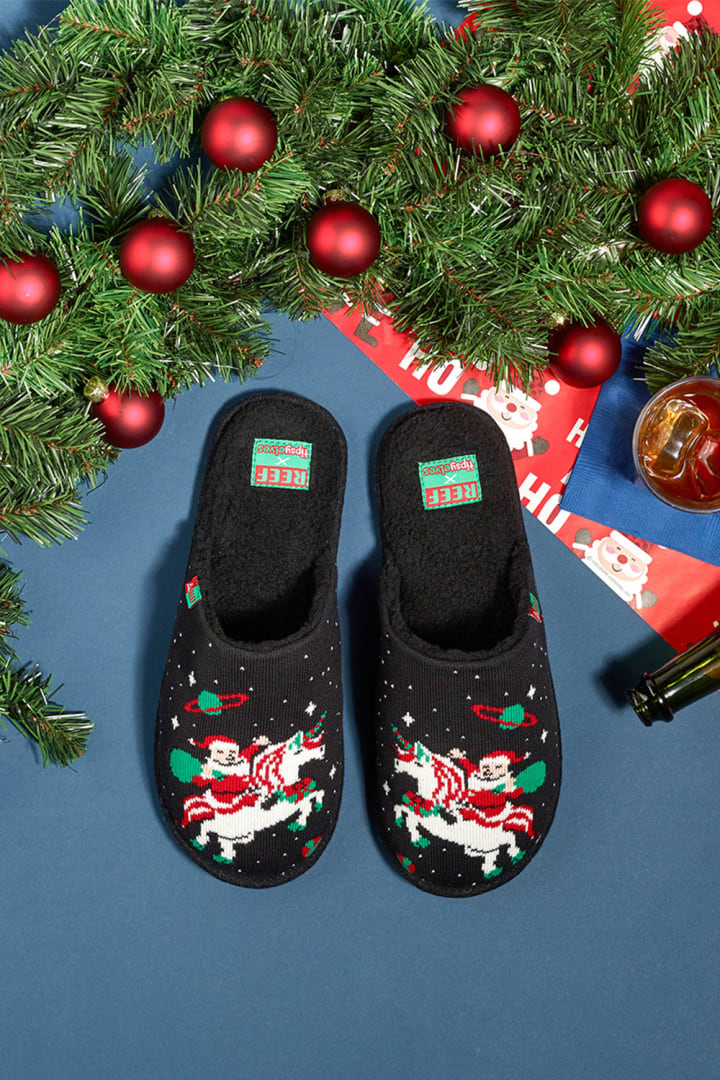 Men's Yeti To Party Freeform Sweater
"What's the Abominable Snowman got that you don't got?! Nothin', that's what. Make your choice for the season's ugly Christmas sweater party a no-brainer with our Men's Yeti to Party 25 Days of Christmas Freeform Sweater! If your confidence isn't at its highest, the yeti energy radiating through you will be more than enough to take you up to the life of the party. Be warned, though - turning down those extra drinks is not an option when you've coined yourself as the designated Yeti of the party. You've got room to put 'em down."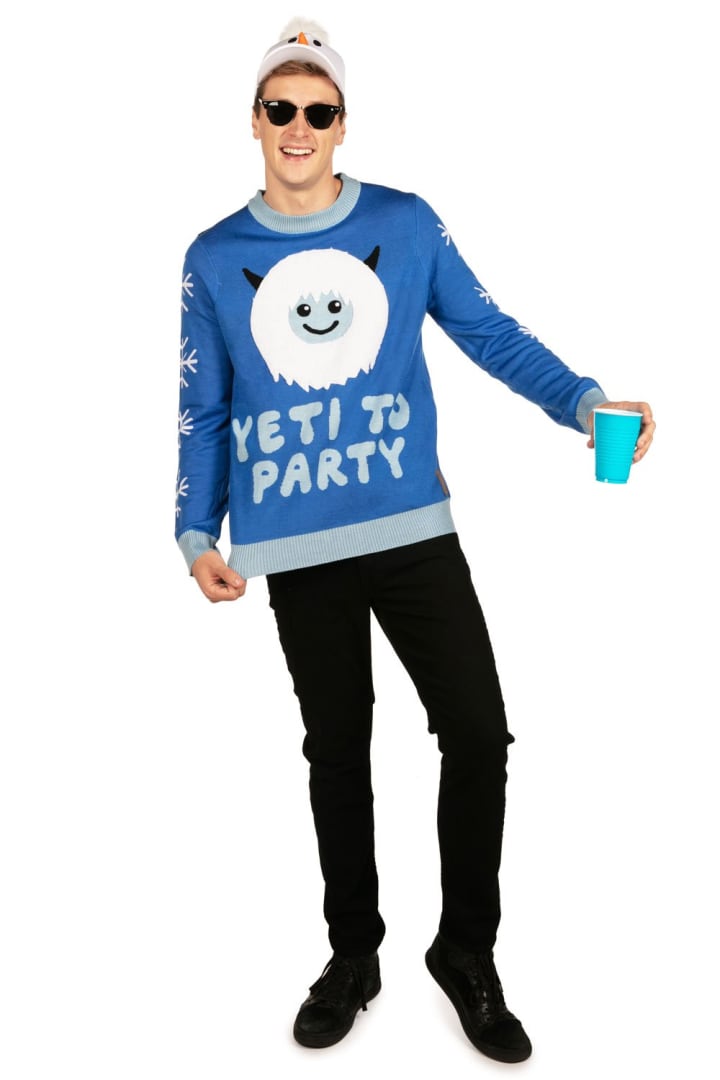 To learn more about Tipsy Elves and their festive, ugly Christmas sweaters, visit their site here: https://www.tipsyelves.com/
And make sure to follow them on social media here:
Twitter: https://twitter.com/tipsyelves
Facebook: https://www.facebook.com/TipsyElves
Instagram: https://www.instagram.com/tipsyelves/