Catholic Jewelry
Restores your faith and belief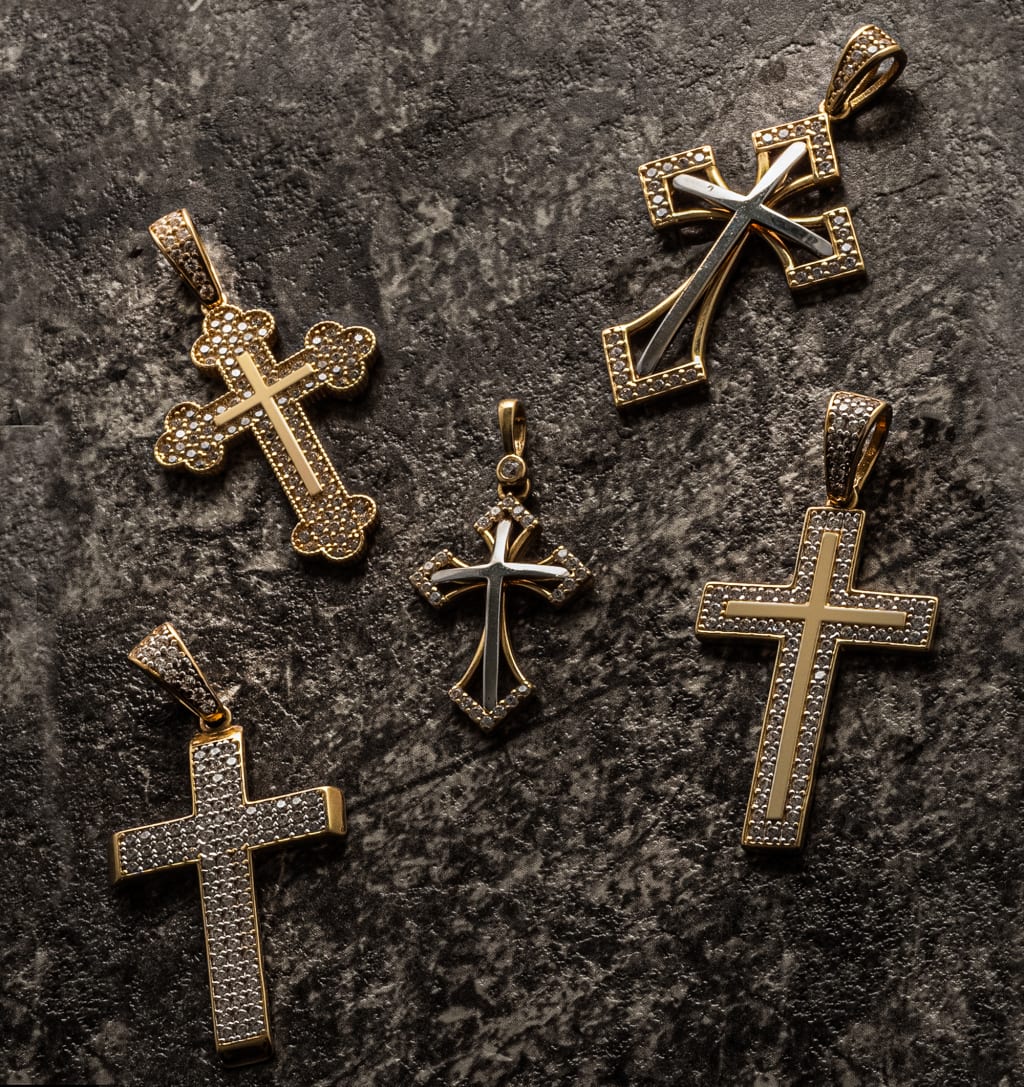 Cross, Crucifix, Rosaries were once a trademark of a real Catholic. For Catholic Religious Jewelry it is not only a style of adornment but also a way to convey their love and dedication to God. Since the early days, Catholics were very sentimental about their religious jewelry.
Recently wearing Catholic jewelry is moreover a cool trend to show off for the fashion fanatics on social media. Not only Catholics, but it is also widely used by the majority of people. Superstars like Madonna had flaunted her style with Catholic Religious Jewelry on the streets of Hollywood. Catholic Jewelry has always signified the glorious heritage of rich Catholic culture.
Earlier there were two synonymous Catholic Jewelry, i.e. the anchors and the Ichthys. Before Christianity became the dominant religion in Rome, the usage of the anchor was widely seen because it is a sign of positivity and gives a person hope during his/her tough times. The Ichthys described Jesus as "the fisher of men". People strongly believed that this piece of jewelry acts as a mediator between God and mankind.
Now coming to crosses and crucifixes, according to some historian wearing a Crucifix was a wrong gesture in the 2nd century because it reminds people about that cruel moment of betrayal. But in the 3rd and 4th Century St. Clement of Alexandria and St. Paulinus of Nola described the crucifix/cross as the ultimate expression of faith, love, dedication, and protection. For the Catholic, this cross is a blessing in disguise from Jesus. This cross helps to heal you all the inner wounds and try restoring positivity inside your mind.
According to some Archaeologists, there were traces of wearing crosses in the 5th and 6th century also. Now there are almost 50 types of crosses used worldwide and amongst them, the Latin cross is quite popular amongst the Romans. The Greek cross, the Tau cross, the Saint Andrew cross are some other variations used in a wide manner.
Saint Medallions were not that much popular amongst the Catholics. The pagans used to wear this to worship deities of God. But after some time this jewelry was rejected and banned. Surprisingly recently the medallions are manufactured along with dozens of variations, styles, and designs.
When you see this particular pendant, what is the obvious thing that you will notice first? The picture of Lady of Guadalupe, or as we call her "Mother Mary." Catholicism is all about expressing your respect and love to God. This hand-sketched Medallion illustration of the Holy Mary reflects the prestigious culture of Catholicism. Considering the religious value this pendant could also be worn as a sign of protection from bad omen or maybe as a blessing of God. The exquisite and stunning finish of this Pendant will help to elevate your daily boring look. The pendant is lightweight enough to use on a daily basis and handcrafted in the USA.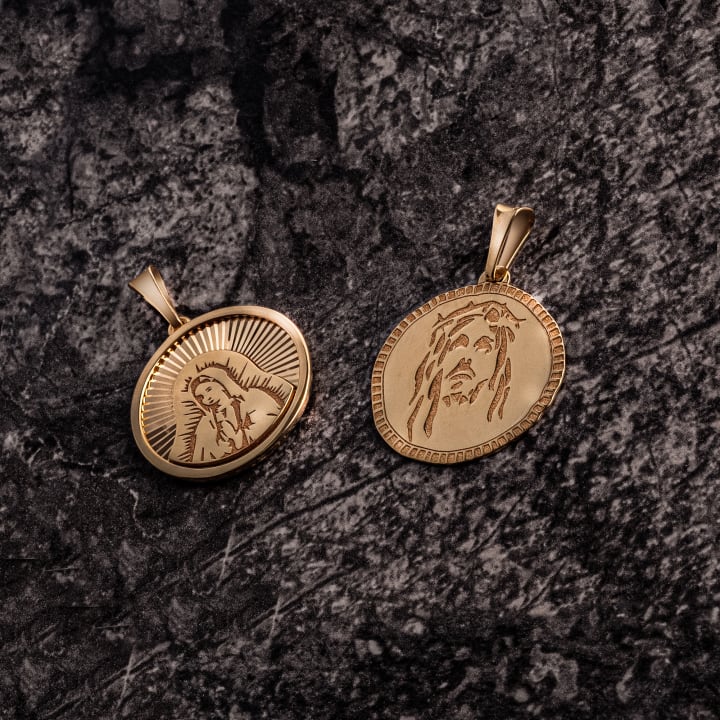 Are you a fan of color contrast? But still, wearing that same gold chain regularly? Well, when there is a will, there is a way. In Jewelry America we tend to break the stereotypes and help you create your style statements. This solid gold Cuban necklace reminds us of the moment of sacrifice. It features a deity of crucified Jesus. The polished finish and the color contrast has made this pendant so unique that you can bear this with any type of costume at any event.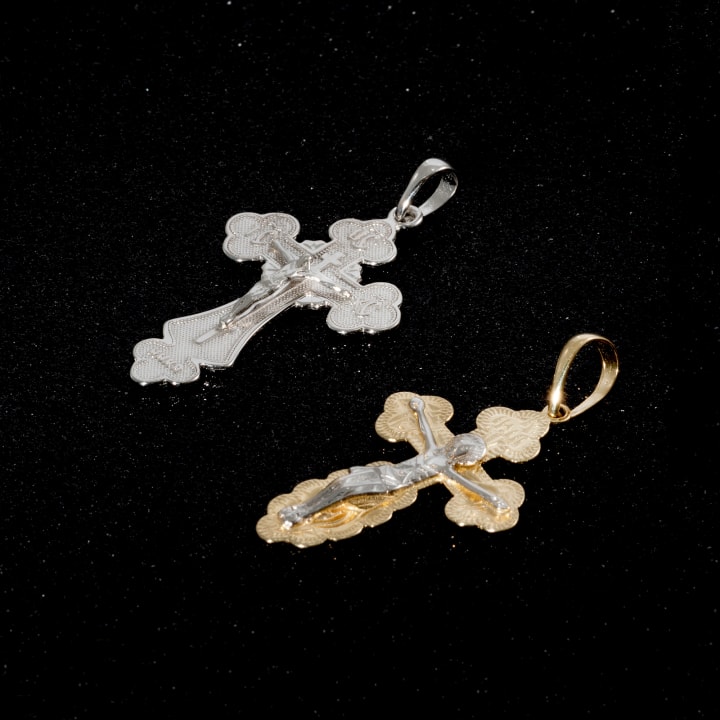 Since earlier days Catholics believed that Priests represent God. They establish a connection between the human world and God. This idea is reflected in this pendant. This charm necklace scripted on the back "I AM CATHOLIC PLEASE CALL A PRIEST". The pendant has a vibrant look, elaborated texture, and glossy finish – perfect to blend with any kind of outfit. This piece of jewelry is handcrafted and made in the USA.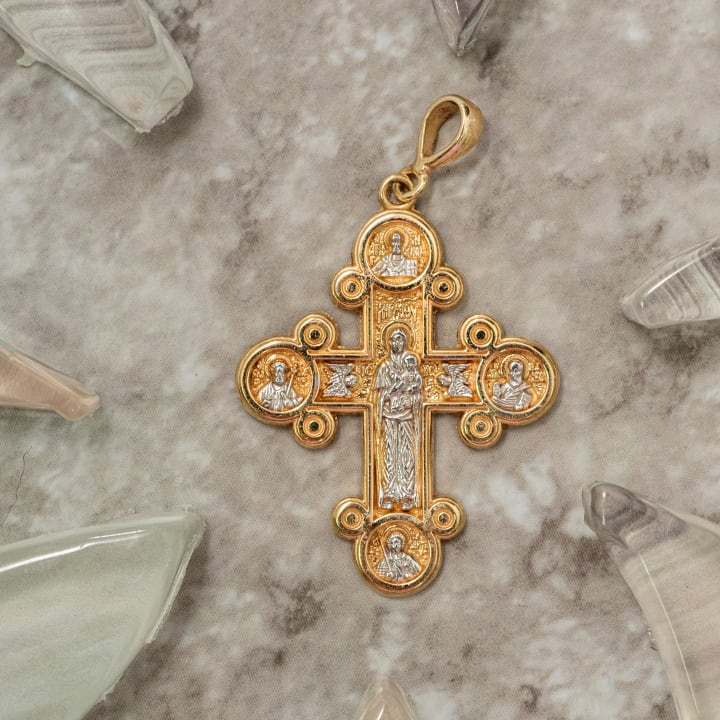 14k Yellow Gold Elegant Traditional Latin Cross Pendant with Cubic Zirconia
Latin crosses were popular amongst the Roman after Empire Constantine made Christianity Rome's official religion. The pendant is engraved with Zirconia stones. The Cubic Zirconia is used as a substitute for diamonds because it has the same texture. This combination gives it a shimmery finish. If you want an elegant but minimalistic look then without a doubt you can go for this pendant.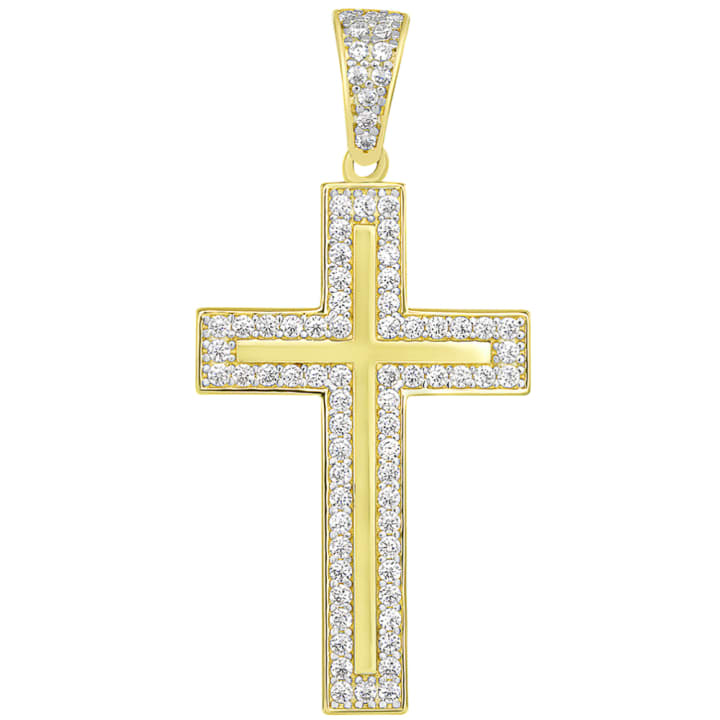 Catholic religious jewelry plays an important role in our spiritual beliefs. We tend to wear these savior miraculous pendants to protect us from the negativity. Wearing crucifix or crosses is a sign of being a believer and a follower and no option could be better than jewelry to express your culture. During this rat race in the 21st century, there could be endless reasons to wear Catholic Jewelry. Maybe some people wear it as a sign of respect to their religion whereas others might find this fashionable enough or maybe to create a new hashtag trend on social media. Whatever the reasons may be or whatever the controversies are, but no trend could demolish the value of Catholicism.
Reader insights
Be the first to share your insights about this piece.
Add your insights