CARL F. BUCHERER MANERO FLYBACK SIGNATURE
Carl F. Bucherer has collaborated with Caran d'Ache, creating the Manero Flyback Signature, a limited edition chronograph.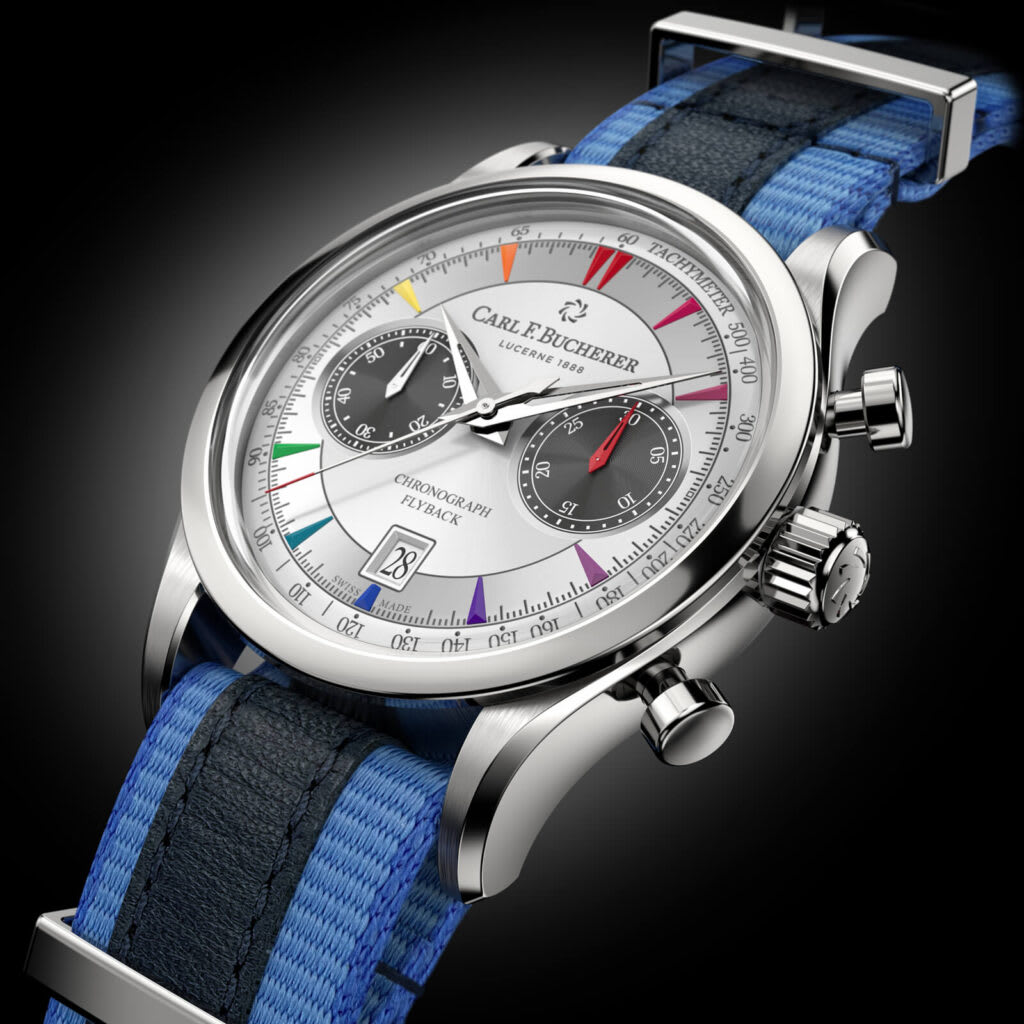 I am proud to be from Lancashire, a region where it frequently rains and the cuisine is simple but hearty. It may not be glamorous, but it is home and there is nowhere else I would prefer to be. However, there is another place that is also very close to my heart. In my professional role, I have visited Switzerland numerous times. At one stage, I even contemplated purchasing a modest home in this land of cheese, chocolate and, of course, watches.
Switzerland is a nation I know well with many familiar sights and sounds. In a couple of weeks, I will visit this landlocked country again and I can already feel an overwhelming sense of excitement building up. There are many aspects of Swiss life that I appreciate. For example, the trains are clean, affordable and run like clockwork. Indeed, there is a welcome absence of excuses, just the kind of dependability you normally only experience within a healthy marriage. And then there are the chocolate-box pretty landscapes featuring snow-capped mountains sitting adjacent freshwater lakes. Compared to my home nation, Switzerland is very clean, enjoys low rates of crime and its citizens are remarkably polite. There is much to like about this modestly sized country.
While I was brought up to avoid stereotypes, I cannot help labelling Swiss citizens as fastidious, punctual and blessed with an extraordinary degree of exactness. Watchmaking seems to suit the nation's psyche. Indeed, precision and perfection are omnipresent. Two words, 'Swiss Made', confer a degree of reassurance many consumers have grown to appreciate.
Now, two prestigious marques, Caran d'Ache and Carl F. Bucherer have joined forces, producing a Signature writing instrument and a Signature watch. Caran d'Ache is based in Geneva and is renowned for making luxury writing instruments, whereas Carl F. Bucherer is located in Lucerne and is synonymous with fine watchmaking. Both companies are quintessentially Swiss, share a deep understanding of craftsmanship and have much expertise producing contemporary luxury products. Indeed, these two firms could be described as kindred spirits.
The dial
On one hand, the dial of the Carl F. Bucherer Manero Flyback Signature shares a strong resemblance to the 'regular' Manero Flyback, a model I have always held in high esteem. However, the Manero Flyback Signature does slightly veer off-piste with its imaginative use of vibrant hues. For example, each triangular index encompasses one of 12 different colours, matching the hand-lacquered triangles found on the Signature writing instrument. One look at the Caran d'Ache website and it becomes obvious that this firm has a passion for colour, offering its products in a myriad of hues.
Openworked, dauphine-style hour and minute hands efficiently impart meaning with a notable degree of style. The central area of the dial is presented in a pale silvery-white shade. A silver-grey, brushed hour track encircles the central area of the dial and is marked with the aforementioned triangular indexes. In between each index, the hour track is marked with beautifully defined strokes, presented in two lengths. The hands and black strokes enunciate the prevailing time superbly.
The lithe central chronograph seconds hand is fitted with an elegant counterweight and a prominent red tip. Once again, the central chronograph seconds hand points to the crisp strokes with laser-like precision, contributing to the model's impressive readability. This hand also kisses the tachymeter scale, positioned around the periphery of the dial. This latter function allows the wearer to ascertain the speed of an object covering a known distance.
While the Manero Flyback Signature is keenly priced, the quality of the dial would suggest that it retails for a greater sum. The two registers are recessed, while the indexes sit above the dial plane. This play with depths reinforces the overall perception of luxury. The registers are snailed and feature openworked hands. One hand is red, while the other is rhodium plated. Both registers feature contrasting markings and Arabic numerals. A date display is located at 6 o'clock.
The case
Measuring 43mm in diameter, the Carl F. Bucherer Manero Flyback Signature confers much wrist presence. Personally, I found the watch afforded a comfortable union with my wrist, albeit I concede it may be too large for some would-be wearers. The press sample came supplied on a NATO textile strap made from 100% recycled PET with a strip of calfskin running along its centre. This strap encompasses beige, grey and red tones and is presented on a stainless steel pin buckle. The watch is also supplied with an additional blue NATO strap as part of the Signature set.
Ordinarily, I favour watches that repeatedly juxtapose brushed and polished surfaces. At first, I wrongly assumed everything was executed to a brilliantly gleaming conclusion. However, on close inspection, I noticed the top surface of the lugs, along with their underside, are satin brushed. This latter surface treatment provides a dose of restraint and, as a consequence, the case serves as the perfect foil for the dial and its ebullient appearance. Once again, the Lucerne-based firm has judged everything to perfection.
The dial sits beneath a double-domed sapphire crystal, a feature often found on vintage watches. However, there are other aspects of this watch that exhibit a neoteric mien. This design philosophy could have proved disastrous, but the tension between the modern and the retro elements delivers an interesting and cohesive composition.
The movement
An exhibition caseback affords sight of the self-winding chronograph movement, the CFB 1970 caliber. In this instance, the movement features a column wheel and a lateral coupling. Some purists consider a column wheel and vertical coupling as the ultimate chronograph ensemble. This is because the pushpiece feel is generally smoother. Moreover, when the chronograph is actuated, the central seconds chronograph hand leaves the starting gate without any suggestion of a stutter or wobble.
However, many horophiles prefer the more traditional approach, namely, the lateral coupling. This indulges the wearer with the opportunity to see the chronograph engage and disengage, a mechanical performance Manero owners can look forward to.
In reality, when I held the Manero Flyback Signature in my hands and repeatedly pressed the pushpieces, I could not discern any jumping of the chronograph seconds hand. Moreover, I did not have any issues with the feel of the pushpieces. My advice would be to place the watch upon the wrist and see what you think.
The CFB 1970 caliber features a flyback function. Usually, chronographs, with or without a flyback, feature a pushpiece at 2 o'clock that starts and stops the complication. In addition, a pushpiece at 4 o'clock resets the chronograph hands once the complication has been stopped. For many owners, this may well suffice.
However, if you wish to time successive events, the process of starting, stopping, resetting and restarting can prove challenging, even for the most nimble-fingered wearers. When a flyback chronograph is running, the wearer can press the pushpiece at 4 o'clock and in one simple step: stop, reset and restart. Even the clumsiest fingers can time successive events with ease.
Closing remarks
I wore the 'regular' Carl F. Bucherer Manero Flyback a few years ago. I was smitten at the time and my affection for the watch has never waned. The Manero Flyback Signature shares much in common with the 'regular' model, including the case, pushpieces and movement. Where this new, limited edition chronograph differs from its forebears is with the liberal application of cheerful tones, enlivening the triangular hour markers. The hour markers fulfil their role effectively, but they also convey a sense of euphoria and fun.
While the bursts of bright colour elicit a smile or two, there is no escaping that the Manero Flyback Signature is endowed with some serious watchmaking know-how. The habillage is beyond reproach and the palpable quality of the materials employed would befit a costlier watch. The CFB 1970 caliber delivers the convenience of a flyback and, when pressing the pushpieces, it feels wonderfully refined.
By working together, Carl F. Bucherer and Caran d' Ache have created an exquisite, luxurious pairing. Both the chronograph and the rollerball pen brim with quality, deliver day-to-day practicality and, despite their exalted composition, proffer remarkable value for money. However, I am not surprised, as both products are made in Switzerland, a land synonymous with craftsmanship, luxury and, most notably, reliability.