Cannes Film Festival Fashion 2018 - A Definitive Review
The greatest film festival of the year is upon us once again! But did the red-carpet couture fill the red-bottomed shoes of years past?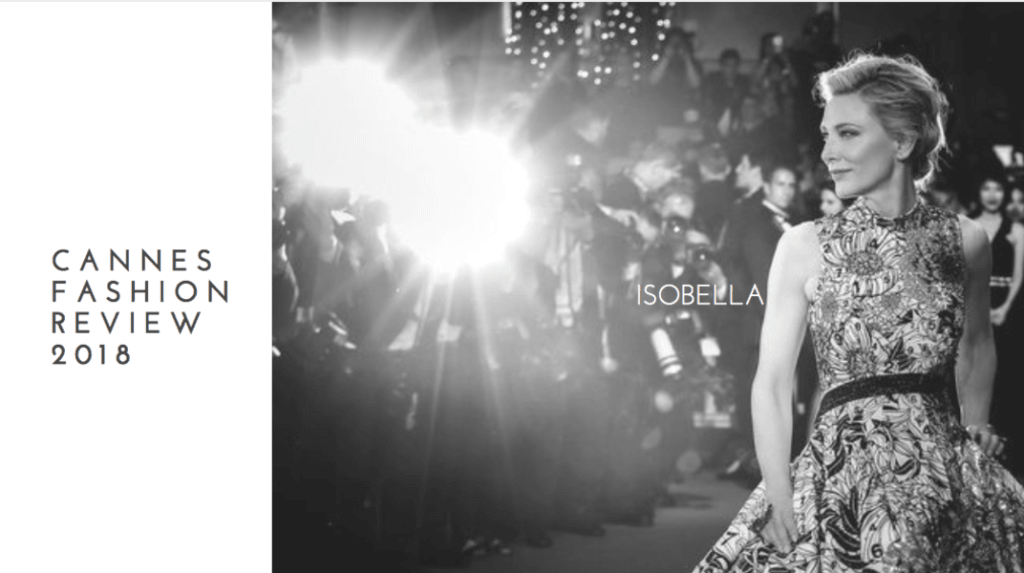 *Note: This article will not include every outfit from the Cannes Film Festival, merely those which the author deems noteworthy.
Ah, the Cannes Film Festival. For twelve days each year, the charming town of Cannes, France is transformed into an Elysium on earth filled with A-listers and wannabe filmmakers alike. The town is awash in the light of camera flashes as they light the red carpet, documenting this legendary event to be scrutinized (and copied) by fashion labels in the weeks to come. Frankly, the Cannes Film Festival is the epitome of glamour, of yachts, diamonds, and evening gowns, days of movie premieres, of enrapturing comparable to the Superbowl. The remainder of the fashion-forward population can only huddle around a television in hopes of witnessing each shock of style which these trendsetters present.
And each year, without fail, they do exactly that. Through bottom-feeding lows (Madonna's pointy bra and Borat's mankini, to name a scarring few) and sky-brushing highs (Aishwarya Rai, this blogger is looking at you!), Cannes is a cannot-miss event.
Without further adieu, twelve of the best, worst, and most shocking Cannes fashion choices made by several of the most legendary stars of 2018.
Bella Hadid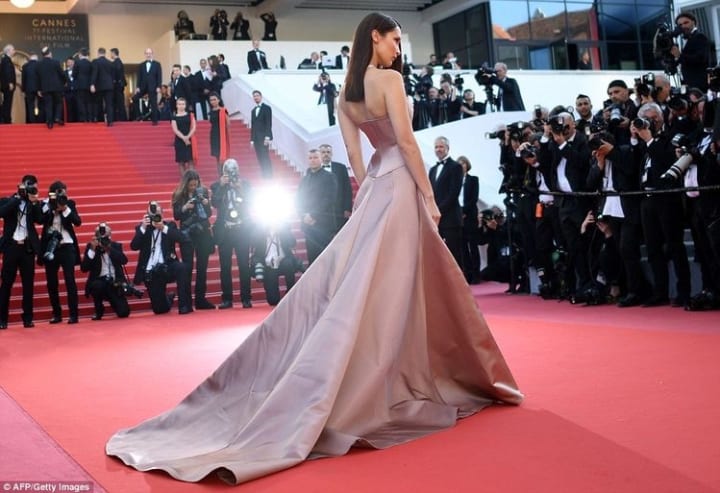 As she entered Cannes 2018, Bella Hadid became even more than one of the most recognizable women in the world; the supermodel and face of Dior became a goddess in a custom silken Christian Dior gown. The model's hair echoed the dress; long, shining, and wholly perfect. A diamond choker encircled her neck, with a cuff of gems (worth more than most people's rent) to match. Her look is regal, a true red-carpet showstopper. This is no shock, as the Hadid sister's reputation precedes her; she has attended the festival for several years, donning stunning (although sometimes underwhelming) red-carpet looks each year.
Rating: 9/10
Marion Cotillard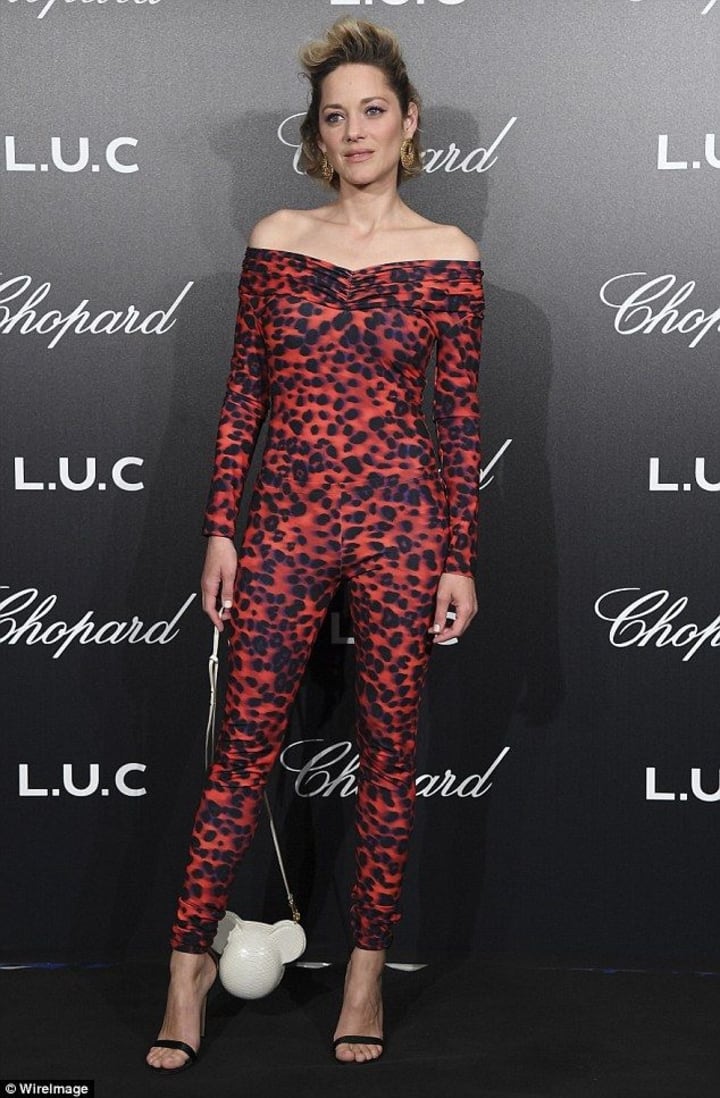 This Inception star, though a fantastic actress, seems to possess an inability to choose an adequate stylist. The woman donned an orange and black catsuit which displays faint parallels to Grease, although this suit, unlike the iconic outfit of Grease's leading lady, is an overwhelming disaster. This blogger hopes she burned that mocking costume-like couture, and advises any readers; please, do not ever wear an orange spandex catsuit. Bold? Absolutely. Cannes-worthy? Absolutely not. Nevertheless, one cannot help but salute the beyond-risky choice.
Rating: 2/10
Aishwarya Rai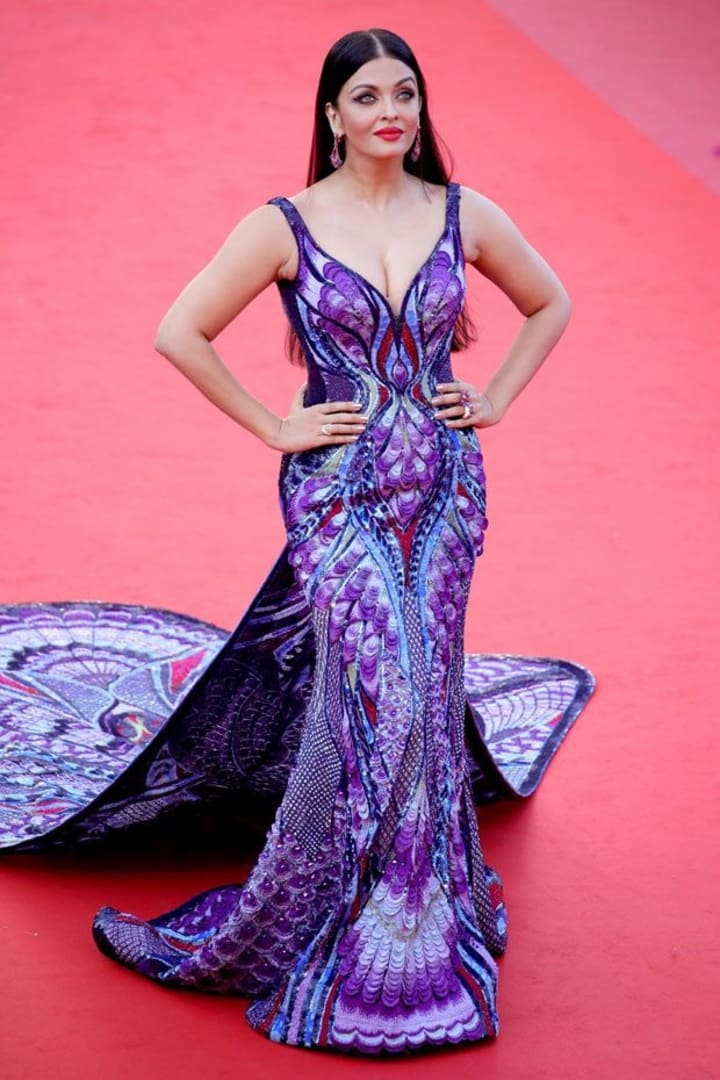 Aishwarya Rai became the undisputed queen of the Cannes catwalk in 2017 after absolutely slaying all viewers in a Cinderella-inspired custom Michael Cinco gown. As she made a re-appearance at Cannes in the new year, all eyes were locked on the pageant queen in hopes of a dress equal to that of years past, and she nearly delivered. Nearly. The Michael Cinco custom gown, modeled after a butterfly's metamorphosis, took nearly 1,000 hours to create. The dress, with a deep color scheme and twenty-foot-long train, was absolutely show-stoppingly dramatic. However, the red-carpet legend set a precedent for herself in years past, one which she fell short of this year. While the look was stunning, it appeared to be more of a costume than couture, more garish than glamorous, especially with the pageant queen's bright makeup.
Rating: 6/10
Kristen Stewart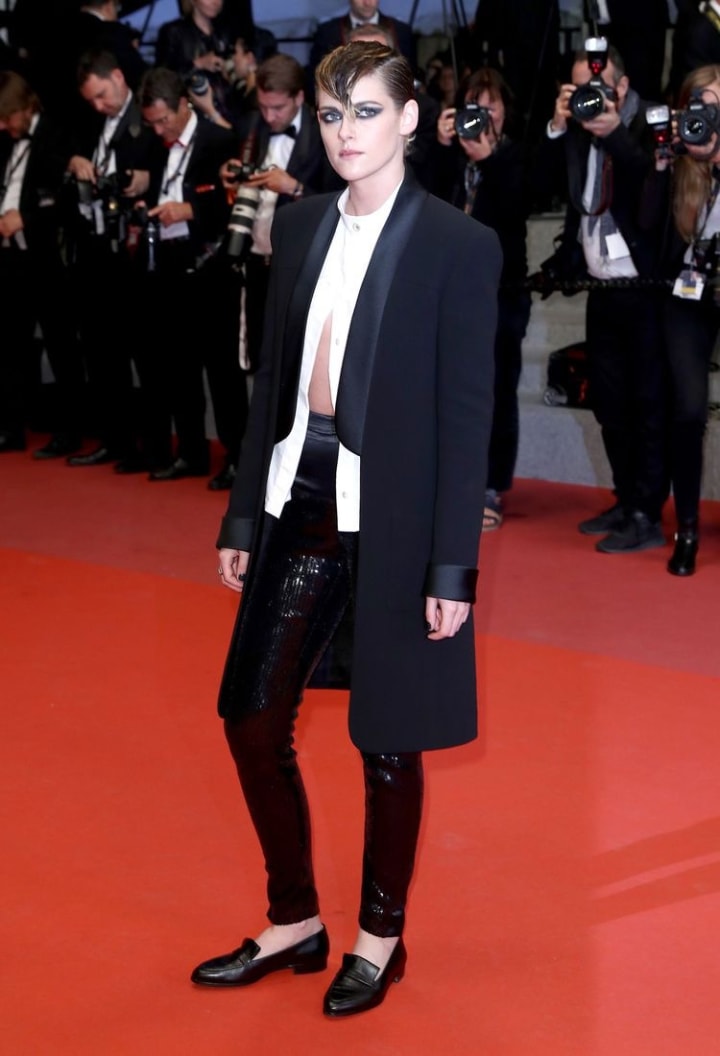 And the award for "most edgy" goes to this Pitch Perfect star. Choosing to reject the typically-conformative dress code for Cannes, Stewart dons full menswear and a cropped top, slicking her close-cropped hair into a point which brushes across the left eye. She pairs this look with a bold smokey eye.
While this look simply screams badass feminist (a major mood) many argue that they could have done without the fourth-grade-boy-esque hair gel and that the star's look is simply confusing. Despite this, you cannot help but love this star's silent protest against Cannes's old-fashioned dress code.
Rating: 4/10
Kendall Jenner
The reality-television star turned supermodel continues her quest to 'free the nipple' during Cannes 2018, donning a tulle Schiaparelli Haute Couture gown. Under the bright lights of the red carpet and the flash of cameras, the dress became nearly completely sheer, little to the Jenner's surprise. Although this is not the most impressive of Kendall's looks, the plunging neckline and overall unique factor of her gown manages to boost its praise.
Rating: 6/10
Winnie Harlow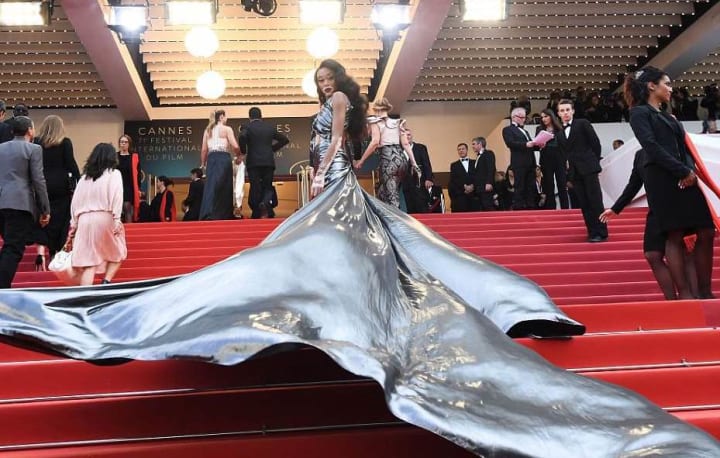 There's bold, and then there is Winnie Harlow bold. The Canadian model literally outshone all others as she attended the screening of Solo: A Star Wars Story. Not only did she arrive in style, she dressed on-theme, taking her place amongst the most fashion-forward in the universe. The mind-boggling liquid-metal like dress belonged in a galaxy far, far away, but slayed all in Cannes, France. With sexy cutouts to match, no fault could be found with the gown or its wearer as the model posed for photos, proving why the model remains at the top of her game.
Rating: 9.5/10
Ming Xi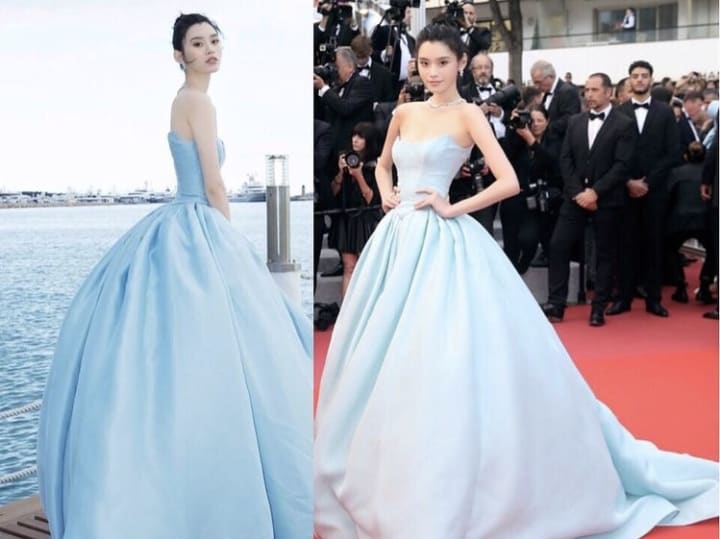 Ming Xi, a Victoria's Secret underwear model, swirls onto the red carpet in a Cinderella-inspired gown of our collective dreams. The swoon-worthy full-skirted gown is the definition of pastel glamour, leaving all breathless as she poses prior to a screening of Solo; A Star Wars Story. Although the shape of the skirt leaves a bit to be desired, Ming's classy-yet-bold Cannes gown is certainly a frontrunner among the dozens of designer gowns worn to the screening.
Rating: 7/10
Lupita Nyong'o
Although Lupita Nyong'o declined to make an appearance at this year's annual Met Ball, the actress absolutely stunned at Cannes, radiating old-Hollywood glamour as she worked the cameras prior to the premiere of Sorry Angel. The Black Panther actress demanded attention in an all-white feathered Dior Haute Couture gown, keeping the organza nearly sheer save for interlocking strands of fabric to preserve her modesty. Consider us slayed. However ethereal the floating skirt, the caging bodice added an edge to the dress, and with minimal jewelry and dark makeup, Nyong'o shone.
Rating: 9/10
Humma Qureshi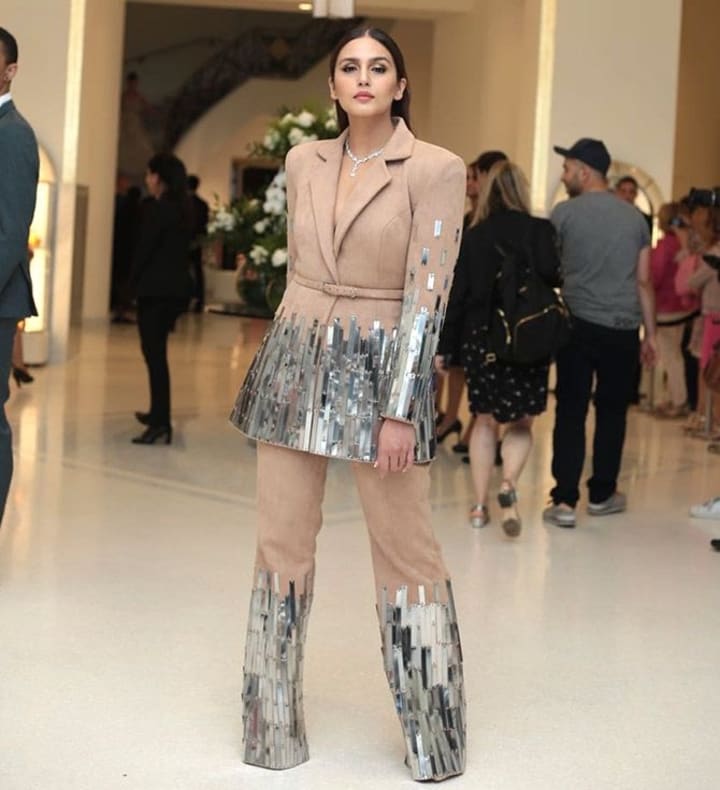 Humma Qureshi joined friends such as Kangana Ranaut on the prestigious red carpet in a nude-and-silver Nikhil Thampi pantsuit. Although the suit is a bold choice, Humma has fallen prey to criticism due to its ill-fitting, nearly boxy nature. Although it was obviously part of the look, many have argued that the past-the-shoes tailoring makes the look appear discheveled and baggy. The metallic overlays, although they brighten an otherwise drab pantsuit, appear strange and out of place in photographs.
Rating: 3/10
Care Blanchett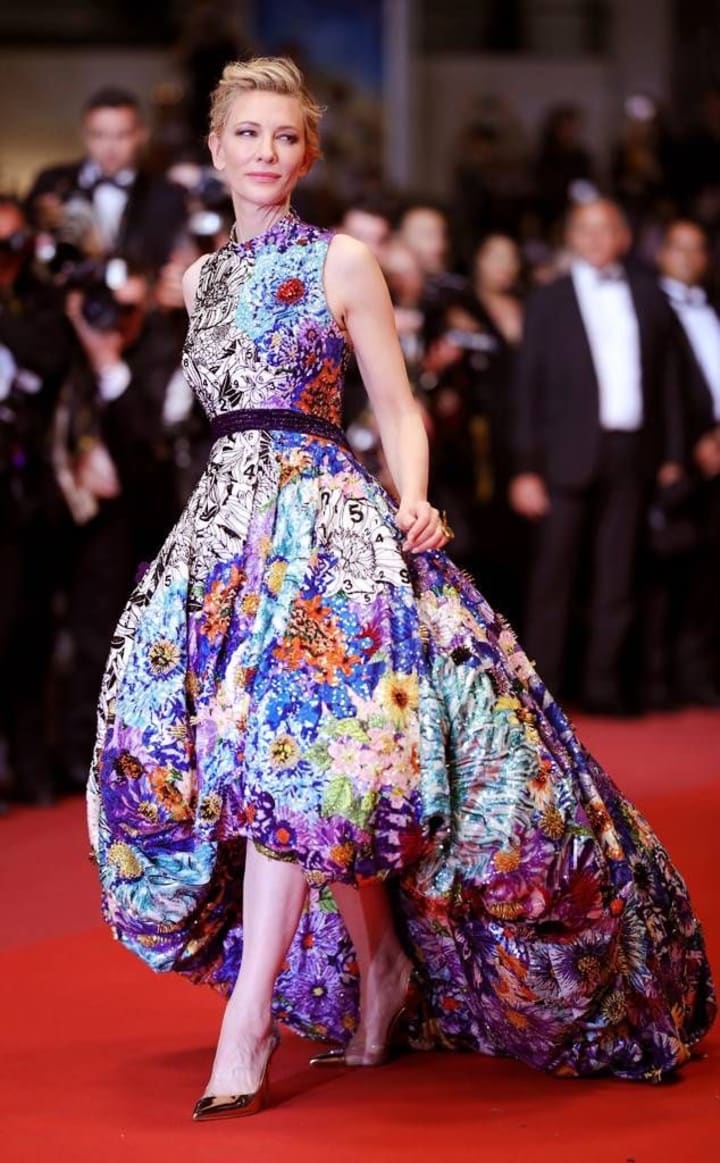 Cate Blanchett, president of the 71'st Cannes jury, has wowed in each festival outfit, but her custom Mary Katrantzou gown was so beautiful that even the designer cried upon seeing it. (Yes, really!) The color-by-numbers inspired gown calls to mind sweet childhood nostalgia, and the actress combines playful and classy in Chopard jewelry and $695 Aquazzura pumps. The dress would be perfect, save for the shape of the skirt. The puff-ball of volume is unflattering, and frankly, off-putting. Nevertheless, Blanchett is beautiful as always.
Rating: 7/10
Until next year, Cannes Film Festival.
Thank you to all of my lovely readers! Your love, donations, and reads are truly what allows me to continue this blog. If you loved what you saw, feel free to drop a comment or donation, it would be beyond appreciated.