Beware of yourself when indulging in a shopping day.
Yourself and your go-to's.
Maybe you're the person who only buys floral skirts. You arrive at home thrilled with your "great thrift find" of the day. In an unbranded random supermarket shopping bag sits a brand new mid-length black skirt embroidered with white daisies.
You just had to buy it. It was unique, a one-in-a-kind find at a good price. It's the winter, but you could already picture yourself wearing it on the next summer picnic you weren't even invited to, just to open your skirt drawer and see you already have 6 floral skirts. At least there aren't any with daisies, you think, comforting yourself.
Maybe you're a jacket person. You know you need pants because every time you go out, you remember opening your closet and looking at your couple of 5-year old worn trousers and thinking, I need to get new ones.
Just to then be mysteriously hypnotized by the outerwear session, and return home with a bag that contains a fluffy orange coat (It was the item!) and a knitted sweater (they are on-trend now..), adding them to your pile of 20 other "unique" pieces, which don't even fit your tiny closet anymore.
You know you've been there already. We all have. We can't help ourselves. We have our favorites. The go-to things that we can't avoid purchasing.
Just recently (mainly because of this challenge), I found out I was the blouse girl.
So. Many. Blouses.
The short-sleeved, the long-sleeved. The ones with buttons and the ones without. The flowy-fabric and the colorful prints. Especially the thrift shop ones, with their original and timeless patterns and the history they carry with them. Not some 2021 prefabricated imitation of a past decade.
That is the magic of thrift shops to me. I always want to embrace the fabric while asking: "Who owned you? Why are you here? Where have you been? Have you gone out on a first date? On an important dinner? Why did your previous owner let you go? Don't worry; I'm here for you now!"
The answers never come, but I like to imagine them in my head as I welcome the piece of clothing to live a new future with me. And although I'm able to envision that history with other items, such as different decades' pants with their specific hem-heights, or uniquely shaped bags - every time I go to a thrift shop, I always end up going for them - the blouses.
So hold tight as I open not only my closet but my heart, and share my love for blouses with you. And think of that when you go to a thrift shop. Try thinking about your go-to's and maybe challenging yourself not to go there this time. Just this time...
Dare to get something different, something you haven't bought before, and see how that goes!
-
Versace x My grandma's closet
I love this blouse so much! I got it at a thrift shop in Buenos Aires with my mom. We were there visiting our family for Christmas, and we left everyone at home to spend our afternoon thrift-hunting. It was very special not only because it was a moment between us, but also because we had so many great finds. This blouse was in a rack next to other strongly-patterned pieces, but the blue and the yellows stood out to me. I believe it cost around 400 pesos (around 19 dollars), and the year was 2016, so as bad as my memory goes, unfortunately, I don't recall the name of the store, but Buenos Aires has some amazing thrift shops.
I will leave a list here for you with some tips.
-
That cleavage though...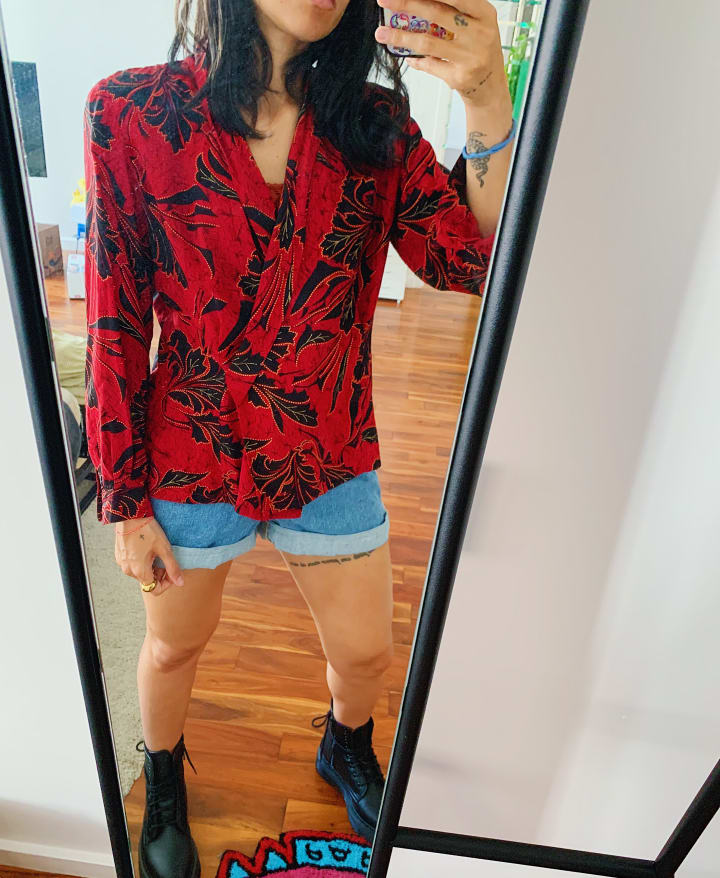 Since I moved to New York a couple of years ago, my thrift shopping addiction has increased. There are a lot of great options here with good prices if you know where to look. Keep in mind this is NYC, so there are very high-priced places that I wouldn't recommend. I've seen ragged t-shirts sold for 200 dollars (yikes), so beware of where you go. But one place that has my heart is Beacon's Closet! A lot of my good-priced thrifts happened there. This 20-dollar item was no exception. It has a blazer structure in a loose blouse fabric, a fit and style I haven't seen at any store. Several hidden buttons give a beautiful waistline to its flowy look. I've worn it for work, clubs, dinner with friends, you name it! Every time it causes an impression!
-
Trying to go neutral (but still falling for blouses)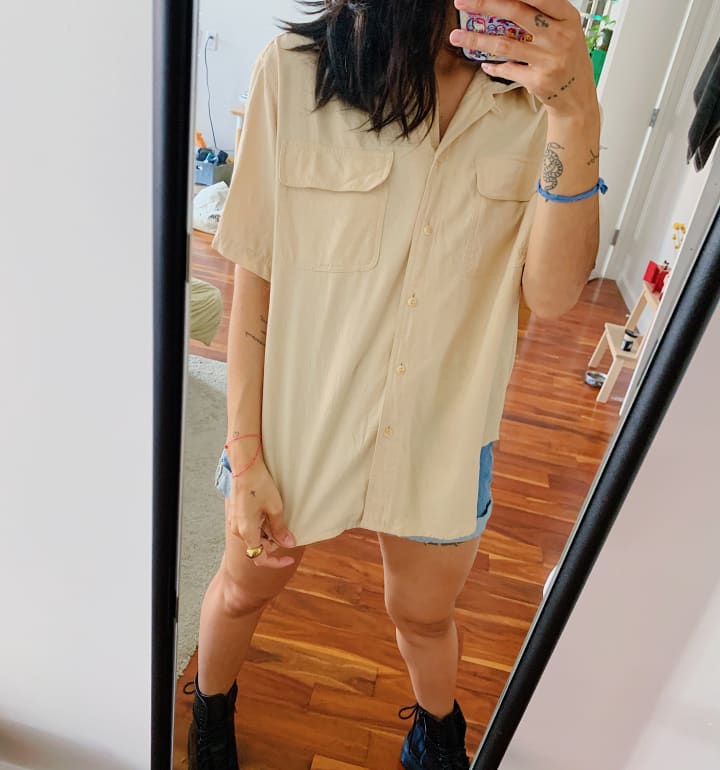 Also from Beacon's, this loose-fit linen short-sleeved blouse is one of the few 'plain' shirts I have. On a rare occasion, I was looking at the beige session (?), which is not something I often do, and this piece caught my eye. Something about the large pockets and the loose sleeves, combined with my new need to change my style (I had decided I would go after the neutral me that year - not accomplished), made me buy it. It also cost around twenty bucks, and I've been wearing it on so many occasions ever since.
-
Thrifted from my mom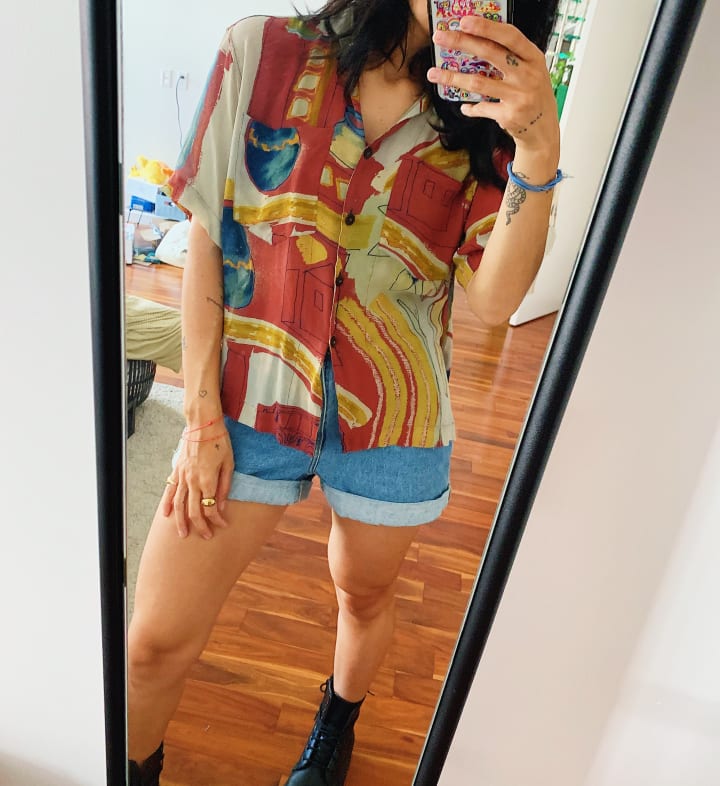 Getting things from your parents is also thrifting! You can come across so many cool things that they keep at the depths of their closets. An old sweatshirt from your grandpa could be the next thing you are looking for, a power suit your dad kept from the 80s is just waiting to be put out in the sun, that dress your mother swore she would never wear again from the 70s fits just perfectly with your new brown bag. Going through my family's closet is one of my favorite activities when I'm back home. They also love to see how we can repurpose things that were long forgotten. This blouse I got from my mother, and I wear it so much that it already has a life of its own!
-
I could keep on sharing here my infinite collection of blouses, but you would probably be tired of seeing so many similar things over and over again. I hope you liked my selection and sorry for the messy bedroom and dusted mirror!
Pinky promise you and I will not buy our we-know-what g0-to's on our next visit to a thrift shop?