Back to basics and handmade
by Ruvini De Alwis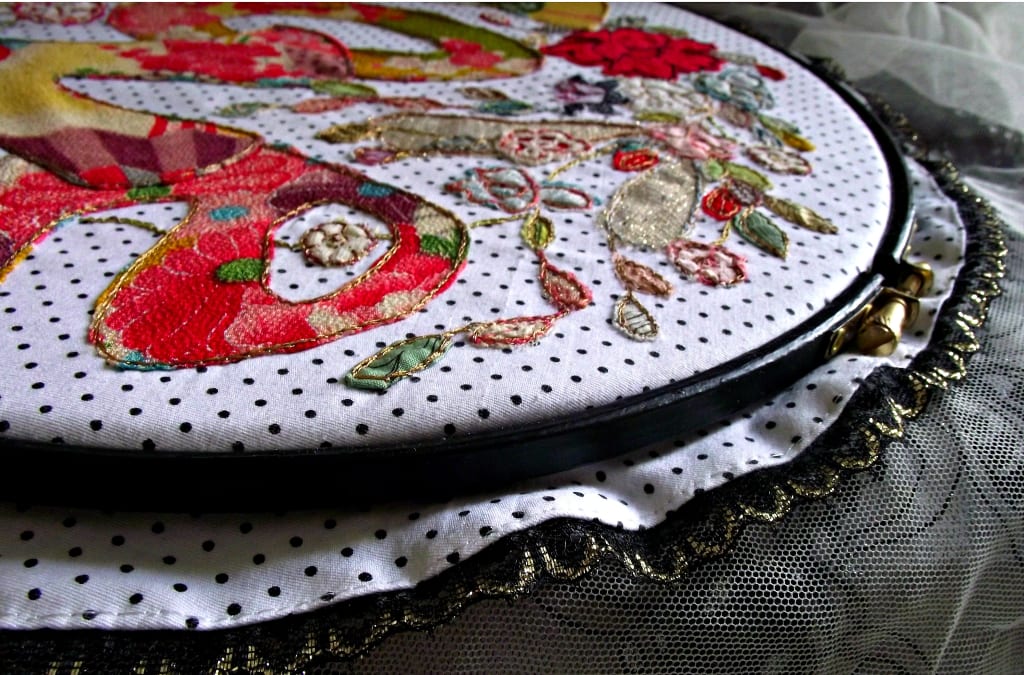 Handmade Stylised Hoops - R. De Alwis
Back to basics and handmade.....working to the bone, hand sewing often comes with scratches and pin pricks but the effort is worth it. Two things of anything you make that's handmade are never the same. There's always something that slightly different about it. I make collections of brooches, stylised embroidery hoops, and sewn pictures as part of my work but I do other things as well. All my crafts require cutting, stitching, and a lot more time than sewing on a machine.
Usually with an apron, pins tucked into my sleeve and of course, a pair of scissors. I used to go through quite a lot of scissors until I settled on a pair of these, Fiskars which are long lasting and always reminds me weirdly of Norwegian salmon....that's unlikely but there you go, strange what associations spring to mind. Now scissors claim to be sharp and do the job but very few last long if you are into cutting a lot and I cut wool fabric which is thick and scissors need to be sharp.
I've been into art for a long time and making and creating things comes naturally but at some point you begin to realise that you can actually make money from all these skills so that's exactly what I started doing but really because I wanted to live a low impact life and one that was less intensive and more sustainable. What does this mean exactly, well when broken down it just gives more time for other things. If you are someone that is curious about the world then time is precious and a lot of art actually arises from sitting and doing nothing....it's a process that requires time, if you are working for yourself.
I did not plan on how it would look exactly but found that a lot of things I made were actually kitsch without trying, so I went with that and started creating small accessories with a style. My brooches represent a fascination with colour and particularly the kitsch type of colours found in Indian, Mexican influences, culturally and artistically. Since I have grown up in the UK, there are a lot of those influences too as I am also a Honiton lace maker, which is a dying art in the UK with about 12 really good teachers left that teach this type of lace making. My work is contemporary but I am also a bit of a traditionalist being culturally interested in peoples arts and lives.
A lot my art uses recycled material such as paper and I work a lot in this medium, sometimes I paint on paper and then make collages that form a picture out of it.
I used my art to travel also because I love to see, touch and feel what's happening out there and would sometimes just drive around and find really bespoke boutiques in new towns, while travelling in a van, walking, hiking and examining plants and habitats as I am also an ecologist and learning as much as I can about the environment. The thing about the environment is you learn to understand it more and more when spending time there. Some of the best animal experiences I've had have been when travelling alone. It's almost like they (animals) know and are not afraid to show themselves. It was work of a kind but inspirational and always with a burning need to get back on the road, which all though I am much older now, I still have.
I made contacts this way and would talk to boutique owners who never turned down an opportunity to see what new artists were making, even if it was not quite right for their store. It was interesting also to see how unique their small boutiques and businesses were and I loved that. When travelling I would always have a suit and a lovely bag and I would literally go into a boutique and start talking and sometimes selling, it was an experience that I combined with travel. Many small, bespoke boutiques often don't have a website and it's an interesting way of working and finding out about new places, towns, history, geography, culture and also the environment, although I doubt many people would want to work this way but I consider it research.
There's always ribbon and fabric lying about somewhere, bits of felt, threads. When I had my workshop in a barn, out in the middle of nowhere, the farm cats would come and they'd be boisterous and push their way around, sometimes things would fall off the table and the light would hit the ground, on threads with glitter and they would shine. I used to like that but it would be cold as there was only an oil heater, no wood burner or any other heating. You'd go through winters when the power would just go in the middle of something as there's always storms around with lightning, that was quite elemental. I got used to it, the cold, the cats, the power going out, being snowed in and seeing barn owls come out in the evenings, and bats in the roof. They were tiny, dark brown, pipistrelle. They'd peek their heads in to see what I was doing sometimes and would make a racket at night when I was working late. I got used to the smell of stone and wood and cattle from the field next door. I remember it was an effort to keep my hands clean and this was important for my work.
Things have moved on now and I have done more with my art and taken it further, something that has happened naturally, from just doing what I love and feel committed to while working hard. It also encompasses other areas of interest while finding a way to bring all elements of my interests and ideas together...the interesting thing about going back to basics is this, it's starting from scratch, a clean slate and the results are becoming fruitful. Its like being in a relationship that you are constantly working at or at least working to improve and its helping me grow and explore the world I inhabit...Thats the best kind of happiness you can really get from your work.
By Ruvini De Alwis
designers
Artist/Ecologist/writer @ www.bloomlore.com
Receive stories by Ruvini De Alwis in

your feed