8 Tips about How To Accessorize A Prom Dress with Fashion Jewelry Pieces Like a Stylist
Planning for a prom party but have no clue about matching right styles of fashion jewelry with your dresses? It is a difficult task for most of girls though, so let us obtain some valuable insights from stylist's perspective.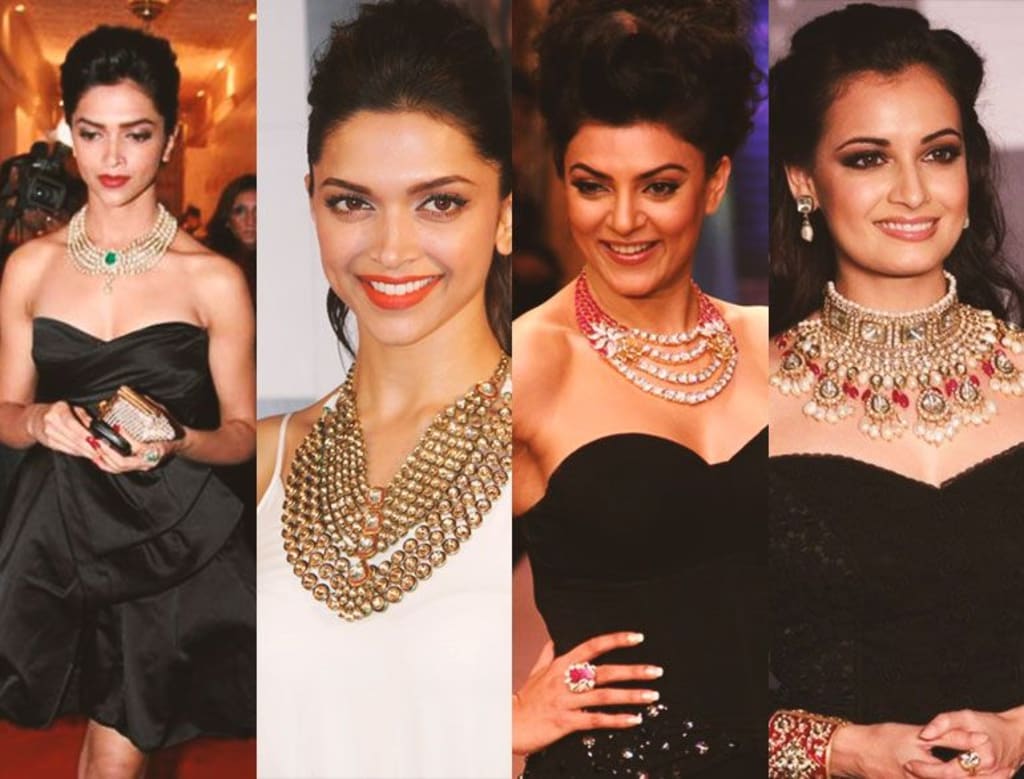 Wearing Fashion Jewelry with Prom Dresses
Do you know that any dress and accessory can look charming and exquisite on display, but having it look great on a person or even a model is a different ball game?
So what then? Accessories say a lot about an outfit, and if you want to try it out, pair a blah outfit together with the right fashion jewelry, and prepare to be wowed at the result. It makes us believe that it amplifies the beauty of the person, as well as the outfit. For most people, that is where the challenge lies, which is knowing what fashion jewelry best fits a dress, but do not worry because stylists are always at the rescue. When you consider the role of a stylist in today's world of fashion, you will understand why they are always needed. A stylist creates style, which in itself requires a lot of innovation; also they decide what their client is to wear and how they are to wear it.
On your part as one who is to style a prom dress, you want to ensure that the young girl feels satisfied, beautiful, and valued after you must have paired her dress with the right fashion jewelry pieces. There are key things to bear in mind when styling and choosing the right accessories for a prom dress. Whatever brought you here, you can rest assured that by the time you are finished reading this, you will have a better grasp of how to complement the jewelry with the dress, to give your client a classy and satisfying look. Here they are:
1. Earrings
As a stylist, it is essential to know that earrings can make a bold fashion statement, as simple, and "innocent" as some earrings can be. Hence, you do not want to start on the wrong note with the earrings. If the young lady's prom dress has a lot of details or shimmers at the top, then you should pair it with simpler earrings like a rhinestone stud.
2. Bracelets and Bangles
In a bid to help her look good for prom, as a stylist, you should opt for simple bracelets and bangles that have a bit of sparkle and do not overlay them on her ankles. Remember, Simplicity is Key!
3. Styling a Ring
Rings are an essential fashion jewelry piece that can add a glam touch to her overall appearance, but you do not want to put a ring on all ten fingers of her hands while trying to help her stand out from the crowd. Instead, use one ring that complements her prom dress in color and style or opt for delicate stackable rings for a perfect finish.
4. Necklaces - The Right Way
There is a saying that "Less Is More." Here's our advice: if her prom dress is strapless and simple, then a necklace with glitters will do just fine in magnifying the beauty of her dress. That is because a strapless prom dress allows a lot of skin around her neck and chest, and that might end up calling for the wrong attention. Fill it up with a beautiful piece of necklace, and that will be just fine. If, on the other hand, her dress has a bateau neckline with minor embellishments, you can equally pair it with a necklace for an upgraded look.
5. Try a Metal Mix
While conversing with the young girl before styling her up, it is easy to tell if she prefers to stick to a pattern or color of accessory, especially when she is not so bold about her style, and you can find out without asking her directly. How about you say "Bella, what is your favorite color, and what do you think about a dress with a color mix?" Her answer will help you decide whether you need to stir up her excitement about trying an accessory that has a metal mix or otherwise. Remember it is about her, and part of your job as a stylist is to get her to feel confident in the accessories. When you are successful in getting her to be on the same page with you, then you can use a pendant that contrasts with the color of the chain or rings that blend different metal colors. The result is mostly spectacular!
6. Trends - Who Says?
Yes! Who says you have to always comply with trends? Stylists understand that though trends are important, finding what works for the client at the end of the day is far more essential. In choosing the right style of fashion jewelry for her prom dress, keep in mind that it should also reflect her sense of style, color, and frame. Trust us, you don't want the young girl feeling uncomfortable in the accessories, that is already a poor start to Prom. Choose accessories that she is comfortable with and a style that admirably represents her personality.
7. As a Stylist, When Can You Pair Long Earrings?
Earlier, we mentioned that when styling a prom dress with fashion jewelry, the focus is on her, and every young girl loves to look like Cinderella for Prom or even better. Therefore, you do not want to have the wrong accessory on the right outfit, that is why we advise that if you want to use those long sparkling earrings, then pair it on a dress that has a clean neckline or one that is strapless (with a lower neckline). This is one style tip you should not forget.
8. Never Overdo It
Simplicity is vital to a great evening look, and we cannot overemphasize it enough. As a stylist, you'll take a cue from Fashion Icon, Coco Chanel's book, where she stated that "Before you head out of the house, look in the mirror and take away a bit." Do a final check on her visage and consider leaving out the extra. Removing one or two jewelries can still give her that O-la-la look, so do not be in a hurry to perform this last style check.
Prom night is where the glitz meets the glam, and as a stylist, you have done a superb job when the accessories are not telling a different fashion story from the dress. In other words, you paired them up to perfection. Let us know your thoughts on these style ideas and how you intend to implement them.
Reader insights
Be the first to share your insights about this piece.
Add your insights