14 Great Books About Victorian Fashion
Learn about the most pivotal period in fashion history with the help of fantastic books about Victorian fashion.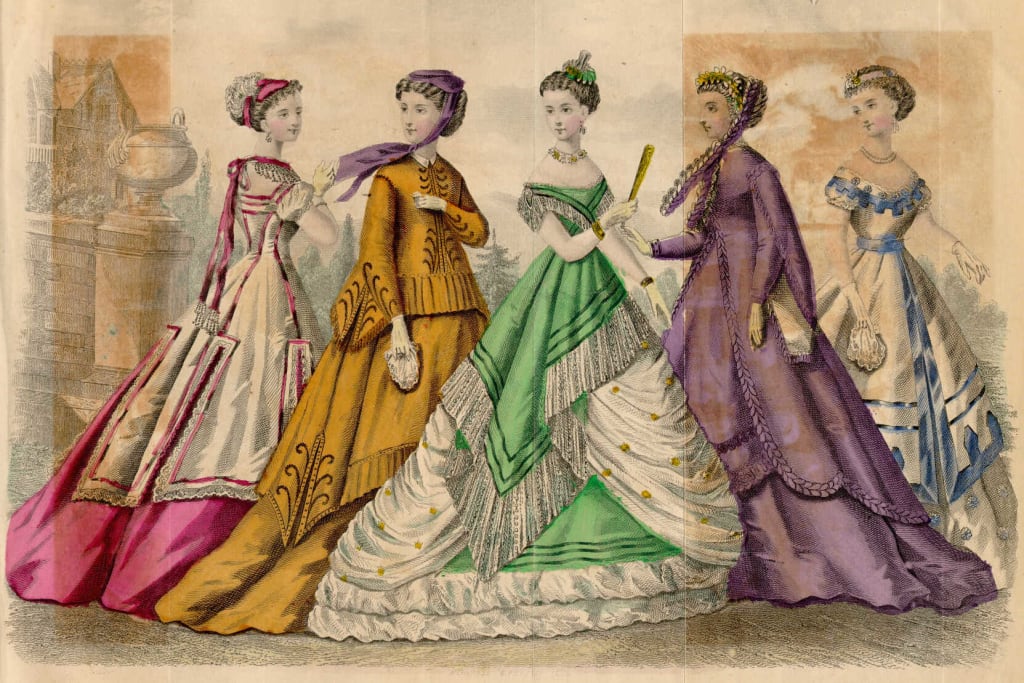 Whether you love it or hate it, the Victorian era is one of the most pivotal and influential moments in history. After all, the Victorian period was born out of the rise of industry and personal capital gain, changes which sparked a new appreciation for the notion of free choice in many areas of life, including dress style.
Fashion and society would look completely different if the Victorian era happened at a different moment in history. We should be thankful that we've departed from many of the repressive and patriarchal aspects of the Victorian era, when women "belonged" at home, wore corsets, and had to follow strict rules specific to their social class.
And if you think about it, the Victorian era wasn't that long ago, which is why understanding Victorian fashion can give you a better understanding of the society we live in today (especially if you're considering the different forms of Lolita fashion).
Whether you're a costume designer, a historian, or a mildly interested hobbyist, there is no shortage of fantastic books about Victorian fashion that will fascinate you.
Ever wondered how Victorian England and Europe influenced women's fashion across the pond?
Victorian Fashions and Costumes from Harper's Bazar unpacks the rise of Victorian women's fashion in the United States during the peak of the Victorian era.
Join Victorian fashion on its journey from Europe to the USA in the 19th century, and learn how Americans adapted it to create their own Victorian dress style. The book even includes exclusive illustrations from Harper's Bazar all the way from 1867 to 1898, as the title suggests.
Find out which clothes women wore for certain occasions, from morning attire, dinner dresses, sporting clothes, and traveling costumes to wedding, baptism, and funeral dress codes.
Discover new Victorian era accessories with an American twist too, with hats, fans, parasols, muffs, gloves, and handkerchiefs all discussed at length.
This book gives a meticulous overview of Victorian fashion—its 320 pages include detailed illustrations, informative descriptions, and discussions on hairstyles and children's fashion.
Victorian Fashions and Costumes from Harper's Bazar is a great reference book for costume designers interested in Victorian women's fashion.
"The Victorian era was a time of high morals, cultured manners, and ultra feminine, luxurious apparel."
How influential was a woman's personal identity to her dress style between 1860 and the turn of the 20th century? Extremely.
Victorian Fashions for Women and Children: Society's Impact on Dress explains the intense relationship between identity and fashion during the Victorian era.
The book includes over 270 photos to give the reader a glimpse into the meaning of children's and women's fashion during the Victorian era.
The book reflects on some of the social and beauty norms placed on women to this day as it discusses the health concerns that were later linked to Victorian women's garments.
Author Linda Setnik is a historian from the Folsom Historical Museum, who is passionate about nineteenth century fashion, culture, and medicine. She has published several books about Victorian fashion, including Victorian Costume for Ladies, 1860-1900.
Ever wanted to learn how to craft authentic Victorian clothes using the same guides that Victorian women used to sew every garment in their wardrobes?
Before there were historical books about Victorian fashion, there was Butterick Publishing's 1905 fashion design manual, Dressmaking, Up to Date, that women used to guide themselves through the process of sewing their clothes.
Whether you're a professional costume designer or enjoy sewing costumes for your kids, Authentic Victorian Dressmaking Techniques will inspire and guide you through the Victorian garment design and assembly process.
Authentic Victorian Dressmaking Techniques is the most current anthology of Dressmaking, Up to Date. This book is a fascinating read for everyone, even if you can't sew, because it allows us to see the instructions our Victorian ancestors followed to recreate the latest trendy dress style.
Learn the same sewing techniques used during the Victorian period, from overcasting, cat-stitching, sewing with lace, mitered corners, and much, much more in the 144 pages of this comprehensive Victorian sewing companion.
We've seen several trends go in and out of style over the last decade; from leggings to skinny jeans (and jeggings!), peplums and off-shoulder tops, the color white to millennial pink, our style preferences have changed a great deal in less than 10 years.
Some suggest that this trend of, well, trends started during the Victorian era. You can see it for yourself if you flip through Victorian Fashions: A Pictorial Archive, which provides a visual guide to the drastic ebb and flow of trendy fashion between 1860 and 1900.
The book starts in the mid-nineteenth century, when the "hottest" dress style entailed decadent, frilly gowns, and gradually moves through the next trends, from hoop skirts to pleats.
You will appreciate the amount of detail this book shares. Most people in today's world have no idea which undergarment styles are in right now, but if you read this book, you can learn which undergarments were popular throughout the Victorian era.
There's a reason why History in Review said this book is "A superb resource." Victorian Fashions: A Pictorial Archive is a great reference book for fashion designers and anyone who loves history and sociology.
If you love Victorian fashion for its aesthetics, this book is a treasure chest for you. Victorian & Edwardian Fashions for Women takes you on a trip through time with over 450 color photos of twenty-first century models wearing iconic garments from the Victorian era.
Flip through the book's 208 pages to see what dresses, undergarments, and accessories Victorian women wore to certain occasions in the early days of the Victorian era until just before the Jazz age.
Learn what sets morning clothes apart from mourning dress and evening attire, and find out what Victorian men and women wore when they took a bath or rode a bike.
Victorian and Edwardian Fashions for Women is a fantastic reference book for fashion designers and collectors who want to learn how to identify and date Victorian fashion collections by looking at the silhouette and finer details of each garment.
Buy a copy of Victorian and Edwardian Fashions for Women and get an exclusive glimpse into the ways Victorian women had to care for and repair their clothes.
Anyone who is interested in Victorian costume needs to read Victorian Fashion, by Jane Shrimpton.
How did the rise of industry in the UK and the expansion of the British empire impact the clothes men, women, and children wore on a day-to-day basis? How many times did people change their clothes and accessories each day?
In Victorian Fashion, expert dress historian Jane Shrimpton takes us through Victorian England and the fleeting fashion trends that still influence alternative styles to this day, so that you better understand one of the hardest styles to pull off in all of fashion history. Discover the global influences that shaped women's fashion, children's fashion, and even men's fashion during the Victorian era from a pro.
Victorian Fashion is a fabulous and educational book that's perfect for anyone who loves period fashion and fashion history. Even if you don't know anything about Victorian fashion—maybe you love Jane Austen or enjoy watching period dramas—this book will quench your thirst for more knowledge.
How to Read a Dress is a fantastic companion for anyone who is interested in fashion history beyond the Victorian era.
In it, author Lydia Edwards discusses changing dress style from 1550 to 1970, so you can get an exclusive glimpse into the evolution of dress style over the course of hundreds of years. With the Victorian era at the center of much of the focus of this book, you will see just how pivotal it was in influencing the way we dress today.
Learn about advancements in garment construction from the Renaissance through the Victorian era and Jazz age, until the "Me Decade" of the 1970s, getting a fantastic visual guide with beautiful images as you read along. Discover how the social and historical context of each period influenced makeup, hair, and dress style.
How to Read a Dress is a fantastic book for fashion students and history students.
It seems that dress style has always been just one, minor component of women's fashion. In fact, to this day, women tend to spend more time applying makeup and styling their hair than they spend putting their clothes on. In fact, online shopping is so easy that we probably spend more time on our hair and makeup than we do buying our clothes. This fact was certainly present during the Victorian era.
A Victorian Lady's Guide to Fashion and Beauty is a historical fashion book with Marie Claire vibes. In it, you'll discover the hottest makeup and beauty tips of the nineteenth century from decade-to-decade.
You'll learn all sorts of fascinating details about women's fashion during the Victorian period, from blemish and sunburn control to perfume and hairstyles for a night at the theatre, learning about the consequences of making fashion faux pas throughout time.
When and why did lipstick become a commodity? How was perfume formulated, and why did women wear it? You'll be able to answer these questions after reading the intriguing 168 pages of A Victorian Lady's Guide to Fashion and Beauty.
Author Mimi Matthews scoured authentic beauty books and fashion magazines from the nineteenth century, and relates it beautifully to the modern day world we now live in. She is also the author of several other articles and books about Victorian fashion.
Dress style evolved rapidly throughout the decades of the Victorian era, but intricate detail is the one common thread that holds continuously changing styles together.
Embellishments: Constructing Victorian Detail is a fantastic reference book for anybody who loves period costumes. It begins with an overview of "The Victorian Aesthetic Mindset," providing a crucial context to the sewing and embellishing techniques discussed in the remaining chapters.
Learn about the pleating techniques, ribbon work, binding, hems, and other embellishments that continue to define Victorian fashion.
Embellishments: Constructing Victorian Detail is full of color images and authentic illustrations of various fashion details and embellishments, assisting the book's incredibly detailed and informative text.
Whether you're a fashion designer or you love Victorian aesthetics, this book will teach you all about the tiny details that made Victorian fashion so symbolic and iconic.
"In this book I will show that womanhood changed from the eighteenth century, in which women were characterized by their actions and attitude, to the nineteenth century when middle-class women began to express themselves through consumerism. In a world that could increasingly purchase the trappings of class, a woman's performance of gender moved away from what she did toward what she could buy."
If you're interested in the social and historical context of fashion during the Victorian era, Ariel Beaujot will show you what makes Victorian fashion accessories so pivotal and influential in Victorian Fashion Accessories.
The book takes the reader on a journey through the Victorian era, and to the corners of the globe that interacted with the Victorians and their dress style.
Find out the symbolic value of glove color for members of each social class. Learn how to use a parasol to make yourself look younger and how to use a fan to flirt with and attract a potential partner. View authentic images and advertisements from the Victorian era to get an authentic glimpse into the lives of our ancestors.
Learn all of this, and more, spanned across the 192 pages of Victorian Fashion Accessories.
The author, Ariel Beaujot is a public historian and author of a number of historical, sociological, and anthropological nonfiction books.
Victorian Fashion Accessories leaves no stone unturned—it even touches on men's fashion and the ivory trade. It's a useful and informative source for people who are interested in not just Victorian fashion, but also sociology, history, and cultural studies.
Whether you are fascinated by costumes, history, or the Victorian era, don't overlook the significance of accessories and how Victorian women used them to express themselves.
While the narratives of most books about Victorian fashion ignore the first 30 years of the Victorian era, Nineteenth-Century Fashion in Detail starts in the year 1800, 37 years before Victoria turned 18 and took the throne in 1837.
This thoroughly researched book is perfect for anyone with a passion for fashion and history. Its 240 pages include 300 line drawings and 160 color drawings to boot, so you'll get plenty of visuals to guide you through the academically styled prose.
In it, the authors discuss the social and symbolic significance of colors, materials, and fashion technology; such as the corset, pockets, and waistcoats. Indeed, this book even offers information about Victorian men's fashion.
19th Century Fashion in Detail is by Lucy Johnston; a freelance curator, museum consultant, and formerly a curator at the Department of Fashion, Textiles, and Furniture at the Victoria and Albert Museum in London.
You don't have to be a seamstress or a history buff to enjoy books about Victorian fashion. If you like to admire Victorian dress style from a distance, you'll love 100 Years of Fashion: A Colouring Adventure into Victorian England.
The only skill required for this book is imagination, and hopefully the ability to color inside the lines. It's an excellent companion for long flights and waiting room visits. I find that it helps me relax after a long, busy day.
Whether you use it to pass the time or calm your mind, 100 Years of Fashion: A Colouring Adventure into Victorian England will carry you through the evolution of Victorian fashion in the most relaxing yet informative way imaginable.
The book's 96 pages include fascinating trivia and historical insights about dresses, makeup, shoes, accessories, and Victorian society in general. By the time you finish, you'll be amazed at how fashion has changed over the years, in such a seemingly short time.
Kelly Horton is the author and illustrator of multiple coloring books, including The Enchantment of Elves and The Monster under the Stairs.
Forget about the moralistic and prudish stereotype commonly associated with the Victorian era; Valerie Steele wants you to remember that sexuality played a massive part in influencing Victorian fashion.
After all, the Victorian era is the point in European history when men and women began to reject arranged marriages and instead pursue their love interests.
Women's sexuality is often overlooked and misrepresented in many aspects of past and contemporary society, but Fashion and Eroticism: Ideals of Feminine Beauty from the Victorian Era Through the Jazz Age steers away from the typical narrative of repression.
Steele is an American fashion historian and curator from The Museum at the Fashion Institute of Technology. In the book, she discusses the evolution of sexual expression in fashion. Her research shows that women expressed their sexuality through their choice of clothing and dress style well before the onset of the Jazz Age.
This is one of the only books about Victorian fashion that pays homage to women's sexuality, so it's a great choice for anyone who is interested in feminism, sociology, and, of course, fashion history.
Many books about Victorian fashion concentrate on the heavily embroidered hoop skirts and parasols worn by the upper and middle classes during the Victorian period, but that is only one side of Victorian fashion and society.
In Clothing and Landscape in Victorian England: Working-Class Dress and Rural Life, we get to take a detailed tour of the Victorian countryside and working class fashion, which often goes ignored or overlooked.
In the book, author Rachel Worth, Professor of History of Dress and Fashion at the Art University Bournemouth, takes a nuanced approach to understanding how the majority of Victorian Brits experienced Victorian fashion.
In doing so, she sets up an essential cultural and social context for understanding dress style during the Victorian period, drawing references to dress style in Victorian fiction and other cultural artifacts from the time, paying particular attention to women's and men's fashion within the working class.
I don't need to tell you that a lot has changed in the fashion world since the 1900s, but after reading this book, you may very well find that perhaps the clothing of the rural and working class has changed the most.
trends