10 Ways To Style Women's Denim Shorts For Summer
10 Ways To Style Women's Denim Shorts For Summer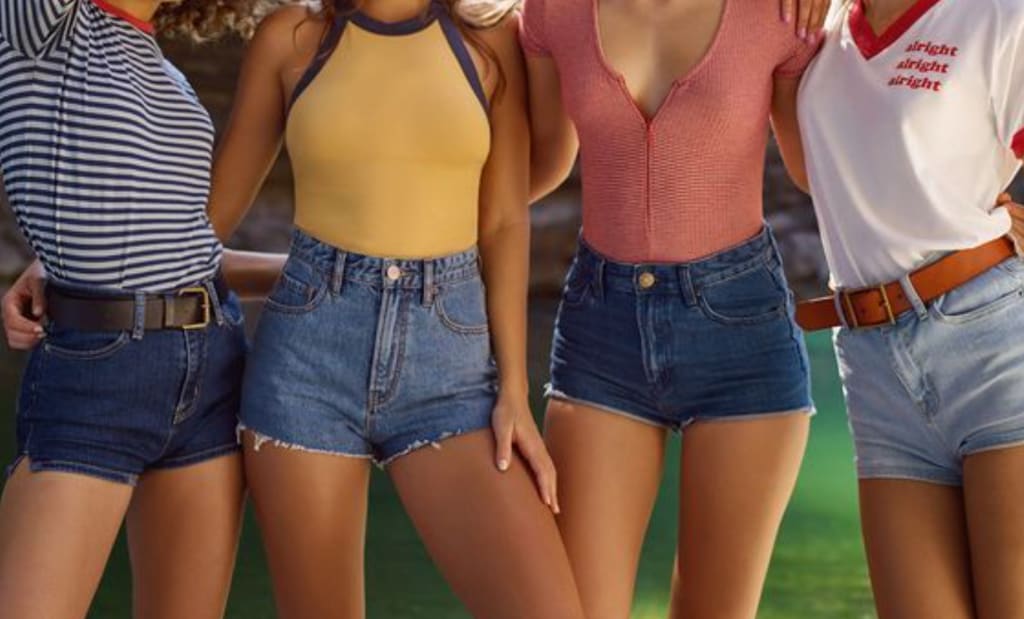 As the summer season arrives, girls start looking for comfortable summer outfits. A suitable fabric and style may provide ultimate convenience to the wearer. Denim shorts are the first preference of many college girls and women. You can easily style women's denim in various patterns and forms. It can be paired with multiple dresses present in your closet and wardrobe. You can try bright and radiant colours in summer that make you look unique.
Denim shorts are available to style with casual tops, T-shirts and fancy tops that look amazing at your personality. It provides an elegant, classic and fashionable look to the wearers. You can try bermuda short styles and high-waist shorts that look stylish. In this article, you will discover the most interesting and trendy denim short styles for a perfect summer season.
1. Denim shorts with a graphic-printed T-shirt
It is the most effortless and casual summer look to pick when outing with friends or having casual meetings. You may look fashionable with denim shorts and try styling the T-shirt with one side tucked inside, and the other lay free. Sneakers and sandals will provide a finished look to your attire.
2. Pair denim shorts with floral tops
You might need a comfortable and cute outfit for a coffee with friends or go to restaurants. Try a floral blouse-style crop top to get an amazing look. Wear sandals or wedge heels with accessories for casual vibes and a classic look.
3. Try shorts with a tank and a kimono
Denim shorts with tank tops and kimono shrugs feel super comfortable in the summer. Try this look with a statement necklace or chain necklace. Flat sandals or heels can be paired with the dress-up.
4. Denim shorts with light utility jackets
Purchase the best made-in-Australia denim shorts and try them with utility jackets in the summer season. The utility jackets are light in weight and provide a desirable look or attire. Choose warm neutral colours for a summer-ready look. You can complete the look with a special type of jewellery.
5. Shorts with a peplum top
There are various types of tops available in the market; you can look chic or cute with the best floral peplum tops. Denim shorts are perfect to be paired with this top, and you can add some accessories, bracelets with sneakers or sandals as per your preference.
6. Denim with a striped button down
You can pair the baseball hat and denim shorts with a beautiful coloured stripe button-down top. It provides you with a sporty look to your personality and makes you look smart. Dress suitably in sandals, flats, sneakers or heels.
7. Style denim shorts with a puff sleeve blouse
Made in Australia clothing have a classic style of tops that can be paired with denim shorts. Puff sleeve blouses will look fashionable and chic for going out with friends or to a restaurant. You can create an enhanced look with the help of stylish accessories, bracelets and earrings. It is always comfortable to carry a small crossbody bag with the outfit.
8. Denim with a casual top
There are a wide variety of denim shorts available with different patterns, colours and styles. You can choose the best casual top with a simple design and stay comfortable in summer. White or neutral-coloured sneakers will look perfect with the outfit.
9. Corset tops and denim
You can also pick the retro style that provides a unique look this summer season. If you are looking for lightweight clothes with a perfectly balanced, stylish appearance, you can go with the corset tops paired with denim shorts. Cat-eye sunglasses will provide a stunning look.
Search for the best women's denim shorts in the market. You can also visit online clothing stores to get quality clothes at reasonable prices. There are multiple online offers, sales and discounts available for online customers that are displayed on the screen. It is easy to avail of these offers and festive discounts. You can purchase your favourite coloured denim and corset tops from a trusted online website.
10. Pair it with a ribbed tie front bodysuit
The front, ribbed bodysuit will look stunning with denim shorts. It is a perfect choice for women looking for a stylish, fashionable and elegant outfit. Denim shorts are comfortable in the summer season, and you have a closet filled with a variety of tops that can be paired with them.
- Conclusion
All the above styles can make you look perfect for the summer season, and you may try women's pants in Australia for trekking and long-distance travel plans. Loose-fitting pants can be easily carried as a professional and casual outfit.
Reader insights
Be the first to share your insights about this piece.
Add your insights