10 Fashion Hell No's
Don't do it sis!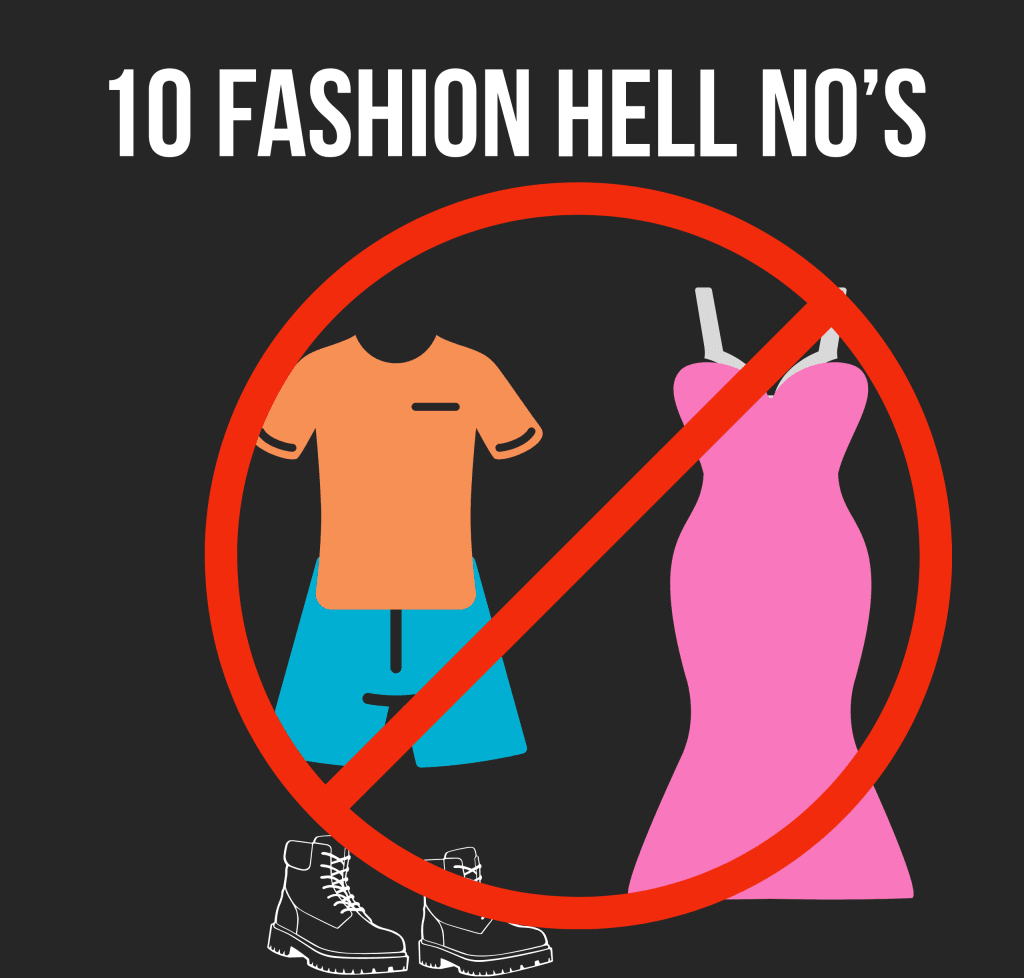 Image and Article by Jasmine Monique Goodrum Wednesday October 14, 2020 3:20 PM EST.
10 Fashion Hell No's
1. Different shades of the same is lame
Match or don't rock the same color at all. Rock sets or make sure the two reds, two pinks etc. are the same shade within that color. Nothing is tackier than a dark black shirt and a lighter black pair of leggings or jeans. Match the black or change the jeans or leggings especially if they are on top of each other. Sometime you can get away with the different top and bottom shades if you offset it with a zip up hoodie, buttoned cardigan or cover up of some sort that closes some.
2. Compliment your body don't insult it
Everyone has a different body type. There are three overall; ectomorph, mesomorph and endomorph. Endomorphs are heavier and store fat easily. Mesomorphs are the "inbetweeners" they are neither heavy nor light. Ectomorphs are typically lighter and leaner with a fast metabolism and they burn fat easy. Endomorphs typically carry more belly fat. The endomorph men are complimented in boot cut jeans and crewneck shirts. They should avoid snug tops and skinny jeans at all costs. They rock a nice chinchilla coat. The women are complimented in peplum tops and pencil skirts. They should avoid crop tops and bell bottoms. They rock a mean skater skirt. Mesomorphs like myself, male or female can rock any style and look stunning. I guess that is our superpower! Men that are ectomorphs are complimented in leathers jacket, high low hem shirts and skinny jeans a size bigger. Ankle boots or high top sneakers accentuate their small legs and are highly discouraged. Women that are ectomorphs typically have smaller breasts and legs. For this reason they should avoid bandeau tops, non-fitted thigh high boots and should be cautious when wearing leggings that don't run small enough. They will look saggy in the crotch and the butt area.
3. Be you… don't change
What I mean by be you is wear your personality. I see so many bubbly people wearing black and it just doesn't fit them. Ditch it and get some yellow or some amethyst. If you are Goth and have a darker personality by all means indulge in the dark shades only if that is your true self. Dress according to you.
4. O' Geez more than three
Color block shirts, sweaters, hoodies even joggers and leggings are cool. They give 80s vibes and never go out of style. However, olive jeans, a blue shirt, a grey sweater and maroon booties... please... STOP, That is too much! After olive, blue and grey you should not have added more colors. If you must rock so many colors ladies at least have your shoes match a skinny belt to wrap around your waist for some uniformity.
5. Contrast your skin, it's in
Fair skin during the fall and winter months can look pasty. It is important not to wear dark colors that enhance that but still compliment your complexion with a nice contrast. The best colors for fair skin as this would be pastel shades; like powder pink, ice blue, mint green and pale yellow. I love deep gold tones and olives on this complexion. Neutral warm complexions look best in apple red, teal, turquoise, cobalt blue, black, emerald green, mauve, plum, maroon, eggplant and ivory. Brown skin can be contrasted with nice tans, whites, egg nogs and oat shades, salmon pink, heather grey, periwinkle, sea foam green and dandelion yellow.
6. Vertical stripes are for the jail birds
Are you an inmate? Are you wallpaper? Are you Beetlejuice? I don't think so… and it is not Halloween or a costume party so please designers and people stop with the vertical stripes giving me a headache. This is close to gross beside plumber butt for me.
7. Dingy, holy and wrinkly are hell no's hunny
Dingy colors due to improper washing is not a good look nor are holes in clothes that don't belong or wrinkles especially on pants. Your legs are the longest part of your body so it stands out even more when your pants are wrinkly.
8. Timberlands with shorts
I never understood why anyone would wear timberland boots with shorts but I see it being done often in the state of New York. Every time I look at them like they are crazy because they do it in the spring and summer months. Even the construction workers wear jeans or pants with their timberland boots.
9. Pants below butt cheeks or exposed bra straps
Fellas if you are in high school I can give you a pass because you think wearing pants under your butt is cute and you want to be "gangsta" or whatever. Don't know why you do it. I am a girl and I won't lie as a young girl all my boyfriend's wore their pants a little low maybe two to three inches below the waist. I thought it was cool but never half a foot low or under the buttocks that is absurd. Ladies if you like bandeaus, tube tops, low cut blouses and backless blouses please go braless if you're perky enough or invest in a strapless bra, a backless bra or some nipple covers please. Keep it classy don't be trashy!
10. Knockoffs
If you have any respect for fashion you would never disrespect an original designer by purchasing or even looking at a knockoff. They are usually made of synthetic leather or cheap fabric and materials that won't last you anyway. Although the china wholesalers have been getting better they still cannot compare.