Without Them
Today marks the 75th Anniversary of the D-Day Landings. As we remember those who fought and died, we commemorate the actions of those who, without them, our freedoms would be lost forever...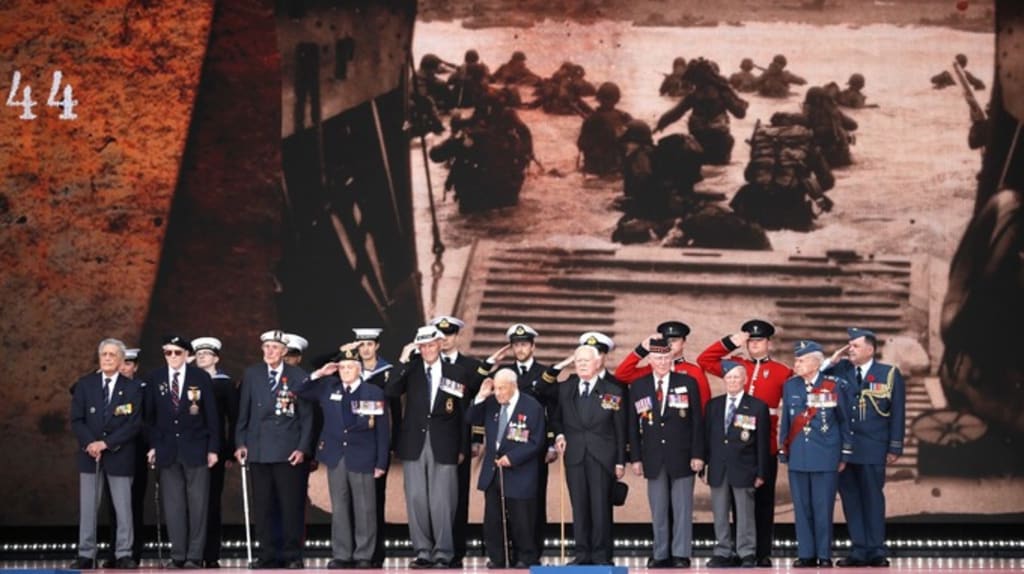 Ten Veterans salute the crowd at the D-Day 75th Commemoration. BBC©
They stood shoulder to shoulder, ten men in a line, hands pressed to their foreheads performing a salute. After 75 years their salute was slower, their balance aided by walking sticks, their sight somewhat deteriorated, but still they stood surveying the applauding crowd before them.
It is doubtful that any of those men who stormed those beaches of Normandy, in an act of bravery which came to change the course of history, would have believed that they would be standing on a stage where even Her Majesty, The Queen would lead a standing ovation in their honour seems questionable.
But she did and so did they.
And whilst age may have wearied their bodies, their tenacity to remember the Fallen was undimmed. With a stoicism and dignified restraint that is rarely seen these days, these exceptional men, both onstage and off, demonstrated to the crowd, the audience watching on and the numerous world leaders who had been invited to attend, that D-Day isn't just a commemoration of sacrifice. It is a reminder of what we almost lost and what, without these men and women, we could've have become.
As is expected at events like the D-Day commemorations in Portsmouth, The Queen led the Nation in a way no politician ever could. Her short but emotive speech spoke for a Country which couldn't, at present, be more divided. But her words, as if an elixir of British patriotism, poured over the poison of identity politics, highlighted the attitudes we Brits should hold dear.
"When I attended the commemoration of the 60th anniversary of the D-Day Landings, some thought it might be the last such event. But the wartime generation—my generation—is resilient, and I am delighted to be with you in Portsmouth today." She said.
That "resilience" should never be mocked or frowned upon. The foundations of modern Britain are built upon the sentiment of the "stiff upper lip." We owe an unrelinquishable debt to the attitudes of "keep calm and carry on." Without it, the freedoms we so arrogantly enjoy today would be lost to nothing more than an ideal, one which we could have failed to defend.
Each and every one of those remarkable men and women, who with tears framing their eyes, were reminded of the cost they endured to achieve peace, and were rightly celebrated for the extraordinary actions they each performed. And looking through the crowds, at the faces which had been weathered by the fiery raindrops of war, you are reminded that there are now so few.
The Queen spoke of the potential resignation that another D-Day Event would ever take place for those who had experienced it. For many that was true. Some, through the grace—or curse—of old age, weren't able to attend. And the dwindling numbers, where thousands had become hundreds, where hundreds had become 10, repeated that realisation of a loss of a generation whose lessons many feel we are still learning from.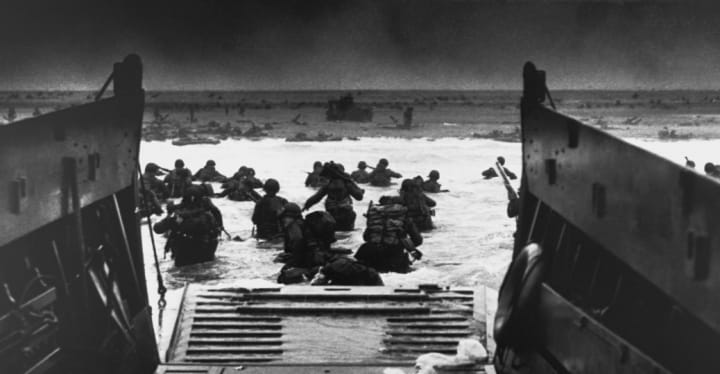 For the majority, old age was never a path they would pave. Their life was ripped from the soil long before the roots of time could nurture the oak tree of long-life. Such cruelty and blunt reality were not met with the overhyped sense of injustice we see today, and for far less. No, this was duty, an unspoken vow for King and country. And it is a vow those left behind uphold even today.
We see this bravery and valour in the letters left from those who never penned another. One of the more emotive parts of the D-Day commemoration was one of these letters, read by Prime Minister, Theresa May and written by Capt. Norman Skinner.
"My darling this is a very difficult letter for me to write.""As you know something may happen at any moment and I cannot tell when you will receive this. I had hoped to be able to see you during last weekend, but it was impossible to get away and all the things I intended to say must be written."
With an air of humility, but quiet confidence Capt. Skinner continued:
"I'm not a dashing hero by any means but the influence of everyone around me, and the confidence of all troops has made me lose any early fears, which I expected. Whether it will last until the vital moment I can't tell. I am sure that anyone with imagination must dislike the thought of what is coming but my fears will be more of being afraid than of what can happen to me."
And then touching on the enormity of what was happening, he spoke of his family by reminding them, and in a way himself, that his love for them was as potent as his love for his country.
"I can imagine you in the garden having tea with Janey and Anne getting ready to put them to bed. Although I would give anything to be back with you, I have not yet had any wish at all to back down from the job we have to do."
Capt. Norman Skinner would land on the beaches of Normandy as part of the Royal Army Service Corps. His job, to support the second wave of landings, would find him pushed back by the Nazis, forcing him to shelter in a foxhole. Enemy fire would strike, and Capt. Skinner would die on June 6th along with almost 4,500 others within the first 24 hours. In his letter, which fate would deem to be his last to his wife, he wrote:
"Please don't worry about me more than you must.""I cannot write any more just now so for the present my darling, goodbye. I love you with all my heart."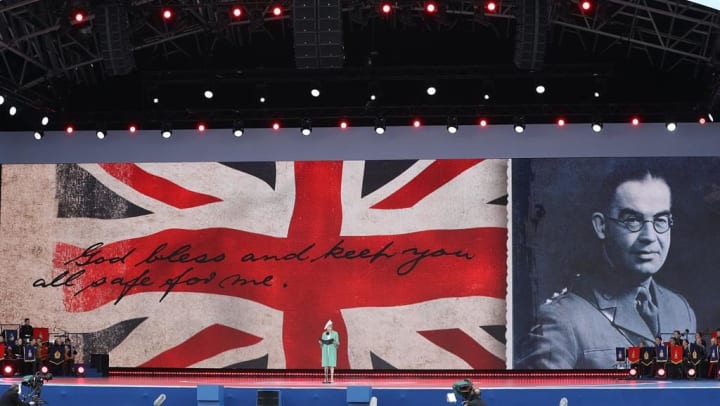 It is hard not to emote with these touching words. Each sentence reaffirms that these men may have been soldiers, their job and commitment to peace may have ended with pulling the trigger more than most. But we must not forget that they are and were human beings, each with a life of their own to navigate, away from the hellish torment of conflict. And whether they returned or not, for every fated man who fought on those beaches, a fractured part of them was left behind.
Watching those 10 men stand solemnly on a stage with pageantry they felt was undeserving, they were a potent flashback of a time when glory and fame came second to honour and service. Facing an impending doom, they endured. Battling an impossible task, they persevered. And in commemorating their fallen comrades, they've kept their vow.
For without them, there would be no memory of Capt. Norman Skinner. Without them, there would be no recollection of those who fell, destined to never rise again. Without them, there would be no freedom. And without them and their war time resilience, there would be no us.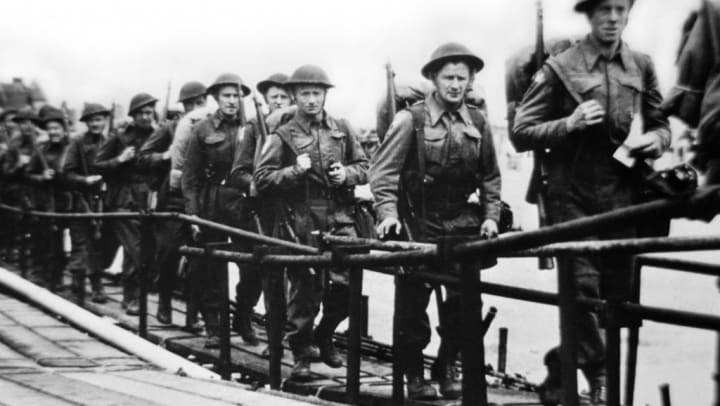 history
About the author
Our blog covers everything from entertainment, Movies, Politics, The Royal Family and so much more!!
Let's get ready to RUMBLE!
Visit us at our website:
Reader insights
Be the first to share your insights about this piece.
Add your insights