What Are Military Medals Made Of?
One of the highest honors any military personnel can receive is the reward of a medal of service.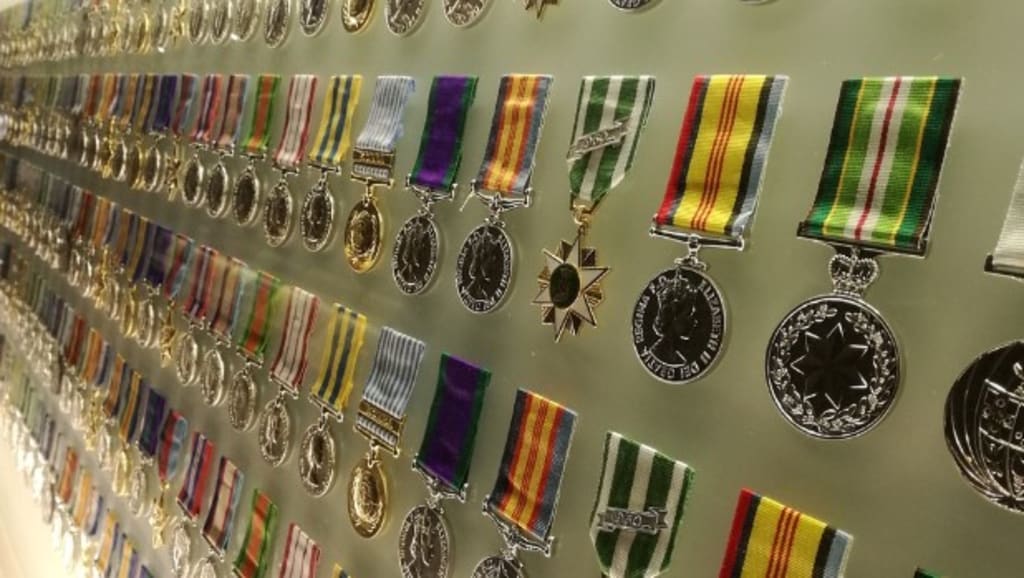 Medals of service are given for numerous reasons including service periods during times of war, particular campaigns or tours, and acts of valor and courage. These medals are typically worn on the service member's dress uniform and signify that they have been rewarded for their superior service. You may be wondering what military medals are made of. Most medals consist of both a ribbon and a medallion. Each segment of the medal requires special materials and craftsmanship to be completed.
Most military medals will be made from one of four different materials. These materials are gold, silver, bronze, and lead. The most common materials military medals are made from are lead and bronze. Recreations of these medals are almost always found in lead form, and are sometimes available with a beautiful anodized finish that is glossy and eye-catching. The highest medals awarded to military personnel, such as the Congressional Medal of Honor, are minted from more precious materials. The ribbon used to craft the upper portion of a military medal is sometimes colored by hand and therefore takes time to cure. This extra step and detail to craftsmanship can sometimes make these medals difficult to create, however some companies have streamlined the production of these medals without sacrificing the attention to detail discriminating customers deserve.
Medals that are made from gold, silver, bronze, and lead are cast from molds. These molds can be made from various materials including wood and even wax. Hand-crafted medals can be forged from two different processes. The first process is by intaglio and involves applying pressure onto the medal to create the impression. The second process is called repousse. In repousse, the design is pressed into the medal by sandwiching the material between two molds. In the nineteenth century, machines were developed that have significantly decreased the necessity of forging military medals by hand. Now military medals can be mass-produced through the use of machines, and the resulting medals still bear the same quality and control as their hand-made counterparts.
Many military personnel prefer a glossy, gold-like finish for their medals. This finish, called an anodized finish, creates a flashier, more eye-catching luster which many personnel prefer to the standard, flat medal finish. Military personnel can special order these types of medals from reputable companies who specialize in the recreation of military medals. These companies can also assist personnel with building a military medal rack. A rack is the method by which military personnel display their medals and awards on a single backing that easily attaches to their dress uniform.
Another common medal element is bronze. Many military medals, such as the bronze star, are cast from bronze. These medals are made by companies that have been subcontracted by the different branches of the military to create the medals for their use and distribution. While bronze is not considered a precious element, the timeless beauty of a bronze medal combined with the achievement signified by the medal makes the piece of priceless value. The material from which a medal is made is not typically of importance simply because the honor given along with the medal is far superior to any material that could be used.
While most military medals are made from materials such as lead or bronze, the quality is determined by the craftsmanship of the medal and ribbon. Additionally, the value of the medal is never determined by the material, but rather by the honor ascribed to the medal. Military medals are given to signify acts of valor and extreme patriotism, as well as lengths of service, participation in particular tours and campaigns, and years of service. Military medals are highly valued awards given to our military personnel for their achievements.