Travels of a War Bride
I, too, am indebted to the RCAF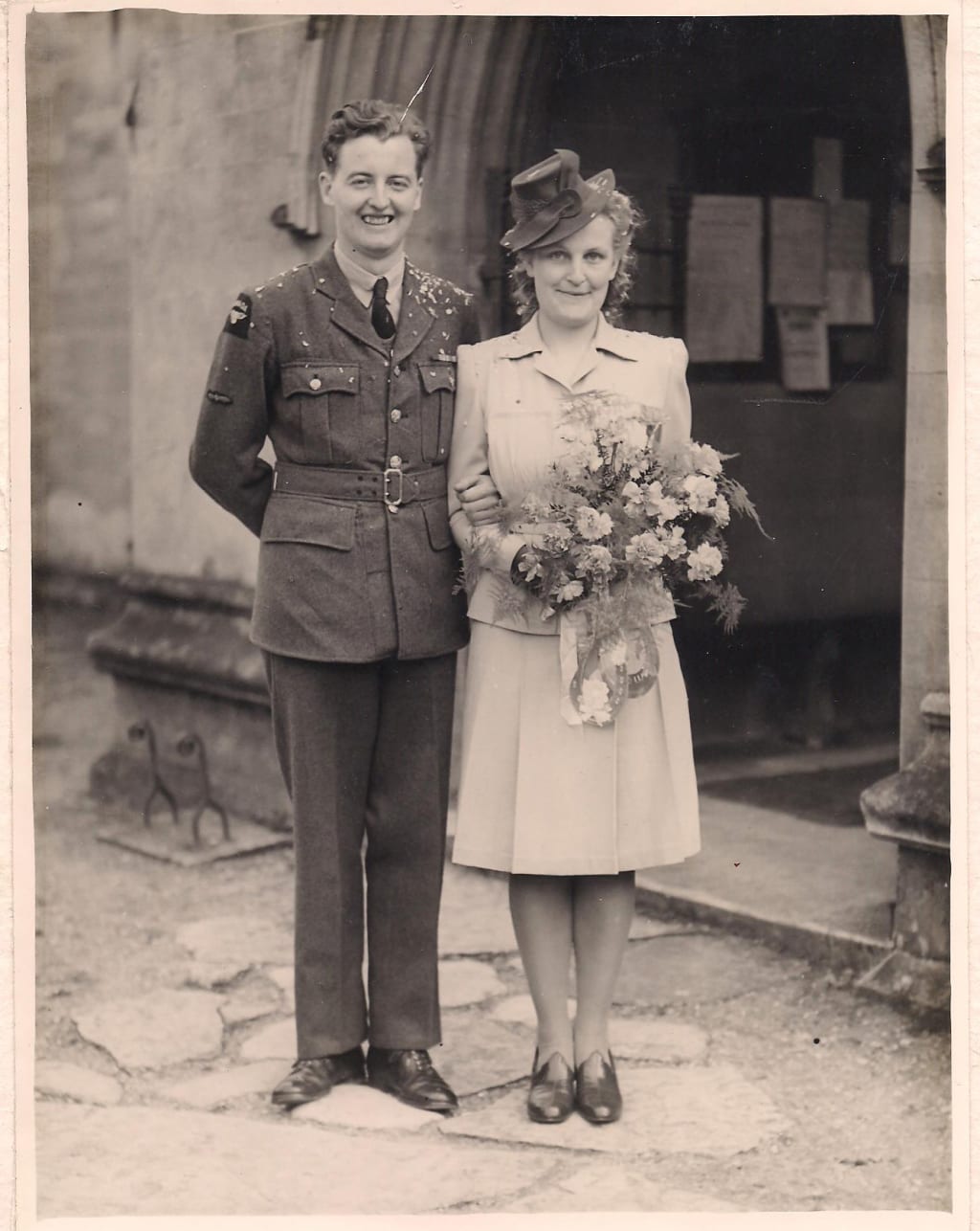 Mr & Mrs Russell 25th March 1946
INTRODUCTION
There were approximately 48,000 British women who fell in love with and married service men from around the world during and after World War II. All of them have their own deeply personal stories. Some were both happy and some tragic. None of those 48,000 stories could have been more deeply personal than the story of my own parents which, fortunately in my case, turned out very happy.
Over the last six years as members of my family have passed away, I have found myself to be the custodian of boxes of photographs, letters, telegrams, brochures and memorabilia from important moments in the family history.
I AM ONLY HERE BECAUSE MY DAD WAS IN DEBT TO THE AIR FORCE
My Dad was here in Europe with the Royal Canadian Air Force (RCAF). After the war ended in 1945, he, along with his colleagues, was shipped back to the UK where he waited for transport home to Canada and demobilization.
I think he could have got home sooner than he did but for a small issue with his service pay. From a note he wrote he arrived back in the UK, presented himself on the payroll parade hoping to receive a fistful of Canadian dollars or the equivalent in British pounds. To his surprise he and a some of his friends had either drawn too much pay in francs, marks and guilders while they were stationed in Europe or there had been an administration error and they were in debt to the RCAF.
They cleared the debt by servicing Lancaster bombers amongst other aircraft. To make some extra money they used to scour the bases they were working on for tea cups from the NAAFI. These had a small deposit on them which they would collect. Then if they had enough money one of them would join a card game and hopefully come out of it with more than he went in. In the simplest of terms, he was skint. In the note I found he described himself as "broke, broke, broke". They could not be sent home until the debt was cleared so he was stationed in Bournemouth. And in one of those twists of fate that happen in life he was billeted in the Russell Court Hotel in central Bournemouth.
It was while he was stationed in Bournemouth that he met Mum. They "courted" for a while and even then they had to go on what they called "Dutch Dates" to share the cost of the cinema, the pub or a portion of chips because Dad was still "broke, broke, broke". They got married on 26th March 1946 and saved some of the receipts. Flowers cost £4 7s 6d. In decimal currency that is £4.38. Their honeymoon hotel for one night was £2 7s 6d or £2.38. There are no receipts for the reception but I am sure there was one even if it was not very lavish as even in 1946 British people were still living on strict food rationing which did not end until 1954.
After the honeymoon Mum's journey began as a war bride.
THE WAR BRIDE'S JOURNEY - CROSSING THE ATLANTIC
In the papers is a document called an "Application Form – Transportation to Canada For Wives". It records Dad's personal details. That is name, service number, date of birth, the head of his family in Canada and personal details for Mum. It does not have a date on it and it can only be guessed that it was completed just after their wedding as someone has written on the form they have seen it.
There is a Western Union cablegram from Dad in Halifax (Nova Scotia) dated 23rd April 1946 with Mum's address saying:
"ARRIVED SAFE LOVE DOUG".
I know my Dad was always economical with words at the best of times but even more so with a telegraph or cable gram service where the sender had to pay either by word or letter.
On 21st August 1946 Mum sent Dad a telegraph saying:
"24 HOURS NOTICE FROM 23rd CABLING AGAIN LOVE MERLE".
There is then a third telegraph from Westbourne in Bournemouth to Dad in Grand Prairie saying:
"REPORTING LONDON 28TH. SAILING ON AQUATANIA VERY EXCITED SEE YOU IN EDMONTON WITH MERLE".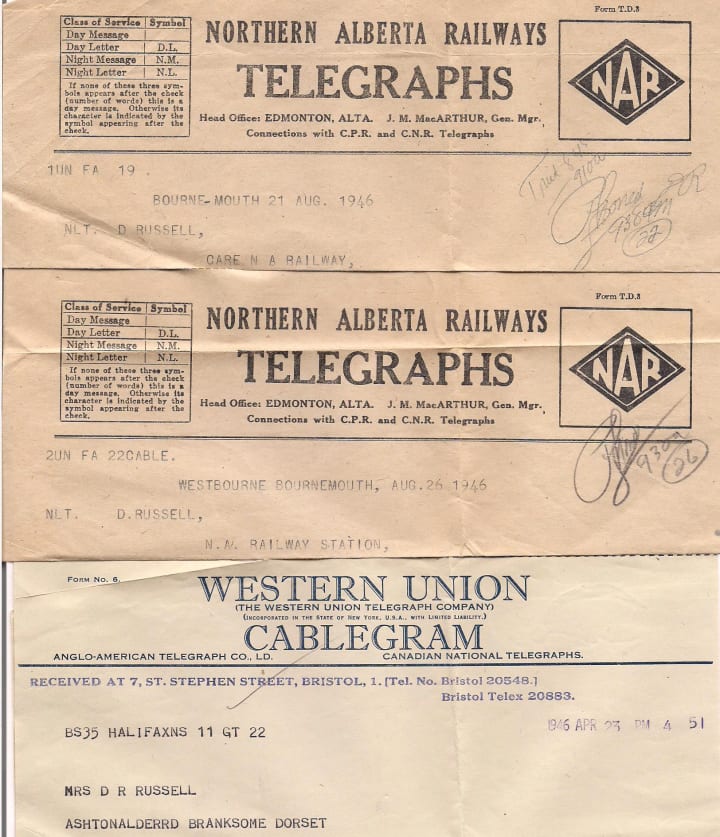 It was not signed so if it was only the first part of the message it would be clear but saying "see you in Edmonton with Merle" renders the message unclear. I have a vague memory that Mum did travel on the Aquitania.
In summary then, Dad returned to Canada in April 1946 and that Mum followed him in late August.
There is no record of how long Mum's crossing took and unusually for her she did not keep any diaries of the journey. Nor are there any letters from her back to her parents in Bournemouth. The Aquitania was a fast vessel, so it most likely took the same time as we as a family took in the RMS Carmania in October 1963 when we crossed the Atlantic from Canada to the UK, six days.
What is hard to understand is what was going through Mum's mind during that crossing. By the time the ropes holding the ship at the quayside were released she was at the point of no return. She was madly in love with Dad so that must have outweighed any feelings of doubt about what she was leaving a comfortable home in Bournemouth with its mild seaside climate for. Dad must have explained to her what conditions were like in Canada. He must have explained that their first home was not going to be in a city but in a remote community called Dawson Creek in the north eastern corner of British Columbia less than 750 miles south of the Arctic Circle. There Dad had a job with the Northern Alberta Railway Company (NAR).
I am sure he did explain everything about life that far into the wilderness and how different it was going to be from living in genteel Bournemouth.
The brides must have been given information about Canada as soon as they boarded the ship. In amongst the papers I have is a brochure is called "From Dock to Destination". They were advised "To keep this folder to read during your sea voyage".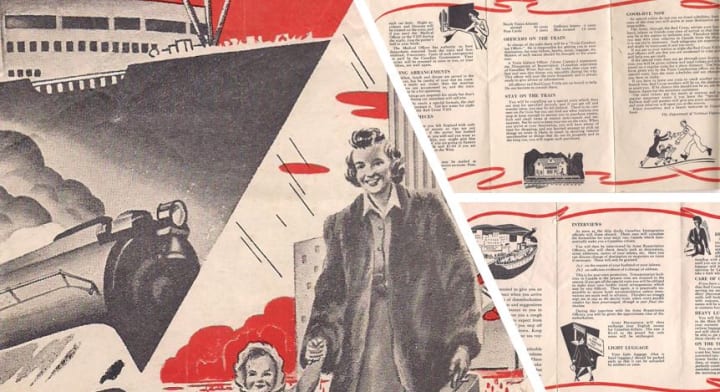 In the brochure under the heading "Dining Arrangements" is the following:
"...but, be careful of your diet en route. Canadian meals are richer than the war time rations you are accustomed to, and the train motion may be a bit upsetting."
A typical week's food ration was one egg, a pound of meat, four ounces of fish, just under three pints of milk and four ounces of margarine. So, for brides arriving Canada being offered Canadian hospitality they must have been very tempted to over indulge.
THE WAR BRIDE'S JOURNEY - CROSSING CANADA
When the ships docked in Canada the brides were interviewed by Canadian Immigration Officers for the arrangement of Canadian Citizenship. Then army officers would conduct interviews that cross checked their information with any documents the brides carried. They would also advise when the brides could leave the ship to catch the trains.
Mum had to travel from either Halifax, Quebec City or Montreal by train across Canada to Edmonton. We made the journey in reverse by car in 1963 and even at my age of nine at the time I was impressed by how long the journey took. It must have been at least four days. I can also vaguely remember the scenery going past the car windows. Flay prairies, forests, mountains, lakes and finally the big cities of the east like Toronto, Ottawa, Montreal and Quebec.
Now, I wonder what Mum must have thought of the overwhelming vastness of the country she was travelling through. The scenery that was so vast it took a day to change as you travelled through it. Unlike Bournemouth where less than an hour's bus ride away the traveller could be in a different country because of how compressed the scenery changes are.
As the train travelled west the numbers of brides diminished as they got off at the various stops on the way. By the time the train was travelling to Edmonton there was only one other bride on board. She and Mum struck up a lifelong friendship held together by the facts that they were both English, had married Canadian service men and were travelling to Dawson Creek. The guard on the train checked the tickets and their identities. The guard checked Mum's details and asked if she had married Doug Russell? Mum told him "Yes". The guard knew Dad and told Mum he was a good man and from a good family. The lady Mum had struck up the friendship with was Edith Shields. She handed her papers to the guard. He asked if she was married to Les Shields in Dawson Creek? She said she was. Apparently, the guard told her she should get off the train at Edmonton and head straight back to England. The man she had married was not a good man and she would have nothing but trouble if she stayed with him. She completed her journey and out of loyalty to her husband stayed with him even though she found out very quickly that the guard was right. She stuck with him through everything until he passed away. After he did, she returned to England.
How many other war brides found themselves in that predicament? Marrying someone in uniform from another country. A country seemingly of endless plenty plus whatever their new husbands convinced them about what life was like. Those husbands didn't make promises to break. They made blatant lies that would never become true and created misery. One bride arrived by ship in Halifax hoping to be met by her husband. He was nowhere to be seen. Eventually she contacted him and was told she should go home as he had found someone else.
Luckily, and this confirms my belief that Dad was totally honest about conditions in Canada with Mum, he did not mislead Mum in anyway and their marriage lasted over 60 years.

Alan Russell
I am a very lucky person. I live in a beautiful area,the New Forest,have a happy home that I share with my wife and two felines. More,much more than this I travel many highways,to interesting places and meeting interesting people.Carp diem.
See all posts by Alan Russell →