'The Resistance Banker' (Bankier Van Het Verzet) Movie Review
This more covert take on World War II resistance is a decent effort, even if it doesn't reach its emotional peak.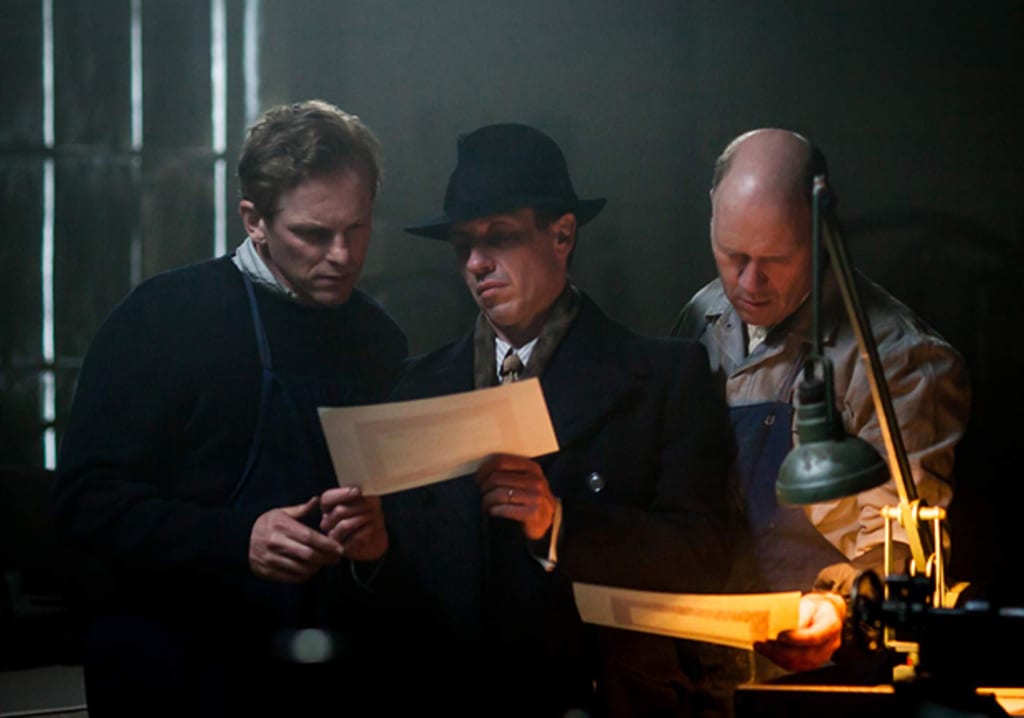 Released: 11th September 2018 (Netflix following a Netherlands March release)
Length: 123 Minutes
Certificate: 15
Director: Joram Lürsen
Starring: Barry Atsma, Jacob Derwig, Pierre Bokma, Fockeline Ouwerkerk and Raymond Thiry
One of the more obscure tales from Europe in World War II is that of a Dutch banker who siphoned money away from the Nazis to fund the underground resistance. Released by Netflix, The Resistance Banker is a decent effort into the war genre put against a more self-contained backdrop.
The story of Walraven Van Hall (played by Barry Atsma) begins in 1942; the Dutch, living under occupied German rule, try to live out their lives as best they can, despite the undercurrent of treachery. When nazi collaborator Meinoud Rost van Tonningen (Pierre Bokma) is appointed head of finance to plug funds into Hitler's war machine, Van Hall decides to act; under the guise of a charitable fund to assist Dutch sailors left adrift by the conflict, a collection of bankers, deliverymen and common citizens work to redirect this money into resistance efforts. The film takes place entirely in Amsterdam, swapping between the protagonists and the German officers pursuing them as Van Hall's deeds translate into acts of sabotage and acts of generosity, Robin-Hood-style. What makes The Resistance Banker different from other films of its type is its varied pacing. At first, things move quickly as the scheme is set up to emphasise the enthusiasm Van Hall and his supporters have for the underground bank; there's a sense of confidence that they only need to hold out until the allies arrive to liberate Europe and that they won't be discovered. But as the war drags on, things become more arduous and the narrative eventually gives way to a series of brutal repression efforts from their peering overlords. TRB is engaging for the most part and creates intrigue for what the rebels undertake but it does fall short of delivering a full impact. The ramifications and activities of the German occupation are left mainly to the background; seeing more of their malevolent rule would have created more of a driving force for the main characters to achieve their goals. This may have been done to represent the distance of the financial sector from the horrors committed in the war, but it does stick out.
Aiming to tell a more intimate story, the characters are well-realised by the cast; Walraven's choice to defect grows on a personal level, both his love of sailing and deep bond with his family compel him onwards. His brother, fellow banker Gijs Van Hall (Jacob Derwig) is often more ambiguous, questioning the operation's ability to succeed. The interactions Walraven has with his wife Tilly (Fockeline Ouwerkerk) and children are deeply heartfelt as well. These people all have close ties to each other and there's ample time dedicated to developing the more emotive moments. On the other hand, you have moments of tension as the resistance narrowly evade capture; with that said, the antagonists don't receive the same attention to detail; they're mostly seen talking to each other in darkened rooms, occasionally taking their turn to walk the streets. Being a more economical effort, rather than a straight-up spy flick, the moments of action are snappy, being shot with a minimal amount of screen-time. Of course, the film's authenticity is on par with its contemporaries with impeccable costume design and a vivid recreation of 1940s Holland.
The Resistance Banker brings its underrepresented story to life in an emotive and highly believable way, while offering a more covert take on the uprisings that occurred throughout World War Two. It may not reach the highest emotional notes, but it's still a passionate effort from start to finish.
Rating: 3.5/5 Stars (Good)