The hero behind the heroes who serve our country
Caitlin Houser is a hero at home; for our country; and for women everywhere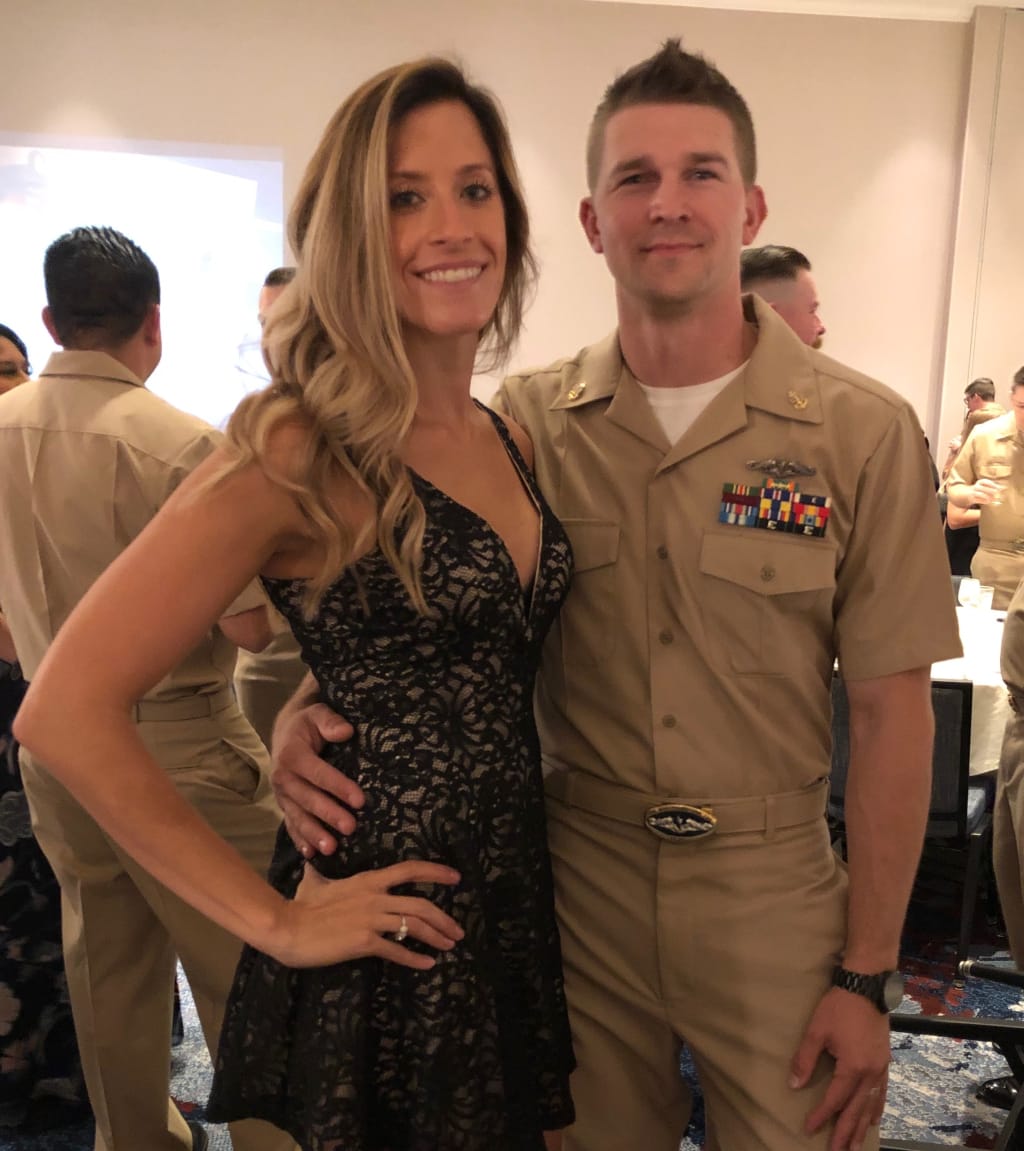 Caitlin Houser volunteers as a Navy Family Omsbudman.
Heroes. They can be men like King Leonidas of Sparta at the Battle of Thermopylae. They can be women like Katherine Johnson who intricately calculated the trajectory of the 1969 Apollo 11 mission to the moon. They can champion seismic change like Martin Luther King Jr. or their contribution can go unnoticed for over a century like Ada Lovelace, who is said to have written the instructions for the first computer program in the mid-1800s even though her work went undiscovered until the 1950s.
At first glance, Caitlin Houser doesn't fit our profile of a hero. After all, she's not a Navy Seal on a mission to take out an infamous terrorist or a police officer fighting urban gangs. Plus, she doesn't wear a uniform, doesn't have a rank other than Mom and Wife and definitely does not spin webs like your friendly neighborhood Spider Man.
Caitlin Houser is a Navy spouse and if we didn't go any further than that fact, she's a hero, as all military spouses are. Caitlin has been married to Chief Petty Officer Mike Houser, who is assigned to a nuclear fast attack sub in Groton, CT. Mike is a 14-year veteran of the submarine corps and specializes in nuclear engineering.
In July 2020, Caitlin and Mike will be married for 10 years. During that decade, they've moved six times, locating in areas as diverse as the frosty climes of Maine and the humid low country in South Carolina.
Caitlin and Mike live in a modest home about 20 minutes from the sub base. They've been there about three years. They have three daughters – Tanner, 7, Teagan, 5, and Tinley, 3.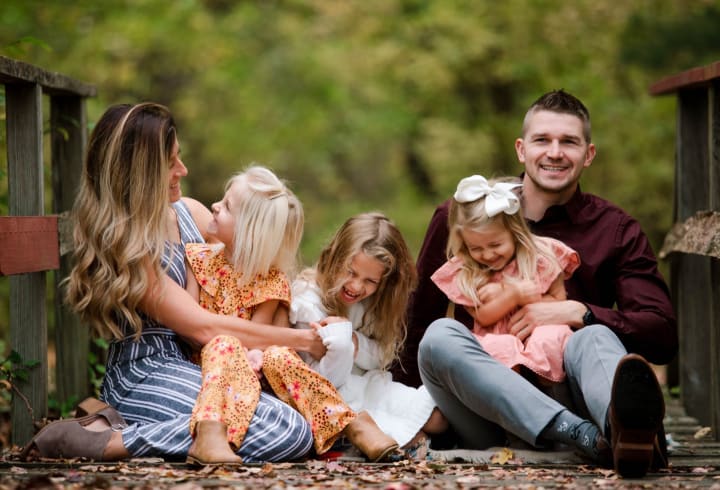 "Being a military spouse is a tough assignment," Caitlin begins. "You are away from your spouse a lot and you can move around a lot from base to base."
During their time together, Mike has been away for months on a time on the sub. In other military assignments, a spouse can email, text and FaceTime with their partner who is on a military assignment, perhaps on the other side of the world. But when your partner is on a sub, it can be a total communications blackout, depending on their assignment.
"Because of national security, you don't know when your spouse's sub will return to base," Caitlin says. "The lack of communication and the not knowing where he is and when he'll be back is tough on submariner's families."
In August 2018, Caitlin was approached by the captain of the sub where Mike was serving. He asked her to serve as a Navy Family Ombudsman and she accepted the position in October 2018.
The Navy Ombudsman Program was introduced to the Navy on September 14th 1970, by Admiral Elmo Zumwalt, as a means to address issues and concerns that are unique to Navy families. Navy Family Ombudsmen are a critical communication link between the Commanding Officer and family members. They must be the spouse of an active duty or Reserve member of the command. Once appointed as the command Ombudsman, the volunteer receives standardized Ombudsman Basic Training (OBT), which provides the basic knowledge and tools necessary to be an effective representative of the command and an advocate for family members.
According to the Navy's website, "the Ombudsman represents and reports to the Commanding Officer who maintains ownership of the command Ombudsman program. Ombudsmen are primarily Information and Referral Specialists who help command family members gain the assistance they need to succeed as part of the extended Navy family. This is especially critical for deploying commands. Although Ombudsmen are not paid for their services, authorized expenses, such as mileage, childcare, and office supplies, can be reimbursed when approved by the Commanding Officer."
Ombudsmen maintain current resource files with information on military and civilian community agencies that can help families solve a variety of problems, and successfully meet the challenges they face before, during, and after deployments. In addition to providing referral information, Ombudsmen can facilitate communication between the Command and family members.
According to Captain Todd Moore, who appointed Caitlin to the job and is now the New London Base Commanding Officer (CO), "The initial job posting for ombudsman probably went something like this: Wanted - volunteer, courage of a lion, wisdom of an owl, warm as a summer sun, hard as iron, impeccable integrity, full of poise, tact, acumen, professional, to serve as liaison between two mutually incompatible organizations."
In effect, Captain Moore was saying that it's a tough job.
According to Caitlin, during her ombudsman training she learned that her responsibilities were far-ranging, from setting up meetings, keeping an Ombudsman information sheet on each and every sailor on board, making monthly reports, providing resources, being the liaison between families and the command, making phone trees, being readily available via the Ombudsman cellphone and dispersing information to families when she is directed to do so by the command.
Spouse Challenges
Caitlin's experience as a military spouse, in many ways, mirrors that of other military spouses and partners.
"When your husband or wife is in the military," Caitlin begins, "and you go job hunting, most employers know you may have to move at a moment's notice because the military has reassigned your spouse. Therefore, they are hesitant about hiring military spouses and, quite often, the spouse has to settle for a job for which he or she is highly overqualified."
Caitlin, for example, has a master's degree in special education and can teach but the uncertain timelines inherent in military service make such a job assignment difficult.
Many spouses end up with an interesting collection of jobs as they move from base to base. Caitlin, for instance, worked in a zoo in Maine and was in charge of the reptile section, while also working at several newspaper positions.
While stationed in Connecticut several times, Caitlin worked at an aquarium, in catering and volunteered at an organization that provided therapeutic equine therapy for children with special needs.
Caitlin, an expert rider either in English or Western style, says, "These kids loved the horses and that closeness helped them deal positively with their issues. I'd help them ride and then show them how to brush a horse and you can just see how much joy it would bring to their lives."
Caitlin has her Bachelor's Degree from Alvernia University in Reading, PA and before she met Mike she worked in public relations.
"When you're a military wife and you move around from base to base," Caitlin begins, "you find yourself in a strange place with your spouse often out to sea and if you have kids, then you're essentially a single parent for long periods of time."
"It can take its toll on the strongest relationship," she adds.
Help is on the way
"The navy cannot properly function without the Ombudsman." Captain Moore said at the Ombudsman Appreciation Lunch. "In my opinion the main goal aside from being the link between command leadership and command families is to help guide spouses, provide resources and be available to anyone who has questions."
What are the specific duties of the Ombudsman? The better question to ask is: Is there anything they don't do or can't handle? The answer to that question is nothing.
As Ombudsman, Caitlin has helped with job searches for spouses, advised on money management, helped find housing for families relocating to the area and referred military spouses to a professional when dealing with a marital relationship concern.
"The past year and half, I have grown as a Navy wife for the better," Caitlin explains. "I have a better understanding of the challenges families face and have been given the pleasure of helping these families when they needed it."
When duty calls
What prompted Caitlin to become an ombudsman?
"I wanted to help our community of military spouses," begins Caitlin, "and I felt, quite honestly, that I had the organizational skills and grit to get things done."
She adds, "from experience. I know that when a family is happy it is easier on the sailors to do what they do best, get underway!"
For Caitlin, volunteering to help military families is rooted in her own family's recent history.. Caitlin's grandmother, Louise Marcrum, was the wife of an Army colonel who served for more than 30 years. During that time, Louise was once left with five children when her husband Robert was sent to Korea for 16 months. When her husband was assigned to be the Commandant at Forth Monmouth in central New Jersey, Louise was active in multiple activities with the families from bridge to bowling, event planning to outreach.
Captain Moore crisply explains how critical the job that Caitlin and others do in this way.
"The Ombudsman allows the command to concentrate on their jobs while knowing that families are being taken care of on the home front."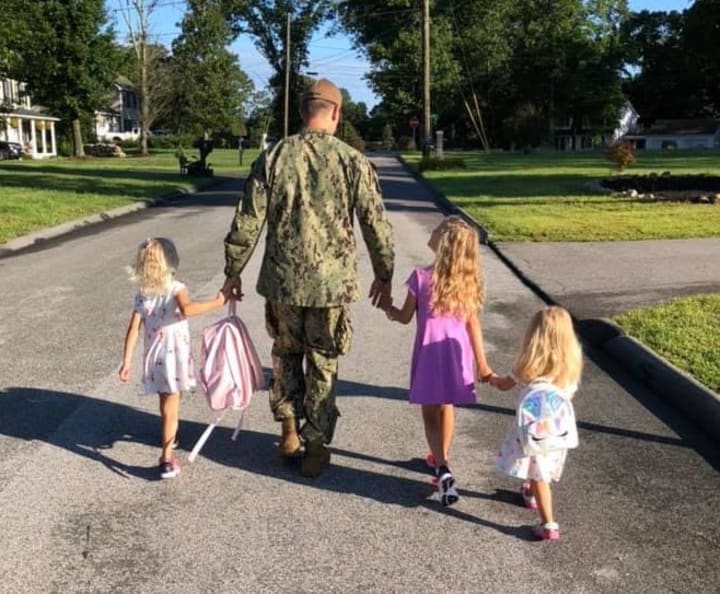 Navy Ombudsman Caitlin Houser may not have a rank, but she serves our country in a multitude of ways unseen by most but appreciated by so many.
As General George Marshall once said about the civilian volunteers that helped during World War II, "Volunteers aren't paid because they're worthless, but because they're priceless."
****************************************************************