The Brotherhood: Of Blood and Sand Part 1
True Story, Operation Iraqi Freedom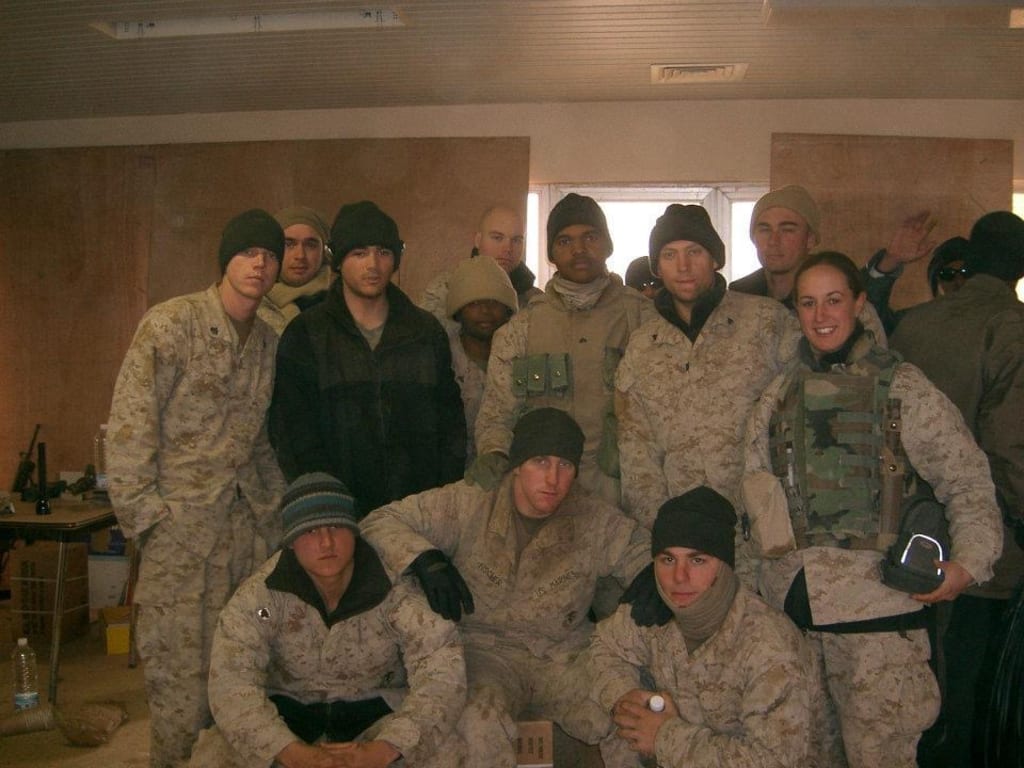 Me (right) just as we were leaving, these are some of the Marines from 1/3 Charlie Co.
I've been thinking about a unit I was attached too in Iraq January of 2005, a unit that suffered a devastating loss, almost unprecedented. This story is from my perspective, I was 20 years old when the event occurred.
OIF II-II 2004 – 2005, August – February deployment
My unit: Combat Service Support Battalion 7, 1st Marine Logistics Group Unit story is about: Charlie Company, 1st Battalion 3rd Marines, 3rd Marine Division
(The Female Marine program known as Lioness was developed after my OIF II-II deployment after each Marine Battalion sent their female Marines out to various locations in Al Anbar Province to help keep female Iraqi civilians safe and allow them to vote. Since the mission was successful the Marine Corps later instituted a program called Lioness)
We absolutely honor our fallen in combat, but those who died because of a safety accident get forgotten; it's a plain and hard truth, they did not die to combat. Who I've been thinking of is a unit I was attached too for just three days, 1/3 Charlie Co for the first Iraqi elections. About 3-5 days before the female Marines in our battalion were to be sent out to the various infantry units we, at my battalion in camp Al Asad, in western Iraq (Al Anbar Province) were training in a field about contact and non-contact searches by our corpsmen (Navy medical personnel), suddenly our corpsmen dropped everything and ran away (we had vaguely heard radio chatter but could not hear what had been said). Something big had happened, mass casualty for sure but we didn't know the details. Camp Al Asad was the largest base in western Iraq, so if all our corpsmen were needed something terrible had happened. It trickled down that a helicopter had crashed killing between 10-50 Marines, at first I thought it was exaggerated but I didn't have any other info at the time. Couple days later the female Marines from my battalion were split up via helicopters to our various check points where we met with the infantry units we were to be attached too for the Iraqi elections.
I was senior to the two other female Marines with me, our helicopter touched down at a larger town 30 min or so from the small town where 1/3 Charlie Co was waiting to conduct the Iraqi elections in a few days. When we arrived the Captain of Charlie Co pulled me aside "Corporal I need to speak with you privately" I responded yes sir and told the other two Marines to wait by our escort. Once me and the Captain were alone he asked "Corporal did you hear about the helicopter that crashed a few days ago?" I responded "Yes sir but I do not know the details". He then proceeded to tell me that 31 of his Marines had died in this crash, no combat but either pilot error or mechanical malfunction and then he asked "If I may request you and the other two Marines please don't ask my Marines about this accident". I knew he was trying to protect his Marines after such a devastating loss. I marched back to my two female Marines and told them they were not to speak to any of them without my permission (after I explained what the Captain had told me), it may have sounded extreme but I didn't want to make an already devastating situation worse. They aye Corporal'd me and we went with our infantry escort to the town (phonetically pronounced Ak-a-shat) within the hour. We were shown where we three would be staying and after a few hours I realized I couldn't keep us to aloof from the male Marines, they needed to see us, our names and faces because we had strong intel Iraqi terrorists were looking to abduct another female service member. Jessica Lynch had been taken only the year prior, the insurgents knew how devastating it was for America to see one of their daughter service members brutalized how she was. This was a fact and a harsh reality, I was also in the raid in Fallujah so I knew the male Marines needed to know us or see us because our lives and theirs might depend on this, regardless of the helicopter that had crashed; we were still in combat and the next day we would be conducting the elections. We three females would be extremely exposed during the election, as Marines we needed to be cohesive.
I took them downstairs to mingle so to speak with the male Marines. It was my big mouth that ruined it. One of the Marines was drawing a tribal tattoo and me liking tribal I asked him what he was drawing. "Corporal this is my fire team I lost" Oops is an understatement, all I could think to say was I'm sorry for your loss. But others piped up "I'm drawing this for my squad" showing me the drawing and again my big mouth and not thinking I asked "How many were lost?" He said all of them, only he remained. I died a little inside, realizing I had by accident done exactly what the Captain asked me not to do. I didn't know how to proceed but yet something happened that was unimaginable. They wanted to talk, they needed to talk. We weren't apart of their pain and loss, yes we were all Marines but that wasn't our unit, we didn't know them. The other two female Marines sensed the shift too, they knew my orders to them and when they looked at me I nodded. As much as the Captain wished to protect his Marines, they actually needed to talk and slowly as brothers and sisters we grieved together, laughed and shared stories.
You can only complain so much to one another about your shared loss, they all had that loss, we did not. Our brothers had died but we didn't know them and at that moment our brothers needed us because we were unconnected to that grief. I believe in my heart that we helped them, in some small way overcome their pain for those few days. They never had a break, after the raid in Fallujah ended, they were immediately sent here, in transit 31 Marines in one company had perished.
This story is to honor and remember them, Semper Fi brothers, you are not forgotten.
veteran
About the author
I love stories and my passion is writing.
I am currently working on an epic fantasy book, I have posted the prologue and first chapter to gauge the reaction, so I would love feed back!
I will continue to post short stories, enjoy!
Reader insights
Be the first to share your insights about this piece.
Add your insights