Storytime: How I learned about military culture in Hawaii from my Airbnb host turned friend.
Discovering Hawaii through the scope of an Army Reserve member.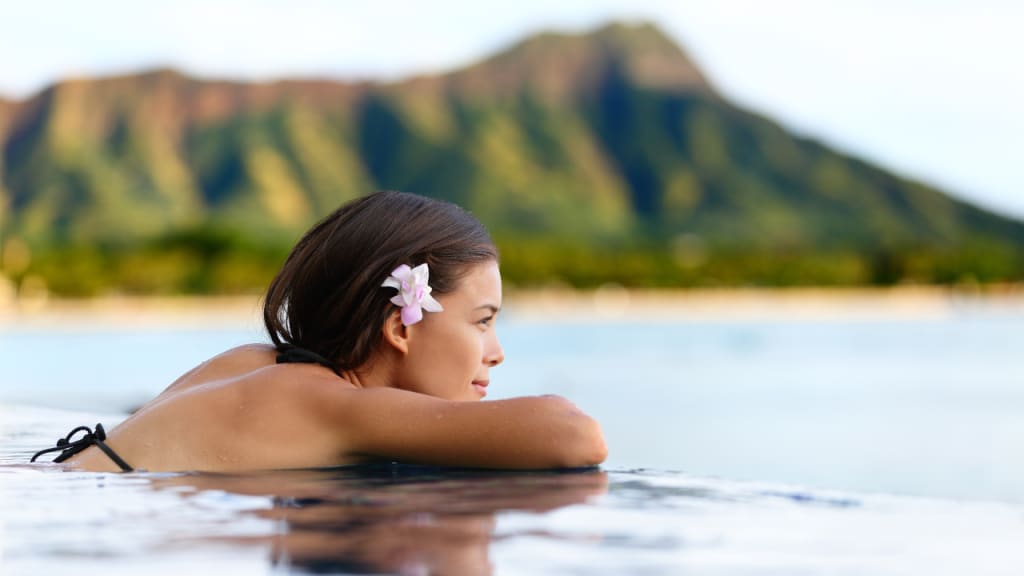 not a photo of Lyn
Picture this: palm trees swaying, the sound of waves crashing on the shore on Oahu in breathtaking Hawaii. That's where I met Airbnb host-turned-friend Lyn six years ago when I booked a stay at her place in Ewa Beach on a whim. I had been traveling through the islands and stayed on Oahu, the Big Island, and Kauai before I circled back to Oahu. Lyn was a hardworking and helpful host. The island though amazing I guess can get lonely and monotonous. I know hard to believe, right? So meeting someone like me from the mainland (U.S.) could be exciting and nostalgic.
I stayed for about 10 days. Lyn and I became friends because I would help her clean and turn the rooms while she was at work. On that trip, we did the pillbox hike together with our dogs and were friends from that moment forward. We exchanged social media and stayed in touch. She often invited me back every year. We would hit up the beach, rent a boat from the MCCS pier, and head to the Kaneohe Sandbar, where we would lounge on the sand, soak up the sun, and sip on fruity cocktails. She loved the mai tais at MonkeyPod. And let's not forget about the countless hikes we went on. The lush vegetation and breathtaking waterfalls at Waimea made every step worth it.
But what really made my trips to Hawaii unforgettable was Lyn's contagious enthusiasm for life and her unique perspective on the US military. You see, Lyn was a member of the Army Reserve stationed on Oahu. I used to think that being in the military was all about rules and regulations, but Lyn showed me that it was so much more than that. It's about family, friendship, loyalty, teamwork, leadership, and much more.
She talked about how being in the military instilled values like discipline, hard work, integrity, and good health, which are all essential to leading a successful life. Plus, the perks were pretty sweet too! Members of the military and their families could get discounts on food and gas through the commissary and on-base gas stations. As someone who loves to save money, I was all ears! She worked on base it was amazing to see the passion everyone had for their jobs.
Looking back on my trips to Hawaii, I can honestly say that they were some of the best times. No friendships are perfect and sometimes they don't last forever but I have to say that I am grateful that we met. I almost feel like a local now! I plan to visit again soon by myself and explore the stunning natural beauty of Maui and take a ferry to the nearby islands. I gained newfound appreciation for the US military. Who knew that one Airbnb booking would lead to such incredible experiences? I should also mention that Oahu has the cutest military guys in every branch. So if you go to Oahu be sure to hang out in a military hotspot or book an Airbnb. You might make a new friend or marry a hot military guy.
(The name in the story was changed to protect her identity. Lyn is not in the photo and there is no identifiable information shared.)
About the writer of this article:
Shakti Carmen, known also as C.M. Wilson, is a Las Vegas-based author of two books Kundalini Sex: Unlocking the Secrets of Energy Orgasms and 3 Questions Journal: Reclaim Your Superpowers. Learn More at Shakti Carmen on her website (arriving June 1st) http://shakticarmen.com
Find her on Etsy: https://etsy.com/shop/kundalinixshop​​
Book link 1: http://bit.ly/kundalinisex
Book link 2: http://tinyurl.com/3questionsbook
Reader insights
Be the first to share your insights about this piece.
Add your insights