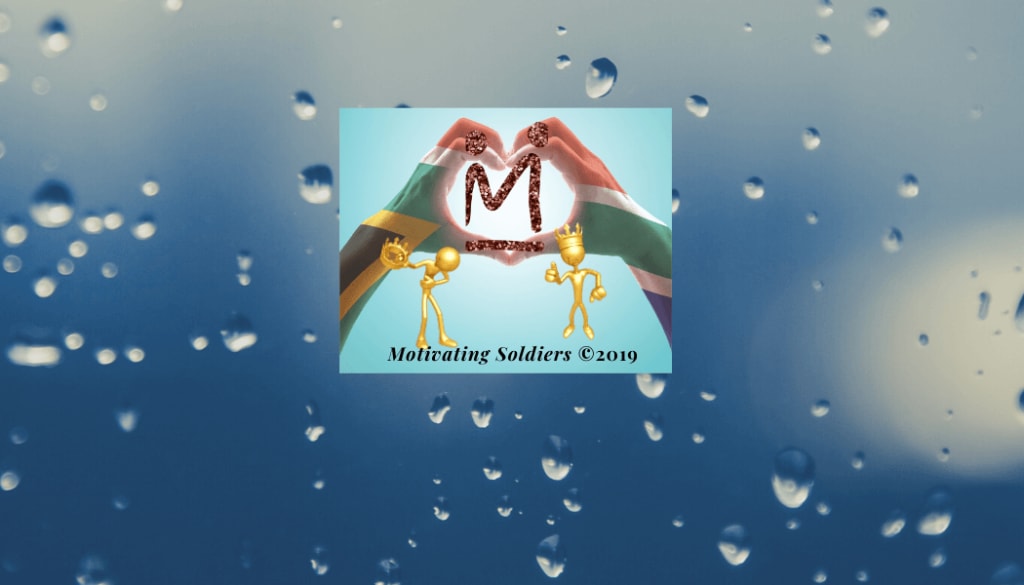 There are trauma survivors who are not done yet. I met some of the soldiers at a event called "We are not done yet", a film of art created by veterans who live with Post Traumatic Stress Disorder: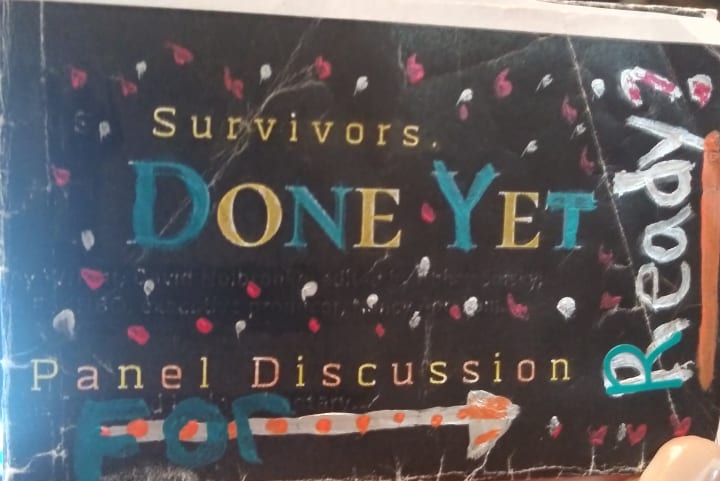 The soldiers experienced a power struggle from head officials in the army and were persecuted for speaking up and defending their rights as a human beings. These actively talented soldiers found out they wasn't done yet; as they used different forms of art and created their own masterpieces unified them into a film. The way the soldiers used their trauma and becoming actively talented was powerful.
"Discovering the masterpiece demonstrates the works of the light of a talented dynamite"-Author Sarah Rountree Fernandez
These brave soldiers the works of the light of a talented dynamite as they were able to use their pain exploring theater as they create a "play", panel of discussion. The panel of discussion expressed not letting the soldiers battle wounds define them but instead using their traumatic experiences demonstrating through art they were survivors. The art of survival speaks into others lives all around the world. I'm inspired to help others feel honor from their experiences and create something of their own. Lets use our painful memories or triggers for a good cause.
Some feel they need to paint or write to express themselves, but in reality there are many of tools to utilize to turn your experiences into a masterpiece. The power to use a different action in behavior towards a recurring traumatic experience one faces guides those on their journey in creating, The ability of others to create shows beautiful piece of art that brings light to our stories. My survivors guide builds self-esteem and shows others ways to take their pain and deflect into a piece of art.
Don't let post traumatic stress get the best of you
Let your battle wounds show you are a survivor. Many professionals only describe Post Traumatic Stress Disorder as being a horrible life long condition treated with medication and therapy. However, there is another given truth that therapy is not for everyone. Everyone has something to give that expresses the art of who they are. Expressing a part of your self that lies dormant is therapeutic in itself.
The label is not always true
In society, some say that the reason homeless people remain on the streets is due to drugs and alcohol being their torment. Drugs and alcohol do play a big factor in homelessness. However, there are several homeless veterans who are living on the streets for reasons some do not think about. Sometimes there's another reason for homelessness that lies dormant that others cannot see clearly.
"Dhar Man", is an inspiration to me as he always says always remember be careful not to judge, when not walking in their shoes.
A Homeless Man's Story
I met a homeless veteran with PTSD, where i worked doing peer support in the past. I wondered why he never would come in the building, but only would except food from others walking out of the building. I decided to talk to him and see if i can make him feel comfortable to come in.
As i began talking to him more he said he never walked in the building to get case management services, because he was afraid to walk in by himself. I encouraged him to walk in the doors with a friend. He said he never thought about it like that, and said he would try walking in with someone.
Months later he had a smile on his face and told me he had a job. He thanked me for not judging him and taking time to talk to him. He felt that i saved his life. I told him there was a woman who once stopped to speak to me. She carried the same caring heart for a human being the night i was cold with hypothermia. The homeless man with post traumatic stress disorder was told, "we are all sent to use the art of love in ourselves to help someone else who is in need". Survivors of post traumatic stress disorder have the strength and heart to become talented dynamites life experiences.