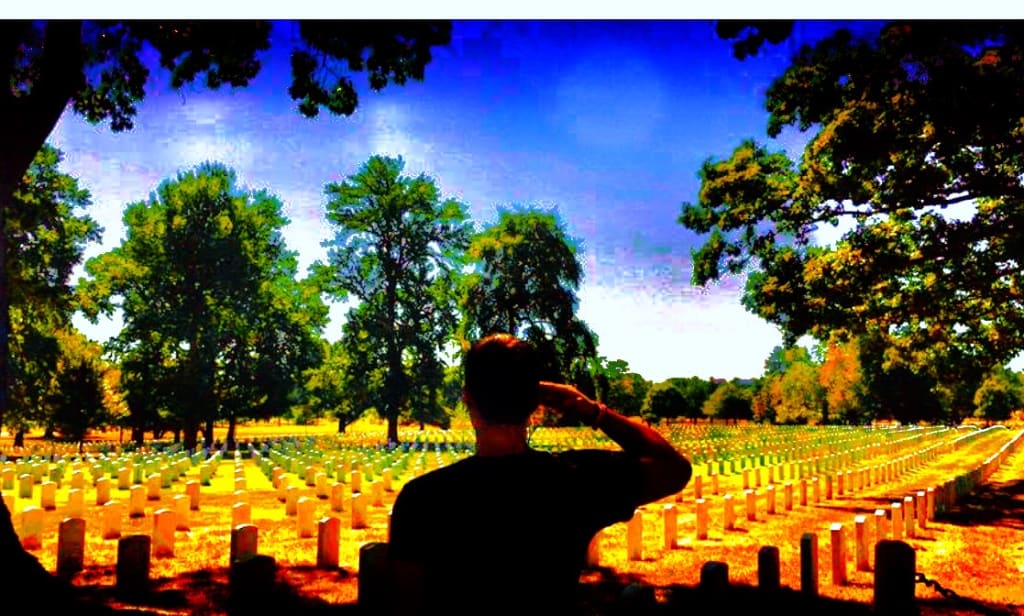 Semper Fi Ooh Ra
This is my son Estevan, one of my many favorites pictures that really shows the intigrity of his heart. Every since I can remember my son has always looked up to service workers in uniform with reverance esp. the Marines, he hoped one day he would be a special part of this honorable calling to serve his country and possibly make his absent father proud, later he learned his deceased grandfather he never met was also a Marine and later went to become District Judge in Boyal Cty Ky.
As a family we often visited museums as a family, when he was a toddler, Estevans favorite go too was looking at all the space equipment and protective gear, later joined the Eagle flight kids workshop giving him a chance to fly a small charter plane. Which I feel is an awesome program provided by the Oshkosh EAA for young children.
As soon as Estevan was old enough, he would spend countless hours in the local Marine office with friends training, recruiting and just hanging out, as if they were already a marine brother hood. He was very much a motivator to all who looked up to him. He felt this was where he belonged.
My son has had to over come many obsticals in his life every since he was born and rose above each hurdle, he had a combined dreams he cherished, was becomming a Marine then a surgeon, sadley just before becomming an adult, something interfered very deeply, infridging upon his ability to ever becoming a Marine or work in a medical field. This really penetrated deep into his spirit at a time when he was most vuberable. He was strickened with a deep loss and saddness. This was the beggining where he lost alot of faith in those he looked up too, that were suppossed to be law abiding individuals. He trusted that the truth and honesty would have your back. His story like many others, could have been prevented, had there been better representation, grace, guidence and yes money. Many well known attorneys said his outcome was not handled properly and would would take at least ten thousand to fix the mistake the oops the system made. They all felt that system let him down, he had worth value esp. in the area of wanting serve his country and prosper towards a greater goal. There should be a important empasis on guiding and not soley judge a situation on biased circumstances. The goverment makes acceptions all the time based on the need of demand. So I have made it my mission to introduce a new perspective that might just encourage and support others going thru this.
A few years back he had desire to visit one of the resting places for the Marines , this is where the picture above was taken, he wanted to pay homage to all those who laid down their lives for what they believed in. Giving a respectful saluted stand, just as a true Marine would do. Almost as if he could relate. We told him that we were proud of him and he would always be a marine in our eyes.
There was only one other little guy who recieved this saluted stand.
His name was Bennett, he was a premature twin nephew whome passed away after having to be taken off life support, for it was causing more damage and his little body wasnt strong enough to endure the complications.
He was a little trooper thou, being born at one hospital, suffering a brain bleed, having to be flown "flight for life" To Milwaukee Childrens Hospital they were better equipped huh to handle delicate emergency care. Awhile later his little brother Emerson was reunited at the same hospital, they agreed to put the two babies together , which we all believed helped his little twin brother Emerson to start thriving. Bennit held on as long as he could, but just was not strong enough to recover.
Even in my sons time of disapointment, he still managed to make people smile being full of life, he keeps himself busy working, helping others, being adventerous esp. time spent in nature with his brothers, enjoys traveling, vacationing abroad, has an eye for photography, decorating and cooking enjoys participating in marothons supporting good causes , staying athletic is important to him encouraging and motivating others to stay fit as well.
His younger brother even joined the Army to stand for what his brother believed in.
I wanted show honor my son for the dedicated tender spirit he is on the inside. I wanted the world to know that we have to try and not be so quick to judge, because their are 2 sides to a story and sometimes some are not really given a true chance to tell there side, due to unfotunate circumstances based on biased half truths, assumtions,and lack of proper representation just because funding wasnt available . The consequense of such a system can really downspiral a persons hope to feel worthy of success. The freedom we all take for granted. This needs to be adressed as a whole spectrum. There has to be an understanding that everyone including those in position of authority makes mistakes it doesnt have to define you and retrospect must be the divider line. Treat others as you would want to be treated.
I hope this picture touches you the way it did us. I wanted to capture the essence of this special moment. Im usually a black and white edit but it felt cold, so I edited with an artistic color to enhance and capture the depth and vividitity of the picture, hoping you could feel what my son felt as he stood there for the first time. Be encouraged.