RAF Days pt 3
More insights to my RAF apprenticeship in 1970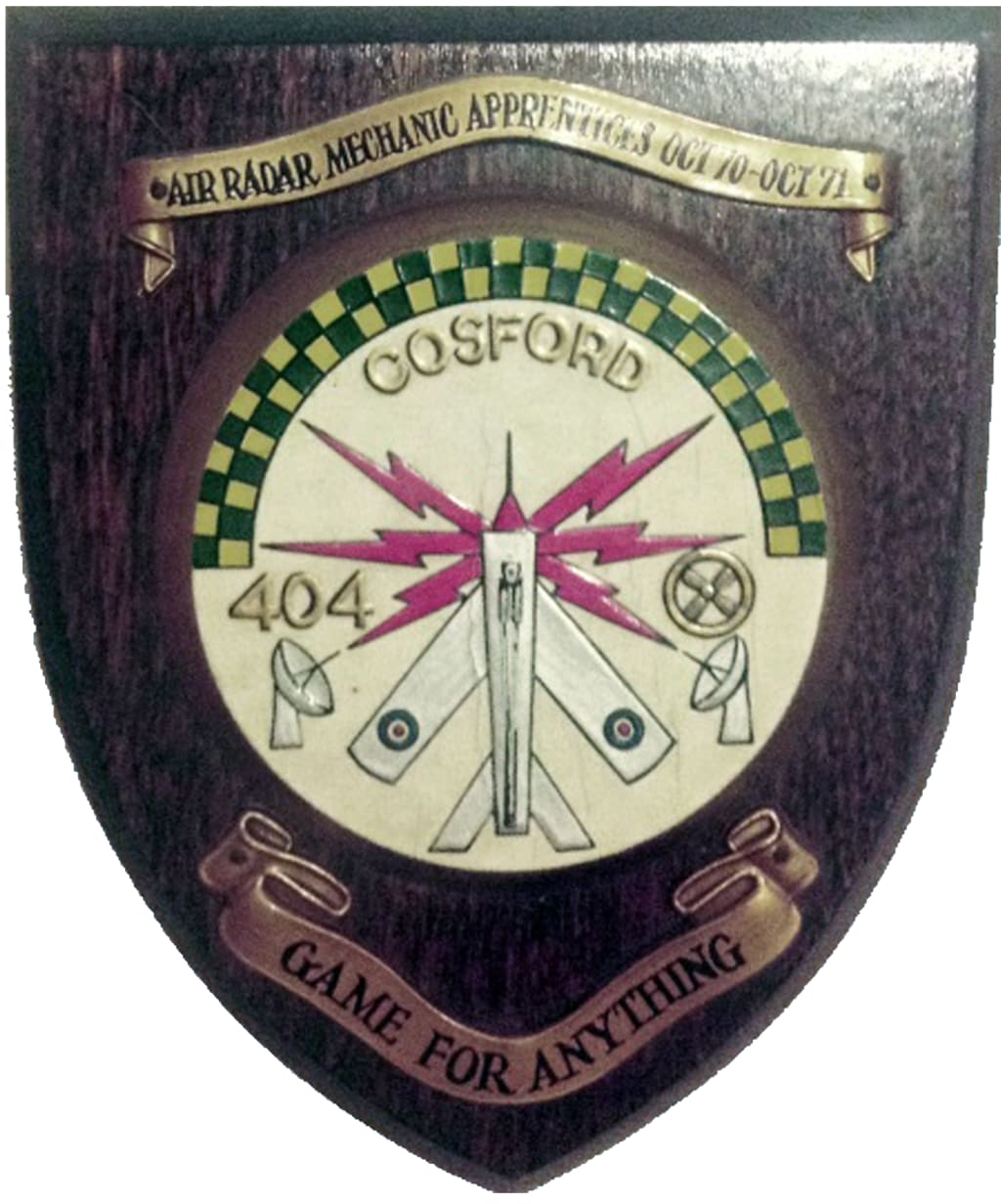 As I settled into 404 Entry at RAF Cosford I managed to get a better grip on my studies and life in general. Here's another segment from my biography "Do or do not".
I had been an avid follower of the space program since I could remember, and watched practically every minute of the Apollo 11 and 12 missions. When Apollo 13 lifted off I watched as much as I could from the Common TV room until it all went wrong. I went to the church regularly praying for the astronauts safe return, and I even wrote a letter to NASA putting my prayers down on paper. We all know the successful outcome of that mission but can you imagine my face, 3 months later, when I received a postcard from NASA featuring the three Apollo 13 astronauts in their spacesuits and on the rear were thank you's from each of them with their signatures. That was something I treasured for many years until an unthinking evil brute broke into our house in Cardiff and stole a box containing it and many other precious memories. Karmically I'm sure they got or will get what they deserve.
Gerry Anderson was still playing a major part in my life as 'UFO' had started broadcasting in 1970 on a Saturday afternoon, and it was always a bit of a battle to be able to watch it as we had a common TV room and not everybody were fans like me. Consequently I missed some episodes and didn't get chance to see them until reruns in 1977 while I was down in Cornwall. Barry Gray still communicated with me and sent me bits and pieces, plus I had the occasional telephone conversation with Colin and Keith Forsey which really lifted my spirits as they were so friendly and we'd talk for ages.
'Doppelganger' was shown in the Astra cinema on the camp and I went to see it several times (even though we only received £3 a week). What I found strange was the fact that it was partnered with 'The last gunfighter' a western which I enjoyed, but it was a rather strange pairing
That summer I had a couple of weeks free and decided I'd take a trip to Paris on my own, so I hitch hiked down to Heathrow, flew to Paris, checked into a cheap hotel and started seeing the sights, including several pretty girls also staying at the hotel. I wasn't used to budgeting though and blew through my money quicker than expected so I flew back to London and started hitch hiking to Cardiff. It was late at night so, for the first time, I chose a shop doorway and curled up for the night. The fact that it was July helped me out as it wasn't too cold, but it wasn't an experience I'd like to repeat, and the following day I got into Cardiff and spent the remainder of the second week with my parents, which I should have done from the start really.
I really enjoyed the technical subjects, and received an award for being top in them out of the whole 404 Entry. October was our graduation and first posting, and my Uncle Dennis had made sure that he drummed into me to put RAF St. Mawgan in Cornwall as my first choice, which I did, and I got it, which would put me in front line servicing of the cream of the RAF's Submarine hunter/killer fleet, the Nimrod. The graduation parade was a splendid event that my father captured on Super 8 film and I watched recently when I transferred it to video. It's funny how memories work as watching the film it was like I was there again. I graduated as a Leading Aircraftsman with automatic Senior Aircraftsman promotion on January 1st the following year. I packed my bags and said goodbye to RAF Cosford and the apprentices I'd lived and trained beside, all except Mick Haggan who was joining me in Cornwall. I rode home with my parents and spent a few days there before I was due to take the train to Cornwall to start a true operational life. Training was over and now I shared the responsibility of maintaining the aircraft that defended our country.
airforce
About the author
Len Davies was born in Wales and grew up in the 60's heavily influenced by the music and TV of the time. He is a DJ, Actor, Musician and Producer in the entertainment field. with 52 years in the industry he now lives & works in Los Angeles.
Reader insights
Be the first to share your insights about this piece.
Add your insights