R212178—Russell
Always More Than Name, Rank and Number to a Service and Paybook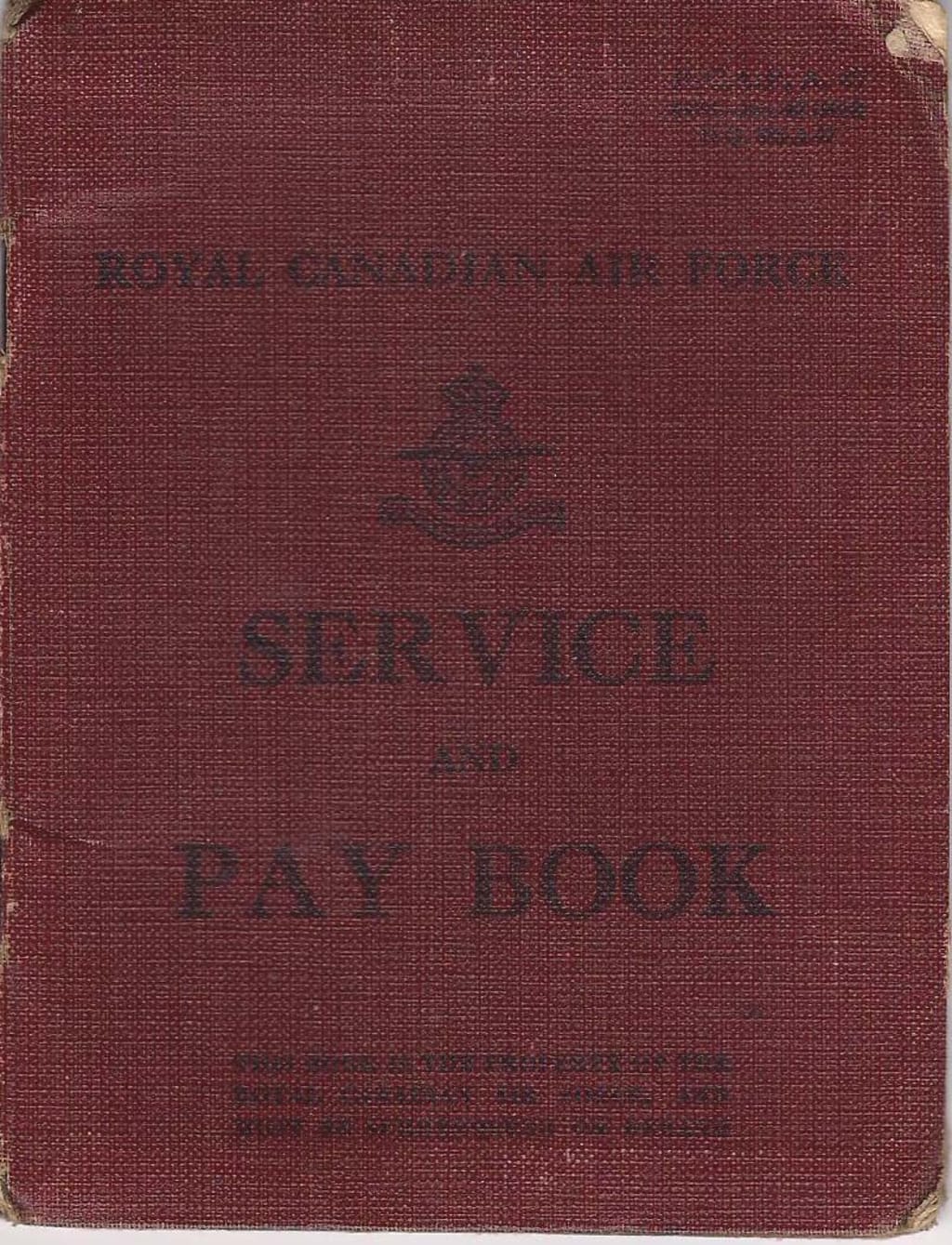 Closing up my late Dad's home has involved sorting through piles and piles of paperwork.
There were folders of bank statements, tax returns, utility bills and letters. All of the bureaucratic detritus collected through life that was important at the time and retained 'just in case' it might be needed well after the statutory time limits. Post mortem that is all it is; bureaucratic detritus ready for recycling.
In one very old and tired looking writing case that I know one of Dad's aunts gave to him when he enlisted was his 'Royal Canadian Air Force Service and Pay Book.' On page in the top line, in true bureaucratic tradition shows:
Air Force No R212178 Surname Russell
Further down are more of his personal details including Christian names, date of birth, religion and his date of enlistment. There is also a line for describing his marital status. There is an 'S' which has been struck through vertically to make it look like a dollar sign and this has been replaced with an 'M.' His designated next of kin is Mum whom he married in March of 1946 so despite the war ending he was till based in England in Bournemouth and waiting to be shipped back to Canada.
Dad's date of birth was '22-3-24.' His date of enlistment was '16-1-43.' When he joined up as a volunteer he was just three months short of his 19th birthday.
I asked him once why he joined the Air Force. There were two reasons. One was that he was fully aware that we was in line for conscription and rather than being called up and having very little choice as to which service he joined instead he volunteered for the Air Force. His second reason for wanting to join the Air Force was to become aircrew. That route was barred to him for medical reasons. I think it was to do with his eyesight. Instead he trained as an electrician.
I know from my talks with him that he traveled from Edmonton to Toronto to go through his basic training followed by his training to become an electrician. When he finished in Toronto he was on another train to Halifax in Nova Scotia. There he joined a troopship to cross the Atlantic. This would have been at the beginning of the winter of 1943-44.
I cannot put myself in his shoes metaphorically or into his thoughts but what must have been going through his mind that day he stepped off the train in Halifax and saw the troopship?
Dad told me that the ship was 'huge.' I don't know how big it was either as he could not remember it's name but I guess if you were born in Edmonton on the edge of the Prairies and see any type of ocean going vessel for the first time it is going to be 'huge' whatever size it is.
His memories of the Atlantic crossing were that it was bitterly cold, extremely rough and troops all around him suffering from sea sickness. The troopship was part of a convoy. To avoid detection by enemy submarines the whole convoy at planned times would carry out 'zig' and 'zag' maneuvers. Dad said these were the worst moments of the crossing as regardless of where the ship was on a huge wave it would change direction violently making it feel like it was about to go past tipping point. That was when he said he really did feel in danger. He never mentioned if the convoy was attacked or if he had been a witness to any other ships going down. I never probed him on that because I knew that if he had seen anything like it he had internalized it and would, in his own good time, tell me if he wanted to.
The service book shows his progression from 'Elec C' on 29-9-43 to 'Elec A' on 1-10-44. It also tracks his promotion record from 'AC2' on 16-1-43, his day of enlistment, to 'LAC' on 1-7-44. There is a record of a medal awarded on 16-7-44 which looks like it was the 'CVSM and Maple Leaf.' Then there are a couple of pages of medical records. Despite it being a pay book as well as a service book there is no reference to how much he was earning during his time. There are some pages missing and I rather think these were the pay records which might have been removed when he was discharged. Nor is there any reference to his actual discharge date when he could finally leave the horrors of a war in Europe behind, return to his job on the railway, set up home with his English war bride and start a family.
There were countless men and women who served as my Dad did in World War II. Countless stories of lives lost and great acts of heroism, the vast majority of which will remain untold and lay hidden in between the lines of their Service and Pay Books that show service number, surname, date of enlistment and the barest of details tracking their progress through their service career.
I count myself as very very lucky to not only have found Dad's service book but also to have been told just a few of his stories from his military service. Up until my Mum passed away Dad only ever told the 'light' stories of his war to me. Then after she passed away and in his last few months when we became quite close through his terminal illness did I hear about his more serious experiences from the war. These came about not through me asking, 'What was war like Dad?' but when he saw something in the newspaper marking this or that anniversary of an event during the war. He would mention his part in that event and then tell me a bit more but from his perspective.
There are still stories from his war that will now remain untold forever.
veteran
Alan Russell
I am a very lucky person. I live in a beautiful area,the New Forest,have a happy home that I share with my wife and two felines. More,much more than this I travel many highways,to interesting places and meeting interesting people.Carp diem.
See all posts by Alan Russell →