Movie Review: 'Da 5 Bloods'
Spike Lee effortlessly weaves history into our modern cultural context with 'Da 5 Bloods'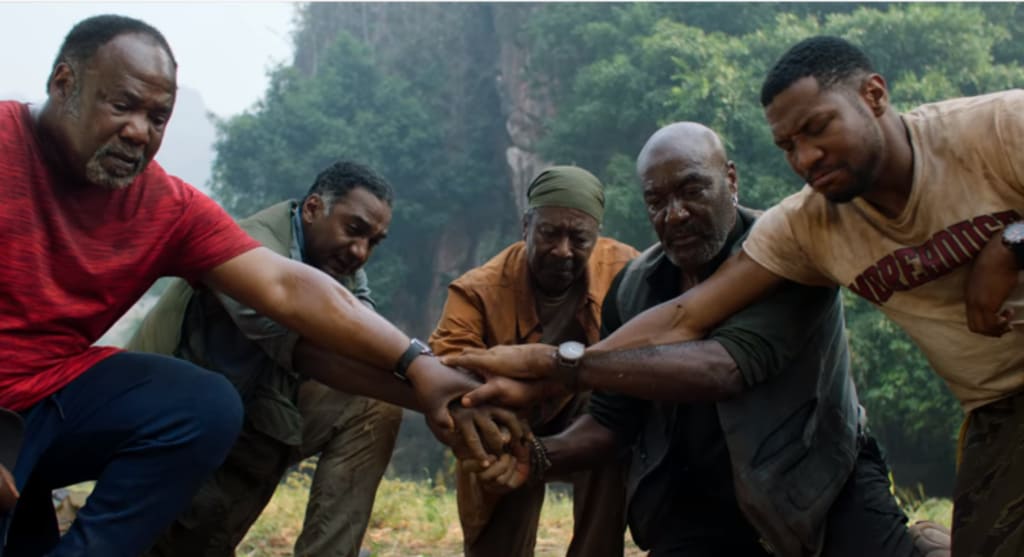 The plagues of the last 60 years of American history come to the fore in Spike Lee's new movie Da 5 Bloods. The film is a reckoning of the Vietnam war, race relations, the murder of Martin Luther King, and the emptiness of avarice and greed. All of this on display amidst Spike Lee's virtuoso direction and with a pair of performances from Delroy Lindo and Chadwick Boseman that will leave you breathless.
Da 5 Bloods stars Delroy Lindo as Paul, one of four black Vietnam veterans who have returned to Vietnam with the goal of recovering the remains of Norman (Chadwick Boseman), their friend and leader. They had to leave Norman behind in Vietnam after he died amid the chaos of war. Joining Paul are the remaining Bloods, the name they gave to their squad, Otis, played by Clarke Peters, Eddie played by Norm Lewis, and Melvin played by Isiah Whitlock.
Also unexpectedly joining the Bloods on their quest is David, played by Jonathan Majors. David is Paul's son. Father and son have a strained relationship revolving around the death of David's mother. What David doesn't know is that this trip is about more than exorcising the demons brought about by leaving their friend behind. Da Bloods are also seeking their fortune. When Norman was killed, the group had just recovered millions in American gold.
They had to leave the gold behind as they escaped so they buried it on a hill and hoped to one day come back for it. The gold is the catalyst for the action portion of Da 5 Bloods which takes on elements of Platoon and Treasure of the Sierra Madre as the heat, the trauma and the violence begin to haunt everyone and build toward a seemingly inevitable tragedy. The tragedy is also set in motion by a duplicitous Frenchman who, given France's own history in Vietnam, is an appropriate villain.
Watching Da 5 Bloods is a stressful and draining experience. I don't mean that to say that I didn't like the movie, I adore the movie. I'm saying that the experience acted upon me in a visceral fashion and left me shaken and angst ridden more than once. Spike Lee's stylish direction amps the tension to sweat inducing levels. I felt the heat of jungle, the angst of the PTSD of all involved and the heartrending terror of the violence that surrounds every inch of Vietnam, literally and figuratively.
Da 5 Bloods is steeped in history. The film features archival footage of Black leaders of the mid 1960's decrying a war fueled by the blood of the poor. It was a war that many Black men were forced to fight by the draft and on behalf of a country they knew would not respect their sacrifice. War hero is an especially empty title when you have to return home to systemic racism that has ingrained further violence on every street corner.
Delroy Lindo is absolutely incredible in Da 5 Bloods. A man deeply scarred by Vietnam, his ever growing madness in the jungle drives portions of the movie and his manic energy had me clutching my chest throughout, my breath and pulse quickened. As Lindo monologues directly to the camera near the end of the movie you can't turn away from the force and power of Lindo's words and those eyes, those haunted eyes.
Chadwick Boseman meanwhile is the quieter, more centered performance. Norman is a much smaller role, he was killed in Vietnam and so his scenes are set in flashbacks to provide context for the current day story. And yet, Boseman steals every scene he is in with his booming charisma and assured manner. I am not someone who could ever fight in a war but I feel as if I would go and do whatever Chadwick Boseman told me to do based off of his commanding performance in Da 5 Bloods.
More than 30 years as a director and Spike Lee continues to evolve his style and storytelling. While Da 5 Bloods does have Spike falling back on some of his old tricks, the storytelling here, the way he uses homage to other movies as a device for storytelling, the way he gives context to the story not with exposition but through the lens of history and some of the most iconic speakers in history, Da 5 Bloods shows a Spike Lee who is still experimenting with form and style. Da 5 Bloods, has the feel Black Klansman and yet feels like it evolved from that movie toward something even more of the moment and iconic.
Da 5 Bloods is available now on Netflix and will be the main subject of an upcoming episode of the Everyone's a Critic Movie Review Podcast. Watch this page for the update.