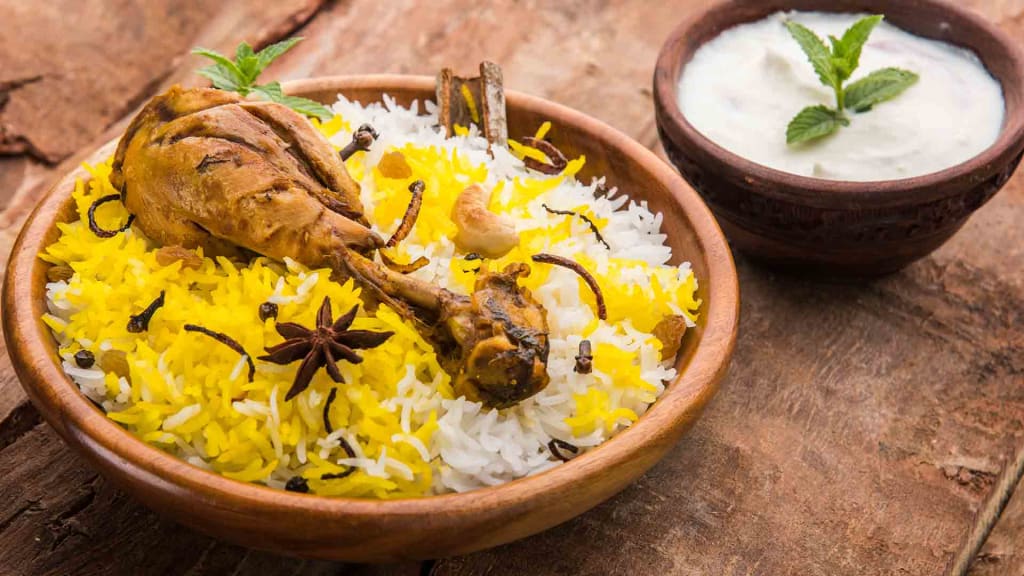 A cherished and well-liked dish with a lengthy and fascinating history is biryani. Its origins can be traced back to Persia (modern-day Iran) and the Mughal Empire in the Indian subcontinent.
The Persian word "birian," which meaning "fried before cooking," is the source of the English word "biryani." The Mughals, who ruled over parts of India from the early 16th century to the mid-19th century, are thought to have brought the dish to the Indian subcontinent.
Originally, biryani was a pricey dish that was only offered on special occasions and in royal courts. It was often prepared in big quantities to feed a large number of people and was made using pricey components like saffron, almonds, and meat.
With time, the general public began to enjoy biryani, and many locations in the world.
but its MOST WANTED IN the Indian subcontinent and around the world. It is a staple dish in many Indian and Pakistani restaurants, and can be made with a variety of meats, vegetables, and spices to suit individual tastes.
A variety of regional variations can be found for the dish of biryani all over the Indian subcontinent. The most well-known varieties of biryani are listed below, along with what makes them special:
Hyderabadi Biryani: This variety of biryani bears the name of the Hyderabad in south-central India. The customary ingredients are long-grain basmati rice, marinated meat (usually lamb or chicken), and a mixture of spices that includes saffron, cinnamon, cardamom, and cloves. Fried onions, mint leaves, and cooked eggs are frequently used as garnishes on the dish.
Originally from the northern Indian city of Lucknow, this dish is often referred to as Awadhi biryani. Typically, it is made with fragrant basmati rice, soft meat (often goat or lamb), and a rich mixture of spices including saffron, nutmeg, and cloves.
This is a basic recipe for making biryani. The ingredients and procedures may vary based on the particular sort of biryani you are creating because there are numerous versions of this dish:
Ingredients:
two cups of basmati rice
1 lb of meat, diced into small pieces (either chicken, lamb, beef, or goat).
sliced thinly 1 onion
0.5 cup yoghurt
Bryani masala, 2 tablespoons (a blend of spices)
1 teaspoon cumin powder
1 teaspoon of curry powder
1 teaspoon of the red pepper flakes
Turmeric, 1 teaspoon
0.5 teaspoons garam masala (another blend of spices)
1/fourth cup ghee or oil
water in two cups
to taste, salt
chopped fresh cilantro and mint leaves (for garnish)
Cooked onions (for garnish, optional)
Instructions:
Rice should be rinsed in cold water until the water is crystal clear. Soak.
A well-known variety of biryani called Dindigul Thalapakatti is named after the town of Dindigul in the Tamil Nadu region of southern India. To prepare Dindigul Thalapakatti biryani at home, follow these instructions:
Ingredients:
Regarding the rice:
2 cups of rinsed and soaked basmati rice for 30 minutes
4 cups of liquid
2 green cardamom pods and 1 bay leaf
1 pod of black cardamom
1-stick of cinnamon
2 to 3 cloves
Salt as desired
For the masala used in biryani:
One pound of chicken, diced up.
1-2 green chilies, diced 1 large onion, sliced
Ginger-garlic paste, one tablespoon
tomato puree, half a cup
yoghurt, half a cup
Biryani masala powder, 2 tablespoons
Powdered turmeric, 1 teaspoon
Salt as desired
As a garnish:
THIS IS MOST WANTED BIRYANI FOR ME TRY IT .....
TT
Cubed fried onions
About the Creator
HI THIS IS KARTHICK I AM NETWORK ENGINEER. I AM CREATING STORY ABOUT THE THINGS. CRICKET MOVIES CRIME CASES. PLEASE FOLLOW ME FOR KNOW MORE.
Reader insights
Be the first to share your insights about this piece.
Add your insights