MISSION FAILED
The day the Snakes cried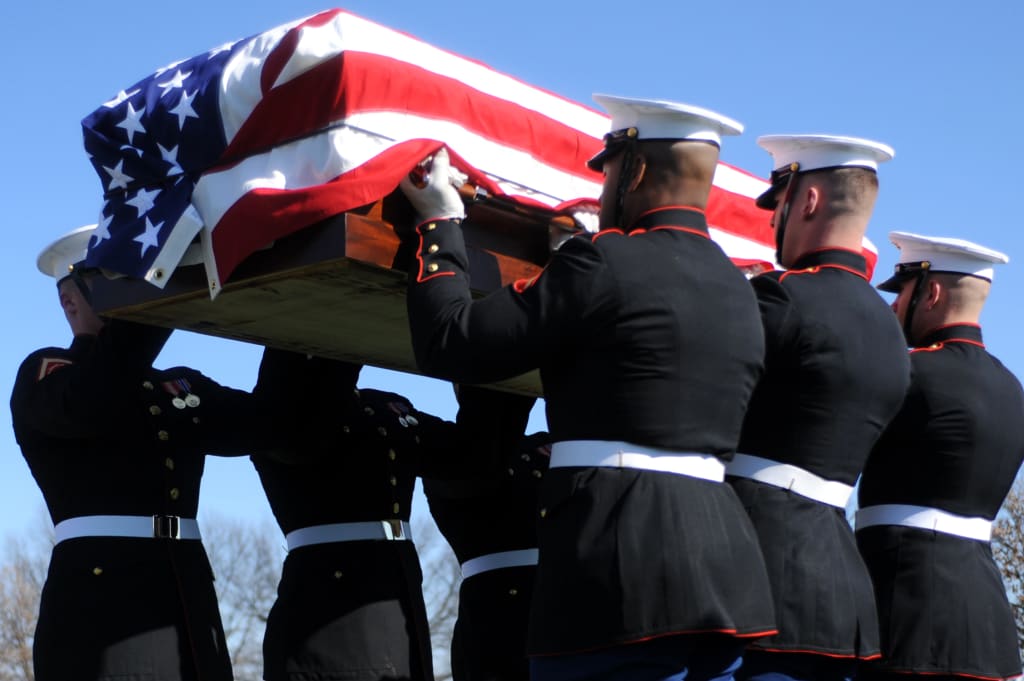 May 2, 2005, USS Carl Vinson's resting gear and catapults went down, making it impossible to launch or recover any aircrafts. All aircrafts were redirected to Al Asad Iraq. All aircrafts were accounted for, all but two. VMFA 323 aircrafts 210, piloted by Major John Spahr, and 201, piloted by Captain Kelly Hinz.
Major Spahr was the first pilot I met when I checked in with the squadron. Maj. (DUKES) Spahr had been in the Marine Corps for over 15 years. He has had many marines under his command, had flown over 1,500 combat flight hours, a Top Gun graduate, and earned the respect of those junior and senior to him.
I first befriended Captain Hinz when we stood duty together. Captain (TRASH) Hinz had been in the Marine Corps for over five years. He loved the outdoors, flew 9 combat missions, and was made officer in charge of the squadrons power line division.
I woke up the morning of the 2nd and recieved word that both pilots were MIA. I was told they may have been shot down or collided in mid air due to the severe weather they flying through. Either way they were not safe, if they were still alive.
In the middle of the day was when aircraft 210 was found wrecked with Maj. Spahrs body still in the seat batterd beyond recogniton. when I heared this I started crying harder than I had in a long time. After this news not a single marine had any life in them. Every turn of every passage way I wandered through I could hear sailors talking about how the marines lost there Executive Officer. To them it was gossip, for us the world stopped turning.
The only good news was that the parachute from the ejector seat of aircraft 201 was missing. Capt. Hinz was never found. Even if he was in hostile territory he could still be rescued. All hope was extinguished when his body was also found badly mutalated.
After that all I could think about was when I last spoke to either of them. Whenever they saw me all they would ask was how I felt being back in the Persian Gulf after leaving not so long before. I was always amazed at how Maj. Sphar showed such respect to all the junior enlisted marines. It was a mutual respect between the two of us. Him for all his experience, and me for all I had done in such a short time. It was the same for me and Capt. Hinz. Capt. Hinz loved his marines and would have done anything for them. Now neither man can do anything.
The no-fly day that the ship's Captain had planned for some fun events had become the day that VMFA 323 would mourn their tragic loss. While standing in formation of the memorial ceremony I could hear every one else's sobbing drowing out my own as final remarks were given. When the roll call was given, and the Sergant Major called out the names of the two pilots incapable of responding, the entire ship was weighed down by the tremendous sorrow that was eminated from the entire squadron.
As things started to pick up again we drew closer to home. The ship's Captain would continue to brag about the successful cruise we were finishing, but I never saw it that way. Before we started that cruise the Commanding officer of Marine Aircraft Group 11 said "... if we lose one aircraft, if we lose so much as one marine then we failed our mission." We lost two aircrafts. We lost two marines. Our objective was not met. Our goal was not accomplished. Our mission was failed.
No one was supposed to die. So many things went wrong in order for this unfortunate fate to occur. For reason beyond our control or understanding these two great men, pilots, marines are no longer with us. I hope when this life is over I will see them once more. To Major John Sphar's daughter Chandler, and to Captain Kelly Hinz's wife Molly and daughter Abigail, I send my deepest sorrow and heart felt sympathy. I know I speak for the entire squadron when I say we share your hurtful loss.
By: Darren A. Garcia, LCpl. USMC