'Midway' Review
A Little Spoiler but I'm sure you will like this movie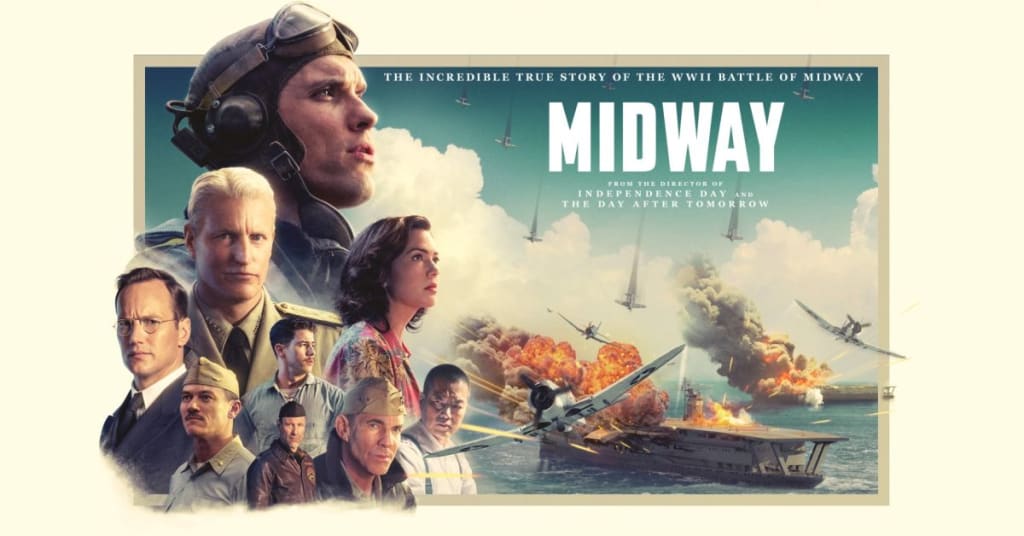 Today I had just seen the movie Midway and I have to say that it was such a good movie. I mean, it shows about another part of the Second World War that happened between the US and Japan. The battle that happened there I didn't even remember learning about in school. All I remember about is Pearl Harbor and how horrific it was and how many people had lost their lives that day and it was completely sad. I mean, many people are still buried in the Arizona till this day since there wasn't any way that they could get out of there.
I watched the Pearl Harbor movie with Ben Affleck, Kate Beckinsale and Josh Harnett and they show the attack and what they did to get back at Japan. But they only went into when they decided to bomb certain parts of Japan and was supposed to land in China to get help from the Chinese on their side. But things didn't really go much to plan and lives were lost when the planes crashed landed because they had run out of fuel and some where captured by the Japanese. But in that movie they don't talk about what happened with the attack on Midway and the people who were fighting to keep Japan from trying to come closer and closer to the United States.
Midway starred a lot of actors, Woody Harrelson, Dennis Quaid, Patrick Wilson. There was also Nick Jonas and Mandy Moore and actor Ed Skrein, who is known to be the antagonist Ajax in the first Deadpool. All in which had done a fantastic performance in this film. Being able to see them bring out what had happened in Midway during that time in World War II, it's amazing.
I love war movies like that or any movie that is based on a true story. They show you things that has happened that you never knew before and stuff like that is interesting. I mean, even though they don't always show everything and there are some things that they tend to keep out. They try to bring out as much as they can in a movie and let people know the more important stuff that has happening in time and Midway is one of those movies and it had done a great job. I mean, one of my favorite parts is the ending, when Lieutenant Richard Best (played by Ed Skrein) tells his wife Anne (played by Mandy Moore) what happened to him and that he wouldn't be able to fly anymore. She tells him, "Well, you better find something else that you are good at because you are going to spend the rest of your life doing it." Like she didn't care that he could no longer fly. She was just happy that he was ok and safe and alive and that's all that mattered to her.
I can honestly say that for people who are interested in seeing the movie, to go ahead and see it because it was a very great film and I think that you are going to like it. I personally enjoyed the movie and I would watch it again and I know for a fact that when it comes out on DVD and blu-ray, that I am going to be getting it. Then my husband and I are going to be watching it again in the comfort of our own home.
So if you like true-based war movies, then Midway is the movie for you and go ahead while it is still in theaters. I'm sure that you are going to like it.
movie review
I love to write, I have many stories that are in progress, even though I haven't really finished anything of them yet.