Memorial Day
When the meaning is personal
Credit: photo by Frank Glick, Fort Snelling National Cemetery
"Why is she the one doing this? She isn't even wearing a proper uniform!" The Girl Scout mother didn't care that Megan and I were near enough to hear her snarky comments.
"Ma'am," the gentleman organizing the ceremony replied. "She has more right to be here than any of us today. Her grandfather is buried here."
Her grandfather. My father.
Plot B, Row 16, Grave 53.
The Lorraine American Cemetery and Memorial, Saint-Avold, Moselle, France.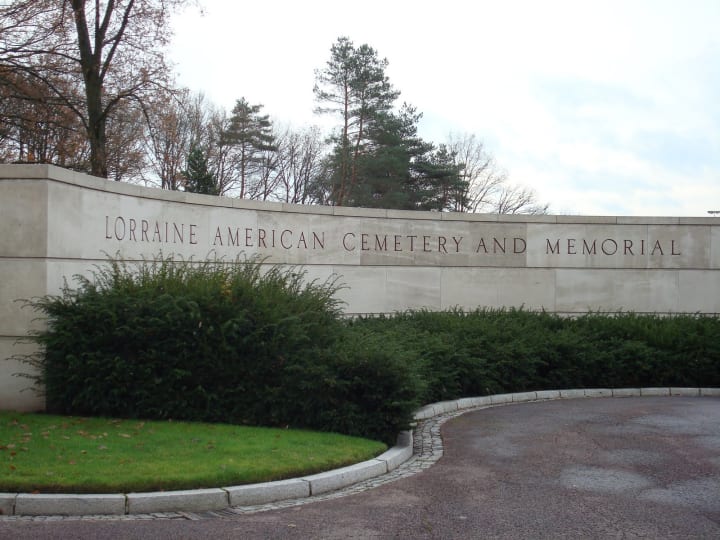 That Girl Scout mother's observation was correct . . . my ten-year old daughter Megan wasn't in "proper" uniform, like all the other girls gathered there. But she was wearing the traditionally accepted Girl Scout attire when a uniform wasn't available: a dark skirt, white blouse, kerchief, pin, badge sash and beret. It was the best we could do under the circumstances.
It was the final weekend in Europe for me and my children, Megan and thirteen-year old son, Tom . . . our last few days at the end of my USAF flight surgeon husband's three-year tour at Bitburg Air Force base, Germany. We would load our Sheltie into his travel crate for one final overnight in Frankfurt, catching our flight back to the States early the next morning, to join Glen for his next assignment at McConnell AFB in Wichita, KS. Everything but our most basic necessities that could be packed into a single suitcase for each of us, had been shipped ahead.
So, no, Megan wasn't wearing a proper Girl Scout uniform. But in those final hours we had to spend, what was far more important was the occasion and her participation in it.
The event was the Wreath Laying Ceremony on Memorial Day weekend. Carried out annually, it was a joint event by American Girl Scouts from families stationed on US bases in Germany and French Boy Scouts, at the cemetery. That ceremony in 1988 was particularly meaningful for me and my children, especially as I recognized it might be the last time to be in that place where my father's remains rested.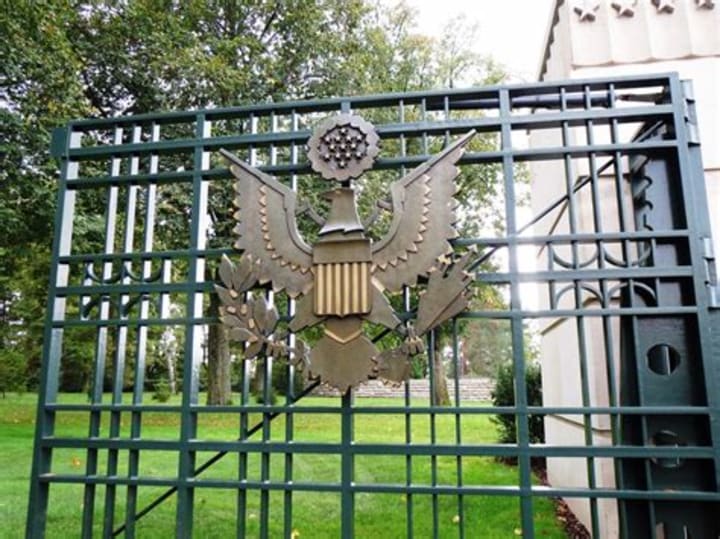 I was never privileged to know my father, Sgt. Leegrand H. Koller, a tail-gunner in the USAAF 485th Bomber Group, who died on March 2, 1945 in a B-24 midair collision over the rugged mountains of Austria. He had been 21 years old for just six weeks. He had been a husband for 15 months, my father for 5 1/2 months. That cemetery in France, the Lorraine American Cemetery and Memorial, was the closest, physically, I would ever have memory of being to him. I was forty-four years old when the meaning of Memorial Day became personal.
One would assume that, having this personal history as a WWII war orphan (an actual classification for someone who has lost a parent in combat), I would have had an awareness, a sincere reverence for Memorial Day for most of my life. How did I not?
By the time I was old enough to have paid attention, to understand my personal connection to a day set aside to honor the war dead that included my father, Mom had remarried. Our lives had taken a new trajectory, away from her being a war widow and single mom to a more traditional and commonplace post-war family that included my having gained a father, an older sister and eventually, younger brothers. All of which was firmly rooted in Missouri, far removed from my own father's family and hometown in Pennsylvania; even farther away from a grave site in France.
I grew up experiencing Memorial Day in the same way the majority of Americans do . . . a holiday of picnics and cookouts, maybe a local parade. I remember buying paper poppies for 10 cents each from the VFW and pinning them on our clothing. And so it continued to be that Memorial Day marked the official start of summer and all that meant in the 1950's: the end of the school year, the beginning of shorts/sandals/swimming season, Scouts camps, church camp, endless days of roller skating, bike riding, roaming the neighborhoods with friends.
And while the activities changed over the years, the emphasis on Memorial Day remained as casual and nonchalant as ever.
It had been an ironic, somewhat convoluted path, with multiple forks-in-the-road that lead to that Memorial Day event in France. It was the required active duty payback for the Air Force Health Professions Scholarship Program that financed Glen's attending medical school, led to his being a USAF major, a flight surgeon for F-15 squadrons. That, in turn, is how our family came to accompany him on an overseas tour of duty in Germany, to a base within an hour's drive from the cemetery in France.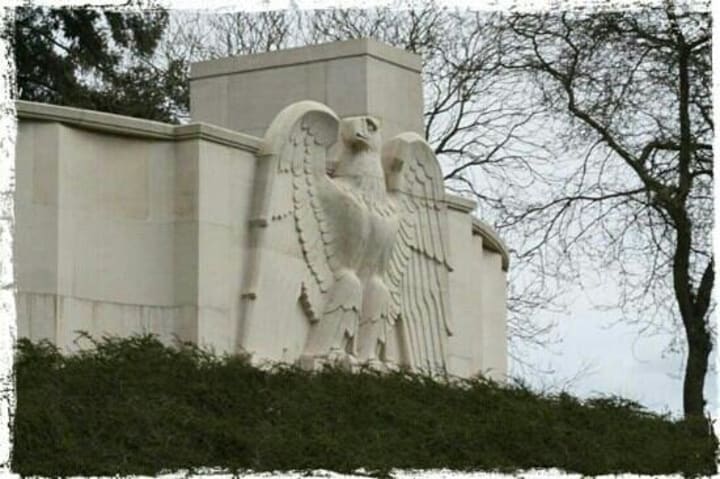 That was my third visit to the cemetery during those years, the first one being just our immediate family – me, my husband, Glen, and the children. Already an emotional experience for me, Glen made it more so by his touching one-sided conversation:
"I wish we could have met, that I could shake your hand. But since I can't do that, I want to say thank you. Thank you for this lady who shares my life, who means so much to me."
My heart could not have been more full than it was at that moment. It was full of love for that man who stood beside me, with whom I had shared more than twenty years that began with young love during college and as newlyweds; the tragic loss of a son and the struggles of our shared grief; of medical school and the renewal of a family in the children at our sides; and what appeared to be sharing his career in the Air Force. It was full of gratitude for that young man whose remains lay beneath that white marble cross, who gave me life and who could never grow old. That made the meaning of Memorial Day personal.
The second visit was with Mom, accompanied by her third husband, my second step-father. I can barely imagine the intensity of those moments for her. My father had been the first love of her life, meeting as she graduated from nursing school and he was in the midst of his Army Air Corps training. Theirs had been such a brief marriage, from 5 December, 1943 until 2 March, 1945 . . . not quite fifteen months and with a honeymoon pregnancy tossed in there.
She looked over the expanse of bright, white head stones and said "This is where he should be; it was the right decision." And then she told us how, as next of kin, she had been given the option of having his remains repatriated to the States to a burial site of her choosing or to be reinterred, from a location in Germany, to that cemetery in France, dedicated to the Americans.

"Your grandmother was furious." Mom told us. "She wanted him brought back to Pennsylvania, but it wasn't her decision to make. I was his widow; it was mine. I believed he would have wanted to remain with his fellows." Looking all around again, she repeated, "It was the right decision." For her, for my family, the meaning of Memorial Day was personal.
That memorial cemetery in France, is the second largest American burial site in Europe, second only to the WWI Meuse-Argonne American Cemetery. The Lorraine site is dedicated to the American's who lost their lives in 1944-45, it includes five Medal of Honor recipients, the last American to die before the German surrender on 7 May, 1945, Pfc. Charley Havlat, and the grave of my father.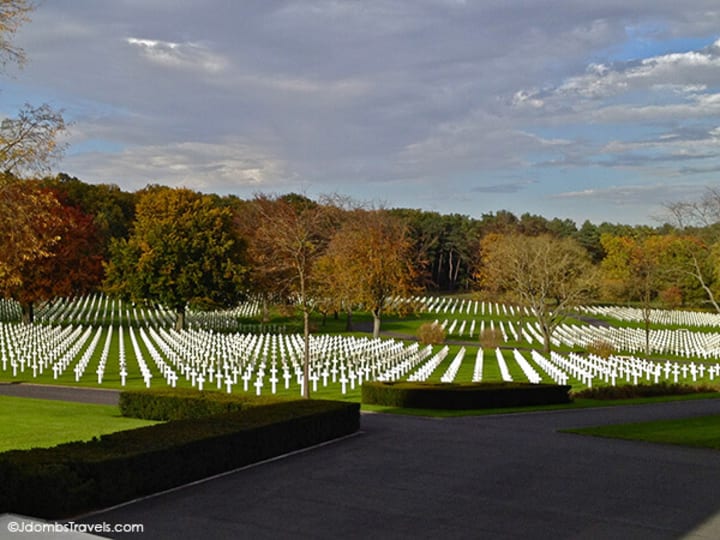 The Lorraine Cemetery and Memorial is impressive, compels an emotional awareness of the sacrifices made during WW II, even for anyone who has no personal interest or knows a single soul represented there. Add to that the realization that all of those deaths occurred in less than two years. I don't believe it is possible to fully comprehend what 10,489 white marble markers, precisely spaced across 113.5 acres of sacred ground, actually looks like. No photograph can convey the feeling of walking out of the Memorial building onto the plaza to behold that vista of 10,489 white marble markers flowing down the slope, across a valley and up the knoll on the opposite side, 113.5 acres of nine plots joined by paved pathways. For the families represented in that sacred ground, the meaning of Memorial Day is personal.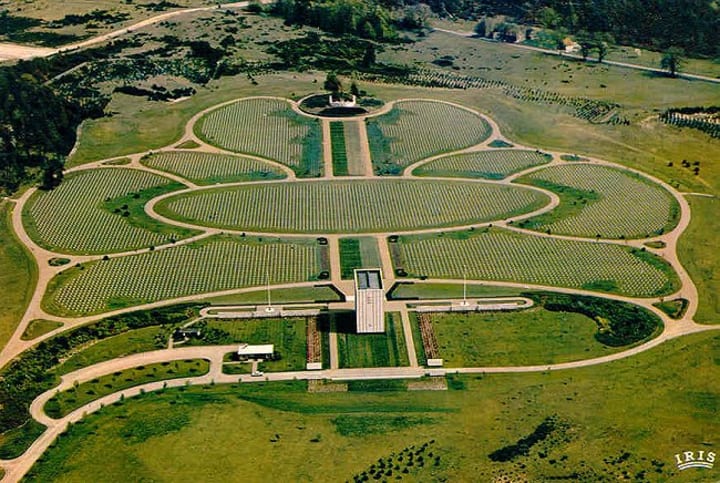 It has been seventy-six years since the end of WWII, the end of the scourge of Europe by Hitler and the Pacific by Hirohito. Despite the sacrifices of approximately 291,557 who died in combat and more than 70,000 that remain missing, wars have continued - from the Korean Conflict to Vietnam, Desert Storm in Kuwait, the War Against Terror in Iraq and Afghanistan. The young lives of soldiers, sailors, airmen and marines continue to be lost, their remains laid to rest in family plots and military memorial cemeteries across the country.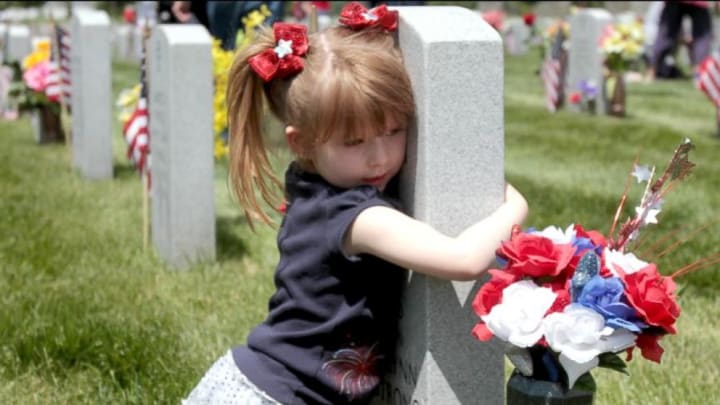 I am a WWII war orphan, one of the eldest among them. I recognize each one's loss, of their having parents who will never grow old, never share the milestones of their lives. I know the unique kind of grief that comes along later in their lives, when they share their stories with their children and grandchildren. For every single war orphan, the meaning of Memorial Day is personal.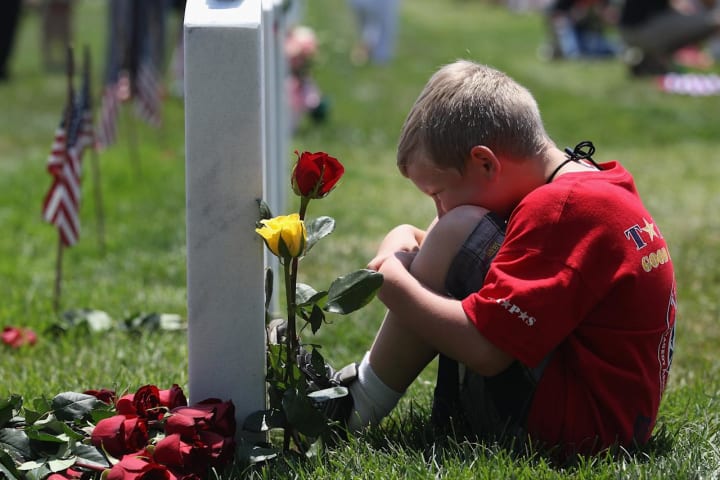 The intensity of my journey came about late in my life, in many ways beginning at my father's grave site in France. It is a story of surprising, unexpected events, not-so-random coincidences that have occurred in the years since then and yet to be written. Each one has brought about a greater awareness and appreciation for the last surviving veterans of the 485th Bomber Group who embraced me as one of their own in recent years, who are deserving of every honor and accolade each Veterans' Day.
So, yes, there is something personal for me in the meaning of Memorial Day. Each one of us who has that personal connection will feel it, express it in our own unique ways. For me, it will be setting up a Missing Man/Fallen Comrades display in the narthex of my church, visiting my husband's resting site at the Bridgeville Memorial Cemetery. All of us will share a lump in the throat during a concert, a swell of pride at a local air show during a fighter squadron or vintage aircraft flyover, laying flowers or flags in a cemetery.
It is highly likely that each of you has had at least one soul, in some generation of your family, who has paid the ultimate price of service. I would challenge you to find out; learn who that person was and then think on how the meaning of Memorial Day is personal for you, as well.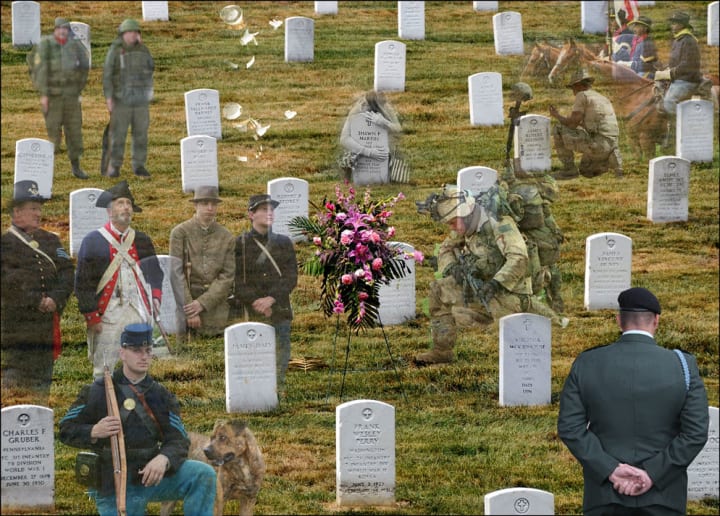 family
Writing was always my plan, but having passed 3/4 of a century of living, things have gotten really real. If I don't do more than dip my toes in the water, I'll run out of life & time. I am ready, with some trepidation, to make the dive!